Four Ways Vertical Concrete Resurfacing Can Spice Up Your Home
If you've followed home design trends for the past couple of years, you've undoubtedly come across the term "biophilic design." Trending heavily these past couple of years and continuing for 2022, it's the human desire to connect with nature, creating a design concept centered on bringing nature indoors for the healing and soothing qualities of the great outdoors. This encompasses many elements, including plants, stone, gorgeous woods, marble, rattans, clay, and terracotta—interesting organic patterns and textures for visual interest and essential connection. Concrete Craft® can help with biophilic design by creating realistic faux stone and wood finishes for any area of your home.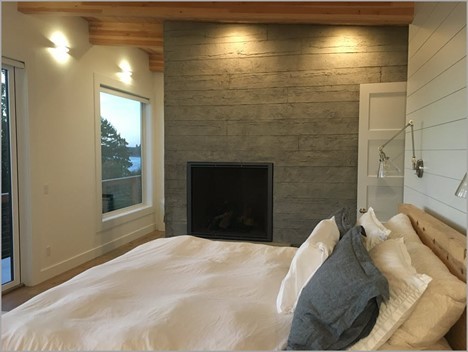 Vertical concrete resurfacing can create an accent wall of realistic wood textures to change the dynamic of any room
Introducing a three-dimensional surface will change the dynamic of any space, so where stonework or wood finishes could take your decorating to the next level, vertical concrete resurfacing from Concrete Craft® can produce authentic looking finishes for a fraction of the cost of real materials. Here are four specific ways that vertical concrete resurfacing can transform your spaces with natural design styles from traditional and rustic to modern and industrial chic.
Transform any room with a new accent wall
An accent wall with the "touch-me" texture of faux stone or wood goes above and beyond for a really big impact to liven up a room or create a focal point to anchor everything in the space. The bedroom above is immediately cozier with the custom resurfaced, stamped, and stained, rustic wood plank wall.
Faux woods add special ambiance to any home setting, with styles including smooth oak, rustic pine, and heavily textured reclaimed wood in colors from bleached wood to dark mahogany.

Enjoy the look and texture of wood without any of the

inherent

problems

like buckling wood veneers or real wood damage, including gouges, scratches, dents, and dings.

Create a one-of-a-kind master bedroom or a rugged ambiance for a basement or man cave with a faux stone accent wall that sets the mood for fun.
Update a fireplace that ruins your décor
A well-loved and well-used fireplace can become an eyesore after a few years. Maybe it's gone way out of style, is missing bricks or tiles, or its soot color is not appealing. For whatever reason your fireplace needs some TLC, vertical concrete resurfacing can completely transform it into a new, stylish fireplace without tearing down the existing structure. It's the quickest, least messy, and most economical way to get exactly the fireplace you really want.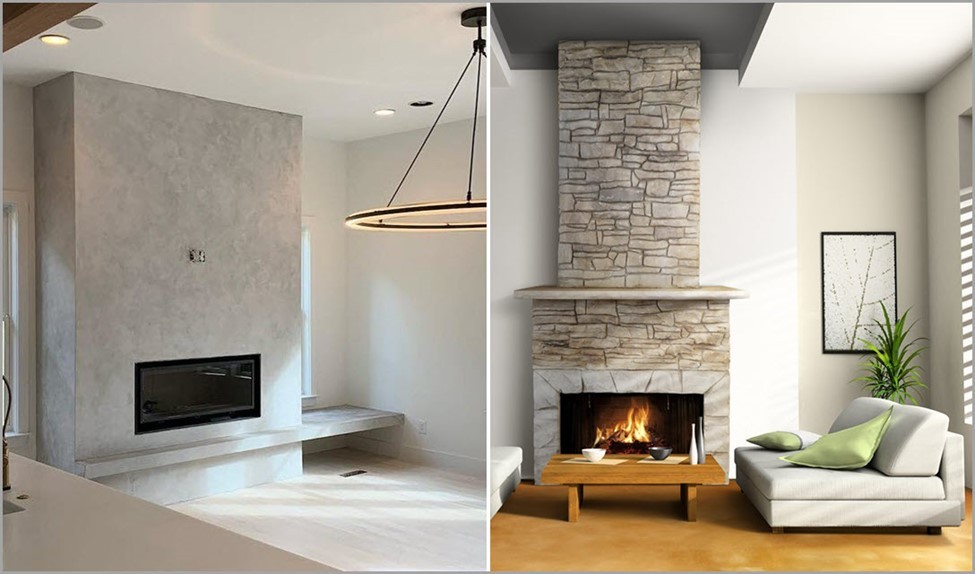 Reface and update an existing fireplace with hand-carved faux stone vertical concrete resurfacing or our exclusive MarbleKoat concrete finish
Add height or width to give the fireplace a greater presence by extending stonework all the way to the ceiling or creating a wider surround.
The exquisite look of marble can grace your fireplace or walls with Concrete Craft's MarbleKoatTM decorative concrete finish.
The versatility of stone means that it's equally at home in a rustic setting or with luxurious surroundings of luxe glam décor.
Have a worry-free kitchen in wood or stone
Interior designers warn against the dangers of installing stone or wood enhancements like backsplashes or accent walls in kitchens because of moisture issues. Porous stone is susceptible to stains and the constant moisture can weaken the grout. Wood used where dampness occurs can result in mold, discoloration, and warping. With vertical resurfacing decorative concrete faux stone or wood, you can safely install nature's finishes without a worry anywhere in your kitchen.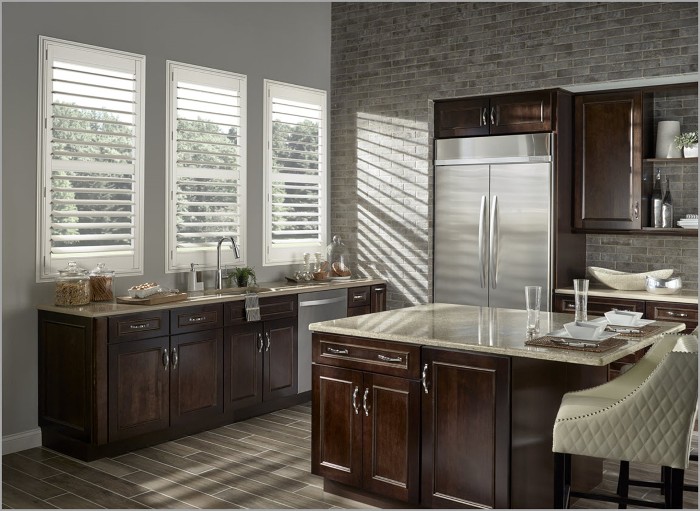 A custom-colored faux brick pattern creates a unique kitchen combining traditional and modern design features in perfect harmony
In addition to any stone or wood design, vertical concrete resurfacing can also replicate the high-end look of designer tiles like travertine, ceramic, porcelain, and marble for walls and backsplashes.
Despite the three-dimensional effect due to stamped textures and patterns, the wall is a continuous, sealed surface that easily wipes clean of oil splatters and spills with a damp cloth and mild soap., no crevices to collect messes.
Our high-strength, flexible polymer overlay product gives 100% contact on vertical surfaces, eliminating voids and gaps that can form behind other stone or wood veneer applications.
Enjoy a "spa-essence" master bath
Custom luxury showers are becoming a must-have for many people, creating a private haven for personal care and relaxation. Glam showers today include polished natural stone tiles, marble shower wall panels, travertine floor tiles, and wood or stone covered walls. With natural materials, bathroom moisture is a big problem for any kind of veneer, weakening adhesives, deteriorating grout lines, and causing wood to mildew. Vertical concrete resurfacing in faux wood and stone finishes eliminates all those problems with complete adhesion to the applied surface and the moisture-resistant sealed surface that ensures your vertical concrete finishes will stay intact and beautiful for years.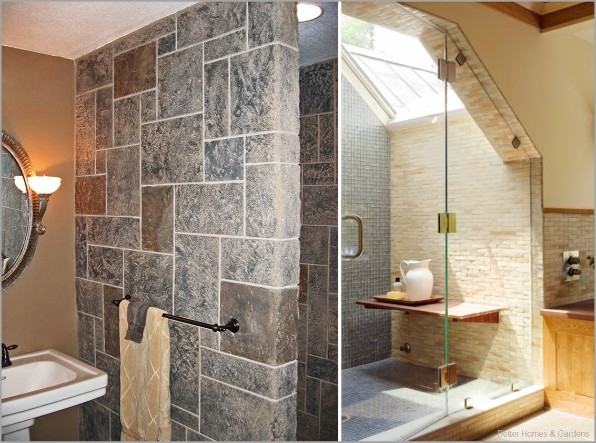 Your master bath can feel expensive and opulent with budget friendly resurfaced vertical concrete faux stone finishes
Bring nature in for an elegant spa experience with concrete stone and wood enhancements that can imitate exotic styles and colors.
Wrap your shower in the elegance of hand-carved stone for a spa experience every time you shower.
Bathroom floors, walls, shower stalls, and backsplashes can exude the luxury of stone with decorative concrete resurfacing systems for every need.
Lasting value with vertical concrete resurfacing
Vertical concrete resurfacing has guaranteed staying power versus other veneer treatments like wood paneling that is prone to lift, warp, and buckle, or faux stone panels that damage easily from impact and, up close, don't really look like natural stone. Concrete Craft's exclusive MasterProTM vertical concrete overlays can be applied over brick, drywall, wood, and plaster to create realistic faux stone or wood finishes with authentic textures and colors. Indoors or out, it's no longer cost-prohibitive to enhance your home with the natural beauty of stone and wood for any vertical surface. You get more value in terms of durability, style, and easy maintenance with decorative concrete vertical overlays:
Our non-porous sealers resist moisture, mold, stains, chipping, and peeling, and cleanup is a damp cloth and a gentle, neutral-pH cleaner.

The lightness of a concrete overlay eliminates the need for add

itional bracing of the wall, which adds additional cost as can happen due to t

he weight of real stone or wood plank.

Weight-bearing issues for faux stone walls are not a concern with a vertical concrete overlay, whereas a wall of real stone can be extremely heavy.
With practically limitless options to customize design and color for any stone or wood style, you're not limited to available store offerings, so your finished product can have exactly the aesthetic appeal you envisioned for your home. Call 888-852-9244 today or go to www.concretecraft.com to find the Concrete Craft location nearest you and request a free in-home or virtual* design consultation. Check out our online MasterProTM product catalog and discover the varied options for bringing the beauty of stone into your home.
*Virtual consultation may not be available at all locations.