Four Ways Vertical Concrete Resurfacing Can Update Your Home
Do home improvement shows like the Property Brothers, This Old House, and Love It or List It have you itching to make some changes around your home? Or, maybe you've tidied up with Marie Kondo and uncovered space that's been idle for years and you want a fresh start. An easy way to make a big design impact is with vertical concrete resurfacing in faux stone and wood finishes that can transform any space in your home into something out of Home & Design magazine.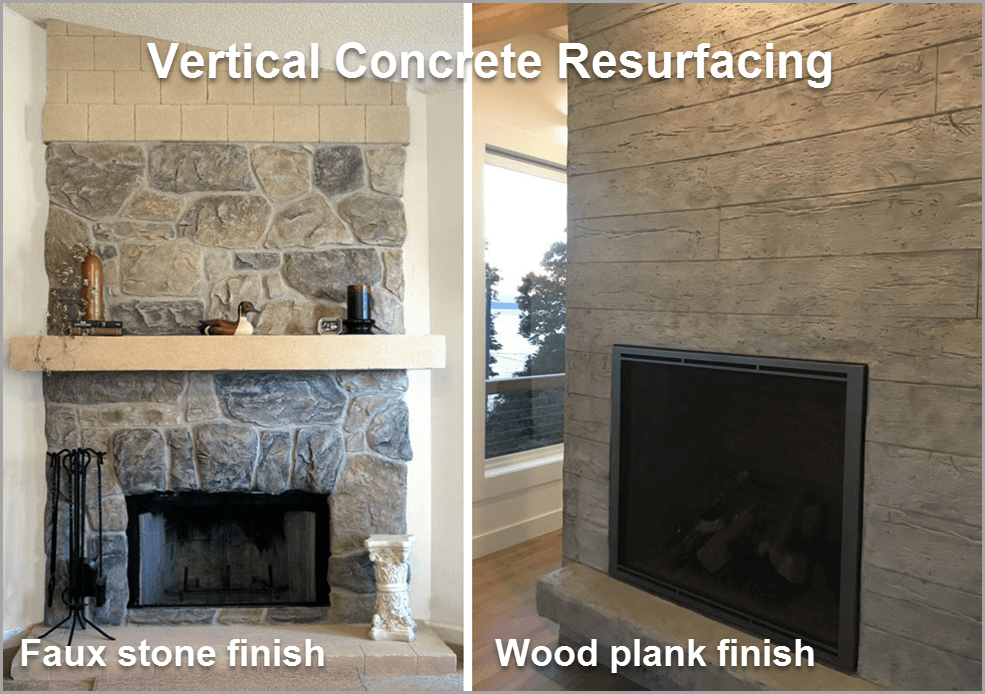 Vertical concrete overlays from Concrete Craft® are the ideal way to enhance your home with the popular look of stone, rock, and wood finishes, inside and out, for basements, family rooms, kitchens, patios, fireplaces, siding, retaining walls, and more. Natural textures like stone and wood have long been popular elements of home design, embracing a wide range of design styles, from traditional to rustic and modern to industrial chic. Creating a three-dimensional surface can change the dynamic of any space.
Master bedroom elegance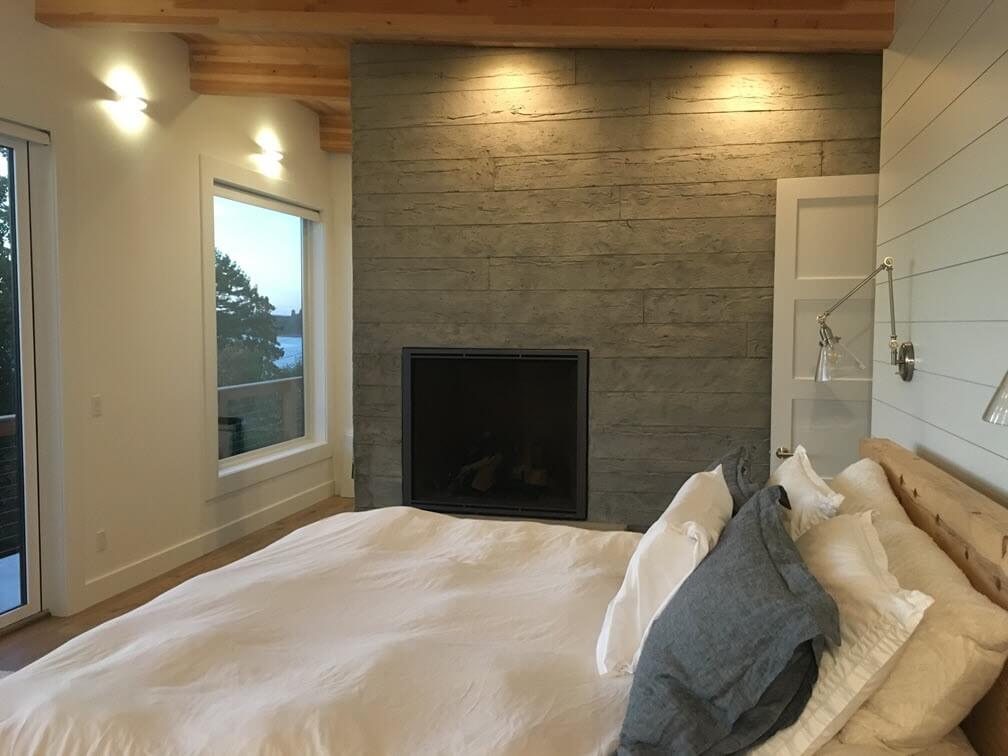 From an unassuming flat white wall, this wood plank vertical concrete overlay frames and highlights the fireplace, and gives the whole room a cozier feeling with its inviting texture. The wood-look finish complements the wood ceiling and contrasts dramatically with the white walls, making every element in the room more interesting. With such a stunning statement wall, you can change the look and feel of this room as often as you like by simply changing the bed linens, colors, and accessories.
Update an outdated fireplace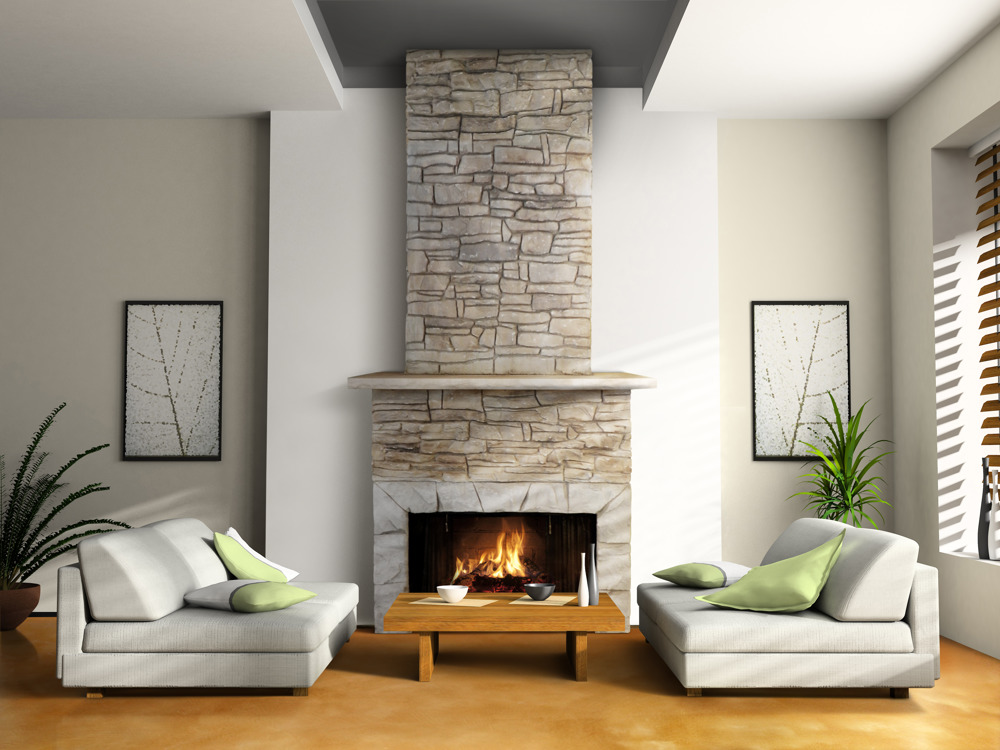 If your fireplace is too old-style for your tastes today or it's hopelessly stained from years of smoke and soot, you can have a completely new look without having to demo and replace the existing structure. Vertical concrete overlays can be applied over wood, drywall, brick, and concrete to create the fireplace of your dreams with new faux stone or wood plank designs. You can resurface your fireplace "as-is," or alter its look by extending the overlay upwards for height or resurfacing the entire wall. Adding or removing a mantle can materially change a fireplace as well as installing a decorative concrete hearth.
From boring bath to luxury spa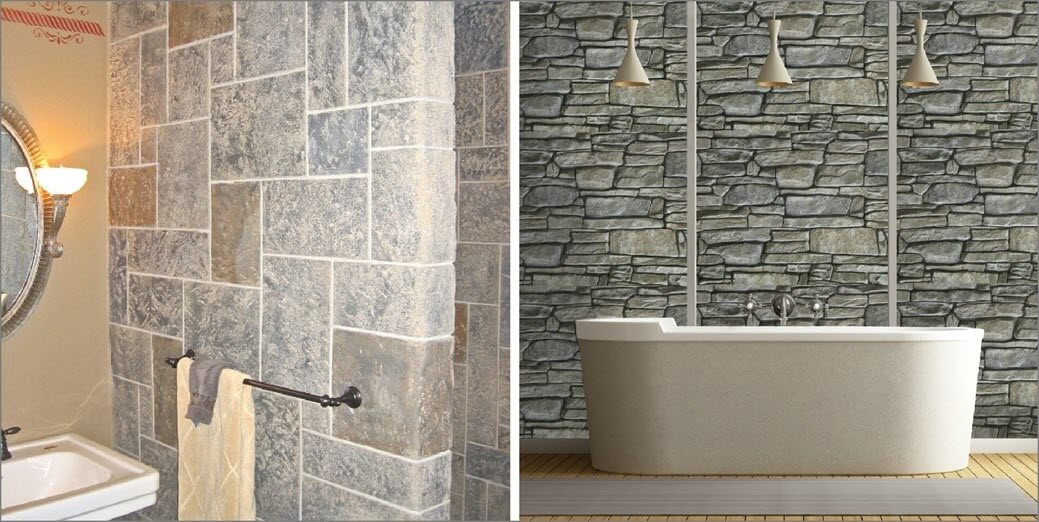 Integrating natural textures into bathroom design has gained popularity as the trend for home spas and luxury bathrooms have grown. People want more than just utility, they want relaxed, feel-good spaces for private moments. Walk-in showers and wet room showers lend themselves to stonework that wraps the walls in natural beauty. Vertical concrete overlays can transform a shower stall, create an accent wall, or enhance sinks and countertops with a faux stone backsplash that could fool Mother Nature.
Give the outdoors a facelift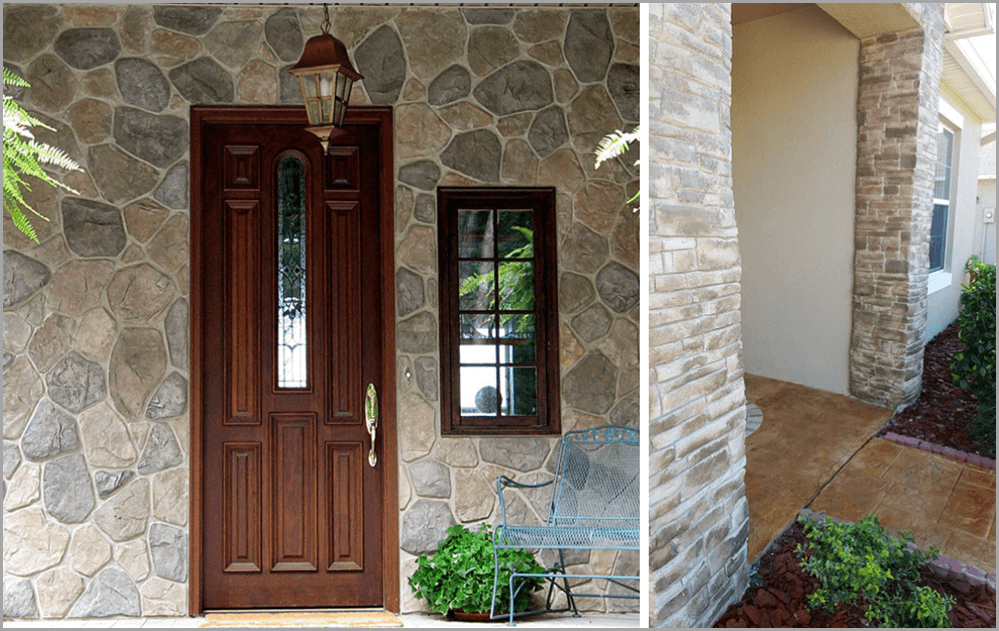 Vertical concrete overlays can also transform your home's exterior with the look and feel of authentic stone. Faux stone siding, accent pillars, and porch walls will give worry-free beauty for decades. Real stone siding can have problems with grout crumbling and dust and dirt clinging to the surface. The continuous, sealed finish of our concrete overlays has no nooks and crannies to collect dust and dirt or to invite insects to move in. The outside of your home will stay pristine clean with just a hosing off.
Exceptional beauty and lasting value
Vertical concrete resurfacing gives you the beauty of authentic stone and wood at about half the cost of the real materials. As important as that is when working with a home improvement budget, you get so much more value in terms of durability, style, and easy maintenance with custom decorative concrete vertical overlays:
Our high-strength, flexible polymer overlay product gives 100% contact on vertical surfaces, eliminating voids and gaps that can form behind other stone or wood veneer applications.
You get realistic-looking stone finishes without the grout deterioration, loose stones, or discoloration common to natural stone's tendency to hold moisture due to its porosity.
Our industry-tough, non-porous sealer resists moisture, mold and bacteria, stains, chipping, or peeling.
Weight issues for vertical walls or other than ground-level floors are not a concern with a vertical concrete overlay. (A wall of real stone can be very heavy.)
Installation is quicker and cleaner, with no need for intrusive equipment like cement trucks, jackhammers, and rock haulers.
You're not limited to available materials, options to customize design and color are practically limitless for any stone or wood style, including reclaimed wood and rare rock colors.
Our custom-coloring system produces a durable and realistic stone or wood facade to complement existing outdoor hardscapes or your home's interior décor.
Vertical concrete resurfacing is not limited to walls. We can transform any vertical surface, including steps, retaining and privacy walls, knee-high walls to border flower beds, and seat walls on patios to give the custom look of real stone and wood finishes.

Don't let your dreams of home improvement go by the wayside. Concrete Craft can help you incorporate beautiful faux stone and wood finishes to update all your living spaces indoors and out with beautiful, versatile decorative concrete. Contact us today or go online to www.concretecraft.com to find the Concrete Craft location nearest you and request a FREE estimate on stained, stamped, and resurfaced decorative concrete finishes for vertical surfaces as well as patios, driveways, walkways, porches, interior floors, and pool decks. View our online Product Catalog and get inspired!