Get A New Faux Stone Or River Rock Pool Deck With Affordable Concrete Overlays
Luxury living is on the rise, and more people are taking a clue from resorts and destination hotels to upgrade their backyards and pool decks for summertime fun. Outdoor living combined with luxury surroundings is keeping families happy with home staycations instead of spending precious vacation time traveling, cooped up in cars, planes, and trains to the continuing chorus of, "Are we there yet?"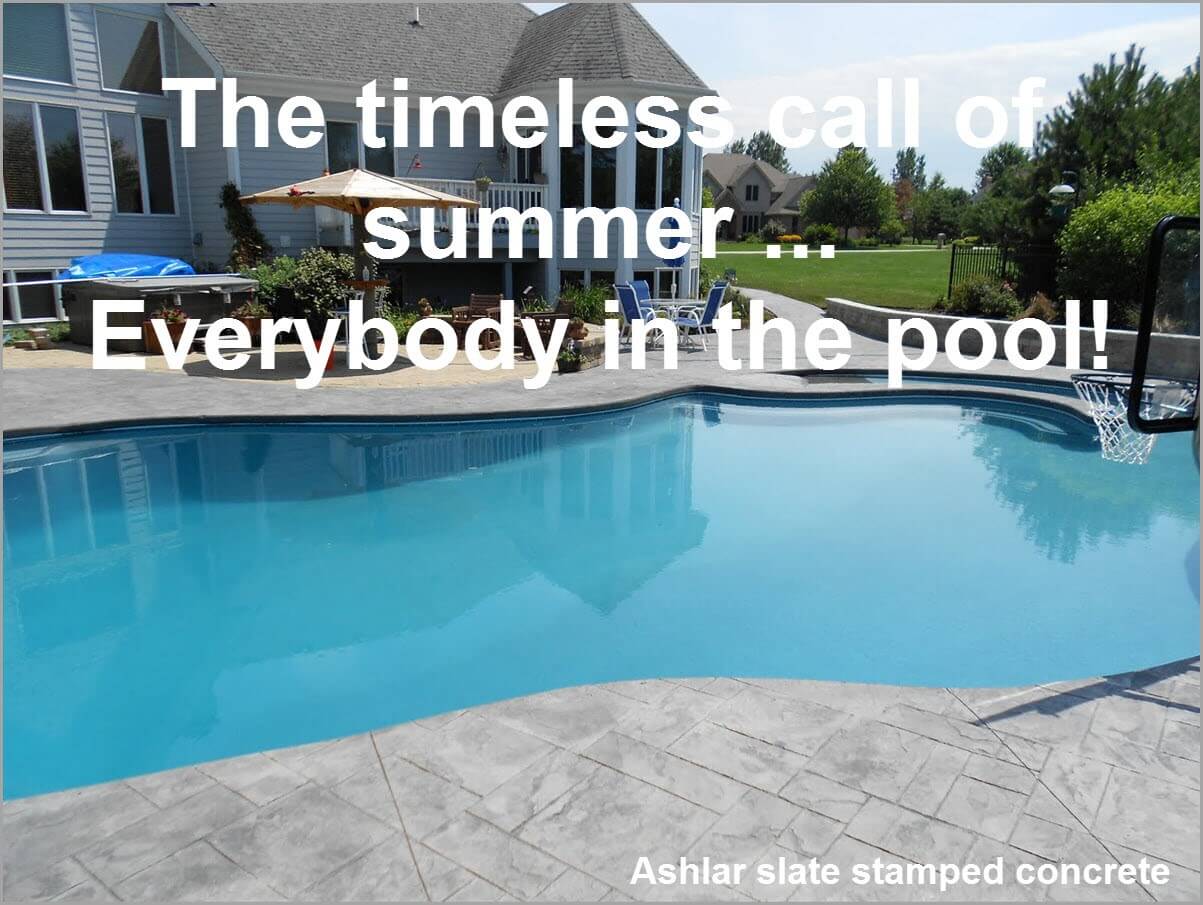 If you already have a pool, you're well on your way to an awesome backyard retreat! If, however, you need to spruce things up a bit, Concrete Craft® can help, starting with the pool deck. A well-used concrete pool deck can be transformed into a five-star pool deck with a quick, affordable concrete overlay. Your new pool deck becomes the perfect foundation for a family-friendly backyard summer retreat filled with activities and accommodations everyone will love.
Concrete overlays give new life to old concrete
Even if your pool deck has hosted years of fun in the sun and has the damaged surface to prove it, our exclusive MasterProTM concrete resurfacing systems can cover up the imperfections in your pool deck and create a new surface.
The first option, a concrete overlay that can be enhanced with stained concrete, stamped decorative concrete patterns, or hand-cut for realistic faux stone designs like flagstone.
The second option, a decorative river rock overlay with multiple color options in real stone.
Whichever you choose, Concrete Craft can take your old pool deck from looking like a disaster area to looking like new, without having to replace your existing concrete, and in much less time than you would imagine!
Decorative concrete overlays
Flagstone is just one of the popular styles for pool decks, adjoining patios, and walkways for a cohesive look throughout a backyard. With a concrete overlay, large areas can be resurfaced and revived with stamped, stained, and hand-cut designs as in the flagstone pool deck below. Only five steps can transform your outdoor world.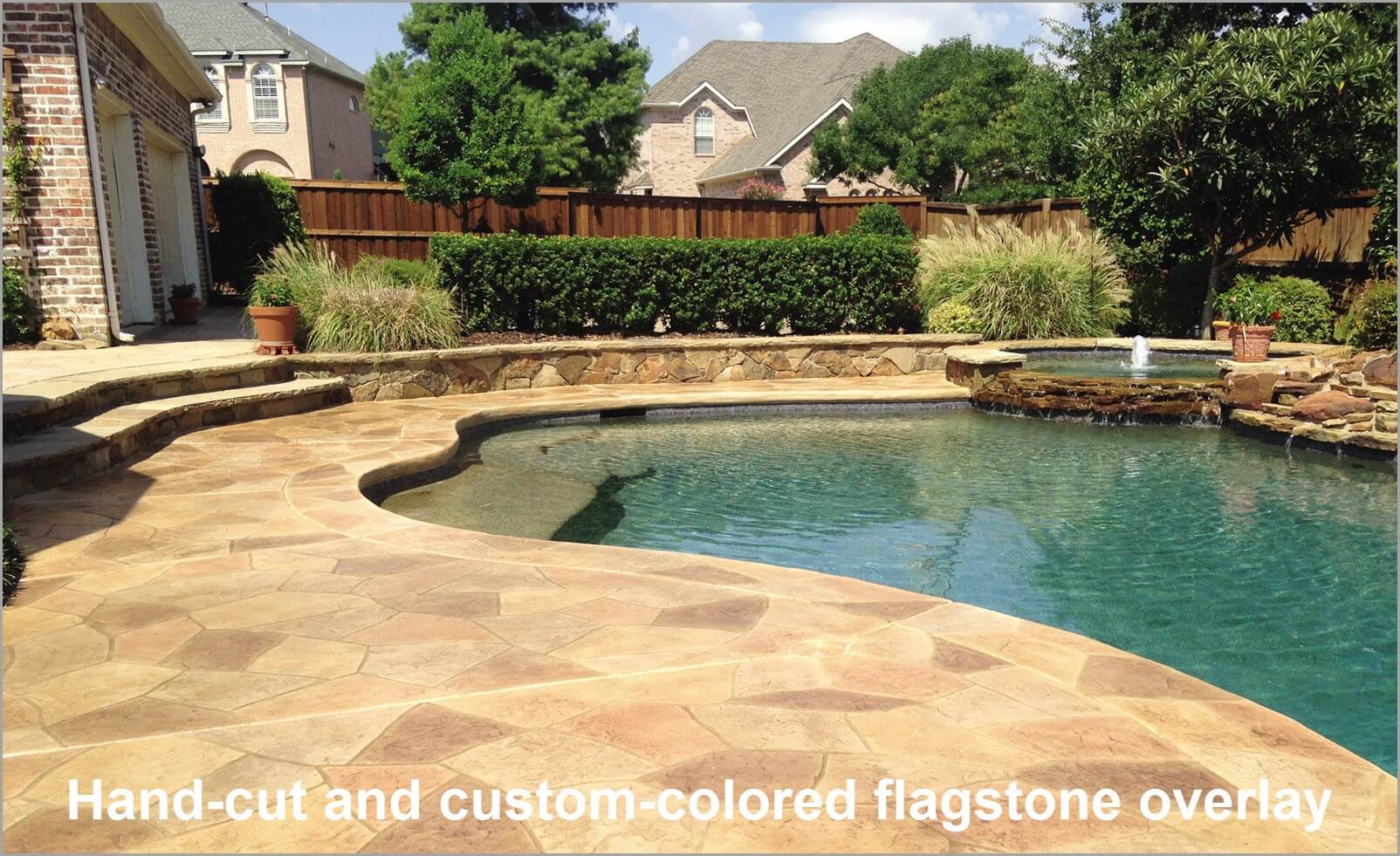 Step One: Inspect and evaluate existing concrete
Your concrete will be assessed as to whether it can successfully accommodate an overlay. Every inch is inspected, making sure the surface is structurally sound. Then it's cleaned and prepared, including removing anything that could prevent a strong bond with the concrete overlay, such as previous coatings or oily stains from food and suntan lotions.
Step Two: Create a usable surface
Bumps and uneven spots will be leveled and damaged areas and cracks patched to create a solid base. Pressure washing with a special cleaner and then drying to the proper degree prepares the surface for the primer that ensures the overlay adheres completely to the concrete surface without blisters, holes, or bubbles. One or two coats of bonding primer are applied, as needed.
Step Three: Apply overlay mixture
Your overlay is mixed fresh on-site with the proper amounts of ingredients, including rubberized polymer, elastomeric resin, cement, cement modifiers, fibers, and aggregates for a perfect overlay. Pouring to the right depth and smoothing properly creates a consistent surface, giving the finished overlay the look of a newly poured concrete slab, making its damage and discoloration a thing of the past. Now the fun begins with the decorative concrete design.
Step Four: Stamp and/or hand-cut the pattern
"Real stone" molds are used to get the authentic look of rock and stone. Stamp patterns include flagstone, cobblestone, Ashlar slate, Roman slate, brick, and tile. The stamp patterns imprint the concrete to the proper depth for the three-dimensional look and texture of real stone.
For stamped concrete patterns, texture and design impressions are made and the overlay cures overnight before staining.
For hand-cut designs, impressions are made to texturize the surface and the stone outlines (grout lines) are hand-cut and tooled to the correct depth, creating smooth, non-chip edges for your faux stone design. Curing overnight gets the overlay ready for the concrete stain.
Step Five: Coloring the surface
Stamped patterns are stained with one or more colors for an authentic-looking result. Borders and stenciled designs can also be added for distinctive style.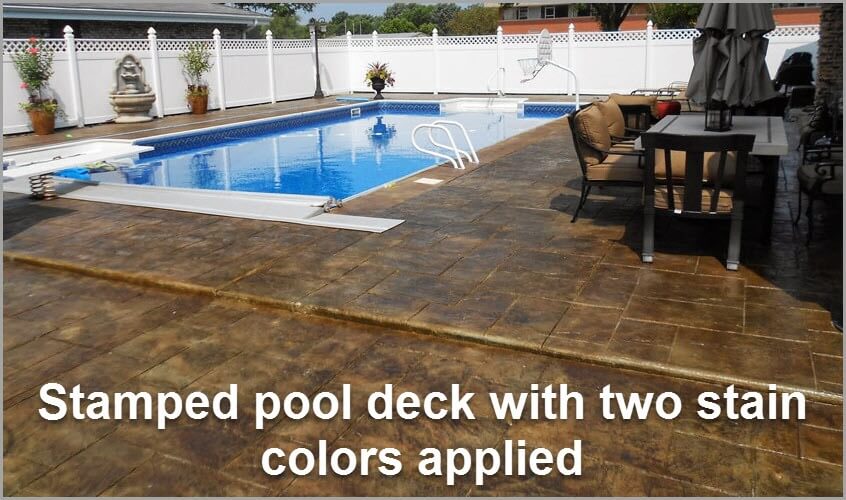 Hand-cut faux stone designs, such as flagstone, emulate the subtle contrast in the natural colors by using a blend of primary colors and a base coat wash for a realistic look. The patio below demonstrates how hand staining colors for the randomness of natural flagstone gives authenticity to the pattern. Topping with a colored base coat wash completes the colors amalgamation and darkens the grout lines before a protective sealer is applied.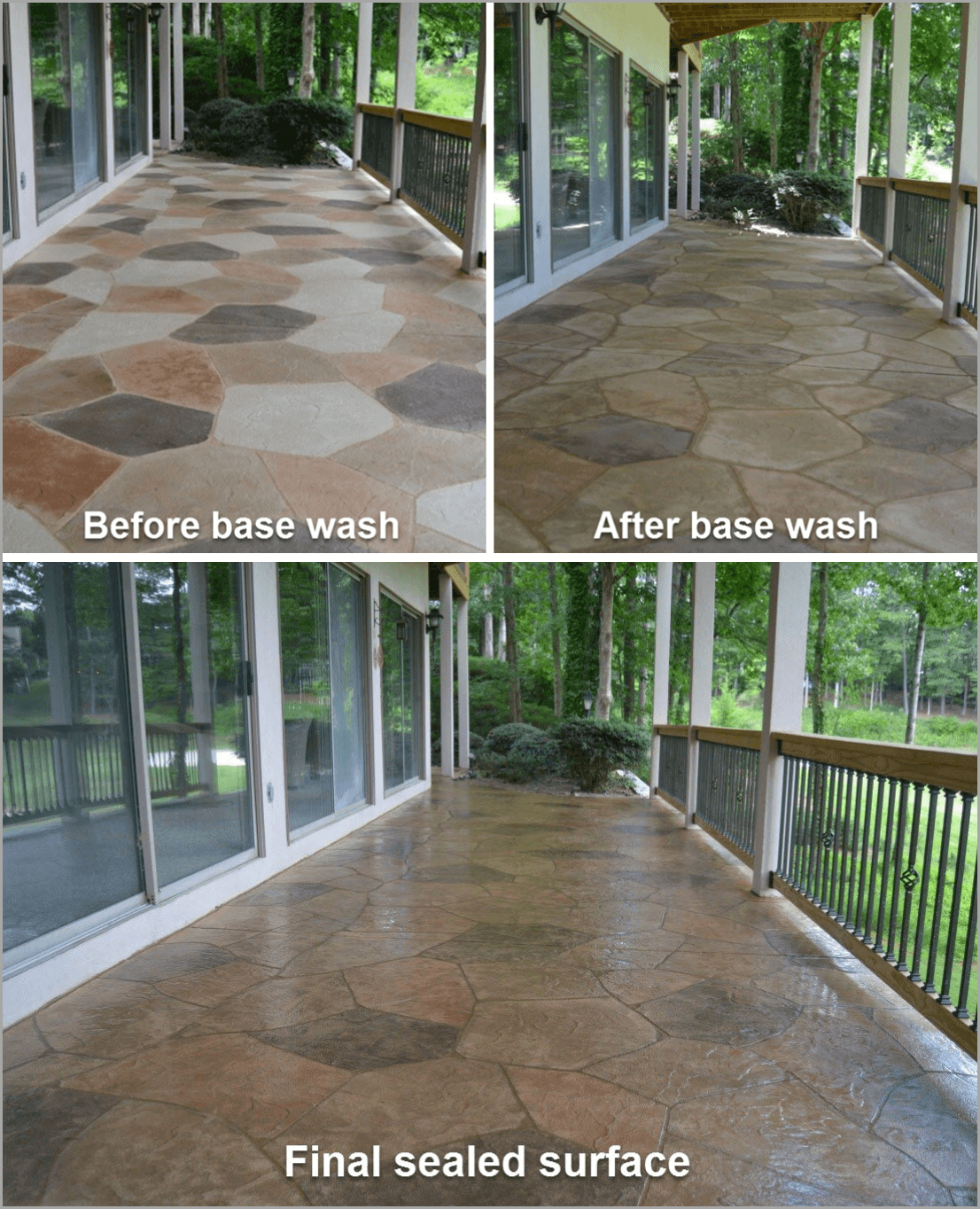 Step Six: Final protective sealer
The final step for all our stained, stamped and hand-cut decorative concrete projects is our industry-tough sealer that gives brilliant shine, UV protection against color fading, and a seamless, durable surface that resists moisture, stains, chips, and cracks. Hand application eliminates the possibility of missed sections or puddles that can happen with sprayers. An anti-slip layer provides a safer surface for pool decks where water can cause slippery surfaces.
River rock concrete overlay
StoneKoat by Concrete CraftTM can quickly transform your pool deck with our one-step overlay of beautiful, decorative 100% natural river rock in an exclusive non-epoxy-based concrete overlay. Available in a range of colors from the lightest color blend, Frost, to a dark Espresso, you'll be able to complement any landscape design as well as customize your pool deck with patterns and borders by using more than one color. Once the existing concrete is cleaned and prepped as described above, this one-coat overlay fills in, levels out, and creates a beautiful, real stone coating for your pool deck and surrounding areas.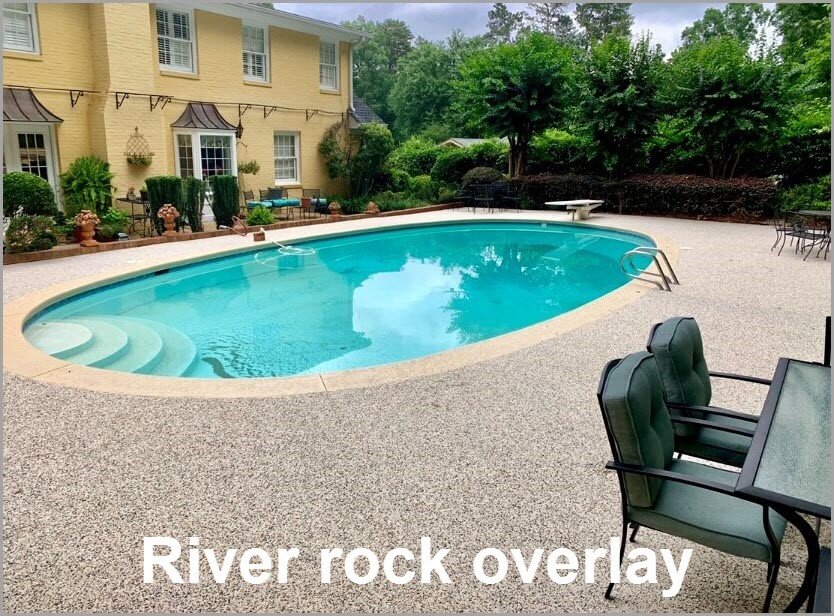 A new pool deck, done and done!
Revitalizing your pool deck with a Concrete Craft concrete overlay means you'll have years of worry-free fun ahead. You won't have to reassess your pool deck every season to see how it survived. All our finishes are industry-tough and able to withstand Mother Nature and Old Man Winter all year long.
Durable surfaces resist abrasion and impact and can withstand any kind of weather without cracking or peeling.
Surfaces resist stains and spills of all kinds, including pool chemicals that can discolor actual stone or bare concrete.
Easy to maintain and keep clean without the need for the usual harsh concrete cleaners.
Handles high traffic with ease.
Impervious to damaging UV light.
Contact us today or go online to www.concretecraft.com to find the Concrete Craft location nearest you and request a free consultation. Our professionals can help you decide the best finish for your pool deck for your taste, your concrete, and your budget. Make every minute of summer count!