Get the Look of Authentic, Hand-cut Stone with Decorative Concrete
If the concrete surfaces in your yard are unexciting and add nothing to the overall design, it may be time for a change. Imagine your patios, pool decks, and walkways in flagstone. Or Old English cobblestone. You would have a completely different yard! If your next thought is the damage to your bank account, Concrete Craft® can help with that. With stamped and resurfaced decorative concrete overlays, you can transform ugly gray concrete surfaces with the look of authentic hand-cut stone at about half the cost of the real thing.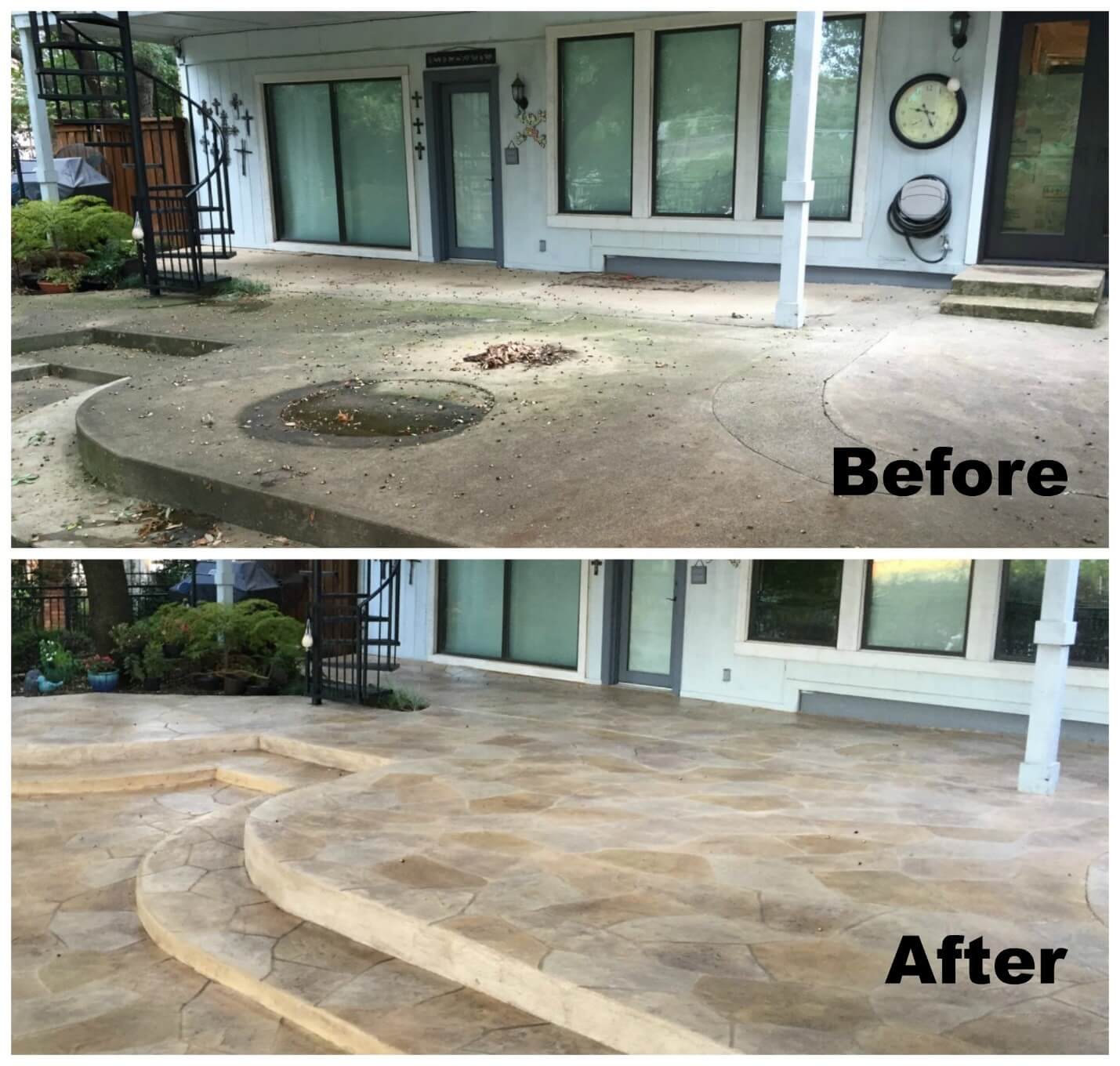 Stone finishes are experiencing a resurgence of popularity as homeowners want yards that reflect a more natural, green ambiance. Lush gardens and shade trees are enhanced with stone walkways, patios, retaining walls, and seat walls. Ashlar and Roman slate, cut sandstone, cobblestone with smooth or irregular stones, and flagstone in elegant designs are adorning more and more homes.
With Concrete Craft there is no need to demo existing concrete, even if the surface is damaged as in the above example. We'll prep the surface, filling cracks and dings and making it receptive to the concrete micro-topping overlay that will be stamped and/or hand-cut into the stone design of your choice. You're never limited to locally available materials, as our custom real-stone molds can emulate any stone or rock, and our custom concrete stains in a wide range of colors can create the look of high-end stonework.
Flagstone
Flagstone is one of the most popular faux stone finishes for a natural, organic look for patios, driveways, and pool decks. Whether a large area or a small area, you'll have a stone design that perfectly fits your space, there's no problem finding enough stones of the right size, shape, and color. Individually cut stone shapes give an authentic look and realistic finish, and color options range from light neutrals to colorful multi-blends.

Cobblestone and pavers
Decorative concrete can also emulate European and English cobblestone and various pavers. Stamped and hand-carved designs like European granite or sandstone cobblestone immediately upgrade plain old concrete to a definite style statement. You get the beauty of set stone, but without the hassles that come with grouted stones. The "grout lines" are part of the seamless, sealed surface and won't ever crumble, discolor or chip like real grout. Stones won't shift, lift or pop out, nor will grass or weeds grow between the "stones" and require removal.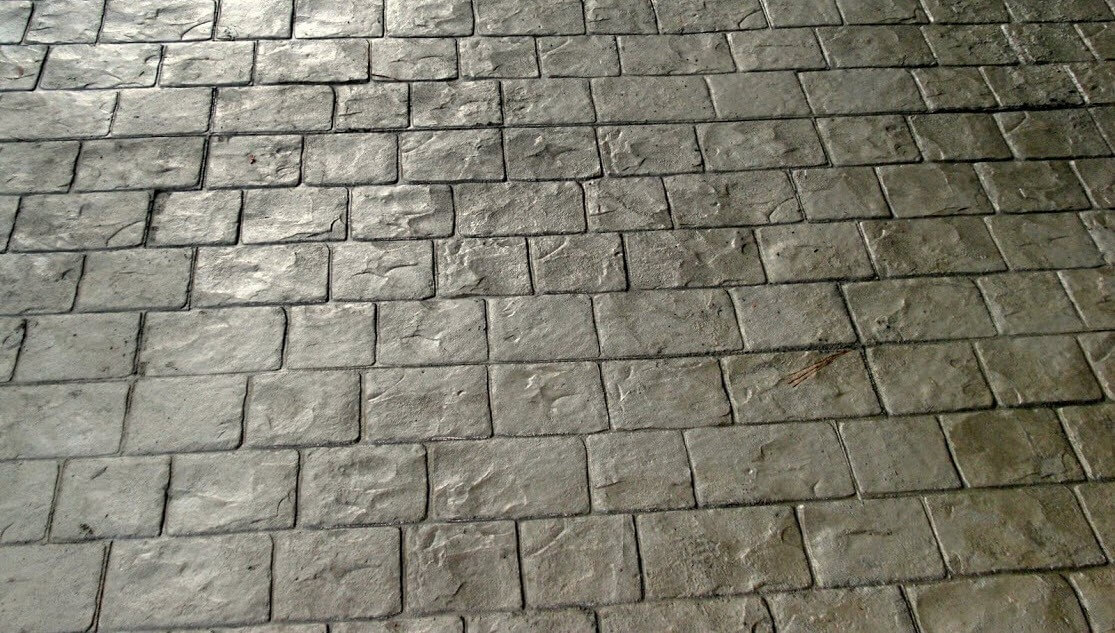 Ashlar slate and Roman Slate
Ashlar is a random configuration of squares and rectangles, creating a carefree design that can be finished in various textures, a smooth stone-like slate or heavily textured Roman slate, in medium or large size stone options. The pattern is timeless and can be incorporated with any architectural style depending on the finish and color you choose. This driveway is almost too pretty to drive on. But that's not a worry, because the industry-tough finish can withstand vehicle traffic without cracking or peeling.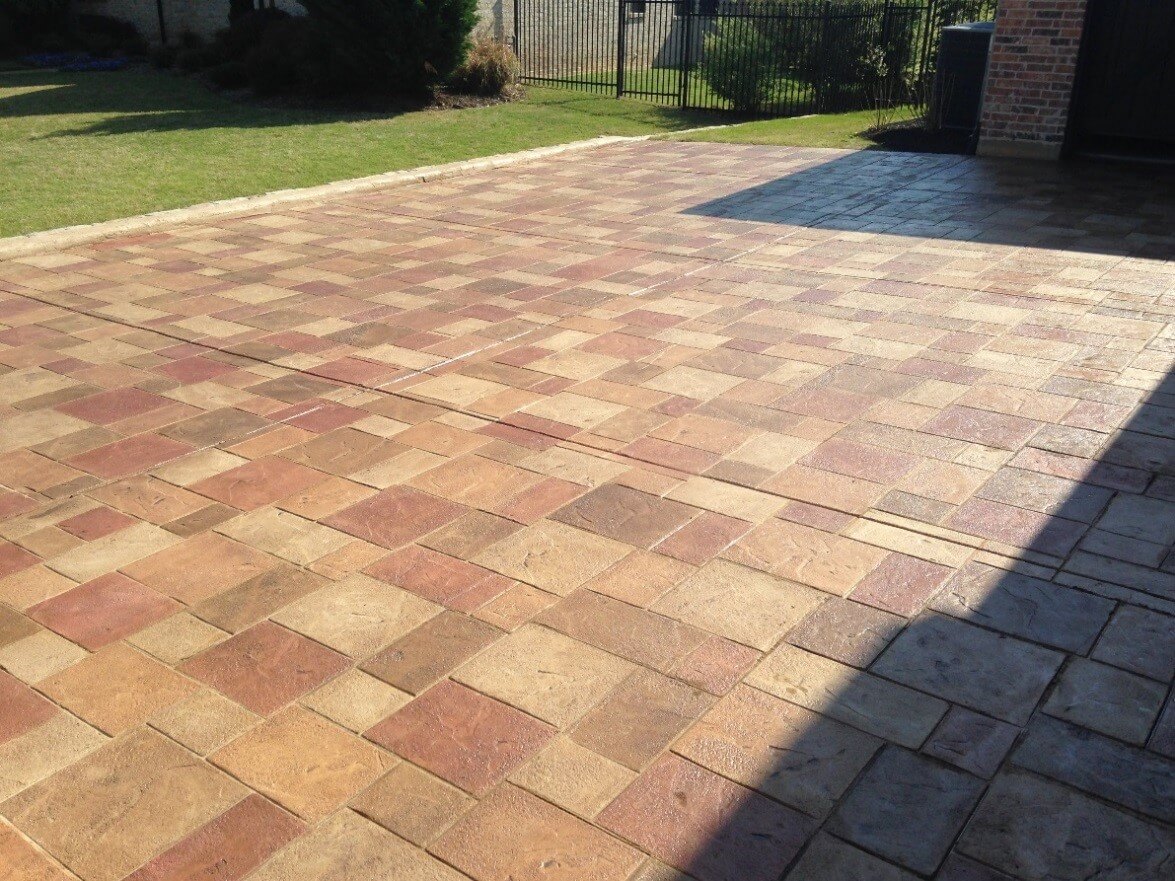 Random stone and tile
Custom hand-crafted stone opens the door to unlimited design options. Decorative concrete can imitate expensive tiles or be a unique random stone design for a one-of-a-kind patio, driveway, pool deck, or walkway. This patio has a random stone design in gray with seat walls and a fire pit in the same color for a monochromatic color scheme. Bring on the patio furniture and colorful umbrellas for an upscale entertainment area.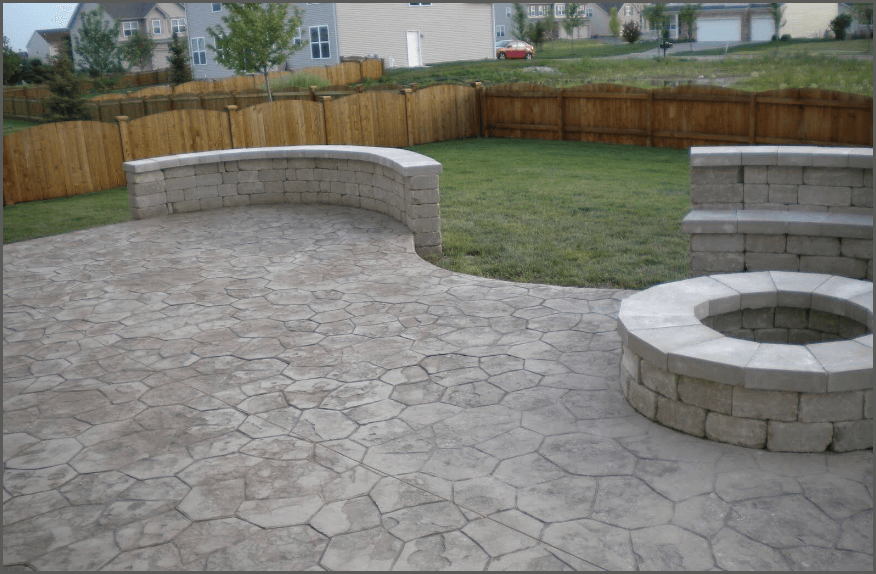 Custom stencils and logos
Your faux stone concrete overlay can be further customized with stencil or logo designs, like the compass in the picture below. It brings bright color to the Ashlar pattern and makes the patio extraordinary. Medallions, geckos, and sea turtles are popular for adorning driveways, entryways and adding interest around pool decks. Simply imprinted designs can add subtle interest, or the design can be custom colored with a vibrant stain that won't fade or chip away. Your design will last as long as the floor, which is many, many years.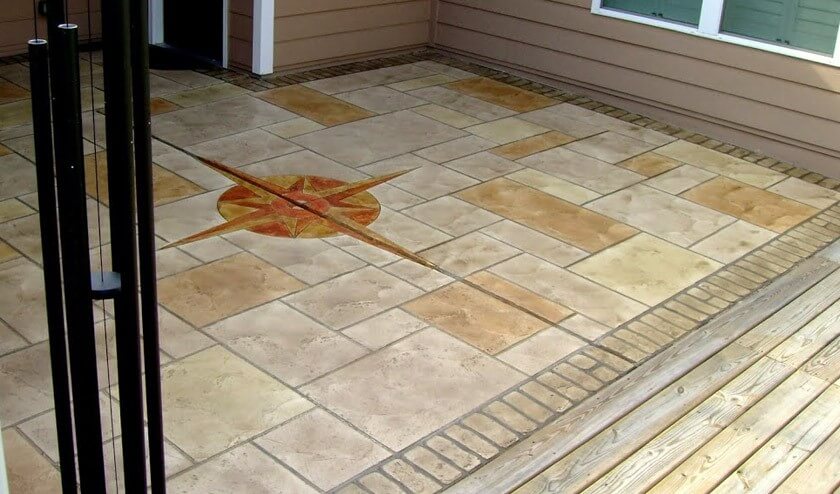 Don't just dream about upgrading your outdoors with the beauty of stone. There's still time to transform your yard for summertime fun. Your local Concrete Craft artisan can help you acquire exactly the look you want with hand-cut and custom-colored decorative concrete overlays to your existing concrete. You'll be amazed at the options available:
Unlimited design potential
Fade-resistant stain colors with UV protection built right in
Hand-crafted customization
Industry-tough sealers with optional slip-resistant additives
Low maintenance finishes, no strong cleaners required
Fast, professional installers
Two-year warranty* on workmanship and products
A price you'll love
Contact us todayor go online to www.concretecraft.com to find the Concrete Craft location nearest you and request a FREE design consultation and estimate. Our colors and patterns look natural and authentic and can be designed to seamlessly blend with any existing hardscape or landscaping you already have. Check out our spaces image gallery to see what we can do for patios, driveways, walkways, pool decks, interior floors, and more. Your new, beautiful "stonework" is just a phone call away. Call today!