Get The Look Of Hardwood With Concrete Floor Designs
Home décor trends come and go, but hardwood floors have consistently been at the top of the list for desired home floor styles. Concrete Craft® has perfected the look of real hardwood floors from classic smooth finishes to the rugged textures of reclaimed wood. With stamped concrete faux wood finishes, you can enjoy the classic elegance that hardwood flooring gives, but with these benefits:
Lower cost
More design options
Greater durability
Lower maintenance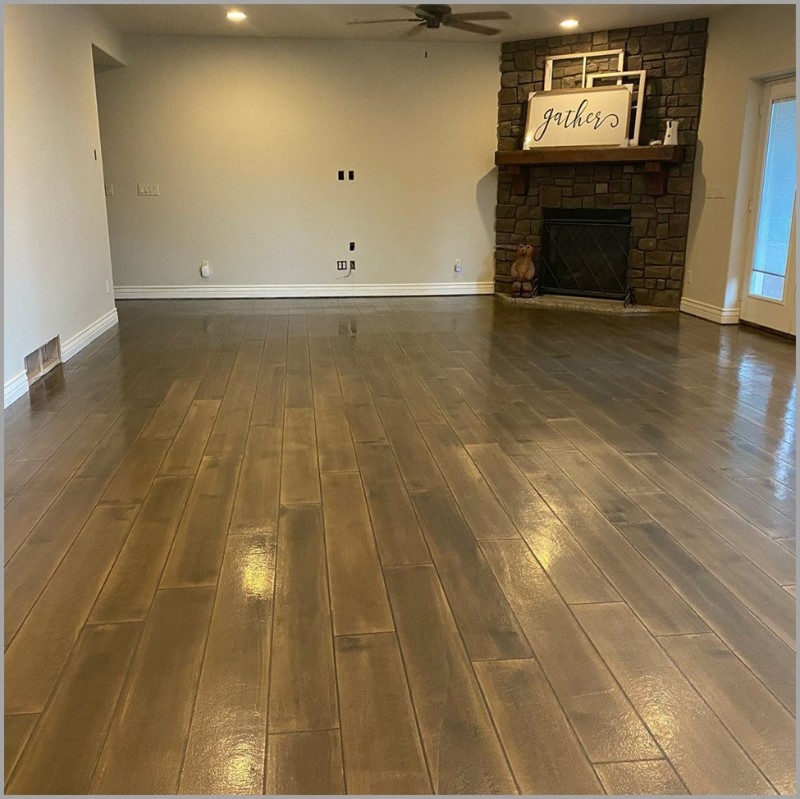 Don't just dream of hardwood floors, start the New Year right with beautiful faux wood, stamped concrete floors
Keep money in your pocket, not in your floors
A decorative concrete faux wood floor will cost about half what real or engineered hardwood costs. Plus, you don't have to deal with cost differentials of hardwood styles like panel length and width that impacts cost, you can choose any style and custom stain colors for the exact look you want for your "hardwood" floors. Additionally, since a stamped concrete overlay is one continuous surface applied in just a few days, you save the time and hassle of installing individual planks and the cost of additional product to allow for cutting and fit issues.
Unlimited design options with custom installation
Sometimes, saving money can mean lesser choices but with our realistic wood stamp patterns, you can have any look you want. Choose smooth finishes, distressed wood, wider and longer planks, stronger graining, reclaimed wood, and textured finishes in colors from bleached wood to dark ebony. No need to endlessly shop for your perfect cool gray shades, warm browns, or dark wood flooring when our artisans can create your custom look.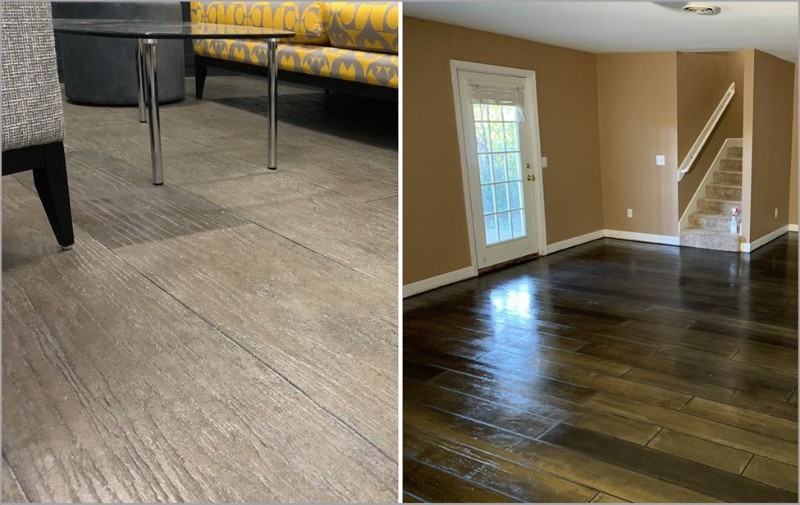 There's never a problem for any wood style you desire, custom stamped concrete offers unlimited design possibilities
Rubber stamps are designed from real wood molds for more realistic looking finish options, including smooth, textured, and engineered wood.
Moisture-resistant sealer makes the faux wood flooring impervious to weather and humidity, and the "planks" won't warp, splinter or tear like real wood.
Hand-applied custom concrete stains ensure an overall, even coloring throughout the space which real wood can't always provide.
Concrete wood floors can safely bring the high-end beauty of hardwood to any room in your home, no worries of moisture or humidity in kitchens, bathrooms, and entryways.
Decorative concrete makes faux wood possible for the outdoors as well for a patio, deck, sunroom, pool house, entryway, or walkways.
Durability you can trust
It's really no contest of which floor is the toughest when comparing wood and concrete. Concrete is the toughest floor you can have, while natural wood is softer and will sustain damage that a concrete floor will not. Owners of real hardwood floors take special pains to protect the finish, such as no street shoes worn in the house, yet still report problems keeping the floors intact:
Scratches easily with tracked in dirt, sand, or gravel.
Moving furniture to clean or redecorate can damage the floor.
Water and spills can penetrate and permanently stain the floor.
Pets' claws can mar the surface and smelly "accidents" can soak into the wood.
Hardwood won't stand up to weather for outside patios or sunrooms.
Stamped concrete hardwood floor designs will provide years of worry-free beauty and functionality. You don't have to take extraordinary measures to protect the floor where children and pets live. Even they cannot damage the sealed finish:
Stain-resistant polymer sealers provide UV protection and fade-resistant qualities.
Concrete floors don't trap mold, mildew, dust mites, bacteria, allergens, or moisture.
Tough finishes resist scratches from human traffic and rambunctious pets.
Spills like wine, food and pet messes wipe right up with no residual effect.
Our sealers and integrated stains are all weather-proof, making faux wood concrete finishes viable for outside areas.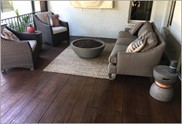 Enhance outdoor spaces with wood look designs in durable concrete finishes that keep you on that patio year after year
Lower maintenance saves precious time and energy
The low maintenance of concrete floors is a big plus. The tough, durable surface eliminates the normal wear-and-tear repairs of other flooring types, so keeping interior and exterior hardwood concrete floors looking like new is easy.
Clean indoor floors with a dry dust mop and an occasional damp mop using a neutral-pH cleaner.
For heavily trafficked rooms, an application of floor wax provides additional protection.
Resealing every few years will restore a worn finish, if needed.
Outdoor floors like patios can be swept and hosed off to stay clean.
Decorative concrete hardwood floors can save an average of a $1 per square foot, per year, in maintenance over real hardwood flooring.
By contrast, hardwood floors are more labor-intensive to keep clean.
Hardwood floorsrequire specialty floor cleaners to best preserve the finish.
Repairs are constant for damaged sections due to stains and scratches of everyday life.
Wood surfaces can splinter, especially at the adjoining plank seams, requiring sanding and re-staining.
Extensive damage to hardwood floors can require whole floor refinishing.
Outside decks or patios require annual staining and waterproofing due to weather damage.
Happy New Year can mean new wood floors
If you love the idea of hardwood floors but not the cost and upkeep, you can have the authentic look of hardwood throughout your home with Concrete Craft. Find the style you want and then talk with the professionals at Concrete Craft about stamped hardwood patterns with custom resurfaced concrete overlays that can give you your perfect floor. You'll love the look, the quality, the easy care, and the incredible cost savings over real wood floors.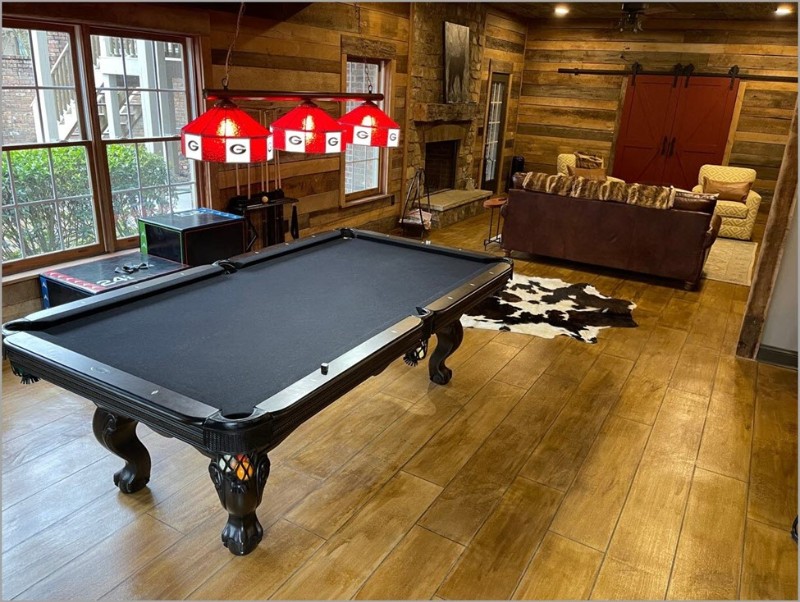 Create spaces you love with the warmth of wood and the lasting beauty of concrete
Don't wait any longer to update your floors and transform your living spaces with modern floor designs. Call 888-852-9244 today or go online to www.concretecraft.com to find the Concrete Craft location nearest you and request a free in-home or virtual* consultation. Our exclusive MasterPro FinishTM concrete resurfacing systems can also replicate other popular flooring styles such as tile, brick, marble, and stone. Check out our online products catalog for more decorative concrete flooring options.
*Virtual consultation may not be available at all locations.