Get Your Perfect Summertime Backyard With Versatile Decorative Concrete
Summer is officially here in a matter of days and if your backyard could use some sprucing up to make it into the perfect summer destination for your family, Concrete Craft® is ready to help. From resurfaced patios to rescued pool decks and restored walkways and vertical surfaces, very versatile decorative concrete can transform all your spaces in just a few days so you're ready for anything that summer brings:
Impromptu barbeques with friends dropping by
Feet up, reading a favorite book on the patio
Playing outside with the kids all day long
Postponing dinner for more swim time and eating alfresco around the pool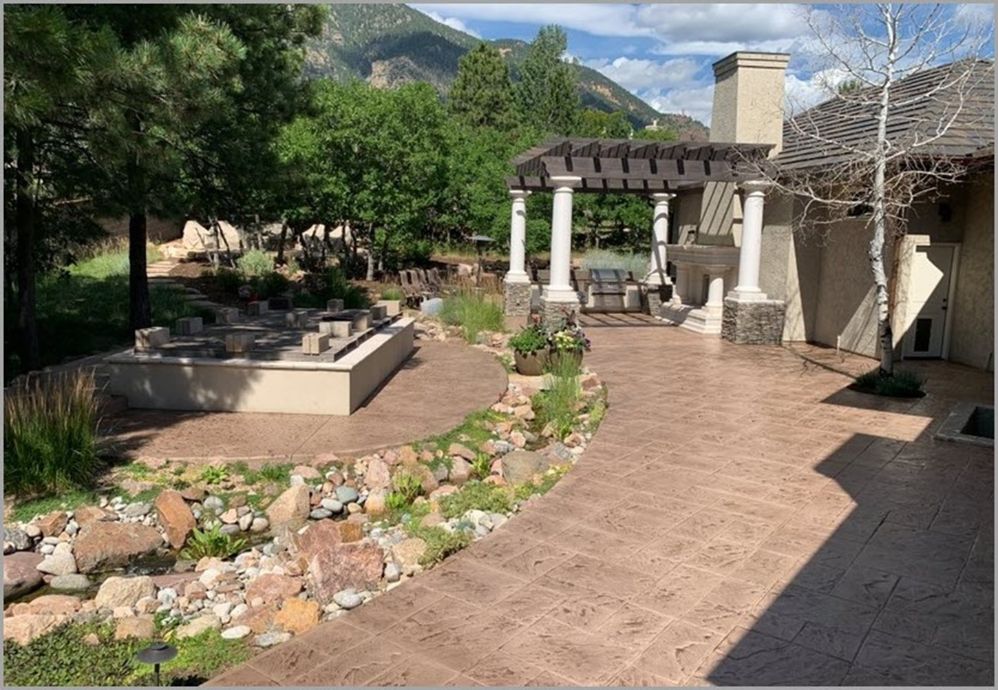 Transform your own backyard into the perfect summer getaway for relaxing and having fun
Why spend money to travel to a resort when you can have the same vacation atmosphere right at home? Make a lasting investment in your home with decorative concrete finishes that can transform all your outdoor spaces, so you'll feel like you're at a luxury hotel all summer long. Banish an ugly or boring concrete patio or pool deck with vibrant stained concrete, stamped concrete faux stone designs, or one of our overlay refinishing products and you'll be ready for anything that summer brings.
Rock-solid, durable decorative concrete floors
Outdoor entertainment areas like patios and pool decks that are exposed to weather assaults year after year can eventually look beyond hope. Concrete Craft has a full range of decorative concrete finishes and overlays that can repair and restore damaged concrete with beautiful, durable finishes that will last for years and look better than you ever thought possible! Our exclusive MasterProTM product line has various options for upgrading your backyard without demolition and replacement. We offer concrete stains, polished concrete, restorative finishes and coatings, and resurfaced concrete overlays for creating stenciled, stamped, and hand-cut faux stone or wood designs for floors and vertical surfaces.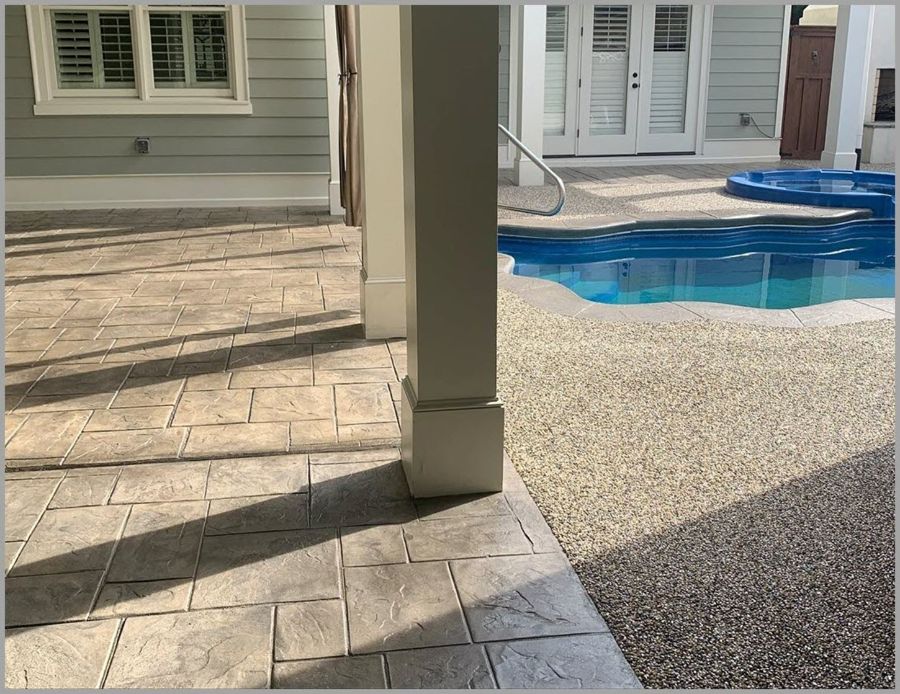 Combine decorative concrete finishes for an extraordinary effect, like river rock and stamped Ashlar slate
All of our decorative concrete finishes offer benefits beyond the beauty and economy of resurfacing with the professionals at Concrete Craft:
Sealed surfaces resist dust and dirt buildup, inhibit mold and bacteria growth, and repel stains and moisture so it's very easy to keep them clean.
Extreme weather is not a problem, our finishes can withstand hot and cold and wet and dry conditions without deteriorating.
Resistant to chips, cracks, peeling, or UV fading, you can expect your decorative concrete to stay beautiful for years even with continual use.
Functional architecture: seat walls and retaining walls
If your patio or pool deck space is open and undefined, retaining walls and seat walls can define and dress up your spaces with beauty and functionality. Our seat wall system is a fast and economical way to create faux stone retaining walls, seat walls, or raised garden enclosures. Our system for creating custom walls uses a core of foam liners to create unique curved designs for any shape patio or pool deck, and vertical concrete resurfacing overlays allow for replication of any type of stone, color, or texture to complement your existing hardscapes.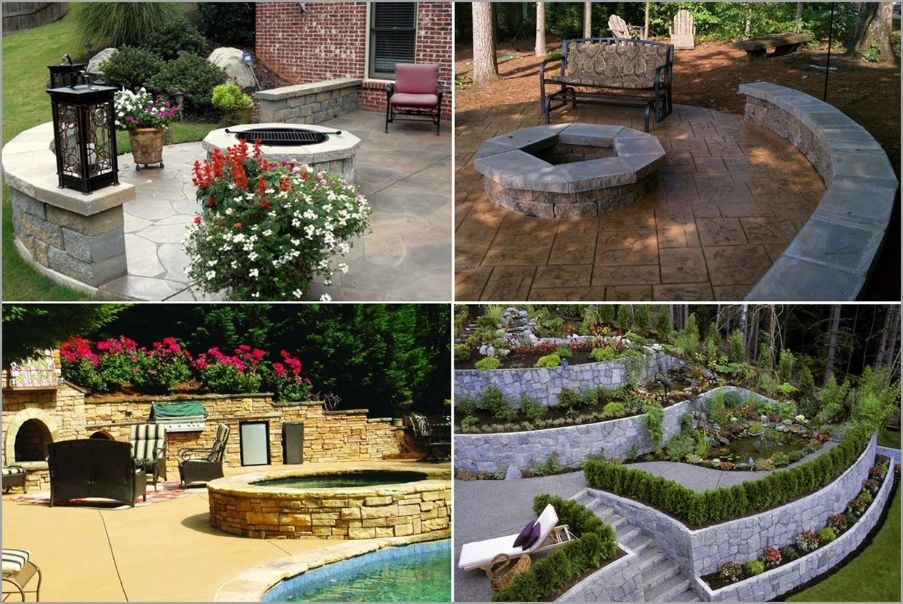 Add interest and functionality by defining entertainment areas with seating and enhancements to magnify the efficiency of your space
Seat walls are a permanent seating solution that adds beauty and year-round functionality around your pool or patio.
A commercial-grade, industry-tough sealer protects the faux stone finish, making the seamless surface stain and moisture resistant.
The realistic stone façade is created on-site, to an exact measurement, with custom hand-carved designs like Mountain drystack, castle rock, orchard stone, and cobblestone.
An outdoor fireplace can also be updated with vertical concrete resurfacing to repair an old finish or resurface it to match the faux stone of new seat walls.
Design an outdoor room with patio amenities
Turn your patio into an extended living space by creating lush surroundings in your favorite outdoor style, such as a beach theme, rustic wilderness, English garden, or Club Med. Create an inviting space you want to spend time in for relaxing or entertaining. Set up the barbeque grill, tables and chairs, outdoor rugs, a patio cover, and solar lights to have a patio ready for day or nighttime activities. The patio will become the favorite summer hangout for the whole family.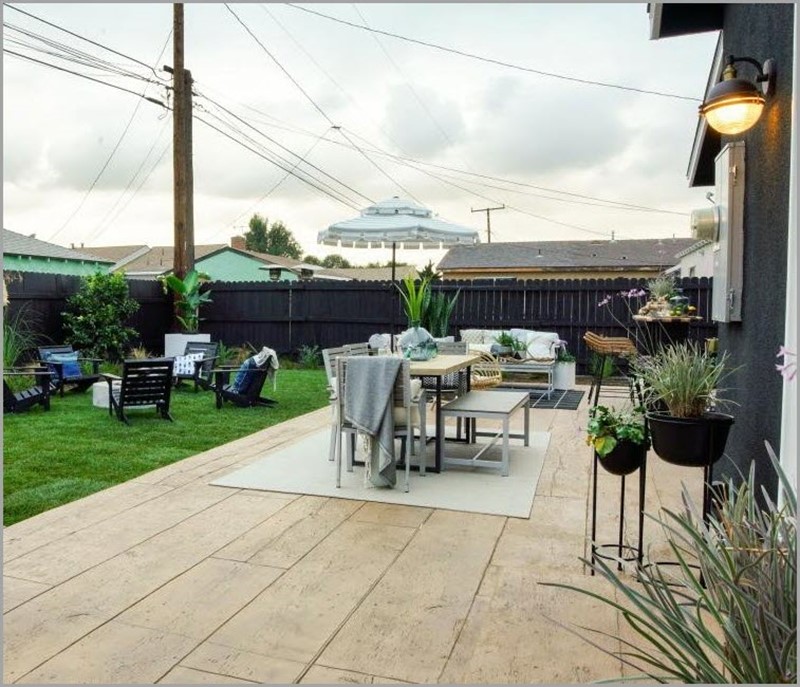 A stamped concrete overlay in a wide reclaimed wood plank pattern sets the foundation for an amazing summer of fun
Kids and dogs can play all day without damaging the patio surface; it resists stains, spills, chips, and cracks from food, drink, or rambunctious activity.
Shoo the kids into the house and claim some "me-time" on the patio for reading, catching up on emails, or getting a tan.
Indulge in container gardening for flowers, tomatoes, or herbs without the worry of staining the moisture-resistant floor with water stains and potting soil.
Save dad the expense of a trip to the cigar bar and let him unwind after work with his favorite stogie and maybe a friend or two.
Capitalize on the luxury of a pool
If you have a pool, you're already halfway to the perfect summer! Start with updating a worn pool deck with any of Concrete Craft's decorative concrete solutions and add a few decorating ideas from your favorite resort hotel. Think in terms of ambiance, comfort, and space functionality that you like, and build out an entertainment space for all the pool time activities, including pool games, sunning, eating, drinking, conversation, and even napping.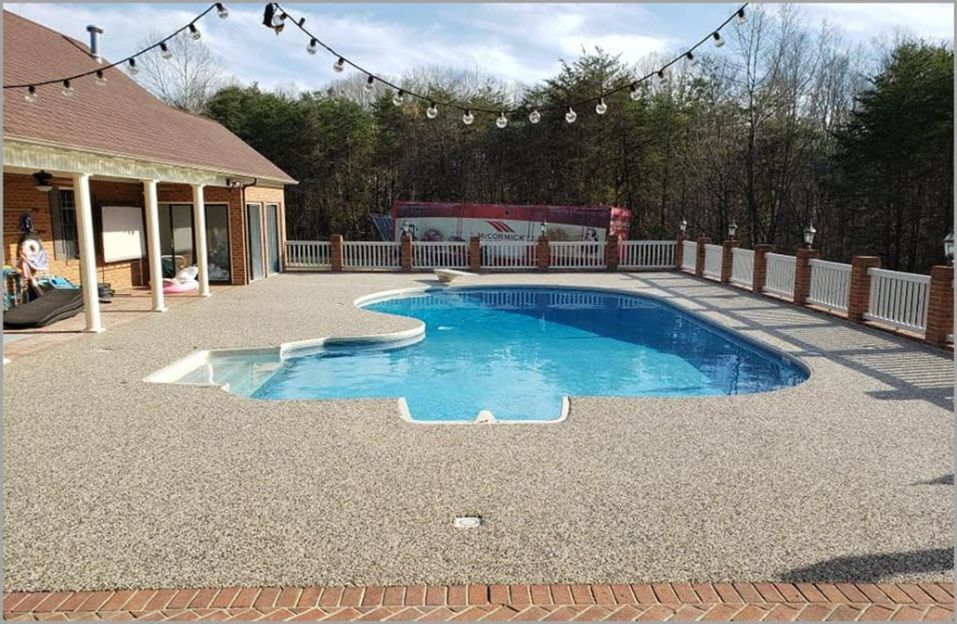 A PebbleKoat pool deck will safely see you through years of summer fun
Clean or refinish patio furniture you already have; buy new outdoor cushions
Have chairs, lounges, ottomans, and tables so everyone can keep food and drink handy
Provide sun relief with shade umbrellas or a patio cover in seating areas
Picnic coolers can keep drinks and snacks cold and nearby
Have plenty of beach towels and sunblock available
Solar lights create nighttime ambiance and increase safety
Citronella oil Tiki torches add light and atmosphere while keeping pesky bugs away
Make summertime at your house where the fun is! Call Contact us today or go to www.concretecraft.com to find the Concrete Craft location nearest you and request a free in-home or virtual* design consultation. New decorative concrete finishes will help you to transform your backyard into a beautiful extended living space your family can enjoy all year long.
*Virtual consultation may not be available at all locations.