Get Your Walkway Safe for Halloween with a New Decorative Concrete Overlay
If you want to be sure you're only giving out treats and no tricks for Halloween, take a look at your front walkway to see if it's safe, or are you seeing uneven spots, lifting stones and cracked sections? With winter weather moving in all around the country, the possibility of rain and thunderstorms in Tennessee, Texas and Florida means that trick-or-treaters may need to be extra careful to avoid trips, slips and falls.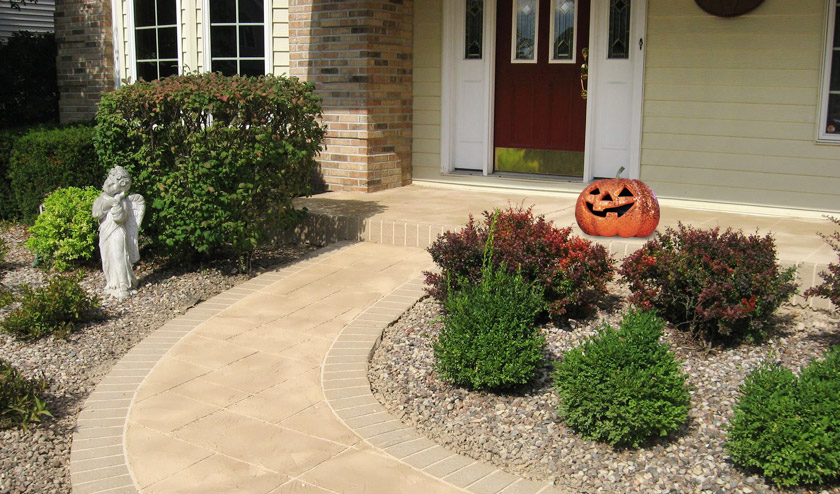 Now is a good time to make sure that your walkways are safe for little goblins, and that you won't be in line for any slip-and-fall lawsuits! For a safe and sane Halloween at your house, here are some commonsense tips:
Make sure that decorations like pumpkins and skeletons are safely out of the way of foot traffic.
Remove any other tripping hazards on your porch like potted plants, skateboards, shoes, etc.
Have sufficient lighting so everyone can see where they are going (remember, masks can make it harder for children to see clearly).
Keep pets safely away from visitors; you never know when Fido will have had enough" fun" and might bite someone.
Do not have electrical cords out where they can be touched or stepped on by children.
Use battery-operated candles in jack-o-lanterns instead of burning candles.
Eliminate cracks, lifted stones, uneven surfaces and other tripping dangers from your walkways with new, resurfaced concrete overlays from Concrete Craft®.
Stained, stamped and resurfaced concrete walkways
It's true! If you're living with distressed concrete or plain gray sidewalks, walkways or driveways because they came with the house, those days are gone! With custom stained, stamped and resurfaced concrete, you can have show-stopping walkway designs including hand-cut faux stone, vibrant colored concrete stains or even a wood plank pattern for a truly unique look.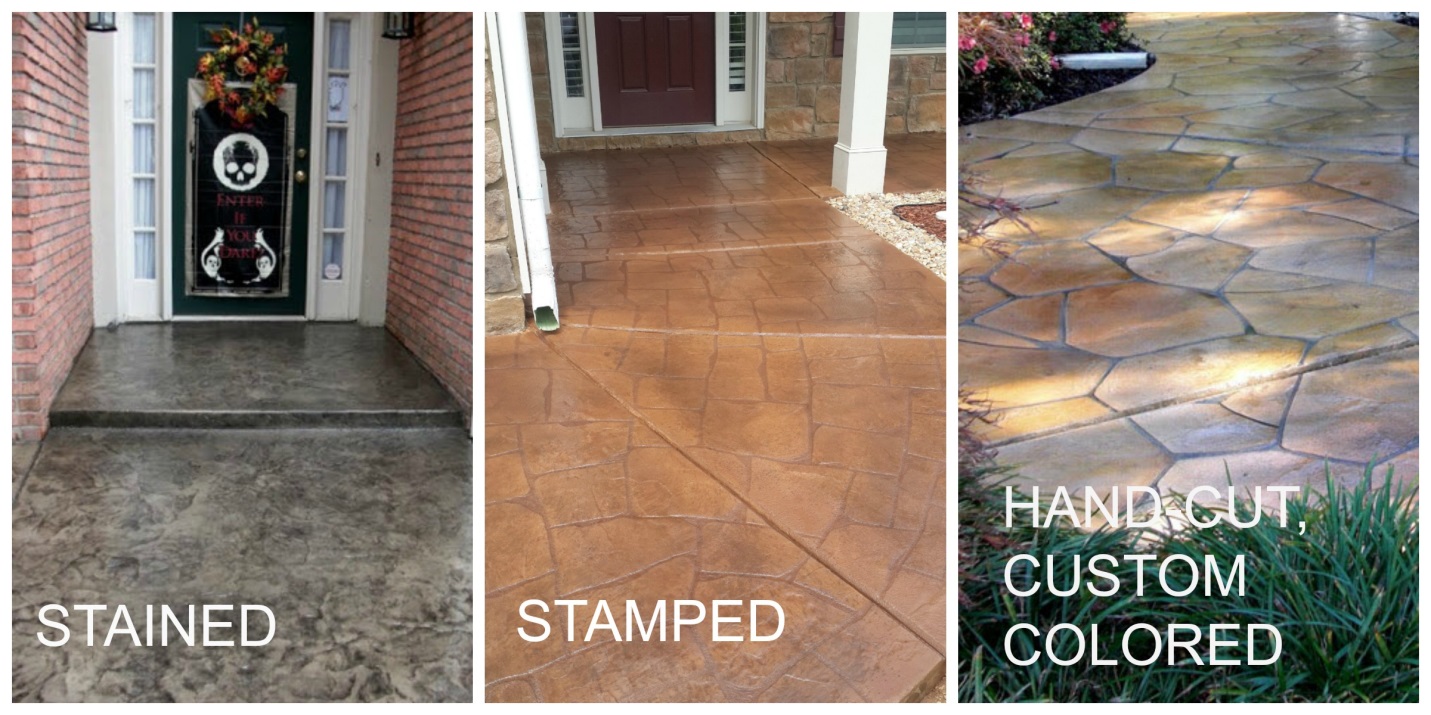 The benefits go beyond just beautifying your yard and include:
Slip-resistant texture can be added for additional safety
Finishes are resistant to all kinds of weather, including freezing snow and scorching sun, and will not fade, chip, stain or peel
Fast installation is done over existing concrete and there's no need for demolition
Unlimited design potential with colors, patterns and hand-cut shapes
Unsurpassed attention to detail and authenticity in the designs for the look of real stone
Adding specialty borders is no problem
Hand-cut "stones" never lift and faux grout lines never crumble; it's always a smooth, even surface
No grass or weeds can intrude on the walkways
Low maintenance, only requiring resealing every few years to stay like new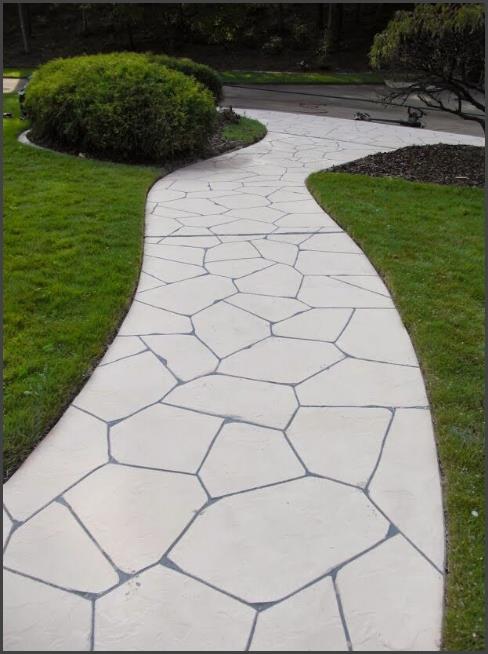 Although a simple design, this walkway adds artistic charm from the sidewalk to the front door with a resurfaced overlay with a hand-cut and custom-colored stone design. The neutral color is a beautiful contrast to the lush green surroundings and you'll never see grass or weeds between the "stones," so maintenance is easy year round.
Natural stone like flagstone and cobblestone are very popular for walkways, but they can be very expensive, especially if you want custom design or rare colors. If you think your dream of a natural stone walkway is impossible due to cost, guess again. You can still have the beauty and durability of natural stone with a custom concrete overlay from Concrete Craft. It's about half the cost of real stone, and no one but you will know it's not the real deal!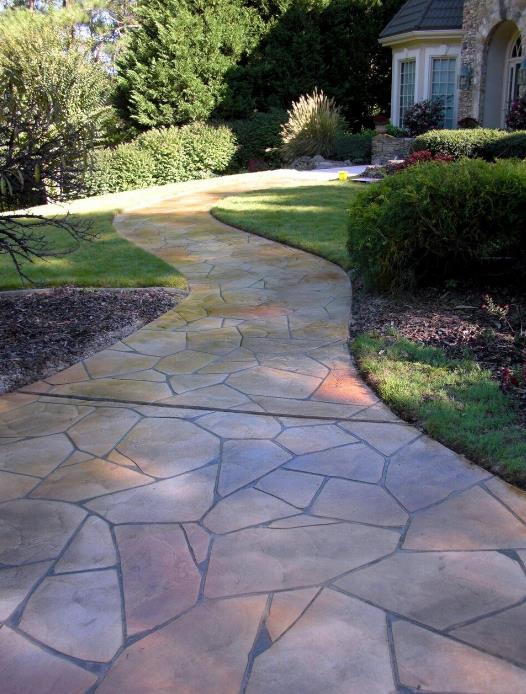 If you're not sure what style best suits your needs, you can check out the most frequently asked questions about stained concrete, stamped concrete and resurfaced concrete overlays, or research each individually.
Make sure that all your walkways are safe for Halloween and every day! Whether you have one walkway up to the front door, or a network of meandering walkways in a country garden, don't settle for boring! All your patios, driveways, walkways, porches, pool decks, vertical surfaces and even commercial spaces can be enhanced with stained, stamped and resurfaced concrete. Contact us today or go online to www.concretecraft.com to find the Concrete Craft location nearest you and request a FREE estimate for upgrading all your walkways with unique decorative concrete designs.
Concrete Craft continues to grow and is currently in Atlanta, GA; Naples, FL; Chicago, IL; Valparaiso, IN; Lexington, KY; Charlotte, NC; Dallas/Fort Worth, TX; Denver, CO, Las Vegas, NV, Birmingham, AL , Knoxville, TN, and Greenville and Upstate, SC. If there's not a Concrete Craft near you, check out the franchise opportunity of owning a Concrete Craft.