Give Your Home A New Look With The 2020 Colors Of The Year
For 2020, blues take center stage with the top paint companies falling in line with the Pantone Color Institute'sTMselection of Classic Blue as their Color of the Year. Three of the top five choices for Color of the Year in home décor and fashion for 2020 are shades of blue.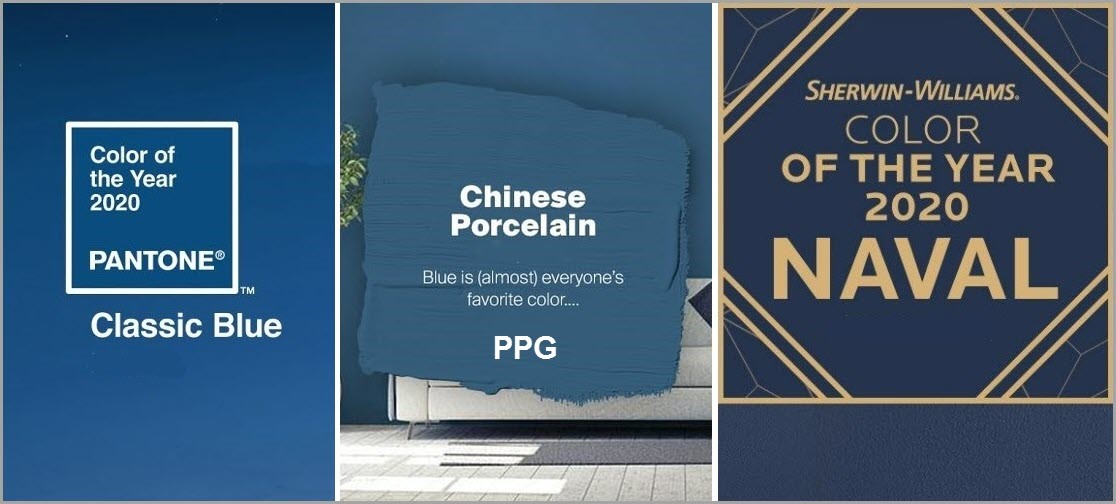 This is not surprising. Historically, blue is the favorite color for people everywhere and surveys around the world confirm that fact year after year. This year's chosen blues have distinctive differences and endless possibilities for refreshing your home's décor. Concrete Craft® brings you a quick look at the top five 2020 colors of the year from Pantone and leading paint companies Sherwin-Williams®, Benjamin Moore®, PPG, and Behr®, with ideas for how to incorporate their color picks into your world.
Pantone's Classic Blue
Classic Blue is a timeless and enduring hue that brings a sense of peace and tranquility to your home. Whether as a wall color, cabinets, or decorative accents, this true blue can be regal, restrained, and boundless. No mere whisper of blue, Classic Blue makes a definite statement wherever you use it.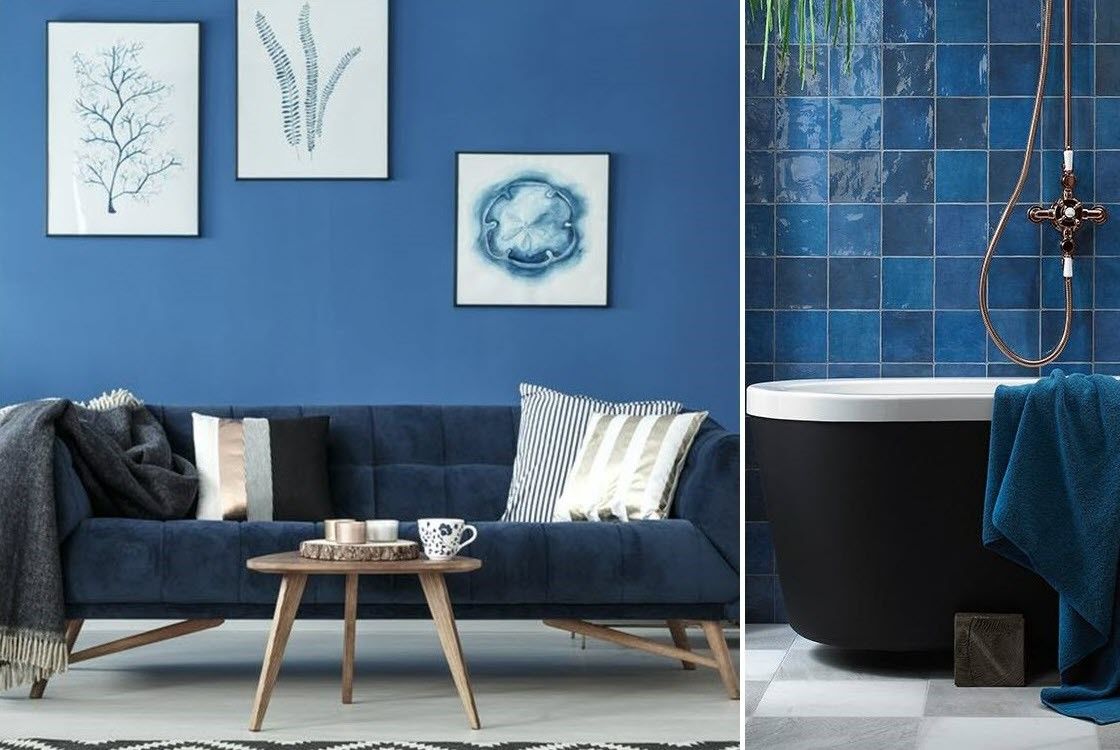 Blue creates a calm and serene ambiance, making the home an antidote to a hectic world.
Bring in varying shades and textures for a monochromatic theme throughout your home.
Classic Blue works well with pastels or neutrals as well as deeper and darker shades of blue.
On floors or vertical surfaces, decorative concrete overlays can replicate the look of luxury tile in all the colors of the rainbow.
Sherwin-Williams' Naval
Naval draws inspiration from a midnight sky and the opulence of the Art Deco period, exuding elegance and respect. A rich navy that creates a calm and grounding environment infused with quiet confidence whether used in a whole room or as an accent color. Naval is perfect for any interior space to add drama with deep rich tones that play well with all other colors.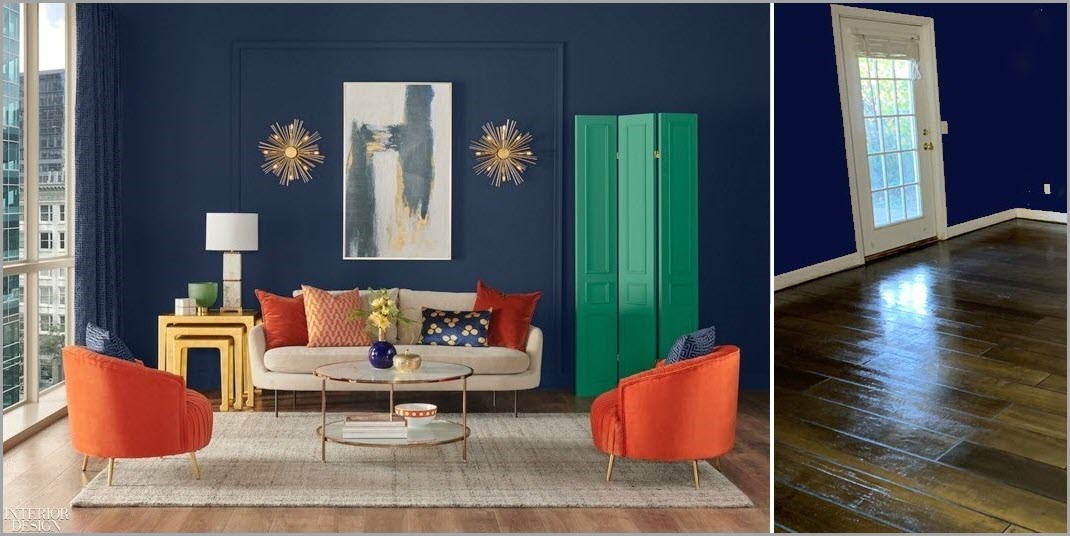 As an accent wall, Naval can set the stage for an exciting space, formal or casual.
Sparkly metallics especially pop as accent pieces when incorporated with dark navy.
Accessorize with coordinating or contrasting colors to strike the right color note for your personal taste.
Create an impressive space with Naval wall color coupled with a dark decorative concrete wood plank flooring design.
PPG's Chinese Porcelain
Chinese Porcelain combines cobalt and ink blue for a heavenly blue that can serve easily as a neutral palette to liven up rooms where gray used to be but where more color is desired. Described as the "perfect, agreeable backdrop," it layers beautifully with additional blues and greens and metallic finishes.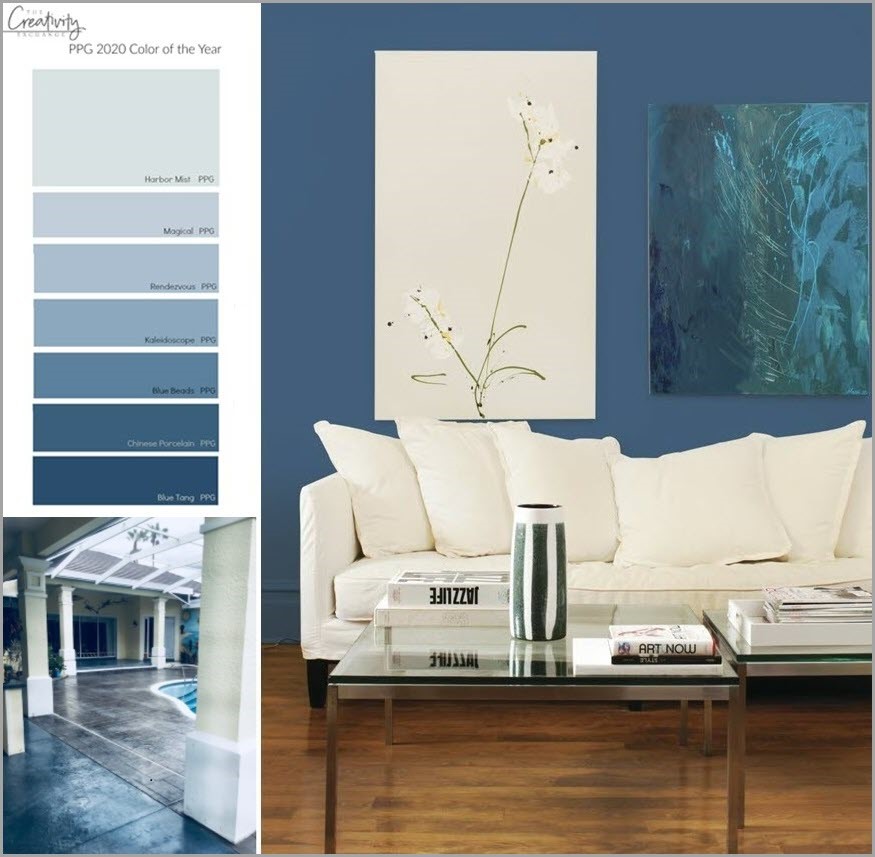 A soothing blue that invites unwinding and relaxation for a bedroom or master bath.
Enhances traditional wood furniture as well as industrial chic and mid-century modern pieces.
Decorative accessories, window coverings, and rugs in Chinese Porcelain present endless options for adding color in small or large doses.
Custom stained concrete can create both interior and exterior floors in your favorite 2020 color of the year.
Benjamin Moore's First Light
First Light is a refreshing wash of pink, a soft, rosy hue blooming with potential. "We selected First Light as our Color of the Year 2020 to represent a new dawn of idealism, design, and living," reports Andrea Magno, Benjamin Moore director of color marketing and development. "Color is powerful but highly subjective, especially through the lens of different generations, relationships, and moods."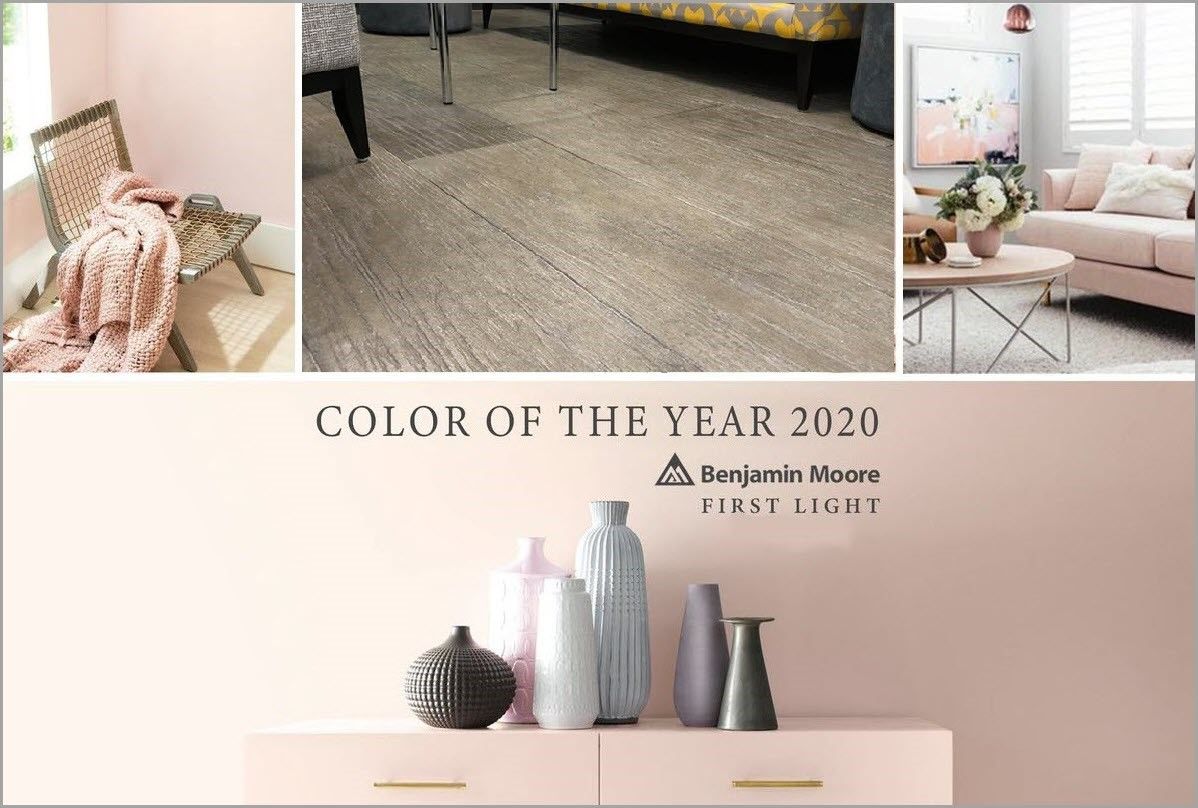 The most neutral of all the 2020 color choices, a subtle pink beige will transform any room.
Where softness counts, First Light gives just a breath of color to any furnishings.
Find patterns and art pieces that combine your existing color scheme with this fresh color.
Stamped concrete in a wood plank pattern in greige (gray/beige) is a perfect complement to an airy First Light room.
Behr's Back to Nature
Behr was in the blue camp last year with Blueprint, but for 2020 has chosen Back to Nature, a soothing meadow-inspired green to impart a fresh sense of vitality to the new year. The organic green captures "the emotion of wilderness landscapes and indoor gardens while being subtle enough to serve as a new neutral."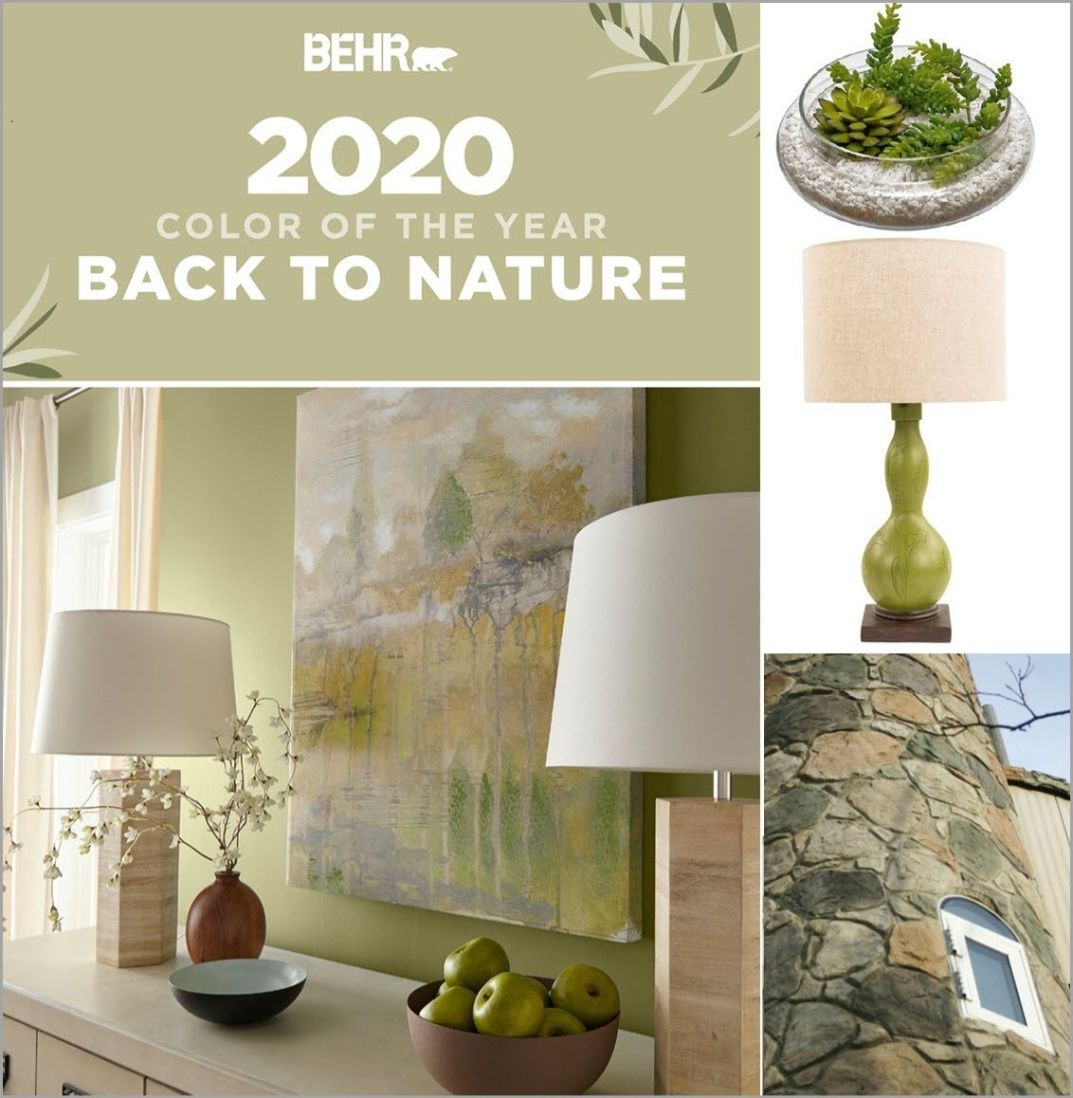 Anticipate spring with a lush, lively green to enhance your home.
Transform a sunroom into a garden spot with Back to Nature walls or lounge chairs.
Pairs beautifully with natural fiber rugs, woven curtains, and wood furniture.
Realistic faux stone designs can replicate nature's textures and colors with vertical concrete overlays to transform walls, siding, and fireplace surrounds.
Update your personal color palette with the new year's colors
In addition to a home refresh, you can also update your personal color palette – your wardrobe – with the color selections for 2020. Stay on trend fashion-wise by integrating the top color choices for 2020 into your wardrobe with foundation pieces or accessories. Kate Middleton glows in Pantone's Classic Blue, surrounded by additional options for stepping out in 2020's favorite colors.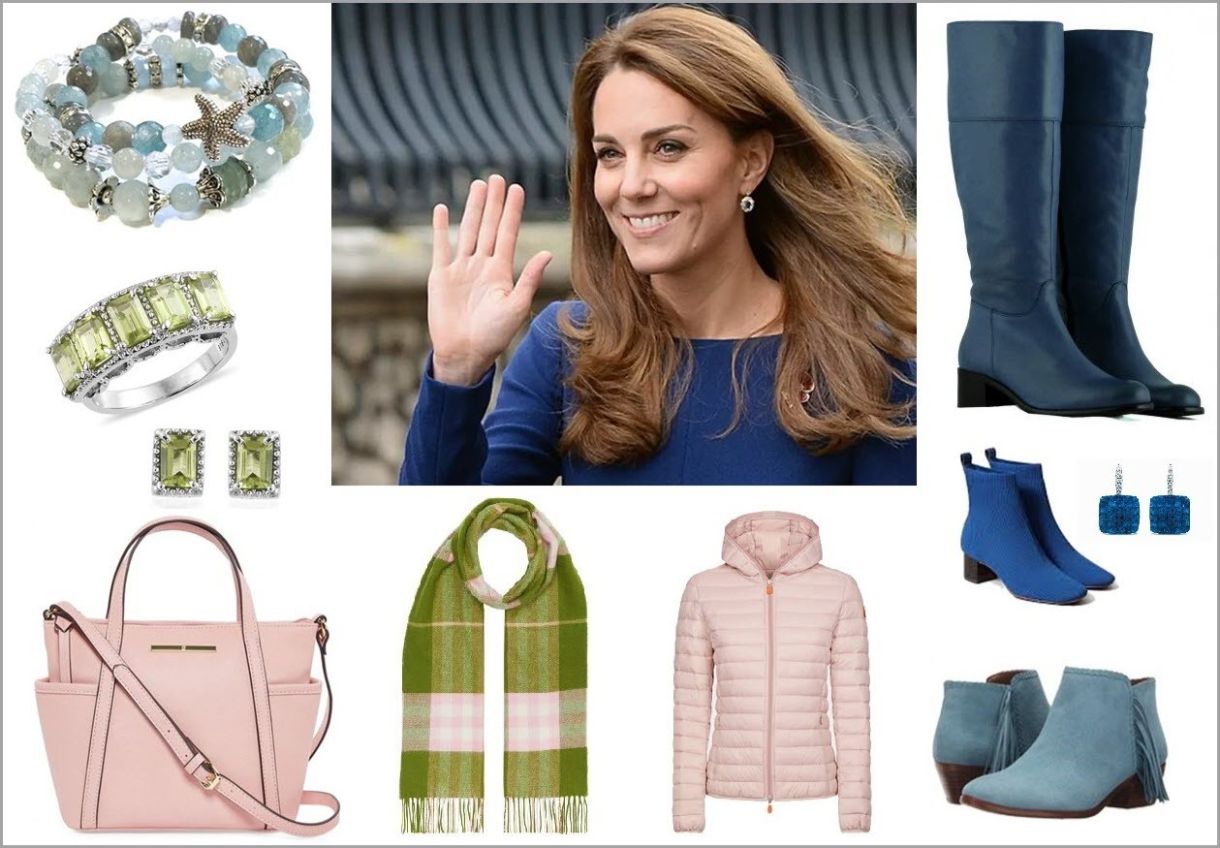 Concrete Craft is ready to help you integrate any of the colors of the year into your home with decorative concrete overlays for flooring and vertical surfaces, indoors and out. Vibrant stains instantly transform interior floors, and overlays create a fresh surface for stamped concrete and hand-carved finishes like flagstone, cobblestone, Ashlar slate, Roman slate, brick, tile, and more, in unlimited color selections. Contact us today or go online to www.concretecraft.com to find the Concrete Craft location nearest you and request a consultation and free estimate.
Wishing you a happy and colorful New Year from Concrete Craft!