Have a Statement Fireplace With the Look of Real Stone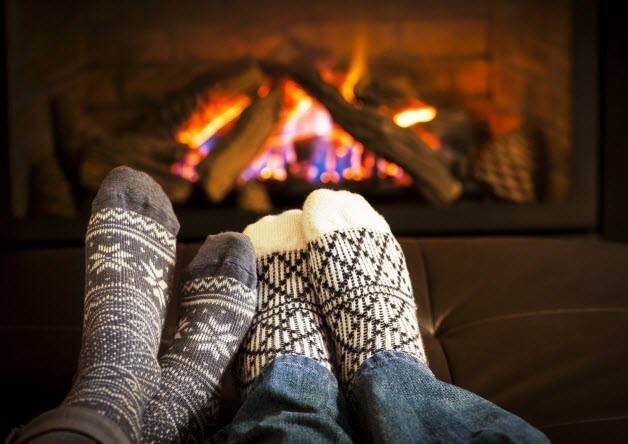 Even though winter is not officially here until December 21, nighttime temperatures that are dipping into the 30s and 40s in Knoxville, TN, and Atlanta, GA, send everyone huddling around the fireplace. Indoors and outdoors, 'tis the season for crackling fires, roasting marshmallows and sipping peppermint hot chocolate and tantalizing hot toddies.
If your fireplace is outdated or you're tired of the red bricks, white painted bricks or uninspiring flat tiles surrounding it, Concrete Craft® can help you create an elegant, realistic looking faux stone fireplace that will transform the entire room. Our innovative vertical concrete resurfacing system can be applied over brick, drywall, plaster and wood, with a hand-carved, custom-colored concrete overlay that will revive even the most boring fireplace.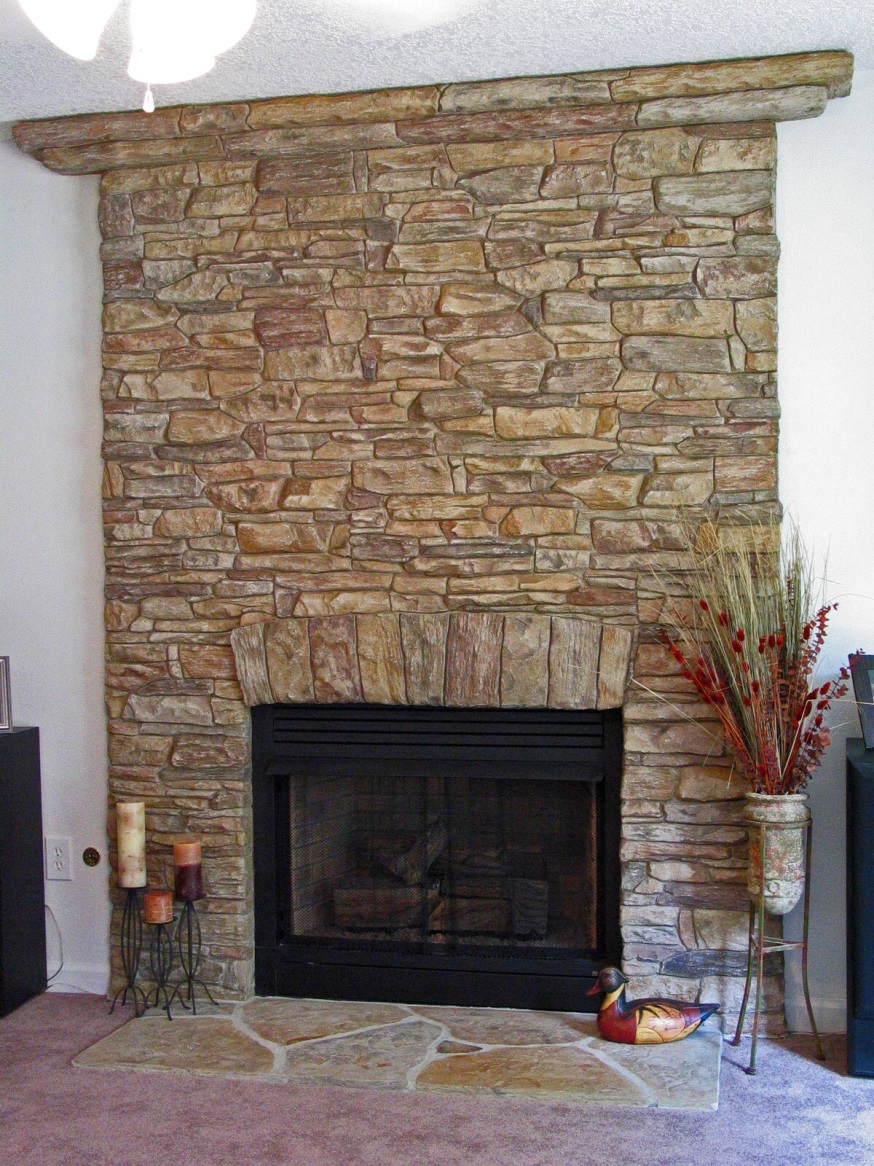 A Mountain Drystack design gives rustic charm to this living room. The wonderfully colored "stones" will never color fade or work loose, the design is one continuous surface, sealed for protection and years of enjoyment. The matching concrete overlay stone hearth is the perfect spot for the dog or cat to curl up and enjoy the fire along with the family. Add a rug or not, the concrete overlay will hold the heat, making it a comfy spot for your four-legged family members.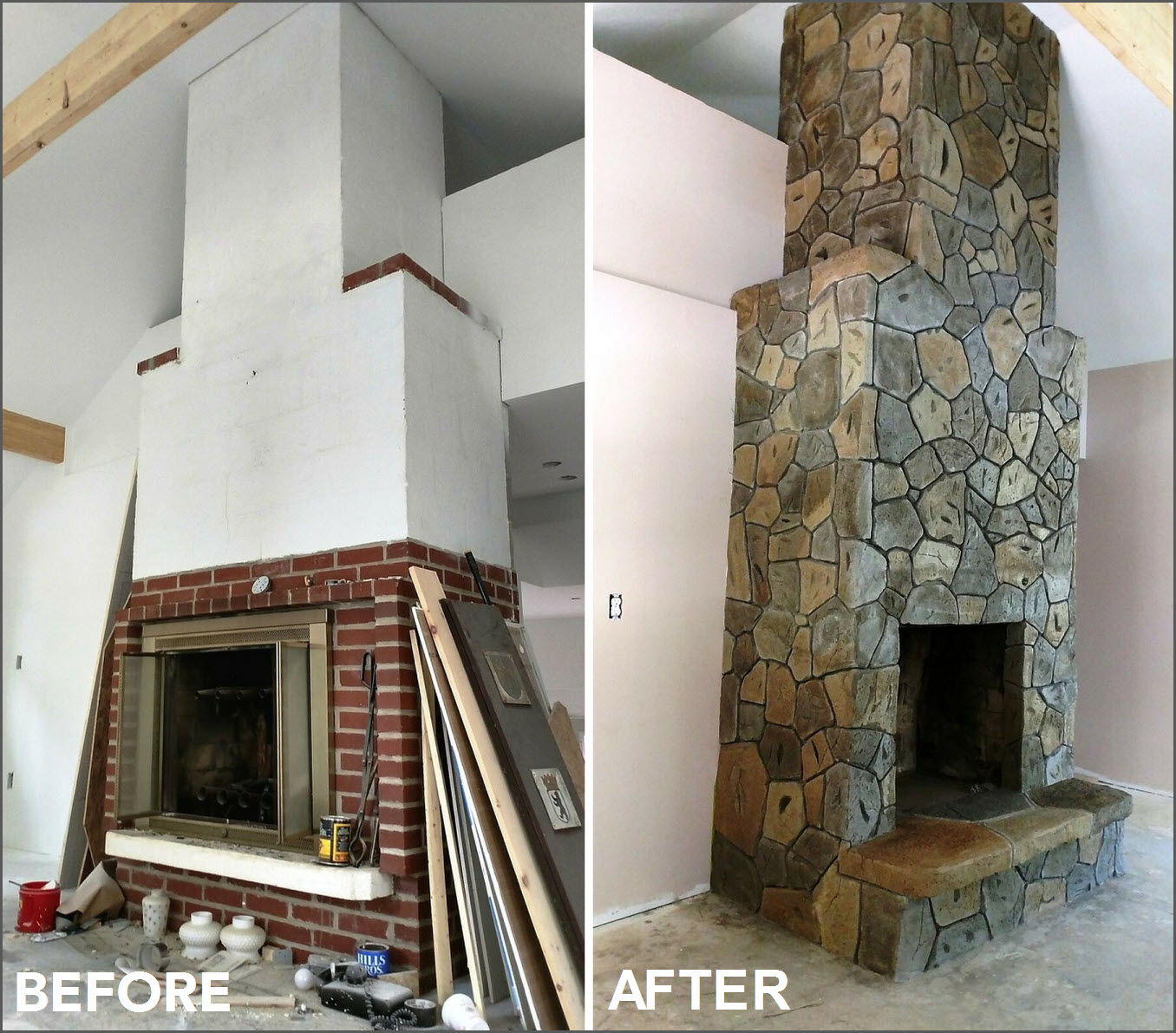 Real stone on this floor-to-ceiling fireplace would have been prohibitive due to cost and the weight of the stone creating load-bearing issues. Our hand-cut and custom-colored resurfaced concrete overlays cost far less money, don't add excessive weight, and take less time, inconvenience and mess to apply. The high-quality products and craftsmanship of Concrete Craft artisans are not available with other decorative concrete companies.
Our exclusive fiber-enriched sand overlay mix creates a realistic stone surface
Hand-cut stone shapes give the look and feel of natural stone
Custom, hand-crafted concrete can mimic any natural rock, with more consistent color overall
The size and shape of stones can be adjusted to fit any unique space, shape or dimension of the wall, including around corners and into narrow spaces
Our work and materials have a two-year warranty*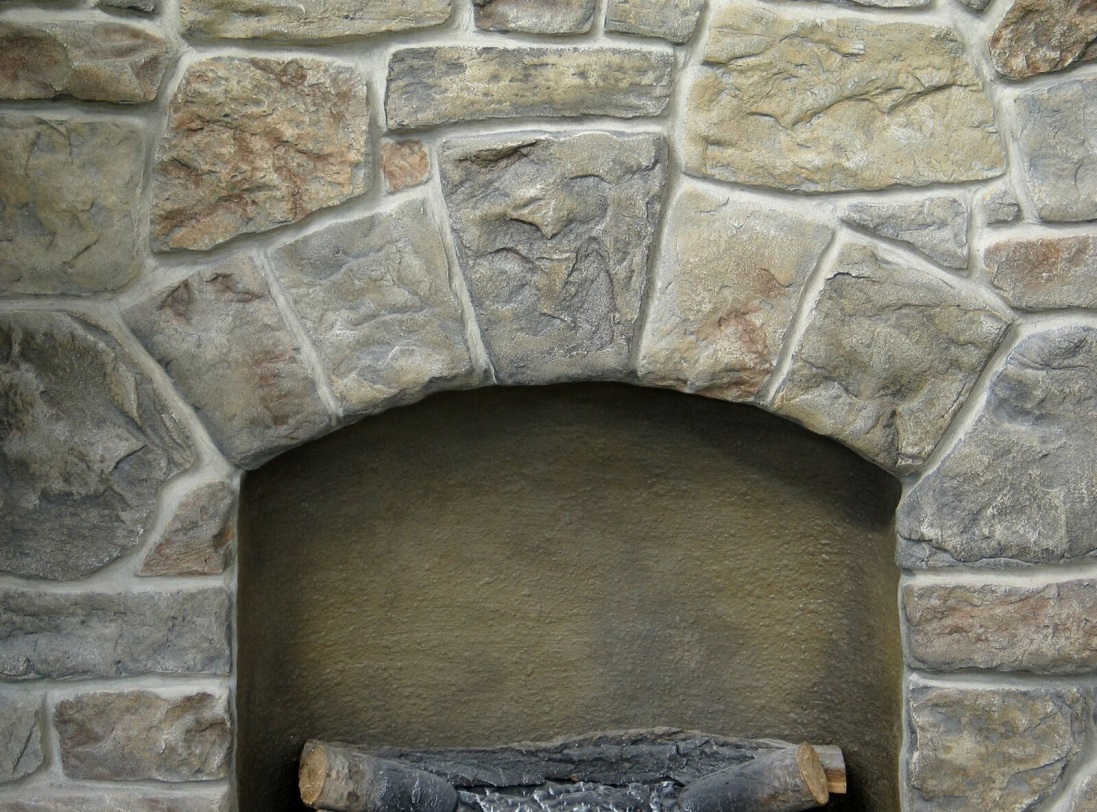 Fireplaces evoke emotions and memories of family gatherings and camping experiences. A day at camp often ended up around a campfire or in front of a huge stone fireplace in the mess hall. Our skilled artisans can create any style of stone fireplace you'd like: medieval castle, coastal, carved limestone, English cobblestone and more. Co-founder Dan Lightner declares, "If you've seen a piece of rock out there, we can duplicate it."
Here are examples of some of our most popular vertical concrete resurfacing options for indoor and outdoor fireplaces, house siding, accent walls, retaining walls and entryways: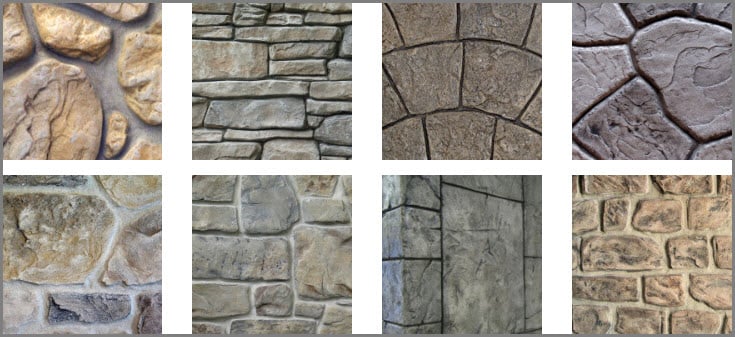 Be cozy, warm and safe
Before you light up the fireplace, make sure it's in good working order and safe for your home and family. In addition to making sure the flue is open, here are some safety tips for using your wood-burning or gas fireplace:
Annual chimney sweeping and cleaning will remove creosote buildup so your fire burns cleaner. A chimney sweep will also remove any bird nests or other evidence of uninvited habitation over the non-fireplace months. (A chimney cap will keep the critters out.)
If you burn wood, make sure it's seasoned and thoroughly dried hardwood. Soft, wet woods don't burn as efficiently and create more smoke and more creosote buildup.
Don't store firewood stacked against the house, it invites critters to move into the woodpile and into your home. Store it up off the ground on a pallet, covered to protect from rain or snow.
Have gas fireplaces checked for leaks or chemical buildups and the gas lines cleaned.
Use a decorative fire screen to prevent sparks from flying.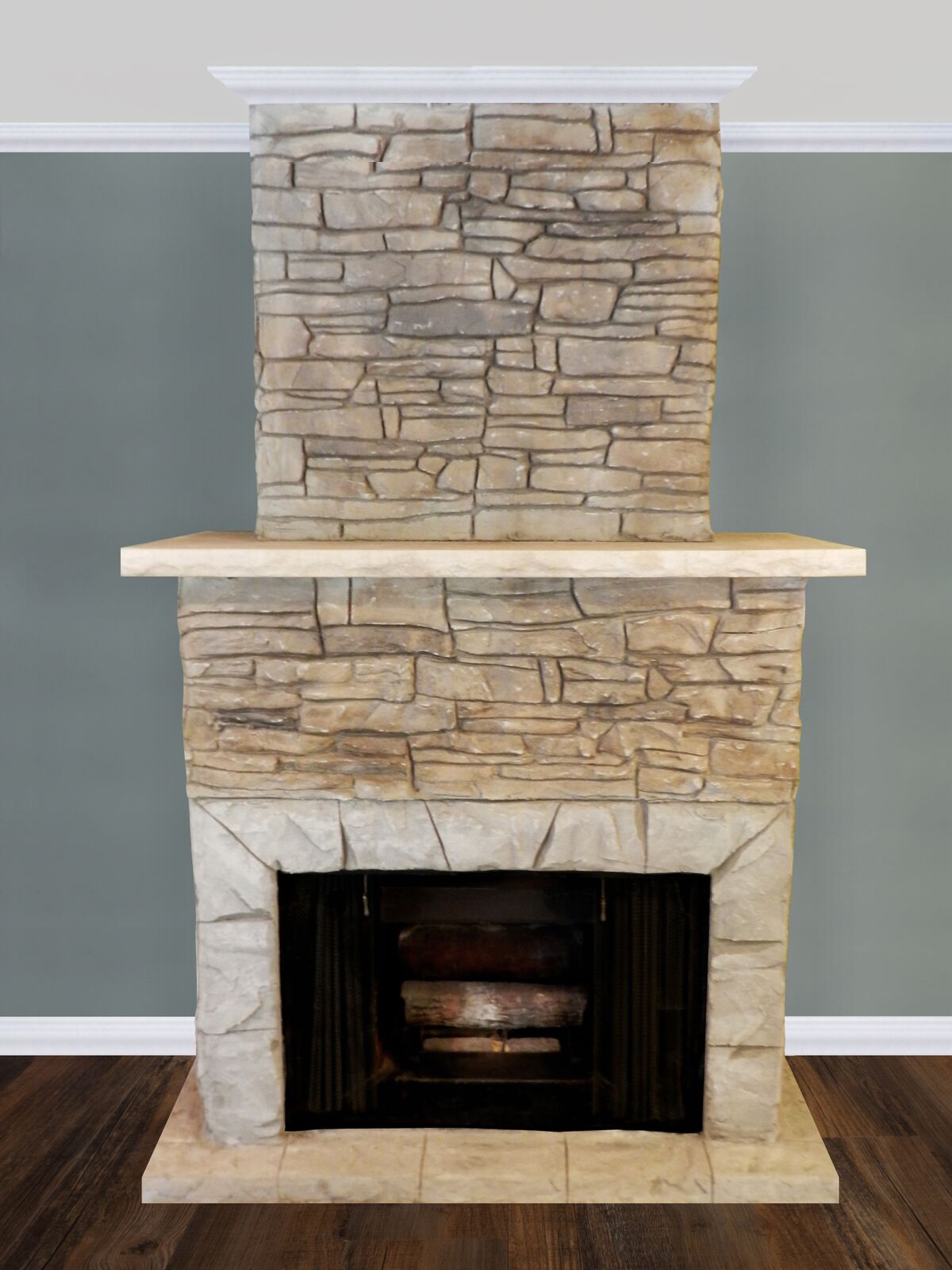 Make this winter extra special with a "new" fireplace your family will love. For snuggling up indoors or warming up the outside patio to enjoy the cooler nights, call 866-813-3699 today or go online to www.concretecraft.com to find the Concrete Craft location nearest you and request a FREE estimate for resurfacing your fireplace with a faux stone overlay that looks authentic. Also check out the online photo galleries for stained, stamped and resurfaced decorative concrete for patios, driveways, walkways, pool decks, interior floors and more.
If decorative concrete is a new concept for you, follow the links below to learn more.