How To Avoid DIY Decorative Concrete Disasters
There's a lot to be said for DIY (Do It Yourself) home improvement projects, not the least of which is the feeling of euphoria and supreme satisfaction for a job well done. Add in cost savings, which is generally a big part of DIY, and it's no wonder thousands of people attempt home improvement projects every day. But DIY does have its dark side, as evidenced by the word "attempt." One source revealed that less than half of home improvement DIYers were happy with the results and ended up calling in a professional to complete the work!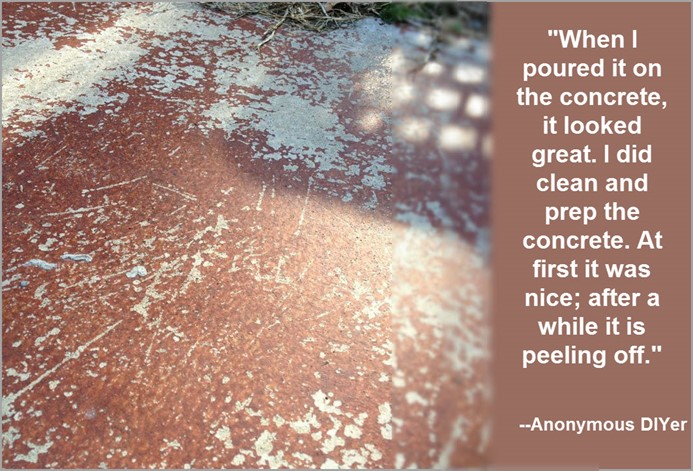 Savvy DIYers, both men, and women know their limitations and when to call in a professional, such as for concrete resurfacing, repair, and restoration. There's no shame in saying, "I'll let the professionals get this one," when the job warrants it:
Level of difficulty—you don't want to learn or experiment on an important project
Level of danger—if Do It Yourself can become Don't Injure Yourself, pass
Need a permit? That can be a whole new world
Specialized tools to do the job right can cost hundreds of dollars
Consumer products can't compete with professional-strength products
A poorly executed decorative concrete project could reduce your home's value
There's no substitute for experience
Tackling a project like concrete resurfacing may look easy when you watch a professional going through the steps, but there's much more to it, as this DIYer found out the hard way. "After ruining two buckets (with the hardened product) and burning up a good drill, I was able to achieve a good flowable mix. However, the product literally thickened within minutes. Now I have two slabs at the end of my driveway covered in what looks like a clay pot hit-n-run massacre, and it is hideous!" There really is no substitute for experience, and Concrete Craft® has almost two decades of experience transforming plain concrete into works of art with stained concrete, stamped concrete, and resurfaced concrete overlays for interior and exterior floors, as well as vertical concrete resurfacing.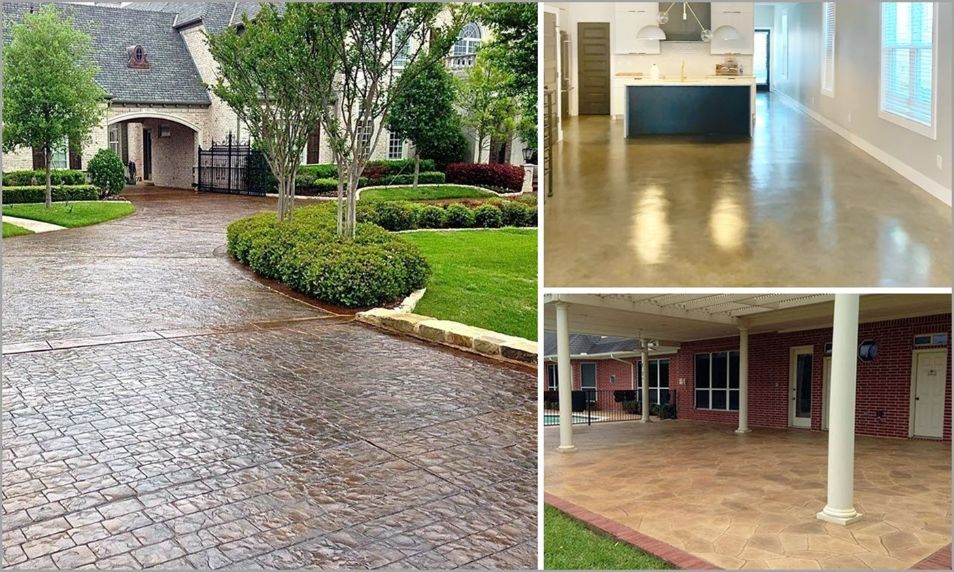 No amount of online research and viewing YouTube how-to videos can replace years of experience that ensures a proper job every time:
We know how to evaluate the composition of the existing concrete slab and select the proper products to use to avoid adverse chemical reactions.
We can anticipate problems and know how to avoid them.
We can repair cracks and damage in the concrete surface so the performance of the overlay treatment will not be impacted.
A properly prepared slab allows the concrete overlay and/or concrete stain to bond with the surface for permanent adhesion and will not fade, chip or peel.
We have the proper knowledge and equipment to install the best concrete mix overlay as well as the right stain and sealer to protect the finish.
Unlimited design potential doesn't come packaged
Concrete Craft's stained, stamped, and resurfaced hand-carved concrete designs give you unlimited design options. You're never limited to what a stonemason or big box store has to offer. We create custom, authentic-looking faux wood and stone finishes like marble, slate, sandstone, cobblestone, and flagstone, onsite, with our exclusive, industry-tough MasterProTM finishes and overlays. With 14 years of testing and perfecting our performance-grade resurfacing mixes for a superior product, the quality of our concrete mixes is simply better than anything else on the market when compared side by side.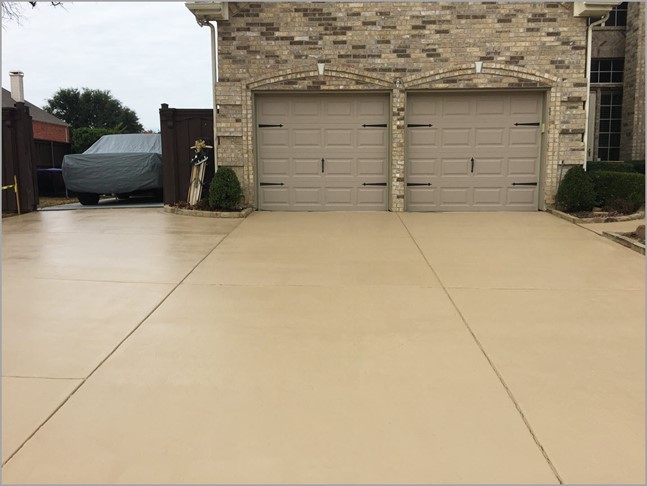 Match any existing décor or landscape architecture in style and color with our wide range of finish and restoration options available, including:
MasterPro FinishTM – resurfaced concrete overlays or indoor, outdoors, and vertical walls
MasterPro StainTM – vibrant concrete stains in either water-based or acid-based for varying effects
MasterPro StampTM – patterned or imprinted concrete to replicate real stone and wood
PebbleKoat by Concrete CraftTM – decorative real stone river rock overlay
RestoreKoat by Concrete CraftTM – versatile coating and repair mortar to save damaged concrete and avoid replacement
RenewKoat by Concrete CraftTM – cementitious overlay system to restore faded or discolored stamped or regular concrete
Concrete Craft® ColorKoatTM System – solvent-based exterior stain/seal system for an opaque, breathable colored concrete finish
Backed by an industry leader, a local business that cares
Concrete Craft is the largest decorative concrete franchise in North America and backed by the strength of its national franchisor, Home Franchise Concepts (HFC), home to five award-winning franchise brands. Your local Concrete Craft franchise owner is also an independent small business that is a vital part of your community and dedicated to the ultimate goal of a happy customer … every time, on every job.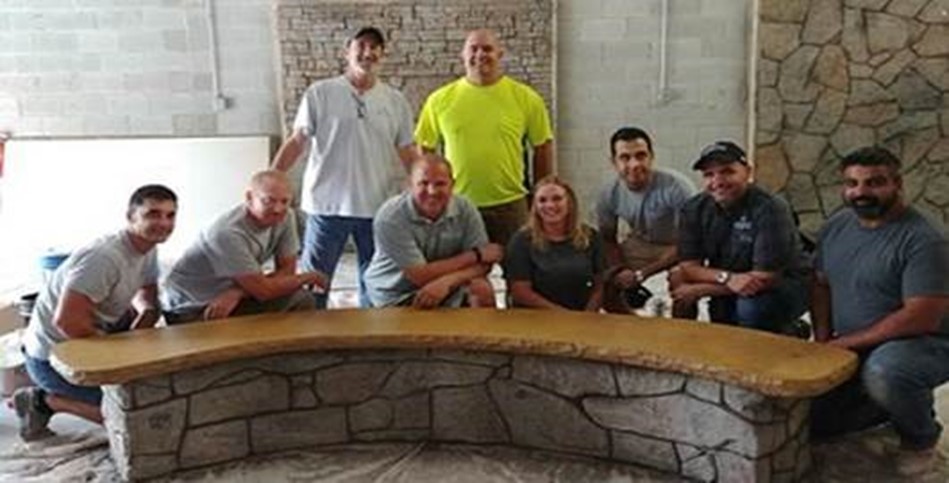 They care that your experience with them is a good one and take pride in delivering excellent customer service, something you won't find from the distant sales rep of a DIY resurfacing product you discover doesn't deliver on its promise. Here are just a few more reasons to pass on DIY and let the professionals at Concrete Craft handle your concrete restoration and decorative concrete needs:
Confidence in knowing the people behind the product and that help is just a phone call away if you have a problem.
Projects get completed on schedule (barring acts of nature) in a fraction of the time it would take an inexperienced DIYer.
Respect for your time and property, and we always leave the job site clean, so you're not stuck with debris to haul away.
No crossing your fingers or wondering if the finish will "hold up" over time or in the rain.
Contact us today or go online to www.concretecraft.comto find the Concrete Craft location nearest you and request a free in-home or virtual* consultation and see how painless it is when the professionals transform your concrete surfaces into beauty set in stone. However, if you really, really want to get your hands dirty with decorative concrete, why not do it right, as a Concrete Craft franchise business owner? Go to CC Franchise Opportunity and learn about joining the Concrete Craft family and enjoy the security of being your own boss. You'll get to work with decorative concrete every day as you bring the beauty of decorative concrete to your area and rescue over-eager DIYers from themselves!
*Virtual consultations may not be available at every location