How To Get The Look Of Hardwood Flooring At Half The Cost Of Real Wood
Hardwood flooring has been in and out of popularity since its inauspicious beginnings in the 1600s when hardwood floors were rough-hewn, unfinished planks for utility only, and not a design feature. By the 1800s, intricate parquet flooring had worked its way into the wealthiest homes, but it wasn't until the 1900s that tongue and groove construction made wood floors more available to the general public, although still pricey.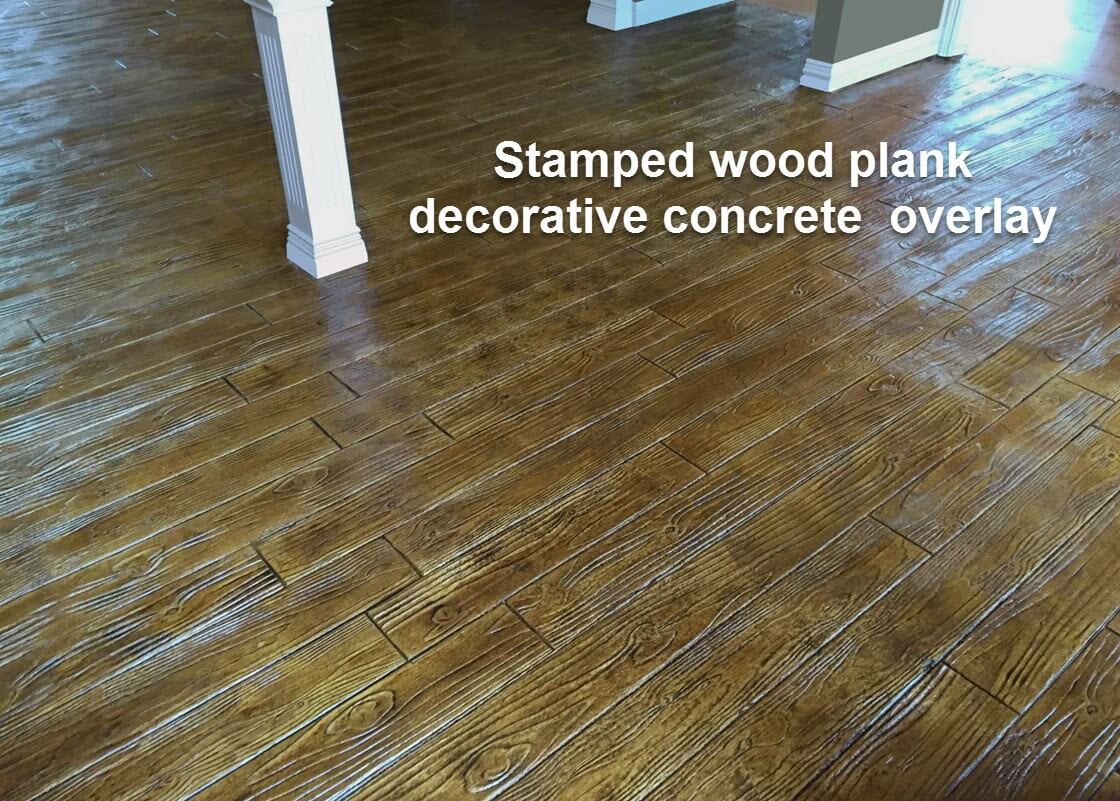 The expensive hardwood floors gave way to cheaper linoleum and cork flooring in the 1920s and wall-to-wall carpet in the 1940s, creating a decorating frenzy of color and pattern. By the 1980s, the classic beauty of hardwood floors again became the top choice of the home-buying public, a status that wood floors still hold today. Since the early 1900s, "wood" flooring has evolved with faux wood look-alike floors in other materials like tile, vinyl plank, and laminate, including durable, authentic-looking hardwood stamped concrete floors from Concrete Craft®.
Save money with decorative concrete faux wood floors
The look of hardwood floors is craved by many homeowners but can be cost-prohibitive. With stamped, resurfaced concrete overlays, you can have the look of real hardwood floors throughout your home at a fraction of the cost of the real materials. Below is a comparison of applying a wood plank stamped decorative concrete floor versus installing hardwood flooring:
Concrete: A concrete overlay can be applied directly to your existing concrete slab.
Wood: A concrete slab will require a layer of plywood before wood flooring can be installed.
Concrete: The finished concrete floor is one cost, including surface prep, the overlay, stamping, and custom staining for the ultimate durable floor.
Wood: Wood comes in grades of hardness and durability and is priced per square foot depending on quality; the installation is priced per square foot; any subfloor underlay will be priced per square foot.
Concrete: No additional, hidden costs; flooring is created on the spot.
Wood: Cost may include a five-to-ten percent overage of the wood flooring for cut/fit issues.
Concrete: You can choose smooth wood finishes, distressed wood, wider planks, stronger graining, and reclaimed wood without cost impact, as well as custom stain colors.
Wood: Different styles of wood, availability, and color can increase the cost of your hardwood floor.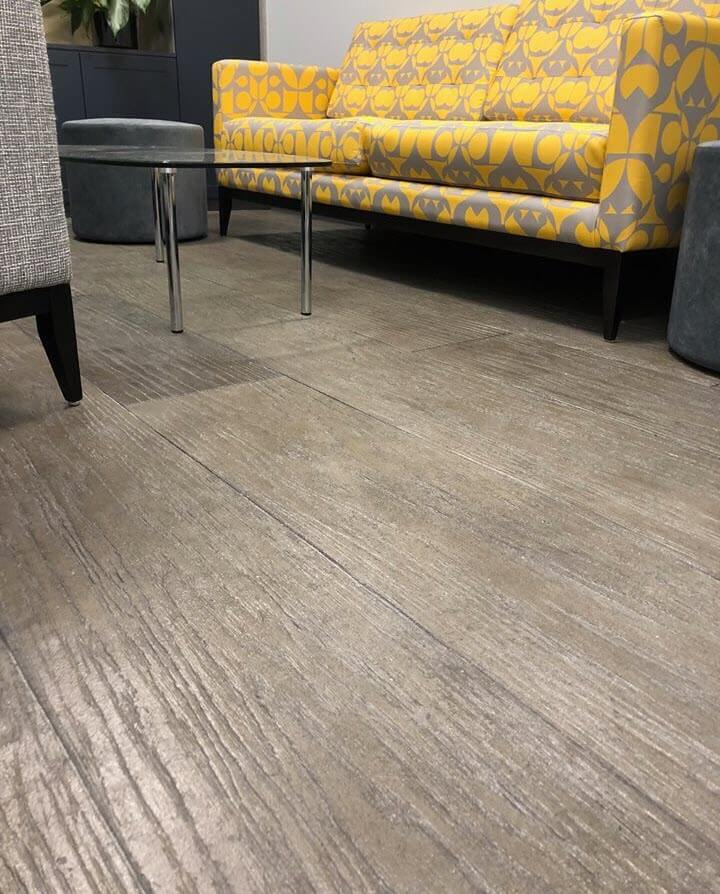 The most popular styles and colors are always available with decorative concrete such as this wide plank design in "greige," a custom stain combination of brown, gray, and beige, for a modern twist on classic wood flooring.
No restrictions with a decorative concrete faux wood floor
Real hardwood flooring has restrictions such as not installing in rooms with high humidity like kitchens, bathrooms, basements, and laundry rooms. Or—don't even think about it—outdoors for a patio, porch, or walkway. Real wood is impacted by moisture and can become damaged from water and food spills, humidity, and pet accidents that soak into the wood. A decorative concrete stamped faux wood floor has none of these problems so is appropriate for any room in your home, or even an outside space:
Concrete floors don't trap mold, mildew, dust mites, bacteria, allergens, or moisture.
Stain-resistant finishes resist scratches from foot traffic, pets' claws, and daily life.
Spills like wine, food, and pet messes wipe right up with no residual effect.
Sealers and integrated stains are weather-proof, making decorative concrete hardwood patterns viable for outside surfaces like patios, decks, and sunrooms.
Tough polymer sealers provide UV protection and fade-resistant qualities.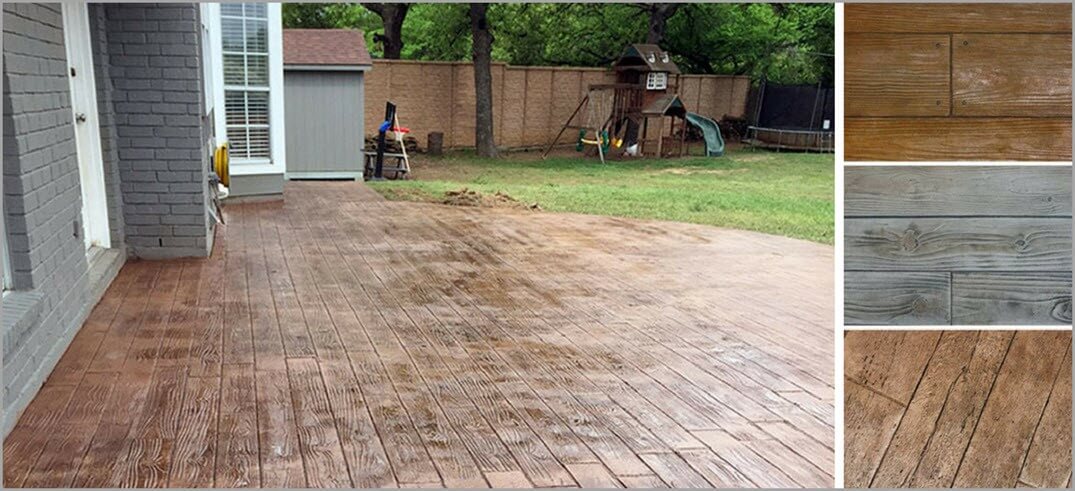 Wood-pattern stamped decorative concrete is an ideal choice for homeowners who like the look of wood decking but don't want to deal with the upkeep and deterioration of real wood. You can create a rustic, rough wood texture without all those splinters, or a weathered wood appearance that looks like it's been there for years.
Unequaled value with decorative concrete
Don't let hardwood floors linger on the wish list for your home, you can have the luxurious look of wood today with decorative concrete. For interior and exterior floors, you can't beat the beauty, durability, and cost savings of faux wood decorative concrete.
Wood plank stamps are made from real wood molds, so the finished look is authentic.
Decorative concrete hardwood floor designs give years of worry-free beauty and functionality.
No need to avoid rooms where moisture and humidity are high. Decorative concrete hardwood floors can safely bring the high-end beauty of hardwood to any room in your home.
Installation is done quickly by Concrete Craft trained professionals; you'll be back on your floors in no time at all.
The durability of concrete floors surpasses any other flooring material.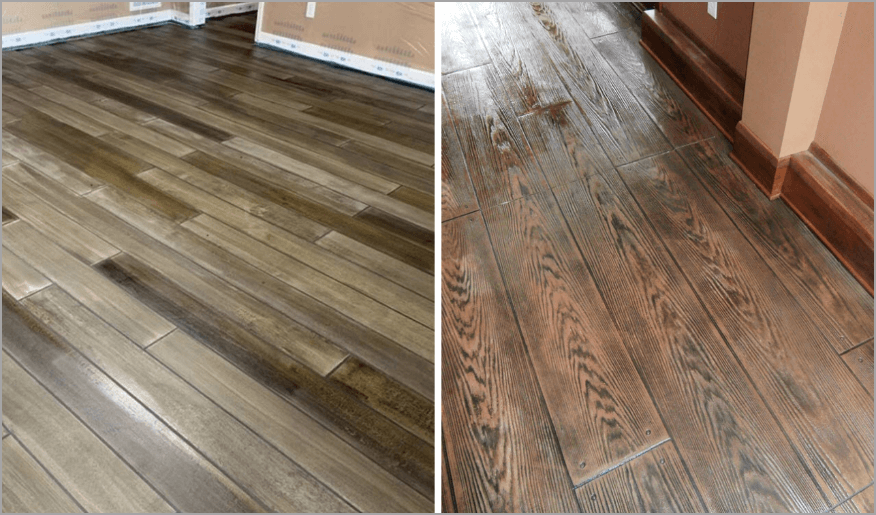 If you love the idea of hardwood floors but not the cost and upkeep, you can still have the authentic look of hardwood in your home for a fraction of the cost or real wood. Talk with the professionals at Concrete Craft about stamped hardwood patterns and custom resurfaced concrete overlays. You'll be amazed with the look, quality, durability, and incredible cost savings along with the wide range of stamp patterns and concrete stain colors available.
Contact us today or go online to www.concretecraft.com to find the Concrete Craft location nearest you and request a FREE design consultation. View our MasterProTM Product Catalog to see what else we can do with decorative concrete in stained, stamped, and resurfaced faux stone designs, including vertical surfaces like fireplaces and seat walls.