How To Unify Mismatched Concrete Surfaces With Decorative Concrete
There are lots of reasons people end up with ugly, mismatched concrete surfaces. Some are obvious and some are not so obvious:
Adding an extension to an existing concrete slab
Mixing separate batches of concrete for one project
Making repairs to damaged concrete
Using degreasers and strong cleaners to clean up spills and stains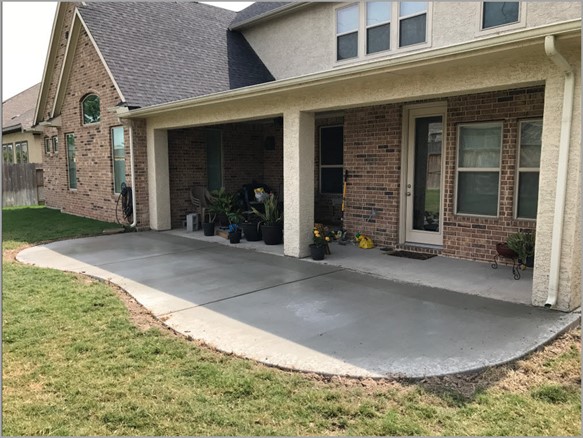 The new concrete of this patio extension will never match the old concrete, but the easy fix is a decorative concrete overlay
Concrete can change color for various reasons, leaving a blotchy appearance with dark and light discolored sections that look terrible. Each batch of concrete must be mixed at exacting proportions for the overall concrete to match. More water, less water, and different additives can change how the final surface will look. Patched concrete will almost always look like "patchwork" concrete since matching color and surface texture are almost impossible to achieve. Time and weather can take a toll on concrete, and cleaners may remove spots, but they can also bleach out sections to be lighter than the rest of the concrete. The result is a mismatched concrete driveway, patio, walkway, porch, or pool deck and not the clean look you wanted. The good news is you don't have to live with those problems. Concrete Craft® can help resolve all your mismatched concrete issues with our time-tested MasterPro FinishTM decorative concrete solutions that make old concrete look like new!
Unifying mismatched concrete extensions
As evidenced in the photo above, a new concrete patio extension is going to vary considerably from the color of the original slab. A resurfacing decorative concrete overlay will put a new "face" on both pieces that can be stained, stamped, or hand-cut into the faux stone flagstone finish in the image below to unify the space. This enlarged patio beautifully looks like it's always been that way, no one would ever guess it's the result of an added extension.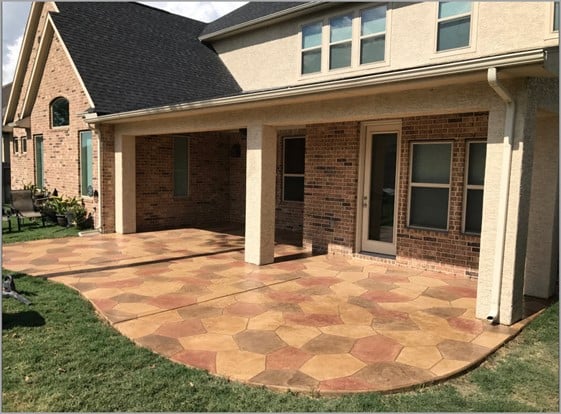 Decorative concrete overlays can erase every trace of mismatched concrete sections for one continuous design
Restoring a worn, ugly driveway
The driveway is probably the hardest working concrete surface you have. It supports vehicle traffic, bikes, skateboards, basketball, garage sales, and year-round weather that can cause permanent damage over time. With an older driveway, you've probably patched cracks, cleaned up oil drips, dirt and grime, and maybe even widened it with an extension. All of this contributes to a seriously impacted concrete driveway! This "before" driveway shows evidence of pretty much all that's just been mentioned, and it's bringing down the curb appeal and overall appearance of the home. A stamped concrete overlay covered every type of damage and created a new surface for the stunning Ashlar slate stamp pattern that transformed the ugly driveway into a grand entrance to come home to!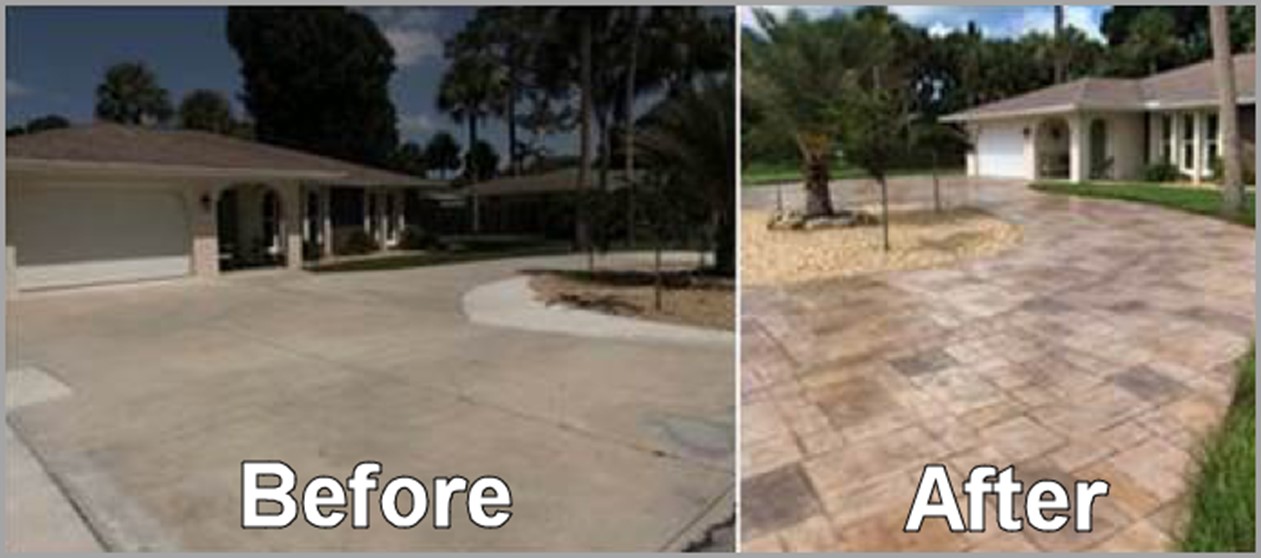 No demolition is required with Concrete Craft's concrete repair systems to restore damaged concrete to like-new (Courtesy of Concrete Craft of Sarasota, FL)
Saving summer with a new pool deck
Pool decks more than any other area, are subjected to water and moisture all the time. Especially for unsealed or bare concrete, moisture will take a toll on the concrete, with water stains and cracks severe enough to require repair, often in the form of concrete patches. In the pool deck below, there are several areas where concrete patches were done with just gray concrete and no attempt was made to match the original pool deck color. Not a very pretty sight.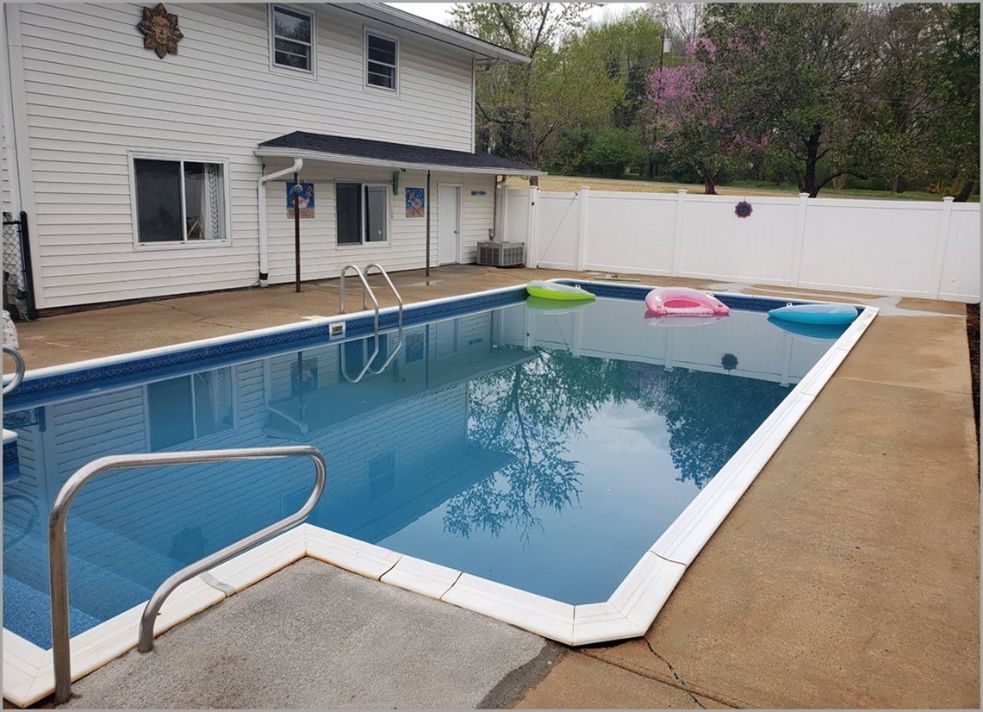 A once attractive pool deck has deteriorated, becoming an eyesore rather than an inviting activity area
Replacement for concrete as large as a pool deck is not a popular choice due to cost and inconvenience, but neither is living with that damaged look. To the rescue is RestoreKoat by Concrete CraftTM, a versatile repair mortar that can repair deep cracks and severe damage, hiding all the mismatched areas and creating the fresh look of newly poured concrete. With a finish that's tougher than bare concrete, there are no more worries of water and moisture damage, cracking, peeling, or fading for years of summertime fun.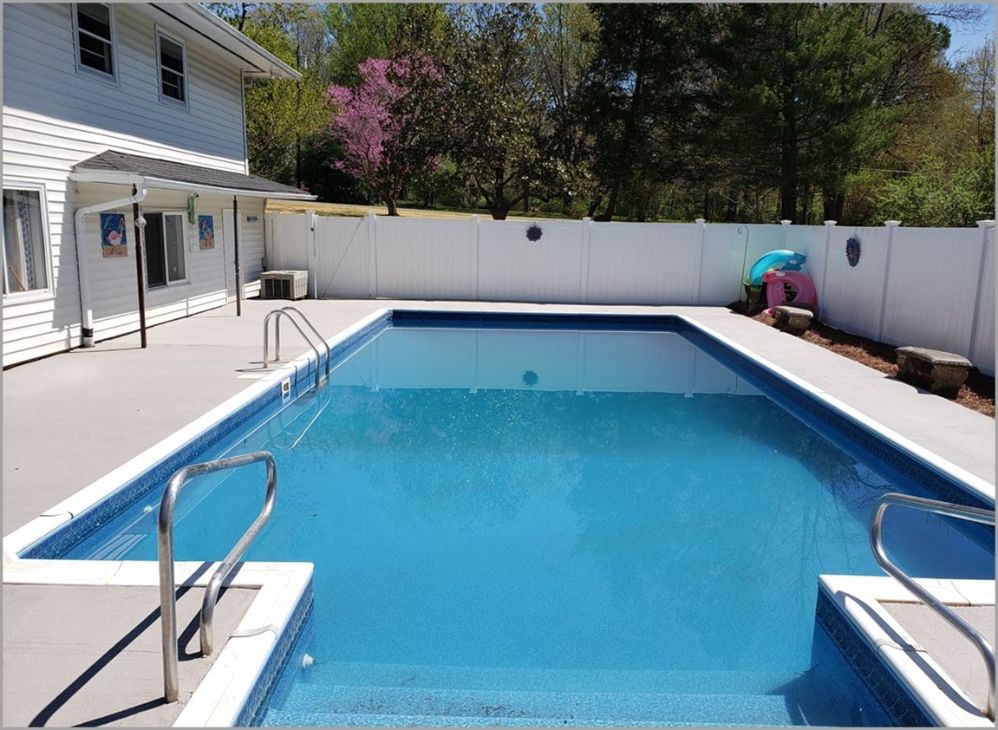 The entire backyard is upgraded to resort status with a restored pool deck in a solid, seamless finish (Courtesy of Concrete Craft of Kernersville, NC)
Making harmonious spaces
Sometimes a space will have multiple concrete surfaces like floors, steps, and porches that make a very mismatched picture with different shades of new and old concrete. In the picture below, steps, patios, and siding all come together but without harmony. Two sections of patio with different finishes, worn concrete steps, and bare concrete siding combined for an unappealing space. Four different refinishing systems were implemented to create a harmonious back patio. First, both patios were made to match with a concrete overlay and concrete stamp; then both were finished with RenewKoat by Concrete CraftTM, a cementitious overlay that rolls on like paint, preserving the integrity of the stamped pattern and adding vibrant color. The steps were refinished with Color RestoreTM, an opaque breathable finish in a color to complement the patio, and the side of the porch received a vertical concrete resurfacing overlay that was hand-carved with a stacked stone design, stained to coordinate with the colors used on the various surfaces.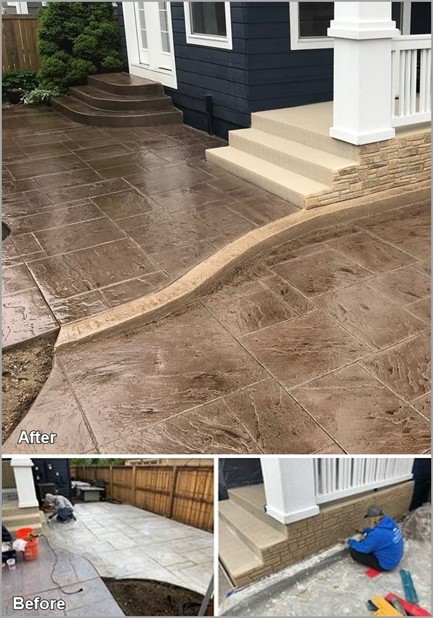 Transform any concrete surfaces with custom concrete stains and finishes for beautiful, harmonious outdoor spaces (Courtesy of Concrete Craft of North Denver)
Beautiful concrete is just a phone call away
If you're tired of looking at discolored and mismatched concrete at your house, your local Concrete Craft is ready to assist with transforming all your concrete into beautiful, durable decorative concrete finishes. You've just seen some of the options available, and we have additional options for repairing and restoring damaged concrete for both interior and exterior concrete surfaces, including stained concrete, concrete overlays, and finish resurfacing systems. Contact us today or go to www.concretecraft.com to find the Concrete Craft location nearest you and request a free in-home or virtual* design consultation. You'll be pleased with how quickly and easily your concrete surfaces can be transformed!
*Virtual consultation may not be available at all locations.