Increase Your Home's Value with Decorative Concrete Inside and Out
Two national pastimes around tax season involve contemplating these important issues:
How should I spend my tax refund this year?
What improvements would add real value to my home?
Bringing the two together gives you a big win/win, sort of like catching a foul ball in the cheap seats at a Texas Ranger's game. For a small investment, you get a big return! Investing your tax refund back into your home will pay dividends for years by providing improved comfort for your family and increasing the value of your home.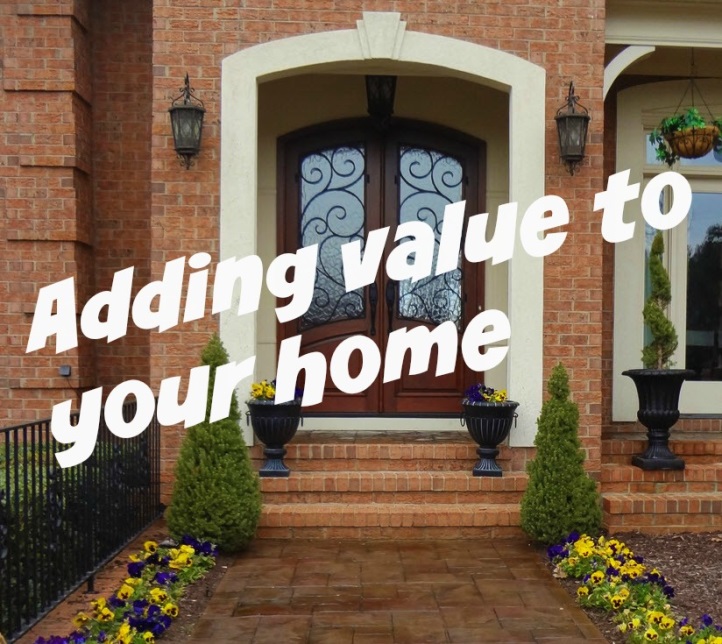 So whether you want to sell and increased value will raise the sales price, or you just want to upgrade the old Kentucky homestead for your own enjoyment, erasing "generational footprints" with new, trending design and exceptional value, using your tax refund is a great way to go!
Home values immediately make us think of realtors, brokers and home renovation gurus, so we polled online experts and identified several improvements that they all agreed can greatly increase a home's value.
Ninety-four percent of real estate pros recommend spending money on floors

Flooring upgrades like engineered or real wood floors
Removing worn carpets
New bathroom or kitchen floors

Basement renovation
Front yard makeover, including an attractive entryway
Cleaning up and implementing low-maintenance landscaping
The right deck can give back, dollar for dollar, what you put into it
Get rid of popcorn ceilings
Concrete Craft's® decorative concrete artisans can help with all of those home improvements, except the popcorn ceilings; you're on your own for that!
Decorative concrete adds value and beauty indoors
The versatility of stamped, stained and resurfaced concrete makes it the ideal flooring solution for interior floors like basements, bathrooms, kitchens and family rooms that receive lots of wear and tear. The durability of all three decorative concrete finishes will keep your indoor floors carefree for years. Your new concrete floors will stay looking like new by regular dry dust mopping and an occasional wet mop cleaning with a neutral pH cleaner. Colors will not fade, and finishes don't chip, stain or peel.
Decorative concrete floors don't harbor dust mites or other allergens, and are moisture resistant so they prevent the growth of mold or bacteria so your home stays cleaner and safer, especially important for those suffering from allergies or asthma.
Interior floors can look like polished marble, real stone, tile, wood plank, brick, slate, Flagstone and much more. You have practically unlimited design potential with our realistic stamp patterns, custom hand-cut and colored overlays and the wide range of acid-based chemical and water-based acrylic stains for stunning effects. Check out these interior floors: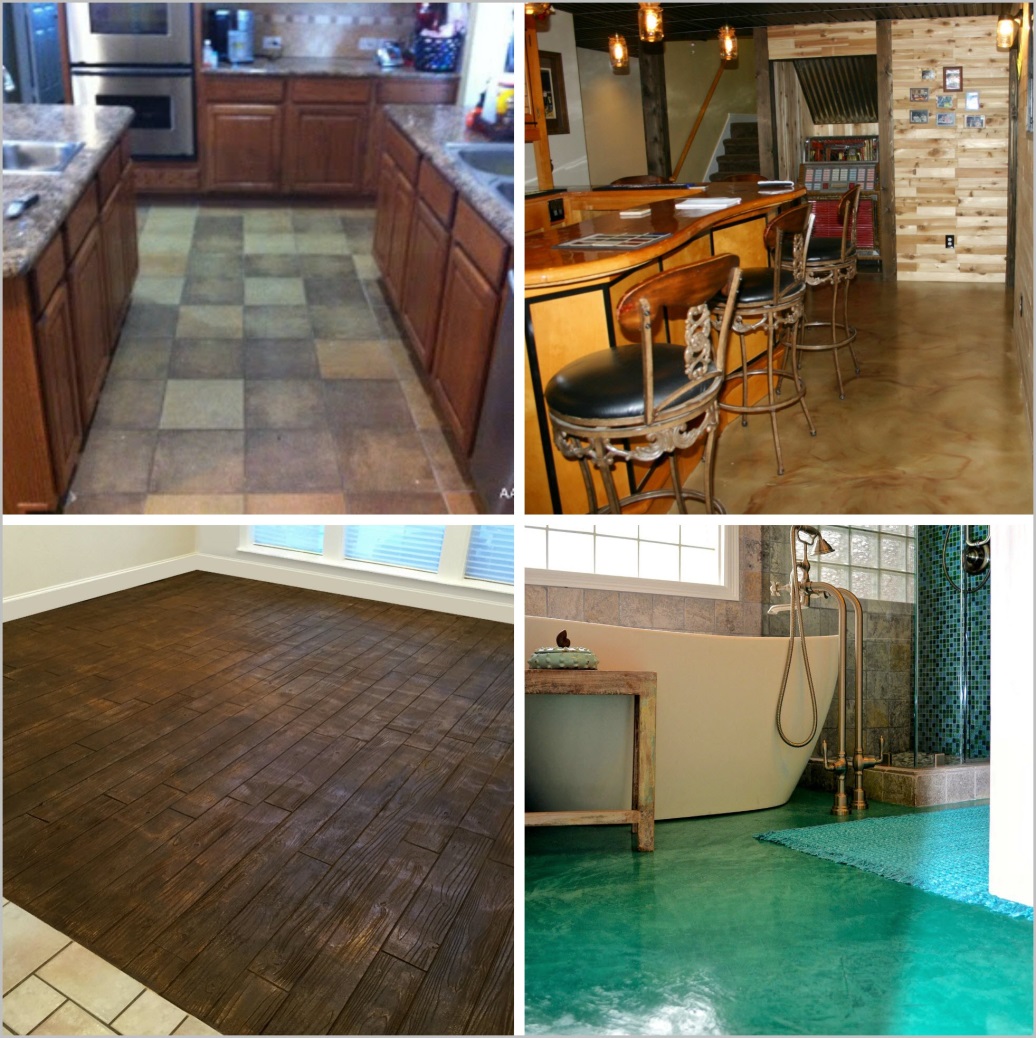 This kitchen has a stamped concrete, multi-colored real stone pattern.
A basement converted for entertaining has a gorgeous stained concrete floor that will resist spills and withstand the craziest dance moves.
This resurfaced concrete wood plank floor gives a rustic feel to this room, ready to host a dining table, living room furniture or family room fun.
A modern bathroom with a trending turquoise color stained floor shines like expensive marble, at a fraction of the cost.
Outdoor spaces were made for decorative concrete
Upgrading your outdoor spaces adds substantial value as well as coveted "curb appeal" to your home. A broken front step or cracked threshold at the entry to your home makes it look old and worn, plus it could become a safety hazard. A resurfaced concrete walkway and porch or stoop would make your home look newer, literally covering up years of wear with beautiful design, like this authentic looking random stone walkway and porch.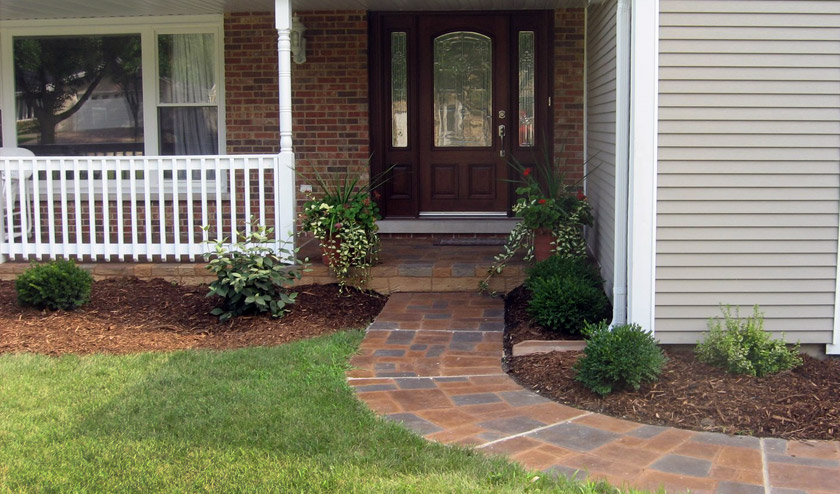 Stained or chipped concrete patios and pool decks can revive with new life from decorative concrete, whether stained, stamped or resurfaced concrete. You can accomplish a whole new look with exciting colors and textures to make your backyard inviting again. This pool deck went from dull gray to delightful, replicating the warm stone colors in the surrounding hardscapes, creating a harmonious setting.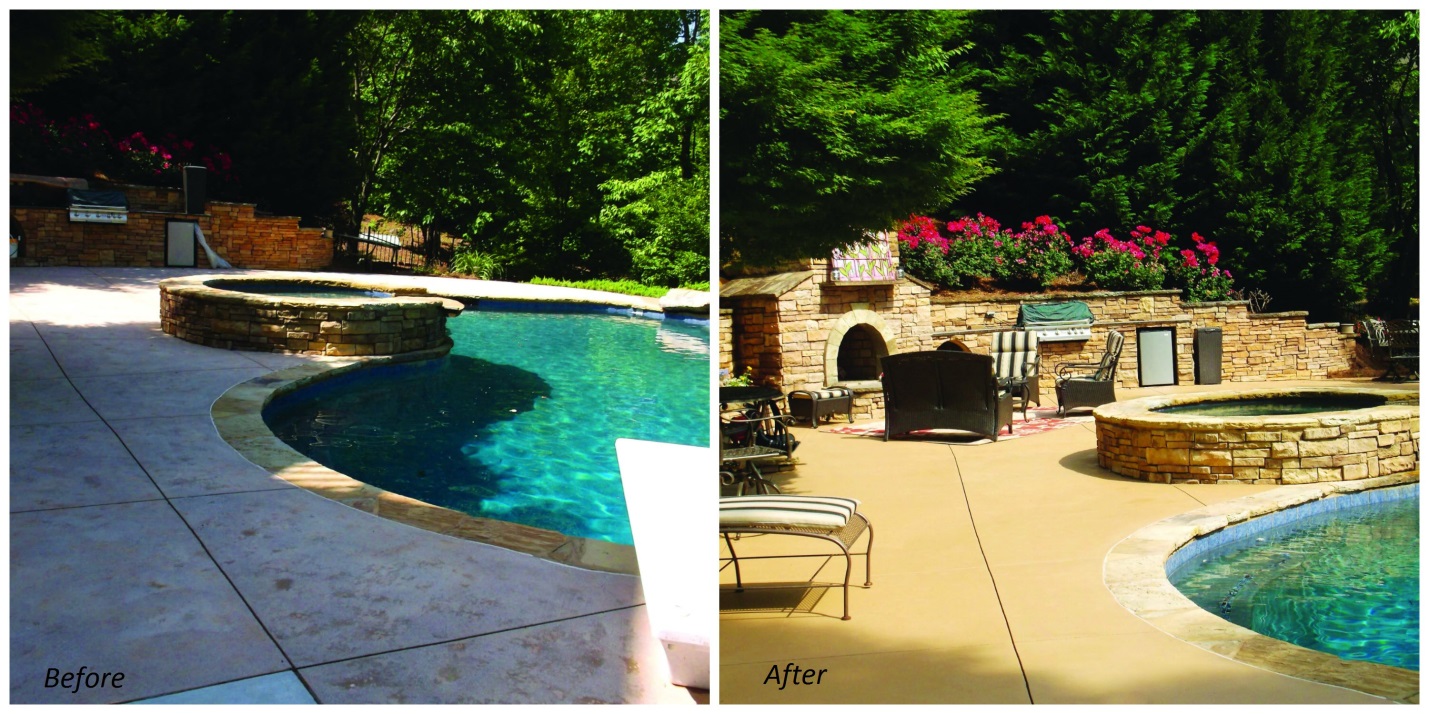 So if that tax refund is burning a hole in your pocket, use it to make home improvements that will enhance your entire home and add lasting value with innovative decorative concrete both inside and out. Whatever outdoor areas need renovation, the design experts at Concrete Craft can help your dreams of a low-maintenance, elegant yard come true. Driveways, walkways, patios, pool decks and even vertical surfaces can be transformed into exceptional concrete surfaces, replicating dozens of real stone, brick, tile and wood plank designs. Indoor floors can go from ordinary to extraordinary with very little effort.
Call 866-813-3699 today or go online to www.concretecraft.com to find the Concrete Craft location nearest you and request a FREE estimate. Check out the online photo galleries for patios, driveways, walkways, pool decks, garage floors, commercial properties, vertical surfaces and more.