Modern Concrete Floor Designs For The New Year
Every year, projected home décor trends are presented to assist homeowners in making decisions about home refresh and renovation. A dislike of existing flooring is a common complaint of homeowners and new flooring is on many renovation wish lists. New floors can completely transform the look and feel of a home, as well as being a valuable investment, so picking the right floors for your home is important. Concrete Craft® can make new floor selection a very positive experience by becoming your one-stop shop for all your flooring needs with versatile, decorative concrete.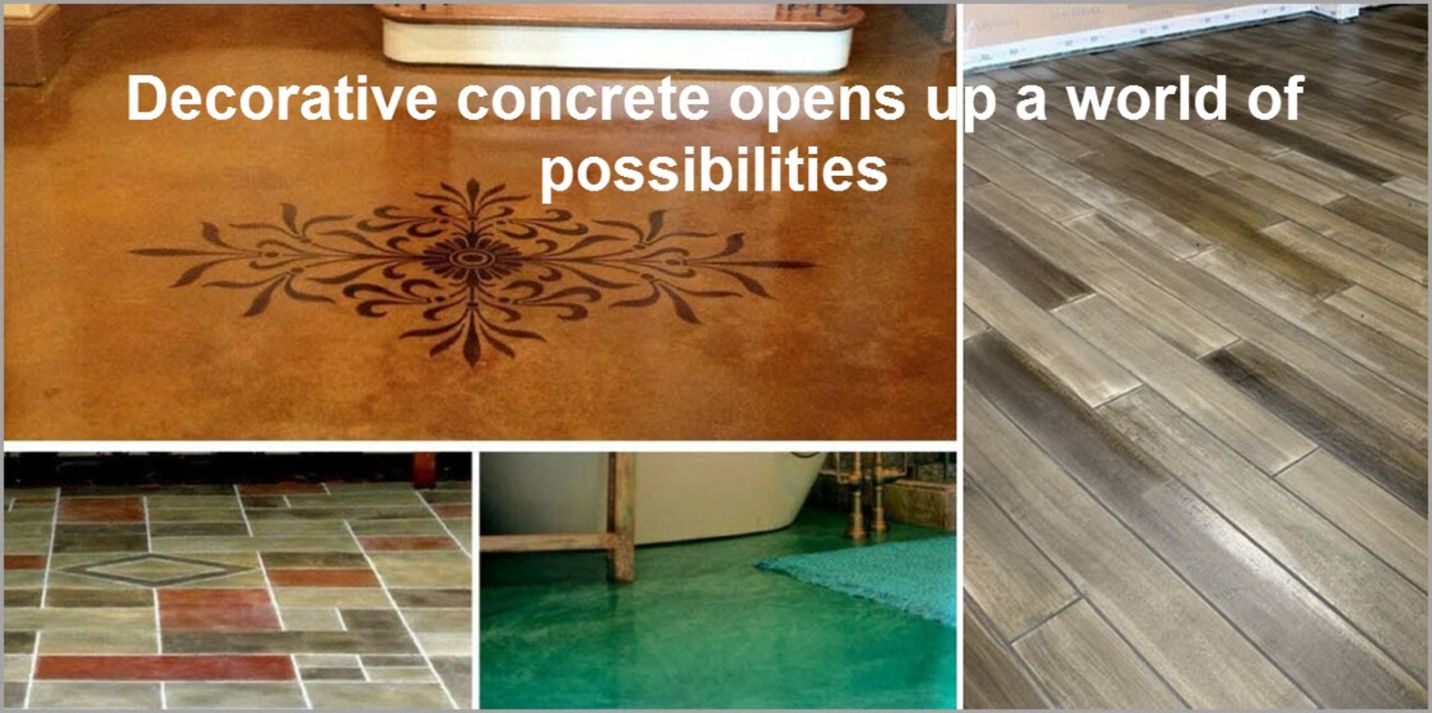 Flooring trends for 2020 continue to feature innovative wood designs, including fumed wood, blanched/bleached wood, wide planks, and rustic reclaimed barn wood options. Ceramic, porcelain, and vinyl tiles that mimic the more costly marble, granite, and real stone styles are trending but can be costly. Custom decorative concrete overlays for your interior floors may be the perfect solution since Concrete Craft can provide cost-friendly solutions for achieving exactly the look you want with custom stained, stamped, and resurfaced decorative concrete designs in styles, finishes, and colors that are basically unlimited.
Non-traditional wood flooring styles
Expanding on traditional wood-look plank flooring in classic wood tones, trending floor styles lean to a more rustic appearance with fumed, reclaimed, distressed, and barn wood, including lighter floor colors like bleached oak or ash. For interior floors or exterior surfaces like patios and porches, the look of wood can be yours without any of the inherent problems of real wood, customized in style and color to exactly what you want.
Distressed and reclaimed wood styles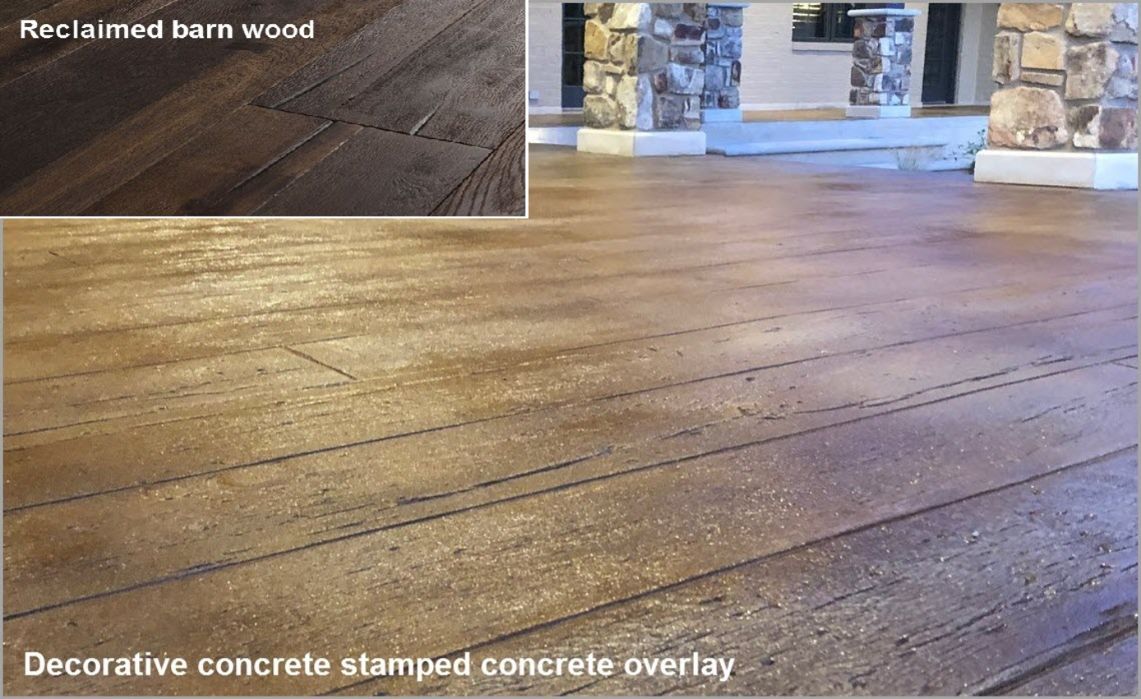 Even the roughest appearance won't splinter or tear like real wood, the decorative concrete design is one continuous sealed surface, highly textured but smooth to the touch.
Moisture-resistant sealant makes this faux wood flooring impervious to weather and humidity, appropriate for indoor and outdoor surfaces.
Custom concrete stains can easily be matched to coordinate with home and landscape colors for any color of wood.
Lighter tone wood plank designs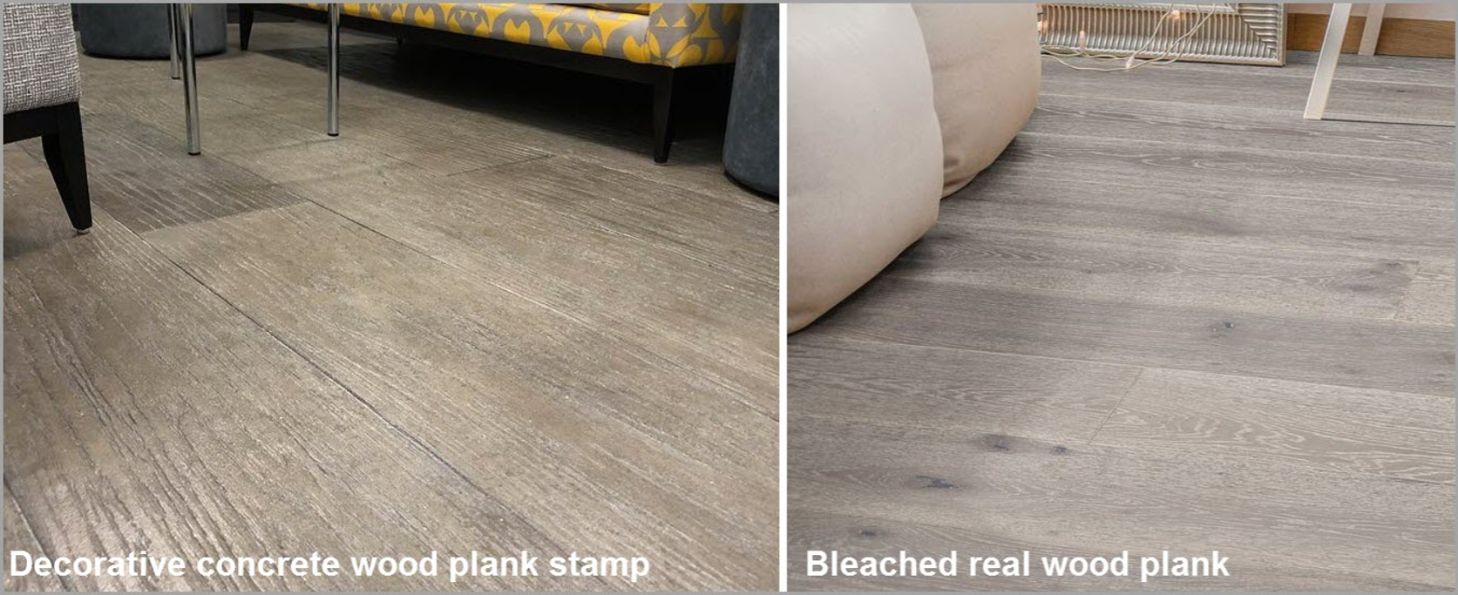 Bleached or blanched wood planks create a lighter wood tone for a more modern look without losing the charm and beauty of natural wood.
Stamped concrete overlays can emulate smooth, textured, and engineered wood for the effect you want, including wider planks.
Hand-applied custom stains ensure an overall, even coloring throughout the space which real wood can't always provide.
Fumed (or smoked) wood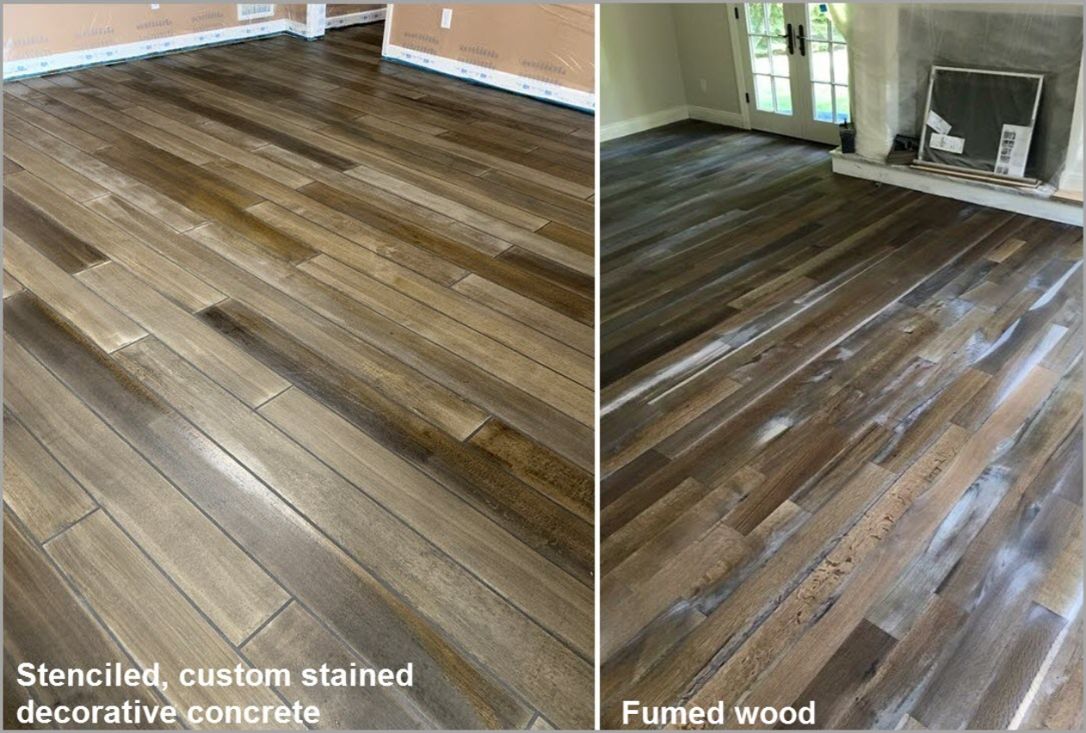 Get the rich dark wood tones of natural wood with decorative concrete overlays, stamped or stenciled and custom stained to look authentic.
A mix of long and short planks creates an eclectic, carefree pattern for a casual setting.
The durability of concrete ensures this floor will stay beautiful for decades.
Tile designs from tiny mosaic to large format
Tile continues to be a popular choice, including ceramic, porcelain, luxury vinyl, and concrete tiles. Black and white tile designs are showing up with bold, graphic patterns for a modern twist. The large format tiles create the illusion of more space and provide easier cleaning due to fewer grout lines but can be very costly. Mosaic tile designs are showing up in bathrooms and entryways with subway tiles, small squares, herringbone, chevron, and geometric patterns. Custom decorative concrete overlays can duplicate any tile beautifully.
"No grout" decorative concrete tile floors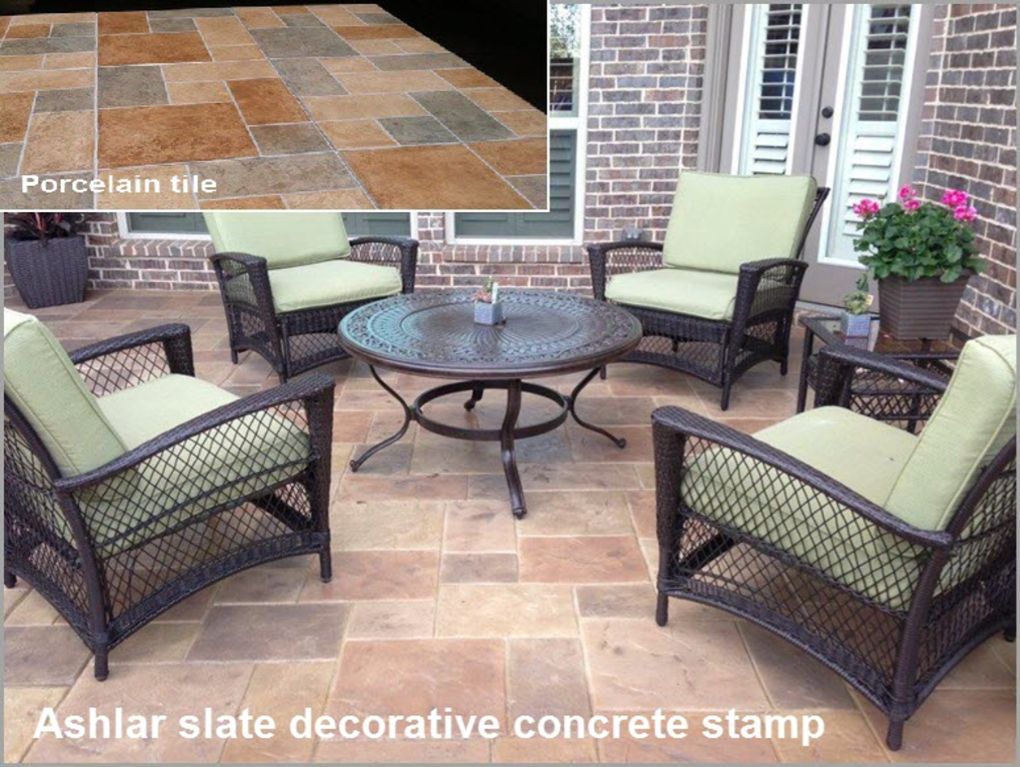 Decorative concrete will never chip or crack like real ceramic or porcelain tile and the faux grout lines will never discolor or crumble.
Not limited to size, shape, and color of available tile stock. Any size tiles can be stamped and custom stained for exactly the look you want.
The most durable "tile" floor you can have; it can stand up to any activity or weather.
Large format tile designs at no additional cost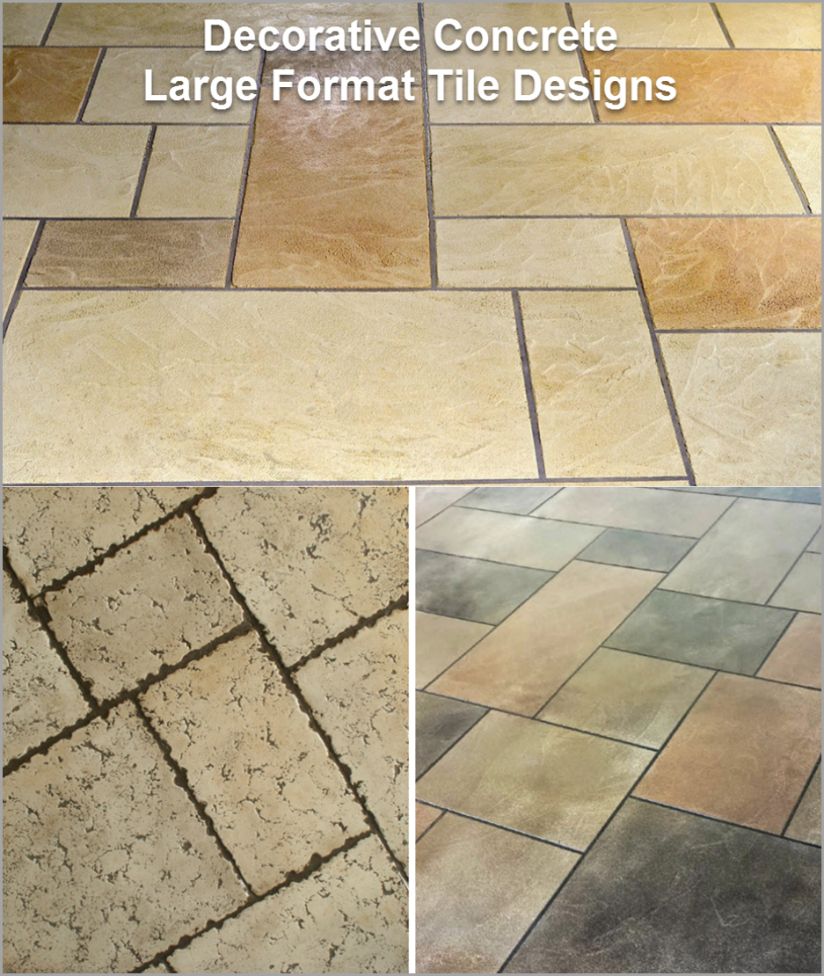 Large format tile designs create unique and elegant looks for patios, pool decks, and driveways.
Make rooms feel bigger with large format tiles in great rooms and open areas with shiny, matte, or textured faux tiles.
Mix and match different tile shapes and sizes for custom inserts and borders to further customize your spaces.
Colorful mosaic and patterned tile designs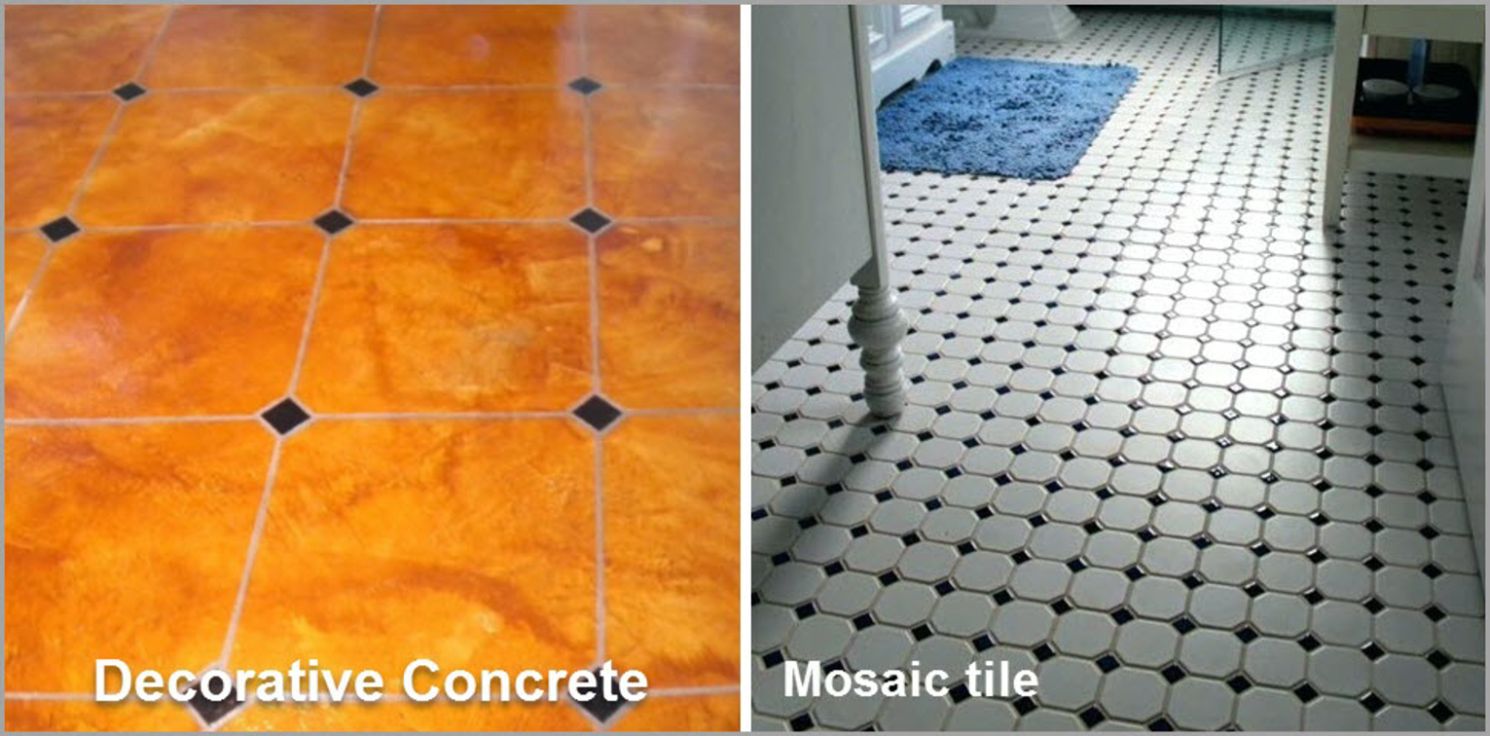 A sealed, continuous surface eliminates problems like chipped and missing tiles.
The decorative concrete overlay adheres to the concrete slab, eliminating the issue of tile adding height to the floor, creating uneven surfaces, and raised thresholds at doorways.
Stencils, stamp patterns, and multiple stain colors mean that an endless variety of tile patterns can be replicated from simple designs to complex.
Exquisite shine with the look of marble or granite
Porcelain and ceramic tiles are popular for their high glossy shine. They can be classic or modern in design and color, and they always look expensive. But those shiny tile surfaces can scratch and chip, with these imperfections magnified in bright sunlight. Decorative concrete with a high gloss finish gives the coveted shine and look of marble or granite with a durability that tile can't match so your floors stay looking like new.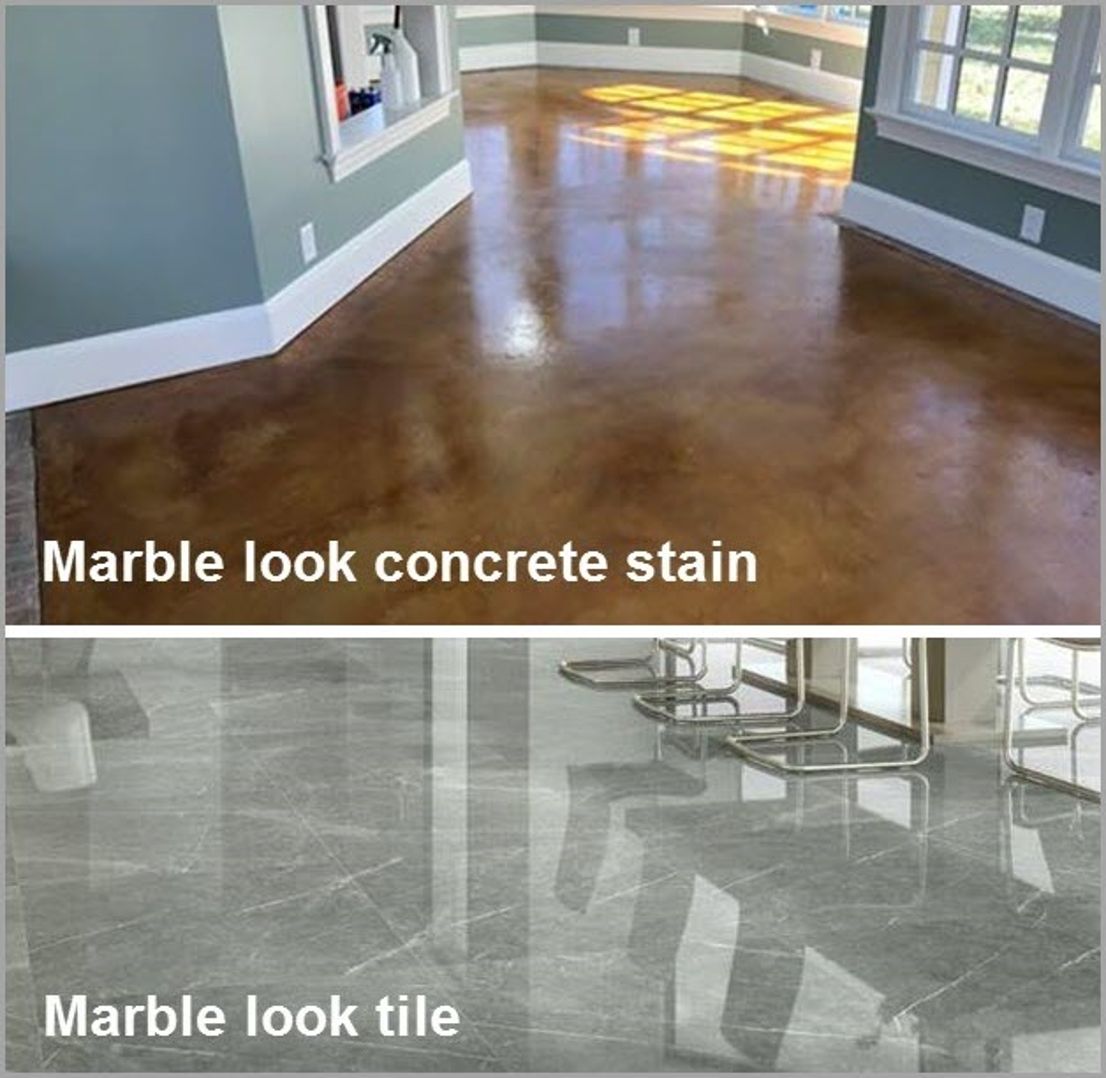 Decorative concrete shine resists dulling, cracking, and moisture so it can safely be used in kitchens and bathrooms where spills are common.
Custom staining can incorporate multiple colors for a one-of-a-kind floor with unique marbling.
Decorative concrete overlays can be stamped and stained to emulate tile, stone, or wood with a high-intensity shine to transform your floors.
2020 is the year for new floors
Don't wait any longer to update your floors and completely transform your living spaces. With decorative concrete, you can have any style you prefer at a cost far less than other materials like porcelain tile and wood flooring. Concrete Craft's proprietary processes and premium MasterProTM products deliver exquisite floors for every need. Contact us or go to www.concretecraft.com to find the Concrete Craft location nearest you and request a free design consultation for transforming all your floors into stylish masterpieces.