Modernize Your Fireplace with Vertical Concrete Resurfacing
A good fireplace is built to last, and so they do. From one decade to the next, however, the style and design become dated and efforts to modernize and update your home will be frustrating. New paint, new floors, and even new furniture in a room can all be dulled by an outdated fireplace. As the focal point in a room, a fireplace can make or break your attempts at modernization.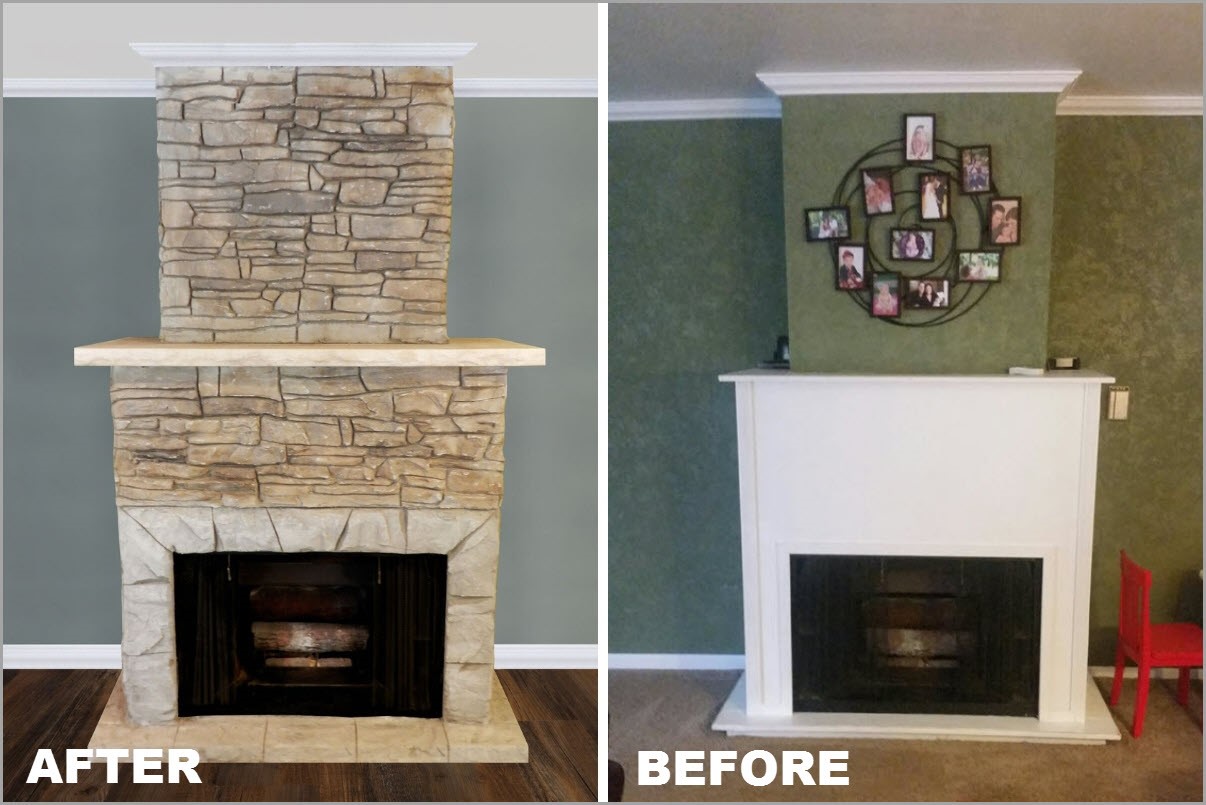 Concrete Craft ® updated this fireplace with vertical concrete resurfacing, installing a faux stone Mountain Drystack hand-crafted finish to make it look better than new. If your fireplace is holding you back from total awesomeness, it may be easier than you think to get a modern look without having to tear out and rebuild your old fireplace. Fireplace refacing or resurfacing with Concrete Craft's MasterPro FINISHTMprocess will transform any room with a beautiful new fireplace surround.
Get the look of authentic stone on your existing fireplace for a fraction of the cost of real.
You won't have the headache of excessive weight that real stones can add.
Cover up damaged brick or tile and get rid of years of smoke accumulation clinging to the fireplace.
Trending fireplace designs
Natural materials like wood and stone can add a cozy ambiance to a room and layer on interesting texture. Whether your fireplace is wood-burning or gas-burning, you can take a ho-hum fireplace to new heights with a three-dimensional faux stone finish like English cobblestone, castle rock, limestone, orchard stone, Mountain Drystack, European fan, granite, brick, or tile. Vertical concrete overlays can be applied over wood, drywall, brick, and concrete to completely transform the face of your fireplace with the elegance of custom stone finishes.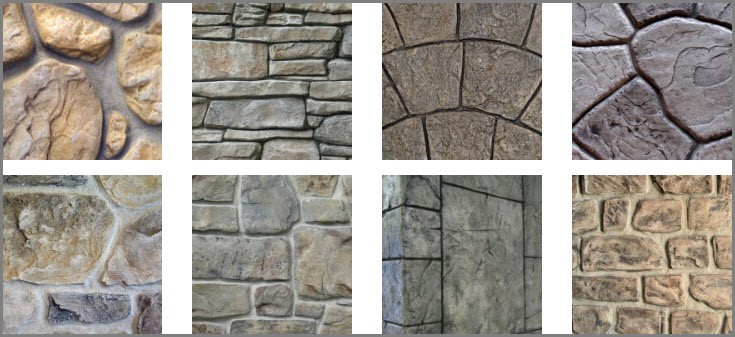 Add an attention-getting hearth to update your fireplace in a coordinating faux stone, like this flagstone hearth in the image below. A concrete overlay can be applied to an existing hearth with a stamped or hand-cut and custom-colored design to be a perfect match to the new fireplace finish.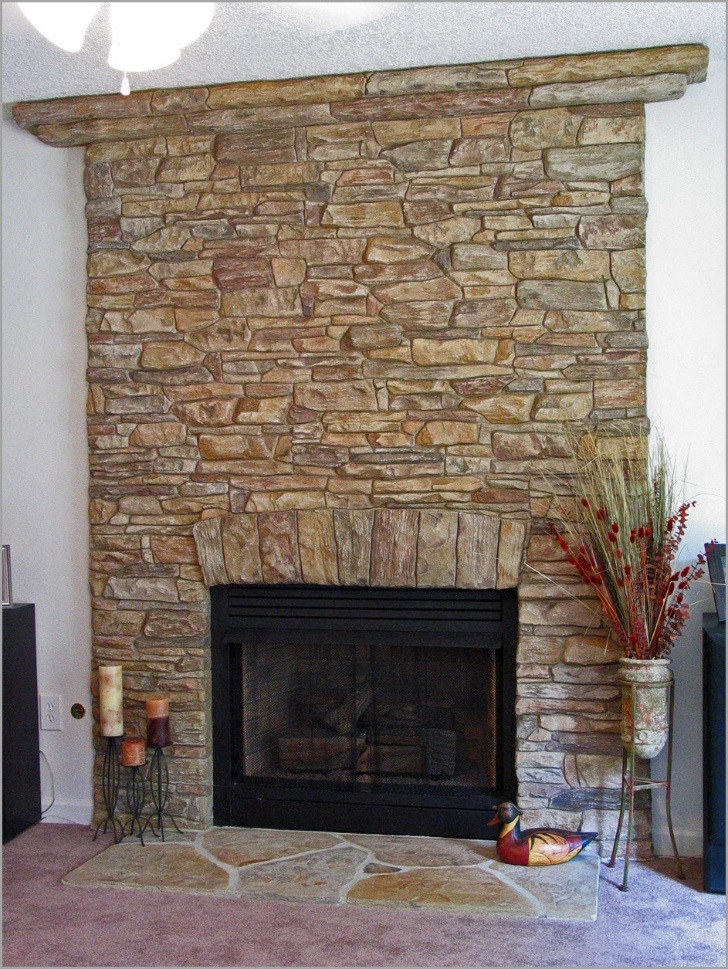 If you have an uninspiring gas fireplace that could use some pizzazz, or you're converting your wood-burning fireplace to gas-burning, forego the usual faux logs and try ceramic or concrete rock balls for an ultra-modern fire experience. Available in different sizes and colors, you can create your own version of "great balls of fire!"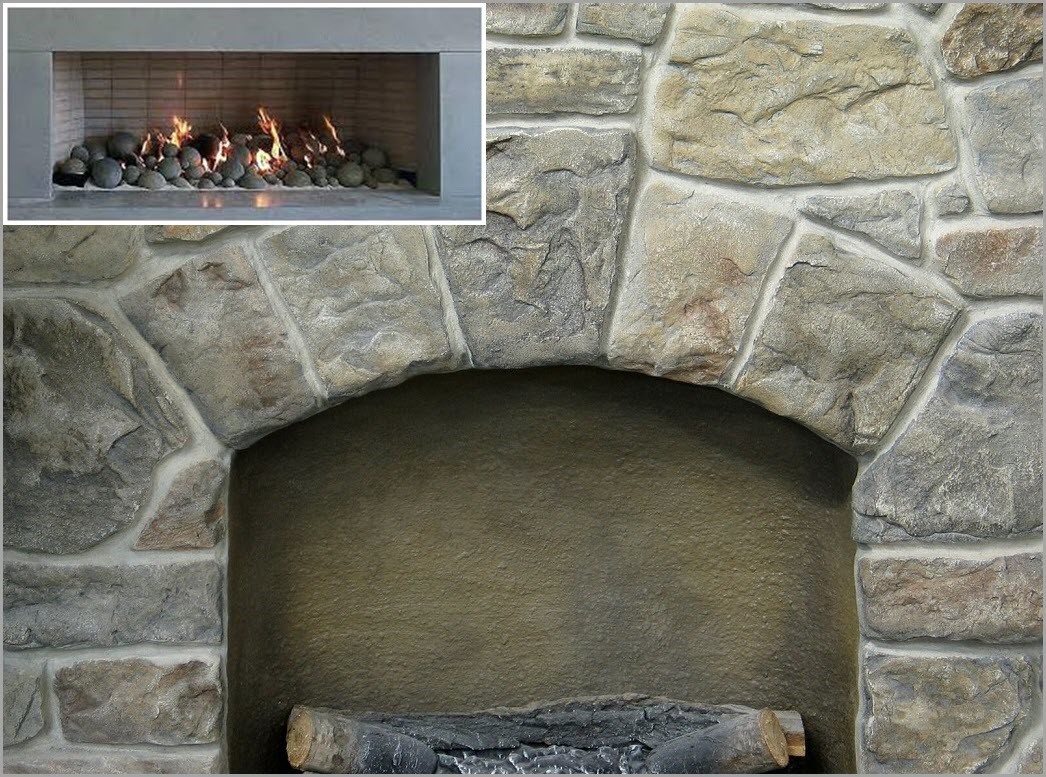 Fireplace mantels
Fireplace mantels are another way to customize your fireplace and give it a fresh new look. If you've not had a mantel before, it's easy to add one when resurfacing your fireplace, it can attach over the new surface. Popular options for wood mantels are painted, a rustic finish like reclaimed wood, intricately carved and tiered, or full-surround mantels with columns and molding. Additionally, stone, slate, or granite mantels add an elegant touch and coordinate beautifully with the stone finishes.

Some considerations with adding a mantel include:
A heavy mantle must be adequately supported and may require additional reinforcement in the wall. Professional installation would ensure a secure mantel that won't come crashing down.
Combustible materials must follow all necessary heat clearances. Check with your local building codes if you want to install a wood mantel over a working fireplace, fire codes will apply.
Ready-made mantels are available online or in stores; you can also check secondhand stores or Habitat for Humanity ReStores for reusable mantles.
Rejuvenate your outside fireplace
Concrete Craft can transform outside fireplaces with the same durable and beautiful finishes as indoor fireplaces. The continuous, sealed surface ensures that no grout lines will crumble over time or deteriorate due to moisture or harsh weather conditions since the "grout" is an integral part of the design. Vertical concrete resurfacing of your outdoor fireplace will give you an instant update and years of carefree enjoyment.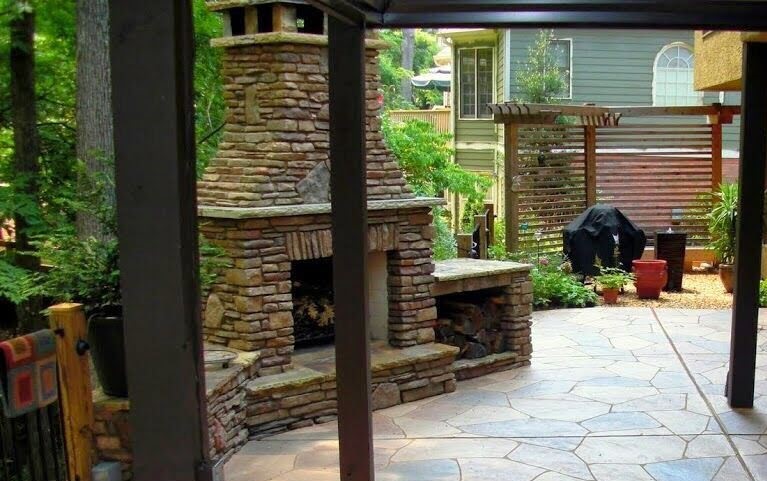 Fireplace safety tips
Before you light up the fireplace, make sure it's in good working order and safe for your home and family. In addition to always checking that the flue is open these safety tips will take you warmly through the winter:
Annual chimney sweeping and cleaning will remove creosote buildup so your fire burns cleaner. A chimney sweep will also remove any bird nests or other evidence of uninvited habitation, and a chimney cap will keep any critters out.
If you burn wood, make sure it's thoroughly dried hardwood. Soft, wet woods create more smoke and creosote buildup and don't burn as efficiently.
Don't store firewood stacked against the house, varmints can move into the woodpile and on into your home. Store wood up off the ground on a pallet, covered to protect from rain or snow.
Have gas fireplaces checked for leaks or chemical buildups and the gas lines cleaned.
Use a decorative fire screen to prevent sparks from escaping.
For both indoor and outdoor fireplace resurfacing, you can trust the high-quality products and craftsmanship of Concrete Craft artisans not available with other decorative concrete companies.
Our exclusive fiber-enriched sand overlay mix creates a realistic stone surface.
Hand-cut stone shapes give the look and feel of natural stone.
Custom, hand-crafted concrete can mimic any natural rock, with realistic stain colors.
The size and shape of stones can be adjusted to fit any unique space or dimension of the wall, including around corners and into narrow spaces
Our work and materials have a two-year warranty*
To quickly enjoy a new, modern fireplace for snuggling up indoors or beating the chill outside, contact us today or go online to www.concretecraft.com to find the Concrete Craft location nearest you and request a FREE estimate for refacing your fireplace with a faux stone resurfaced overlay that looks like real stone. Check out the online photo galleries for stained, stamped, and resurfaced decorative concrete for interior floors, patios, driveways, walkways, commercial properties, and more.