Most Popular Stamped Decorative Concrete Patios
Stamped decorative concrete is becoming increasingly popular as a fast and economical way to bring an upscale, designer look to humble concrete surfaces like patios, driveways, walkways, entryways, and interior floors. Concrete Craft® can transform any patio to stellar status with a stamped and custom-colored decorative concrete overlay with the authentic look and texture of flagstone, cobblestone, Ashlar slate, Roman slate, tile, sandstone, and various wood plank designs.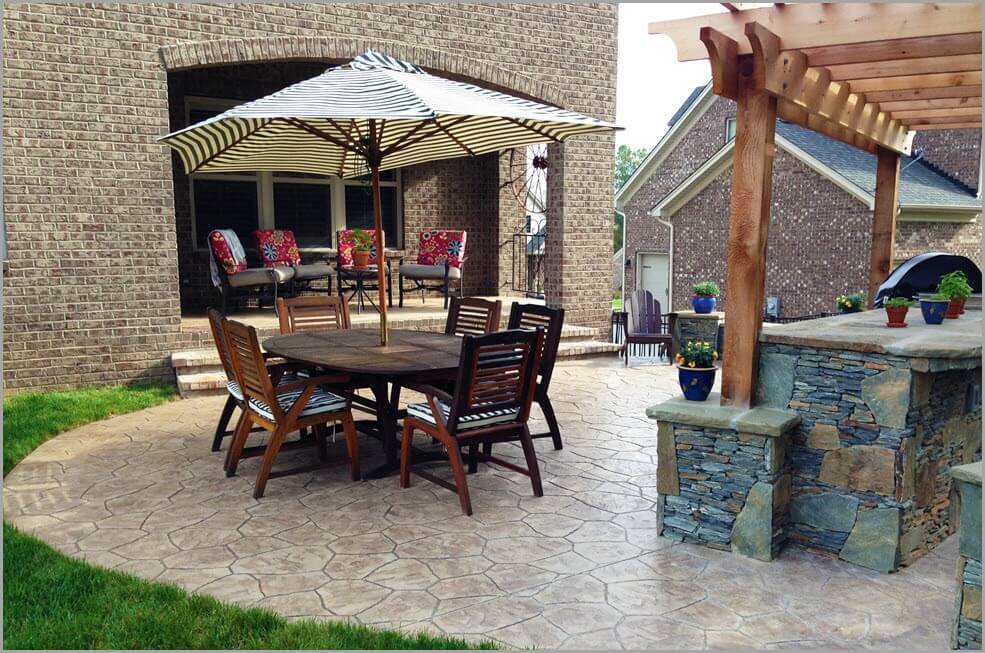 With the growing trend to combine indoor and outdoor living for summertime entertaining, an attractive, party-ready patio is a must. Try to imagine this patio without the decorative concrete flagstone floor. Suddenly the patio's attractive furnishings and outdoor kitchen don't seem so impressive. If your patio needs an upgrade, Concrete Craft can help. Within just a few days, you can go from, "What are we going to do with this ugly patio?" to "Let's get everyone over for a barbeque!"
Flagstone patios
Flagstone is one of the most popular styles for patios, giving a real stone look. Whether a large or a small patio, the flagstones can be sized to fit the space and custom-colored to enhance the surroundings. With stamped concrete in warm browns, light neutrals, and multi-colored stones, Concrete Craft is enhancing patios across the country.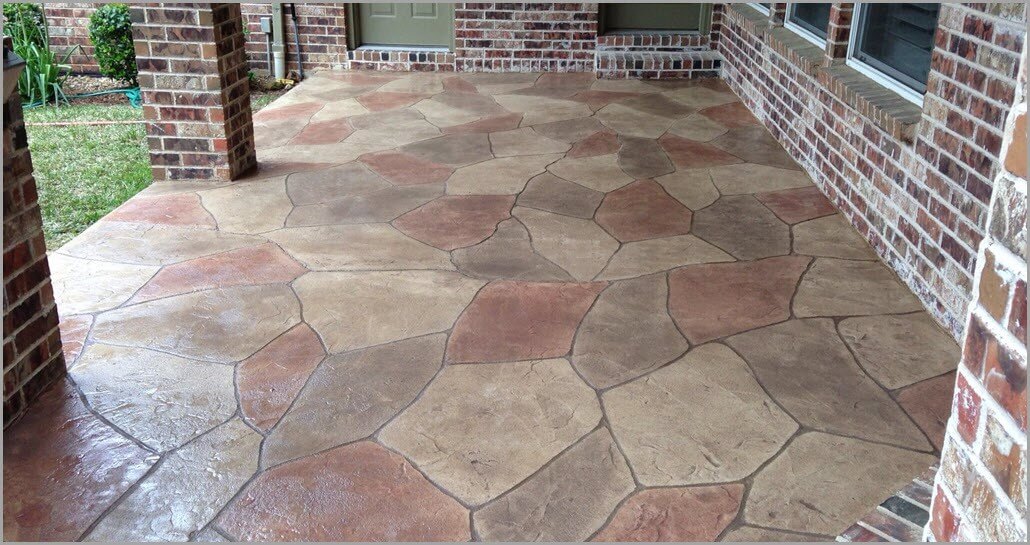 This patio has large flagstones, as opposed to the smaller stones in the image above. This pattern is custom-colored to coordinate with the red brick colors on the house, just as the above flagstone color matches the neutral tones of that home. The random pattern of large and small stones and three-color mix give a natural look to the flagstone design.
Cobblestone patios
Cut cobblestone brings a touch of Old England or the streets of Paris right into your backyard. You get the quaint village ambiance of pavers without the tripping hazard of small stones. Decorative concrete cobblestone looks like the real thing, except it's one continuous surface, without space between the "stones" to invite grass and weeds to grow, or stones to shift, chip, or crack.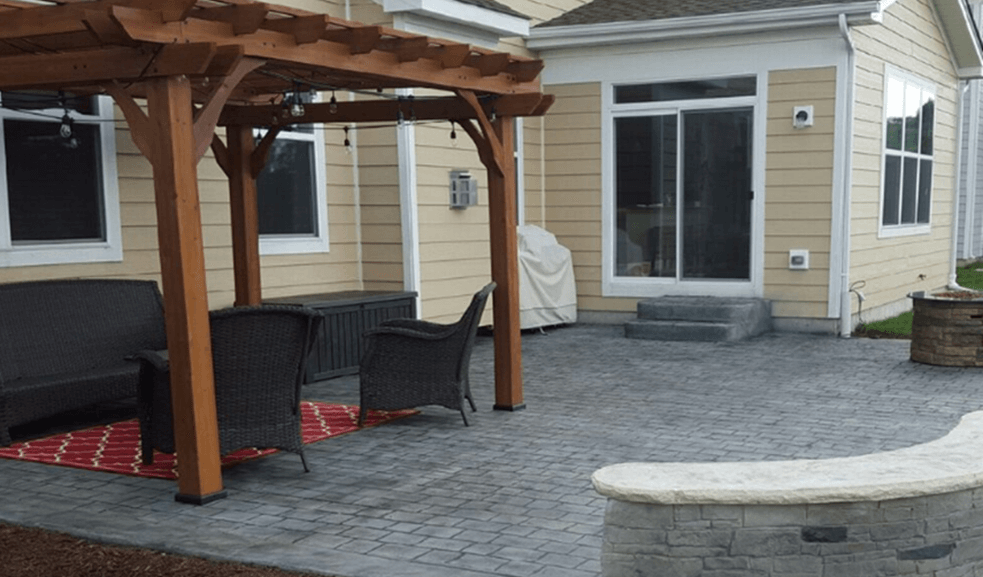 This gray cobblestone is just one of many color options. Concrete Craft's wide range of concrete stain colors means you can have any color for exactly the look you want. Premium stains in natural stone colors like reds, browns, grays, and blues permeate the surface of the concrete, enhancing the realistic appearance. Built-in UV protection guarantees that the color will never fade with any of our decorative concrete projects.
Wood plank patios
Wood patios and decks have long been favored for outside living spaces. With stamped decorative concrete patterns from Concrete Craft, you can have the look of real wood with the durability of concrete. Over time, real wood surfaces dry out, splinter, discolor and fall victim to termites and wood rot. With decorative concrete, it's a no-worries "wood" patio.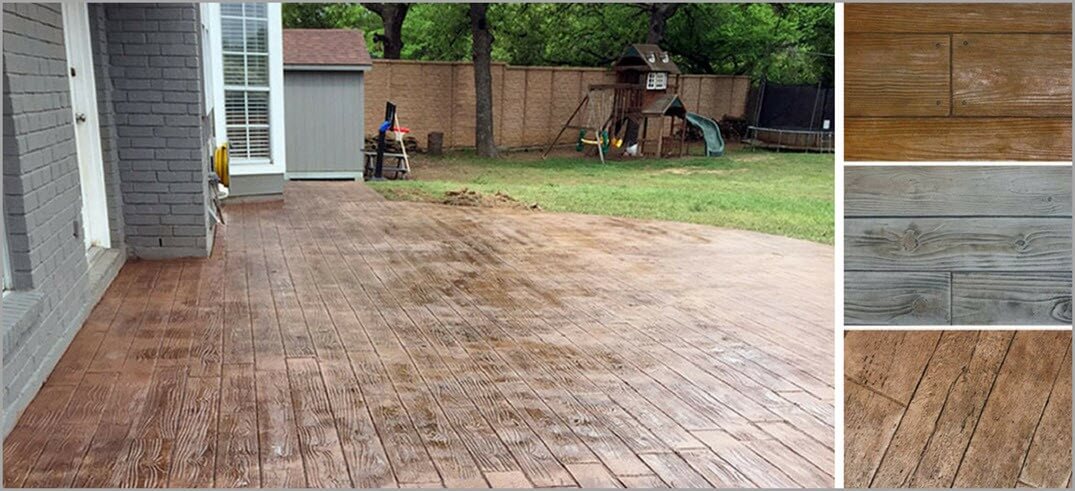 Our real-life wood plank stamps include smooth finishes, distressed wood, wider planks, stronger graining, reclaimed wood, and textured finishes. A decorative concrete wood pattern stamped patio will cost about half what real or engineered hardwood costs and will give years of care-free functionality, something outside wood structures cannot deliver. And, just as with stone finishes, the color choices are unlimited.
Ashlar slate patios
Ashlar is a random configuration of squares and rectangles, creating a geometric pattern for your patio. A slate finish can be smooth or heavily textured as the Roman slate finish in the picture below. Custom coloring can be with one color or multiple colors for a three-dimensional look. The timeless pattern can be done with a mixture of small, medium, and large stones.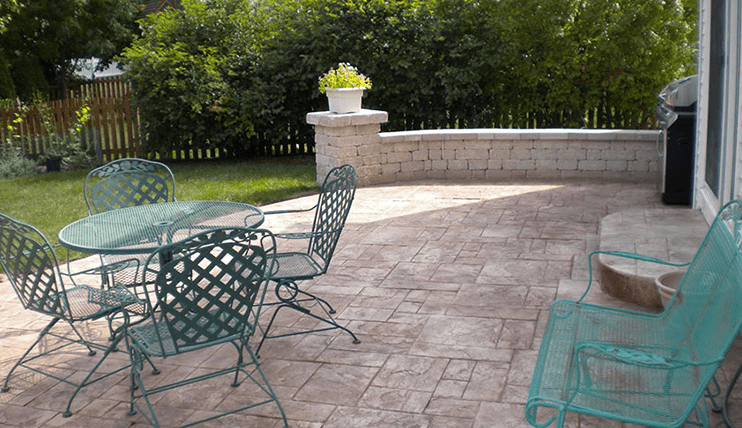 Ashlar slate is compatible with any architectural style depending on the finish and color you choose. Patios are an extension of your indoor living space and with decorative concrete, you can have your good style and taste continue outside where patio furniture, barbeque grills, pizza ovens, and seat walls create a space where family and friends want to spend quality time.
What the well-dressed patio is wearing
One can hardly have a discussion about patios without pizza ovens entering the conversation. Pizza ovens have become a "must-have" for the well-dressed patio. In fact, you can cook more than just pizza in a pizza oven. Basically, whether you choose a wood-burning or a gas-powered pizza oven, you'll be able to cook anything you'd cook in a regular oven or on the grill. Plus, all that generated heat is outside instead of in your house and that's a good idea for the long, hot summer.
Make a healthy mix of fresh vegetables like sweet peppers, onions, portobello mushrooms, and carrots. Place in an oiled, oven-safe dish or cast-iron skillet, drizzle oil and favorite spices (dill, basil, rosemary) and bake in the center of the oven till crispy and hot.
Steaks cook directly over the flame, right on the rack. Brush both sides of the steak with oil and flavor with choice spices: salt, pepper, onion, garlic, steak rubs, etc. It only takes a few minutes on each side for perfection. To add an extra smoky flavor, toss some hickory nuts on the fire.
Baked potatoes take about 45 minutes like in a conventional oven, but, oh the flavor in the pizza oven! Place potatoes near the fire, but not on the fire, especially if the potatoes are not wrapped in foil.
Also bread, cobblers, seafood, pork, and more! Check out recipes online.
Concrete Craft is ready to help you get your patio in tip-top shape for summertime enjoyment, fall barbeques, and even winter cookouts. (Yes, some people grill in the snow!) Contact us today or go online to www.concretecraft.com to find the Concrete Craft location nearest you and request a FREE design consultation and estimate for the prettiest patio you've ever seen … yours!