New Year, New Look for Your Home with Vertical Concrete Resurfacing
The dead of winter is probably not the best time to evaluate your home's curb appeal. Rain-drenched plants, brown lawns and frozen gardens are not the best frame for your home. But it does give you a good hard look at the home itself. Maybe it's time for a facelift to strip away some years and out-of-date styling from your home.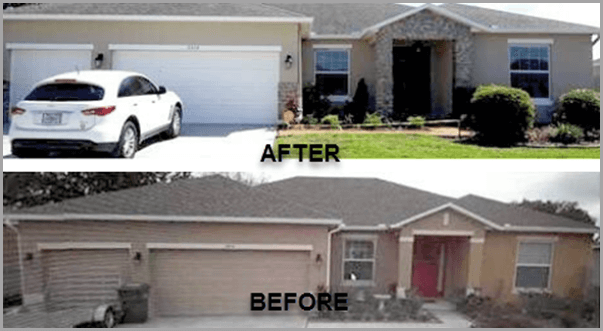 This terribly dated home was completely transformed by Concrete Craft of Tampa, Florida, into a modern marvel with vertical concrete resurfacing, applying a new faux stone façade entryway and pillar accents, all in just a few days. Updated paint colors and new garage doors completed this amazing makeover by the homeowner, with no window replacements, demolition, or reconstruction required for a totally new look.
Versatile vertical concrete resurfacing
Just as decorative concrete overlays by Concrete Craft® can transform concrete floors into beautiful, new finishes, vertical concrete overlays can repair and transform vertical surfaces with realistic faux stone finishes like Orchard stone, English cobblestone, Castle Rock and Mountain Dry Stack. Concrete Craft's MasterPro FinishTM overlay product can be applied over brick, drywall, plaster, and wood to create beautiful faux stone siding to update indoor and outdoor fireplaces, chimneys, retaining walls, seat walls, shower or accent walls, and entryways with vertical concrete resurfacing.
It's a specialized process that requires expertise, attention to detail, and the best products for the best result and Concrete Craft artisans deliver! Briefly, here is the process for the home makeover above.
Areas are cleaned and prepped so the concrete overlay achieves 100% contact to the surface.
A Mountain Dry Stack stamp pattern was used on the overlay for the stone design.
Each stone was hand-carved and texturized to look authentic.
Stones were individually-stained in Classic Beige and Coach House Brown to simulate natural stone colors.
A final protective sealer creates a continuous barrier against moisture, UV damage, or cracks.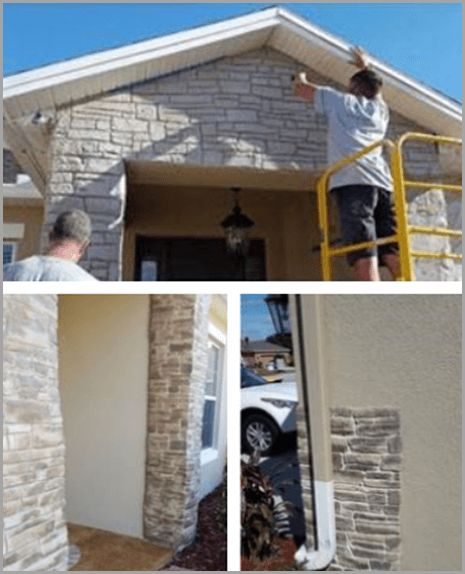 Update indoor and outdoor fireplaces
Since our MasterPro FinishTM concrete overlays can be applied over almost any existing surface, it's no problem to update old brick or tile fireplace surrounds with a new faux stone facing. With vertical concrete resurfacing you can even expand on the original fireplace to create a more dramatic focal point in the room. You can have the elegance of real stone without the excessive weight that real stone brings.
Create a campfire feel in the family room with a new hand-carved stone fireplace.
Add a modern touch with floor-to-ceiling custom-colored stone.
Increase the impact of your fireplace with an impressive stone surround and mantel.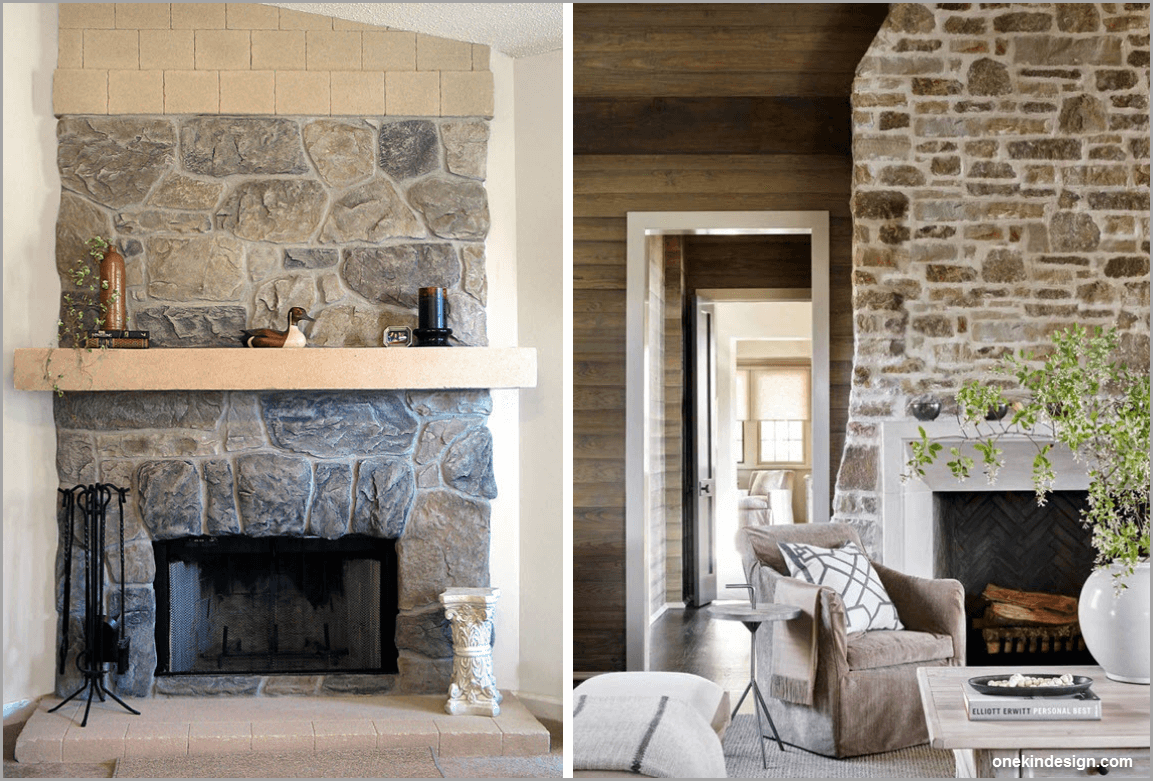 An outdoor fireplace can take a beating after years exposed to all kinds of weather. A brick fireplace, especially, can show wear and tear with grout crumbling and bricks cracking. A new faux stone façade will add years to the life of your outdoor fireplace, as well as make it look brand new.
Pretty up the whole patio, starting with the fireplace.
Add a decorative concrete floor in a stamped hardwood plank or stone pattern.
New outdoor furniture will make the patio a favorite hangout for the family, expanding your living space.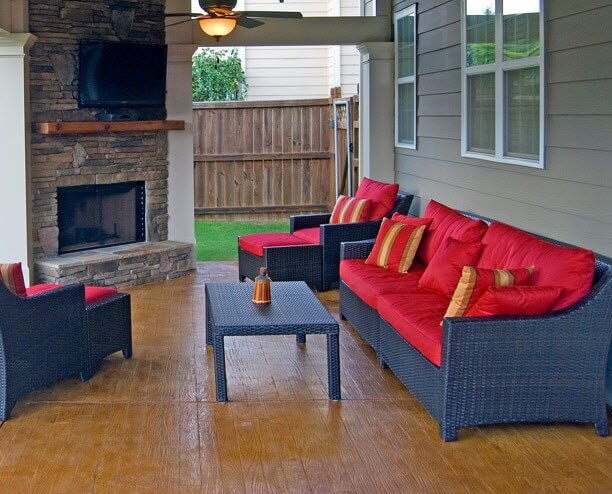 Enhance accent walls inside and out
New paint colors can change the look of a room but, if you are ready for a big change, faux stone accent walls can really make a difference. You can bring the beauty of stone into any space with vertical concrete resurfacing, adding texture and three-dimensional depth. From whole walls to decorative insets and backsplashes, resurfaced faux stone finishes can transform your home inside and out.
Turn the bathroom into a luxury spa with hand-carved limestone walls and shower stall.
Create a statement kitchen with a faux stone backsplash that brings the outdoors inside with the look of natural stone.
A basement Man Cave will cozy up with faux stone walls or bar front.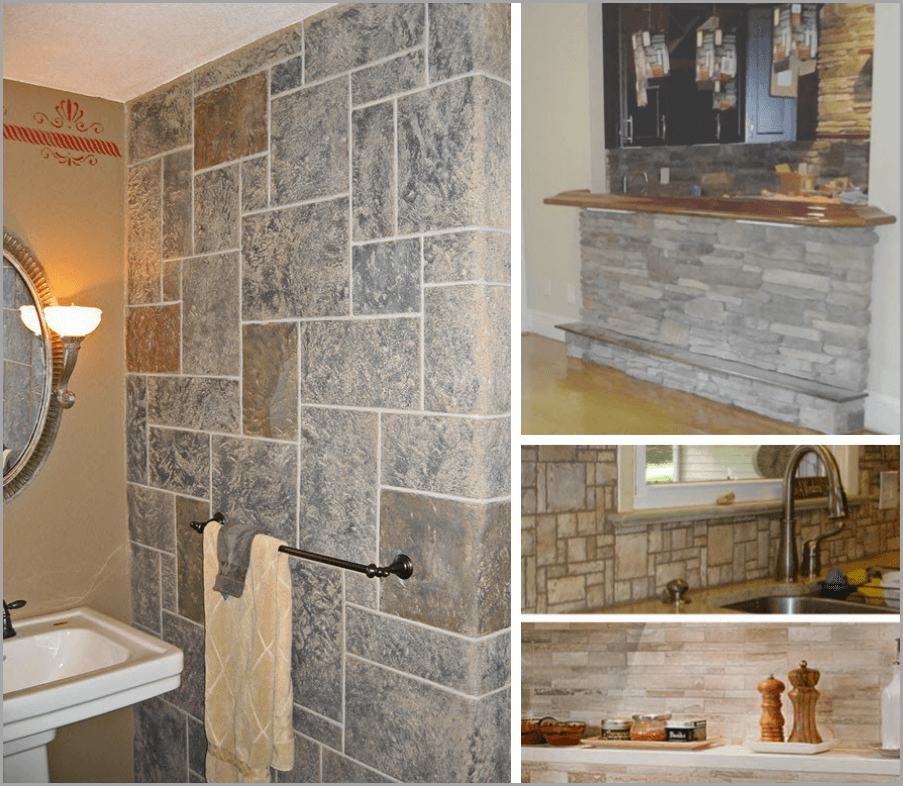 For the outdoors, this backyard offers an impressive display of stone with the house siding, decorative concrete patio in a stone pattern, and the outside kitchen/bar very stylish with vertical stone enhancement. Using any one of these elements could give your home a new look for the new year, and Concrete Craft can ensure you get exactly what you want.
Resurface the old outdoor kitchen with custom stone designs and colors for a more current look.
A worn or discolored patio can be revived with a concrete overlay and a fresh finish with concrete stain, stamp patterns, or hand-cut designs.
Resurfaced stairs, porch, and pillars can turn an ordinary backyard into an extraordinary one.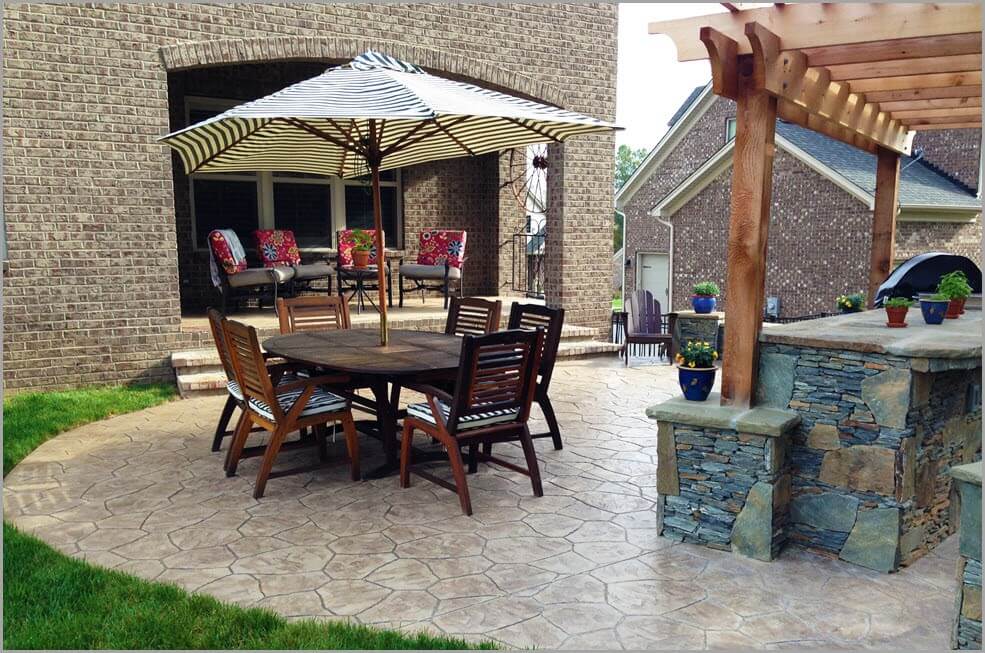 Start the new year right with Concrete Craft
Planning that new look for your home may be the perfect project to warm up the winter cold, and Concrete Craft can save you time and money and you'll love the result.
No running from store to store to compare styles and colors. Concrete Craft offers unlimited design potential with vibrant stain colors, "real stone" stamp patterns, hardwood plank stamps, stencils, and custom hand-cut designs.
We are the experts with vertical concrete surfacing as well as horizontal surfaces like interior floors, patios, pool decks, porches, walkways, and driveways.
There's never a problem of availability for the stone or color you want, we create it on the spot.
Our jobs are completed quickly and with less mess than conventional stone masonry work.
All our work is backed by a two-year warranty*.
Contact us or go online to www.concretecraft.com to find the Concrete Craft location nearest you and request a FREE estimate. Your local designer will work with you on design, styles, colors, and textures and schedule your project for installation as soon as weather permits. You'll be enjoying the beautiful look of vertical stone before you know it, and your home will be ready for all the living and entertaining that the new year brings.