Patio Designs to Enhance Cool Fall Evenings
Fall is approaching, and as we leisurely move from summer to fall, cooler temperatures dictate some changes in day-to-day life.
Sweaters and scarves come out of storage
Plush throws work their way back into the TV room and bedrooms
Hot chocolate and spiced apple cider replace root beer floats and lemonade out on the patio
Firewood stacks are replenished for cozy evenings around the fireplace or firepit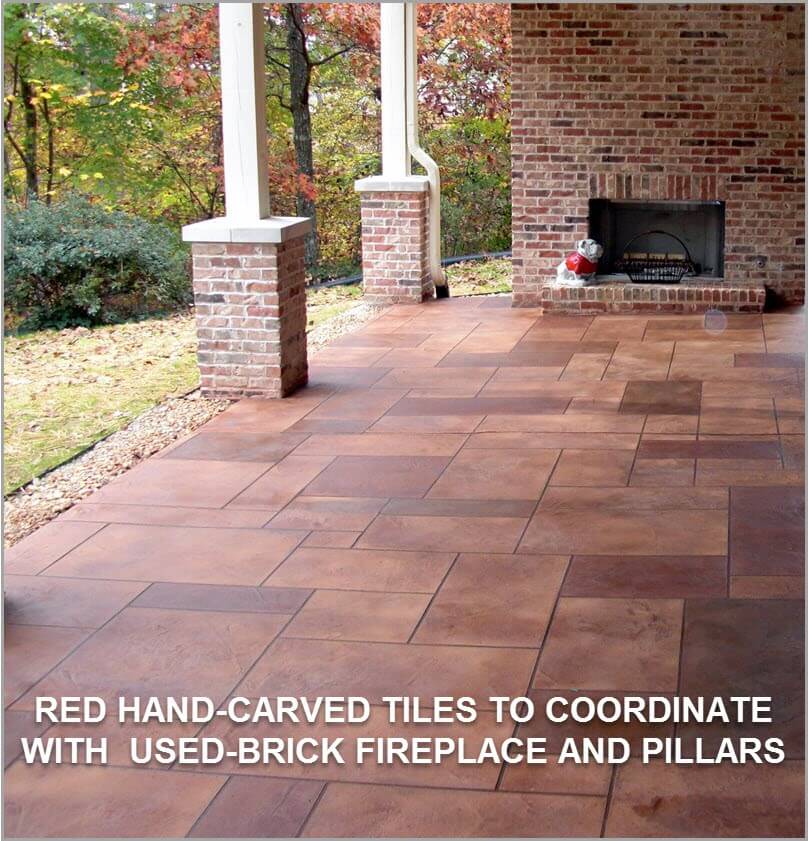 If you're looking ahead to fall entertaining, it's time to get your outdoor spaces ready for enjoying crisp, cool evenings in complete comfort. An easy-care decorative concrete patio from Concrete Craft® will make you the "hostess with the mostess," and you'll spend less time getting ready and more time having fun. A concrete overlay can resurface even a well-worn patio, covering up years of use and weather abuse, and have you sitting pretty for your first fall get-together with a stained, stamped, or hand-carved and custom-colored decorative concrete patio. Our craftsmen can match existing architecture or hardscapes, as in the image above, or you can make a completely different style statement.
Create a whole new look
Fall trends in home décor include more natural materials like wood and stone, layering on texture, and a cozy warmth. This trend can easily carry to the outdoors, transforming your patio with a natural, real-stone mold or wood plank pattern as well as vibrant stains to revive a tired patio with brilliant color. You can go from uninspiring gray cement to authentic-looking flagstone or cobblestone with a hand-cut and custom-colored decorative concrete finish. A stamped "hardwood" pattern can give a rustic, country vibe to your great outdoors and open up new possibilities.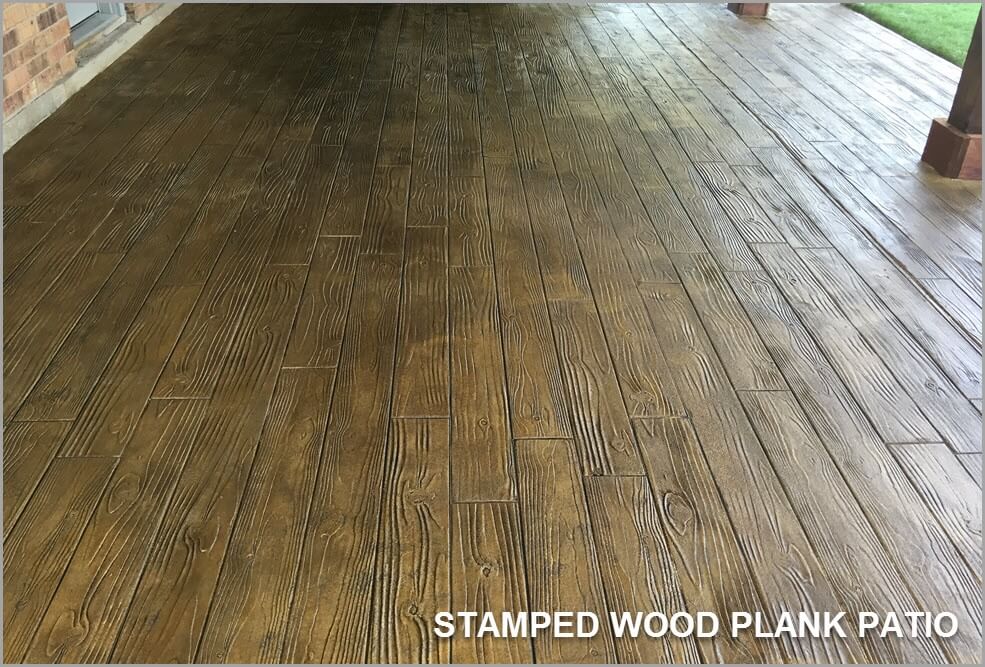 A porch swing would be right at home on a "hardwood" patio
Adirondack chairs and ottomans provide country style, from classic to modern
Indoor/outdoor rugs add color, softness, and warmth
Place a favorite rocking chair for the best view of your gardens or to keep an eye on the kids
Enhance your patio with custom additions
Additional enhancements to get your patio ready for fall include seat walls to expand seating capacity or to add definition in open spaces. Encasing all or part of your patio with seat walls creates a more intimate setting as well as adds interesting texture and style. Vertical concrete resurfacing can create beautiful faux stone finishes on seat walls, firepits, retaining walls, steps, and siding. Outdoor cushions in fall colors of pumpkin, rust, brown, and gold will make the capstones more comfortable for sitting and provide a barrier against the cold.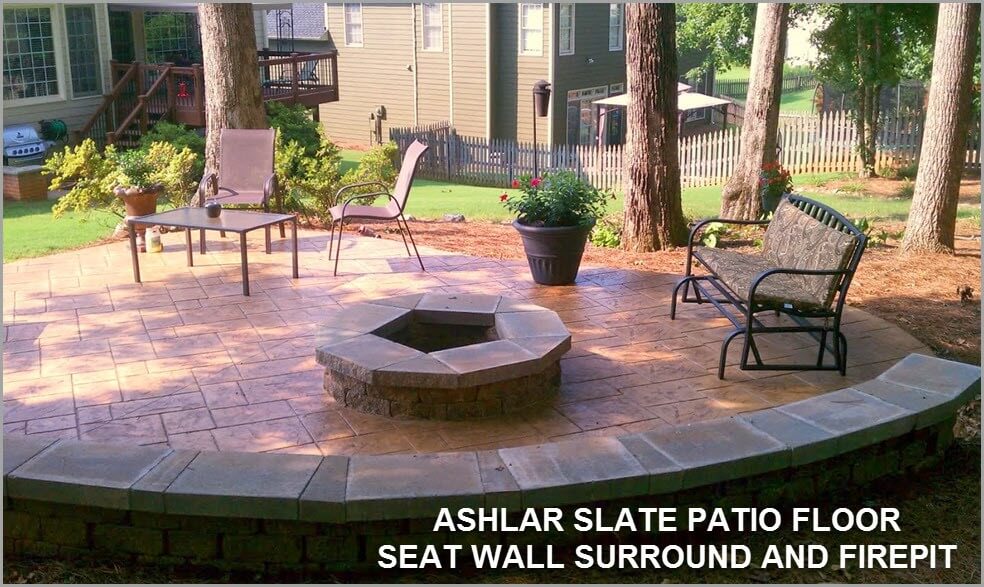 Set up conversation areas with patio furniture groupings
Chase away the cold with a firepit that lets everyone cook their own hotdogs
Seat walls add lots of seating space without crowding in more furniture
The sealed concrete floor resists spill, chips, and cracks for worry-free entertaining
Update the outdoors with faux stone custom finishes
Outdoor fireplaces are favorite hangouts as the temperature drops. If your outdoor fireplace, barbeque, or pizza oven is showing its age, vertical concrete resurfacing can make it look like new. Choose from real stone molds for Mountain Drystack, hand-scored limestone, English cobblestone, Orchard Stone, Castle Rock, and more. Create a welcoming atmosphere to roast marshmallows or enjoy hot adult beverages around a crackling fire.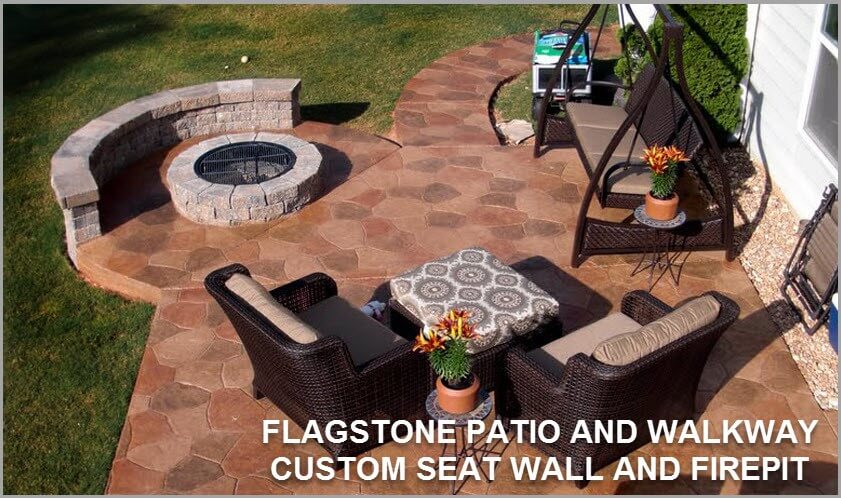 A fireplace makes your patio an ideal get-away all year long
Store blankets and pillows within easy reach to ward off cold nights
Strings of lights and lanterns banish shadows with a warming ambiance
Group chairs close around the fireplace to encourage conversation
The end of summer doesn't have to mean the end to outdoor fun. Your patio can still be the place for quiet time alone, wine tasting with the girls, or alfresco family dinners. Start with a decorative concrete overlay for a durable stained, stamped, or hand-carved floor that's impervious to all kinds of weather, quick and easy to clean, resistant to moisture, mold, and mildew, and exceptionally beautiful! Embrace the colors and coolness of fall by adding patio furniture and all the comforts of home, and your patio will still be the perfect place to spend time on chilly nights, a special gathering place for family and friends.
Contact us today or go online to www.concretecraft.com to find the Concrete Craft location nearest you and request a FREE estimate on stained, stamped, or resurfaced concrete for your patio. We can also enhance driveways, walkways, interior floors, pool decks, entryways, and front porches. A fabulous fall is just a phone call away!