Popular Patio Designs To Enhance Spring And Summer Outdoor Fun
This is the time of year when life moves outdoors and with the growing trend to combine indoor and outdoor living, patios have graduated to the status of actual outdoor rooms. This can include outdoor kitchens, fireplaces, dining areas, and fun zones. However you choose to use your patio, Concrete Craft® has the perfect decorative concrete solutions to restore and revitalize your concrete patio so you and your family can enjoy the great outdoors on a custom patio styled just for you.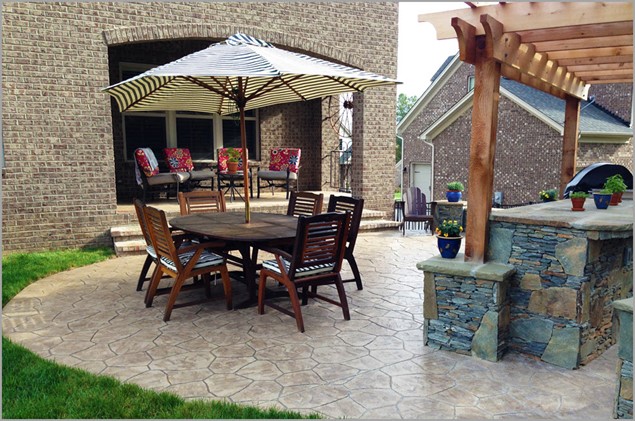 Transform your patio into a functional outdoor living space with a custom decorative concrete floor
Color and shine with stained concrete
Stained concrete has long been a favorite treatment to enhance plain, gray concrete and it's the fastest way to upgrade your space. You can choose from an infinite array of colors and special effects, including antiqued, variegated, mottled, solid color, multiple colors, and stenciled designs. For a patio slab in good condition, cleaning and prepping the surface is all that's needed before a concrete stain can be applied, creating a vibrant, durable new finish that lets the character of the concrete show through. The sealed surface repels dust and dirt build-up and its moisture-resistant properties inhibit bacteria and mold growth so your patio will stay clean season after season, even in humid conditions.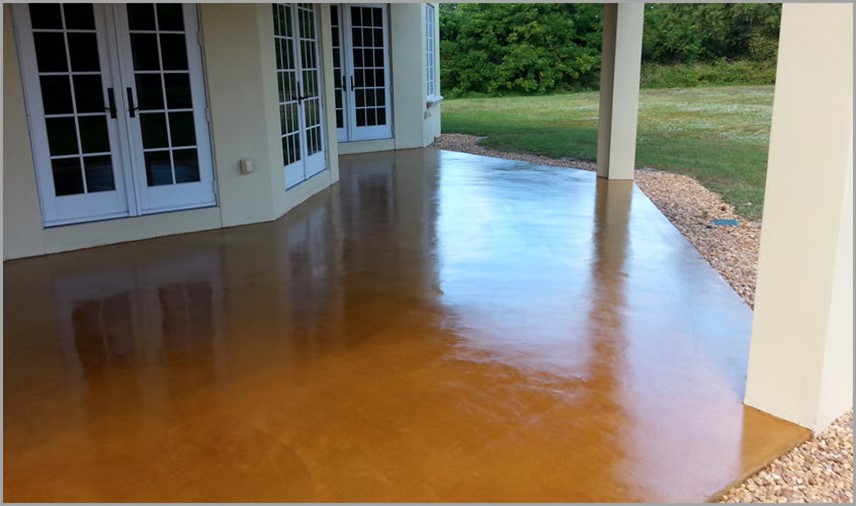 Along with a beautiful finish, stained concrete gives a durable, low-maintenance surface for years of carefree living
If stain alone is not enough for a patio with "imperfect character," including minor cracks, discoloration, and worn spots, a resurfaced concrete overlay can be applied to repair the surface damage before the stain is applied. Ideal for large areas, stained concrete is budget-friendly while delivering long-lasting rich color that will not fade, chip, flake, or peel.
Realistic faux stone patio designs
The coveted look of stone is another option with decorative concrete overlays that deliver upscale style at a moderate price. Overlays hide imperfections in existing concrete and present a fresh surface that can be stamped, stenciled, or hand-cut with authentic rock and stone designs like flagstone, cobblestone, Ashlar slate, Roman slate, tile, and brick. For about half the cost of the real materials, you can have authentic-looking patterns and textures with custom concrete stains that imitate the colors and nuances of natural stone.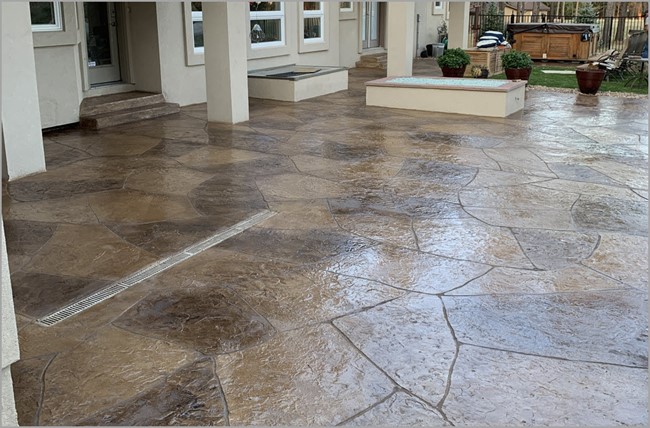 Fabulous, faux flagstone will remain as beautiful as the day it's installed
Flagstone is one of the most popular styles for patios and other exterior concrete surfaces like driveways and pool decks. This large flagstone design is ideal for a large patio and with concrete stamps, the stones can be sized down to not overwhelm a smaller space. Custom concrete stains complement the surroundings and multiple stain colors give a natural look to the hand-cut flagstone design and add depth and richness. One continuous, sealed surface, the faux grout lines mean no lifting stones, no deteriorating grout, and no way for grass and weeds to grow in between.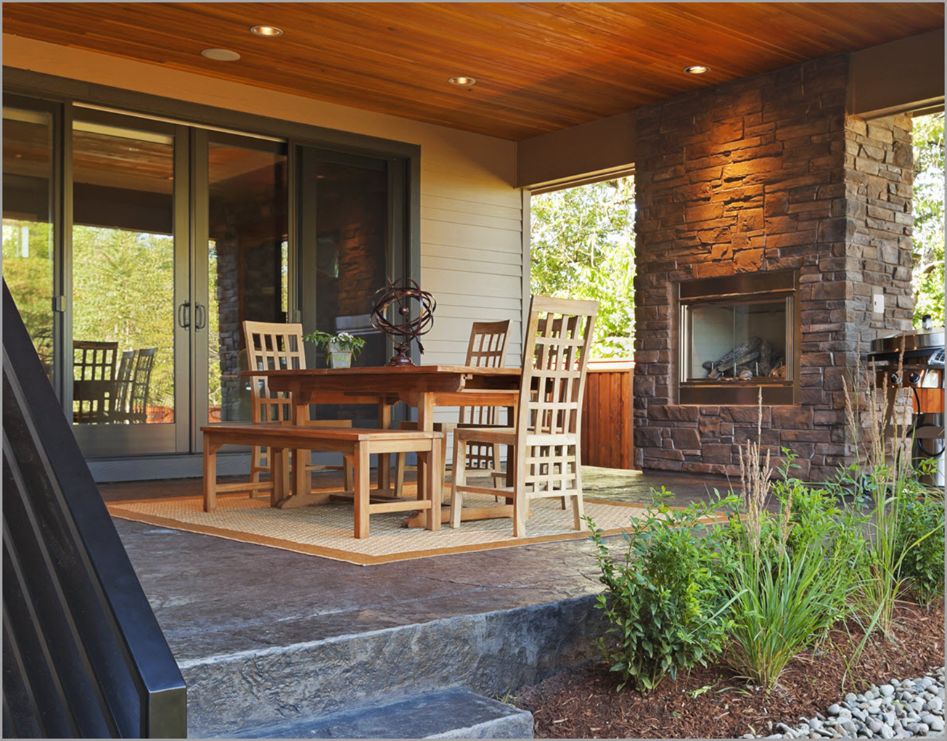 You spend less time cleaning and more time entertaining with an easy-care decorative concrete patio
Slate stamped concrete patterns add exciting texture and dimension to patio floors and outdoor rooms and are compatible with any architectural style. Natural slate colors of green, gray, purple, black, and red can be replicated by Concrete Craft's artisans with custom-blended concrete stain colors to mirror natural slate. This resurfaced patio with a Roman slate texture stamp pattern creates a sophisticated setting, resplendent with custom gray concrete stains and an industry-tough sealer that will preserve its beauty for decades.
Wood patio finishes that don't look faux
Maybe you really love the look of a wood patio but don't want to deal with inherent issues of outdoor wood such as dry rot, splintering, discoloration, annual refinishing, and termites. With decorative concrete overlays, you can have realistic wood plank finishes with stamped and stenciled designs. As with our faux stone-stamped concrete, real-life wood plank stamps are available in smooth finishes, distressed wood, wider planks, stronger graining, reclaimed wood, and textured finishes, all with unlimited color options.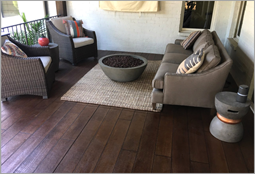 The comforting warmth of wood may be your perfect patio for all seasons
Enjoy the beauty of real wood with the durability of concrete on a no-worries decorative concrete "wood" patio. Decorative concrete faux wood designs cost much less than real or engineered hardwood and will give years of carefree functionality. With a sealed finish resistant to all kinds of weather, this patio can carry you through the rain showers and hot temperatures of summer and still be your favorite hangout during fall and winter with some outdoor heaters or a warming fire pit.
Real river rock decorative concrete overlay
For a real stone finish, you can't beat PebbleKoat by Concrete CraftTM, our exclusive non-epoxy, 100% natural river rock concrete overlay to quickly restore and beautify your patio. A single overlay, PebbleKoat will repair cracks, uneven surfaces, and hide years of damage, creating a seamless, decorative glossy finish of real stone. Available in a range of colors from Frost, the lightest color blend, to a dark Espresso, you'll be able to complement any landscape design as well as customize your patio with patterns and borders. Use more than one color or combine with other resurfacing systems for a one-of-a-kind patio.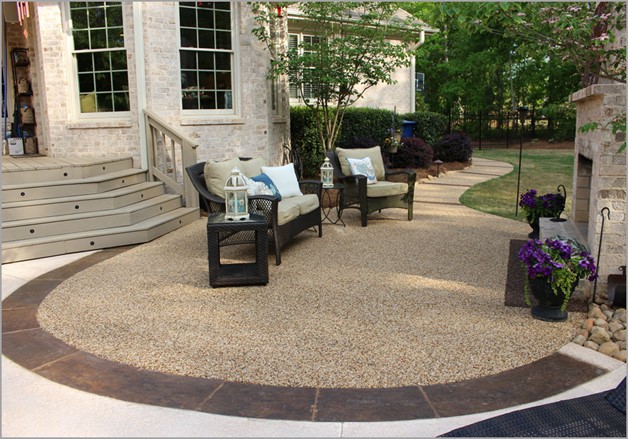 PebbleKoat with a contrasting stained concrete border creates a clearly defined statement patio
Your patio becomes an ideal outdoor room, designed for comfort, with patio furniture, indoor/outdoor cushions and rugs, snack tables, and shade umbrellas. You'll love the expanded living space it offers the whole family for daytime and nighttime activities. The durable finish is easy to maintain and keep clean; resistance to moisture, spills, stains, cracks, and abrasions keeps your space always ready for fun.
Have the patio you've always wanted
Now is the perfect time to talk to your local Concrete Craft professional about getting your patio ready for warm-weather outdoor living. Our MasterProTM Finish systems offer unlimited design potential for updating a worn patio, repair and restoration for a damaged patio, and vertical concrete resurfacing for steps, seat walls, retaining walls, pillars, and posts. One call can have you on the way to the patio you've always wanted, incorporating the beauty of stone and wood but with the rock-solid durability of decorative concrete.
Contact us today or go to www.concretecraft.com to find the Concrete Craft location nearest you and request a free in-home or virtual* design consultation and see how easy it is to have a family-friendly backyard retreat with worry-free spaces for any activity your family enjoys.
*Virtual consultation may not be available at all locations.