Repair Weather-Damaged Concrete And Save Money
Every spring, homeowners and business owners take stock of what another winter has done to their outdoor concrete areas. Patios, driveways, walkways, courtyards, entryways, and pool decks generally sustain annual damage from heavy rains, ice, snow, high winds, blistery sun, and freezing temperatures. This causes concrete damage such as cracks, scaling, discoloration, and erosion and eventually leads to the question, "Is it finally time to replace this concrete?"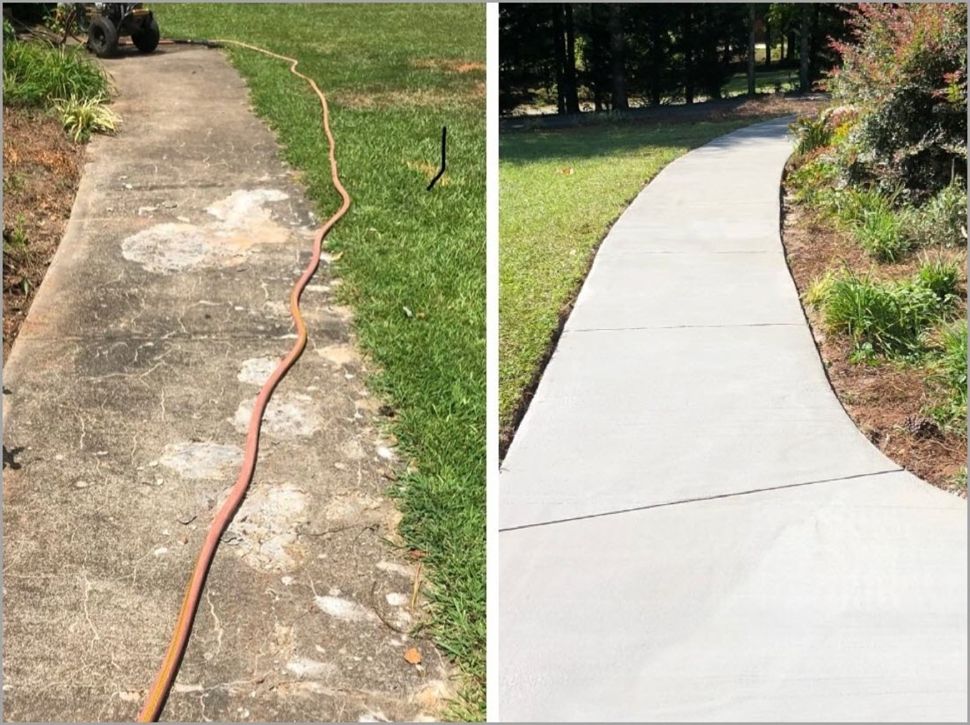 Save replacement costs with decorative concrete repair and restoration products such as RestoreKoat by Concrete CraftTM that saved this walkway
With Concrete Craft®, the answer is a resounding "No!" There's no need for demolition and replacement of concrete gone bad when Concrete Craft can restore your damaged concrete surfaces to better than new, with its arsenal of MasterPro FinishTM concrete resurfacing products. If you're tired of the annual assessment and repair of your outside concrete surfaces, including vertical concrete resurfacing, talk with the professionals at Concrete Craft to learn what options are available to repair your concrete for the last time with versatile decorative concrete finishes.
How to beautifully cover minor damage
Decorative concrete overlays are the perfect solution for concrete that has minor surface damage like cracks, imperfections, and discoloration. Applying an overlay hides the distressed surface, giving a fresh concrete surface for stained concrete, stamped concrete, or hand-carved faux finishes that look natural and authentic. Using real stone and wood molds and hand-applied stain colors, we create finishes such as flagstone, cobblestone, Ashlar slate, Roman slate, tile, brick, and wood plank patterns.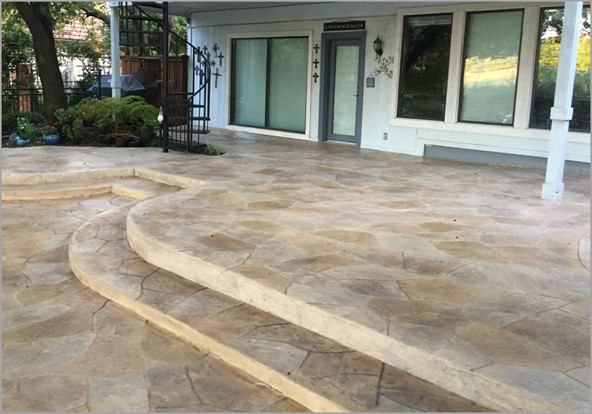 This backyard patio is transformed with a faux flagstone pattern and ready for years of outdoor fun
RenewKoat by Concrete Craft™ is another option for concrete in good condition that has a dull, worn finish and needs a new lease on life. It's a revolutionary cementitious overlay that rolls on like paint to restore shine, color, and texture in one application, making concrete surfaces look like new. Available in 10 colors, you can revive the original beauty of a stamped pattern or go for a totally different look to update your home.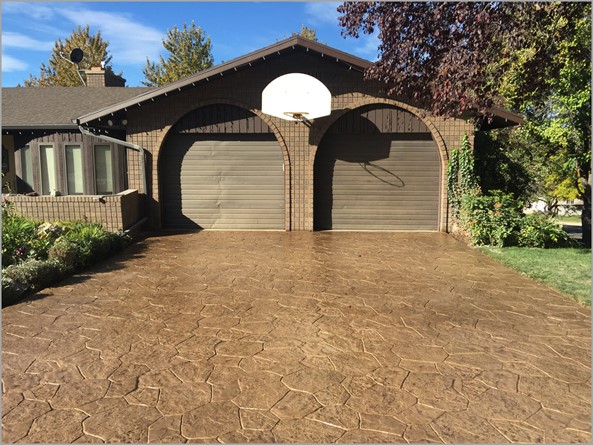 RenewKoat can quickly revive an old stamped concrete pattern with fresh color and a durable finish
For the superior look of colored concrete, the Concrete Craft® Color RestoreTM System is a non-hazardous, ultra-low VOC, water-based stain that penetrates the surface of concrete for a natural, durable finish that does not require a sealer. Rejuvenate colored or plain gray concrete surfaces with fresh, opaque colors without altering the surface texture.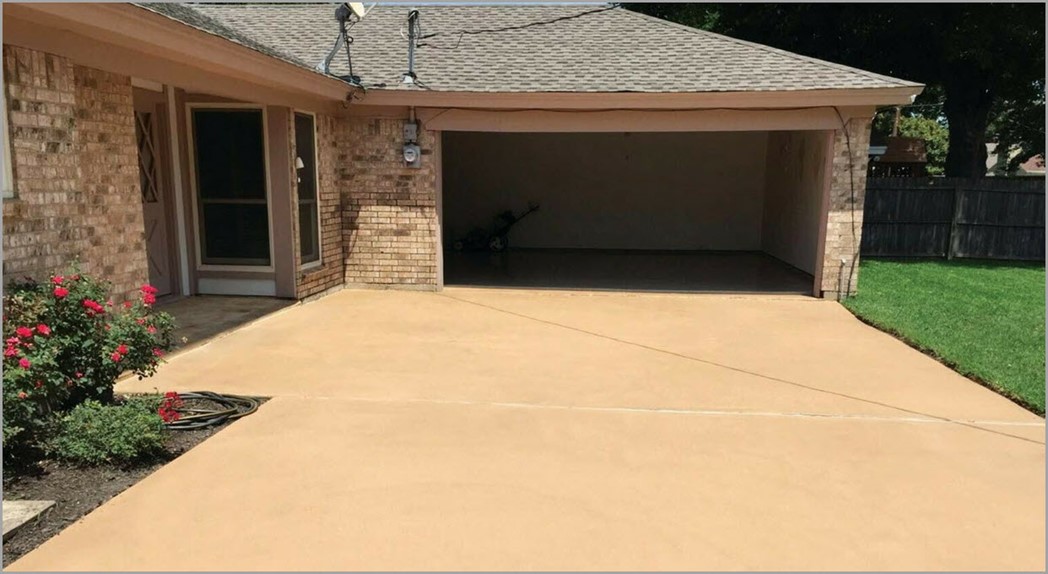 Stain and moisture resistant, this Color Restore Latte driveway is easy to keep clean since nothing sticks to the surface
Restorative overlays that repair and beautify
For a concrete surface with serious cracks, uneven surfaces, and a damaged finish, PebbleKoat by Concrete CraftTM can eliminate all those problems. It's our exclusive non-epoxy-based real stone river rock concrete overlay that can fill cracks, cover damage, and even out irregular surface heights in one application. Available in a range of colors to mix and match for unique designs to complement any home and landscape design., the durable surface resists abrasion, impact, and any kind of weather without cracking or peeling.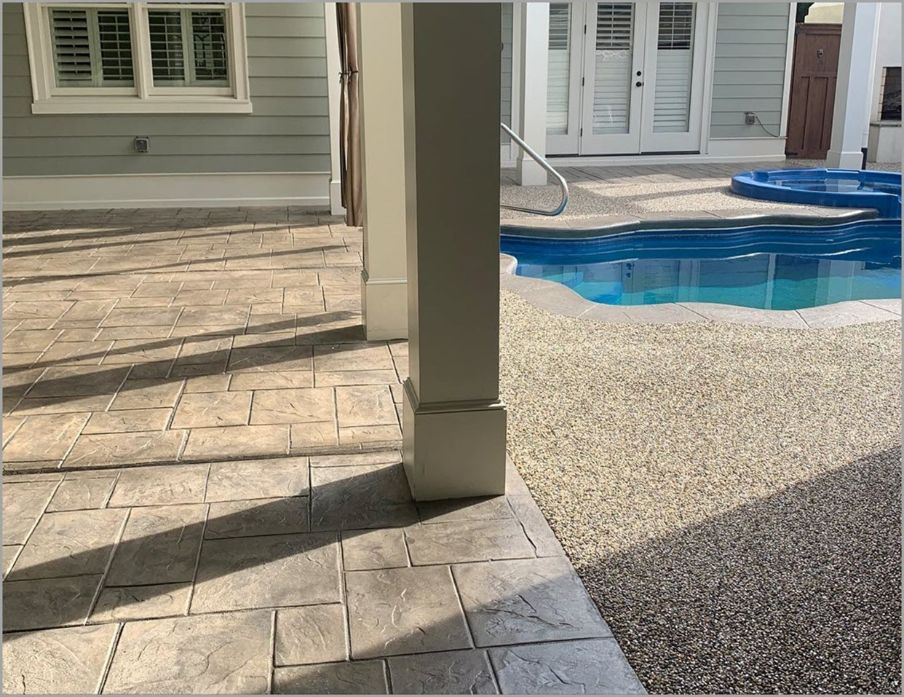 Summer after summer, combined PebbleKoat, and an Ashlar slate overlay will keep this backyard ready for fun at a moment's notice
QuartzKoat by Concrete CraftTM is an industrial-grade restorative overlay that covers compromised concrete surfaces and gives the smooth look of new concrete. Cost-efficient for large areas like pool decks, patios, and driveways, installation is quick with a curing time of 24 hours, so your space is back in service before you know it. Choose a solid color or quartz granule color blends for a low-maintenance surface you can enjoy for years, worry-free, with built-in UV protection, a slip-resistant finish, and a high-quality sealer.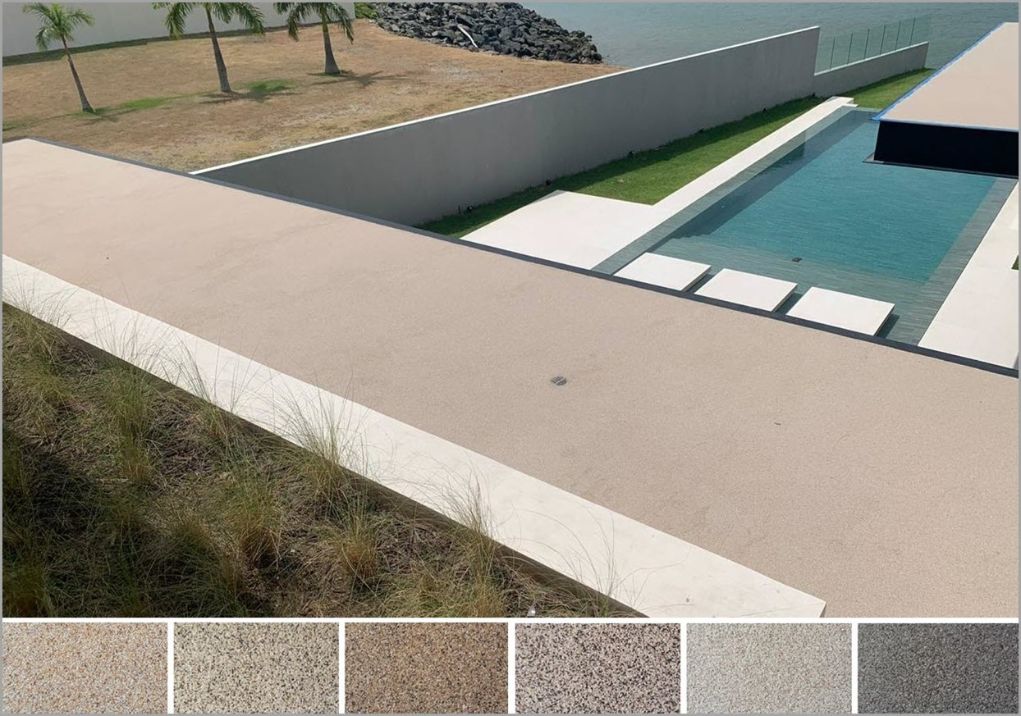 Even moisture-heavy pool decks stay damage-free year after year with reliable, durable decorative concrete finishes from Concrete Craft
Concrete restoration is quicker and less disruptive
Time, expense, and inconvenience are the "big three" headaches of concrete replacement. Decorative concrete resurfacing systems are going to get the job done quicker and with less mess and bother than demolition and replacement. Plus, our sealed finishes are tougher than new, bare concrete. Professional installation is quick, getting most concrete surfaces back in service within one to three days. (You'll hardly know we were there except for the stunning result.) The following comparison of demolition and replacement (D&R) versus decorative concrete resurfacing (DCR) makes for a clear choice if you're still undecided:
D&R: The invasion of jackhammers and trucks can cause damage to lawns and landscaping.
DCR: Portable tools are used to prep the surface of the old concrete for the overlay.
D&R: Breaking up concrete and hauling away the debris can take days.
DCR: Generally, a day will have the surface prepped, repaired and patched, ready for the new finish.
D&R: The ground will need grading and preparation, forms set, concrete poured, and the new slab cured for 28 days before it can be used.
DCR: The existing slab is now ready for the overlay of choice which, depending on size and complexity of design, can be completed as quickly as one day and back in service within 24 to 36 hours.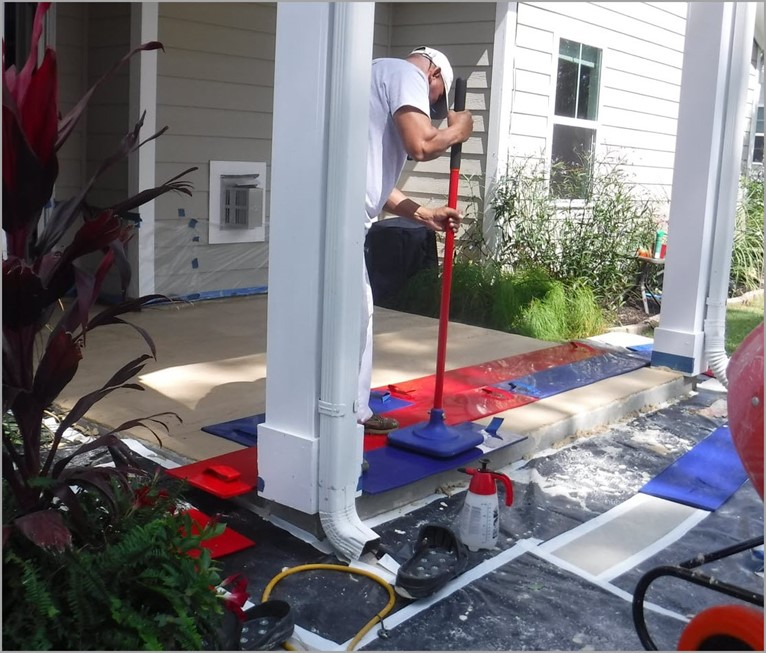 Our less-invasive processes will get you to beautiful new concrete spaces quicker and without emptying your wallet
There's really no contest between replacement and resurfacing. In terms of time, money, effort, and end result, decorative concrete repair, and restoration from Concrete Craft will win every time! You'll love the finished product and year after year as it stays beautiful, you'll congratulate yourself on the decision to resurface with Concrete Craft instead of replacing distressed concrete. Contact us today or go to www.concretecraft.com to find the Concrete Craft location nearest you and request a free in-home or virtual* design consultation. They can evaluate your concrete and help you determine the best options for repair, restoration, and fabulous decorative concrete finishes that reflect your lifestyle and respect your budget.
*Virtual consultation may not be available at all locations.
To see projects and updates, follow us on Instagram and like us on Facebook.