Repair Winter Damage to Your Driveway and Walkways for the Last Time
With winter weather finally in the rear-view mirror, it's time to assess how your home and property came through the rough weather. Rain, snow, sleet, and hail can take a serious toll on exposed concrete driveways, walkways, patios, and porches. How would you like this to be your last Spring assessment of damage? With decorative concrete overlays from Concrete Craft® for your driveway and walkways, all you'll have to deal with is the gardening. Your sealed concrete surfaces will remain intact year after year.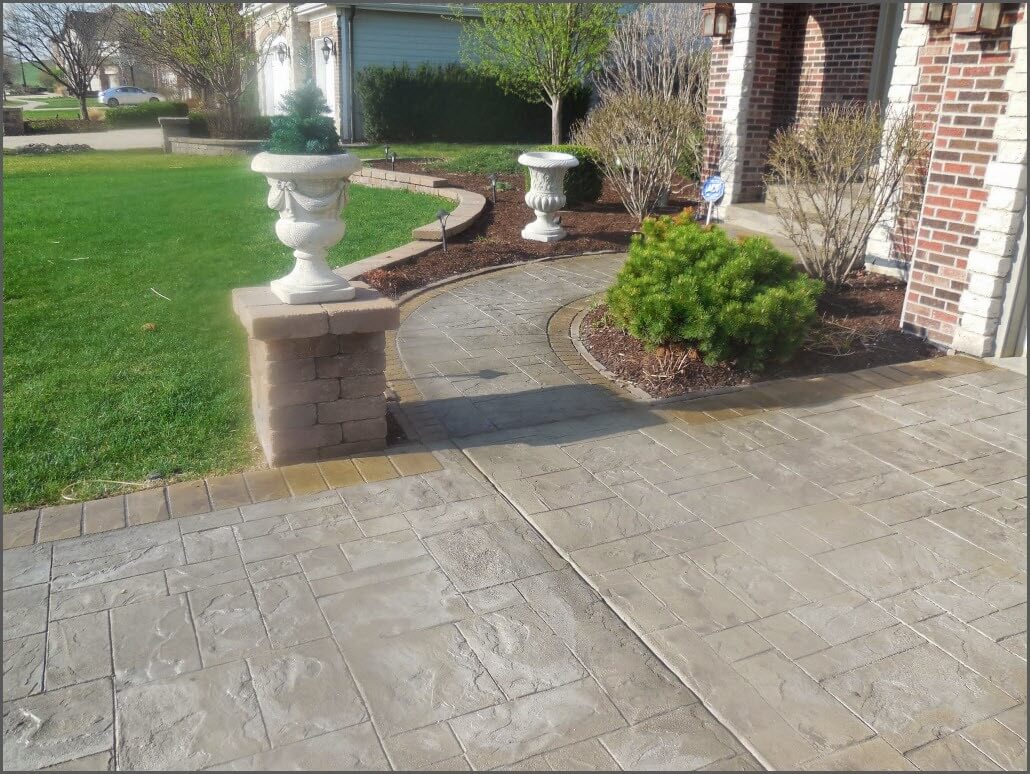 Most durable driveway you can have
If your driveway is cracked, pitted, and stained from dripping car fluids, rust, mildew, and water damage, you may think you'll have to replace it to save your home's appearance. The truth is, a micro-topping concrete overlay can transform the surface into a like-new "canvas" for a decorative concrete masterpiece. The concrete overlay will hide the damage and create a surface ready for stained, stamped, or hand-carved and custom-colored authentic stone designs that look like the real thing, but at about half the cost.
Imagine your driveway with a fresh, clean surface, ready for a stylish stone design of your choice, including Flagstone, Cobblestone, Slate, brick and tile, or a custom stain bringing vibrant color to the driveway and setting a new standard for the whole neighborhood!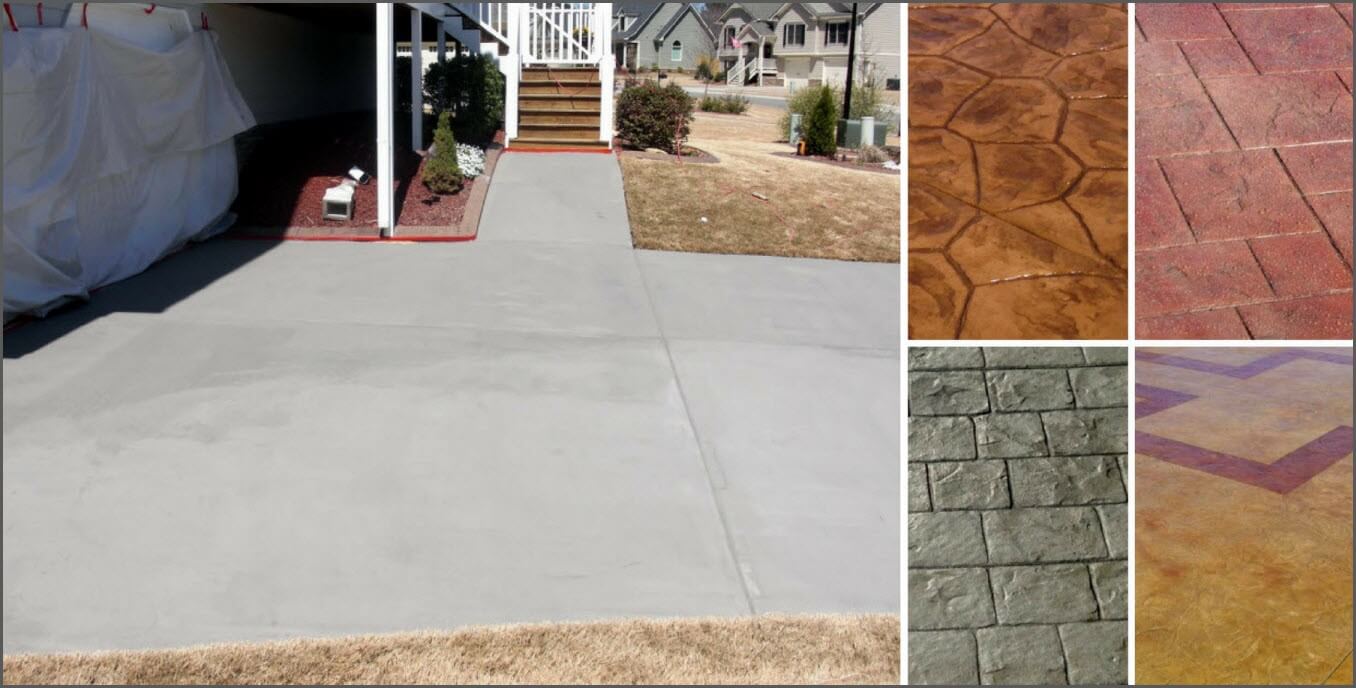 Stained concrete allows the character and texture of concrete to show through, enhanced with rich color, and sealed for durable protection. Water-based stains or acid-based stains create different effects from polished marble to natural stone, giving unlimited design potential, including unique logos and images. Built-in UV protection ensures that the stain colors won't fade over time.
Stamped concrete is imprinted with stamps made from real stone molds for an authentic texture to mimic pavers, random stone, Cobblestone, Roman Texture Slate, brick, and more. Stamping makes it easy to create a large area in faux stone in much less time than laying in real stone. And the finishing touch--a continuous, seamless surface sealer--makes the driveway practically indestructible.
Resurfaced, hand-carved stone designs mean every stone is individually shaped to look and feel like natural stone. Flagstone is a popular finish for driveways, and the stones can be customized from very large to medium to small, depending on your driveway's size and shape. The simulated grout lines even look real, but without the drawbacks of true grouted stone-like loose stones, discolored grout, shifting stones and grass, and weeds growing in between.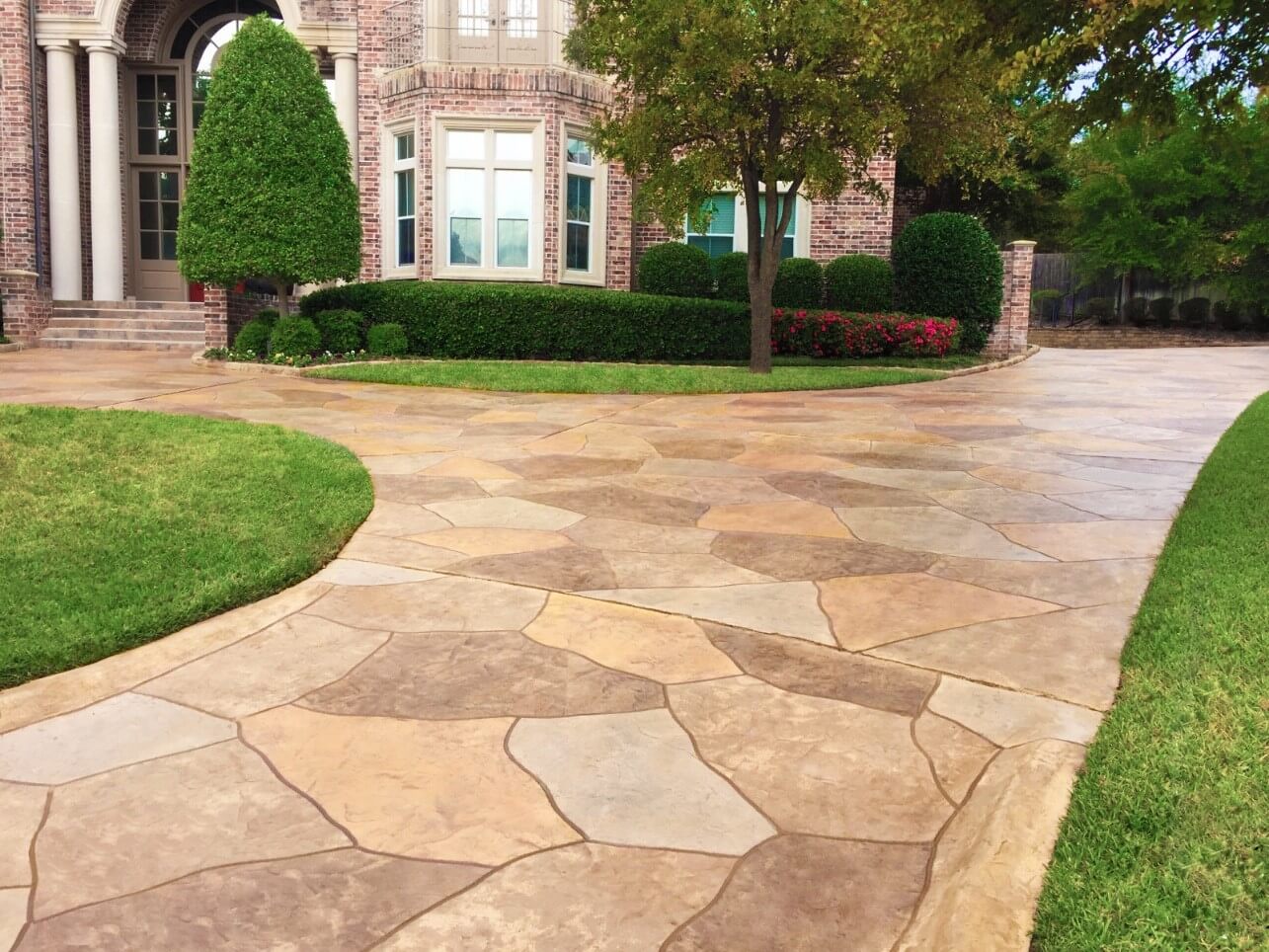 Safe and beautiful decorative concrete walkways
Sidewalks and walkways can take a beating from winter weather and constant use the rest of the year when it's delightful to be outside. Walkways can go from the street to the front door, around the side of the house, or into the backyard, branching out into paths to different parts of the yard. Regular untreated concrete sidewalks absorb water, chip and crack, and pretty much incorporate stains of anything that touches the surface from grape juice to ground in dirt and moldy dead leaves.
Resurfacing walkways is the same as for driveways, a concrete overlay can hide years of use and abuse, becoming completely transformed with a new decorative concrete design. Resurfaced and renewed walkways will improve the overall appearance of your yard, including the garden areas as well as lawns. A simple broom-swept finish gives the look of freshly poured concrete, or you can have colorful stain, stamped stone patterns, or a hand-cut, custom-colored faux stone design.
Lasting benefits beyond just beauty
New decorative concrete driveway and walkways will definitely spruce up your yard, but there's more to decorative concrete than just the beautiful finish. The proprietary processes and exclusive products used by Concrete Craft mean that your decorative concrete overlays can last for decades, making this the last driveway and walkway installation you'll ever need. Our fiber-enriched coarse sand overlay mix creates a realistic surface that requires minimal upkeep. Our coloring system offers UV protection and, in combination with our sealers, creates a lasting surface. All this translates into many benefits for you and your home:
The continuous, sealed finish can withstand any weather conditions without deteriorating
The non-porous surface resists spills of all kinds and doesn't fade, chip or peel
An industry-tough sealer is stain, water, and chemical resistant and doesn't trap mold, mildew, or bacteria
Our concrete overlays cure to just over 5000 psi, meaning they are tough enough to support cars, trucks, SUVs—any vehicles you have
You can enjoy the high-end look of authentic stone for far less cost than the real thing
Installation is by Concrete Craft trained professionals so it's a quick process with no outsourcing
Our two-year warranty* on work and materials guarantees your satisfaction
A concrete overlay can restore distressed and damaged concrete slabs saving time, money, and the headache of demolition
Extremely low maintenance, decorative concrete driveways, and walkways can be hosed off to stay clean, or you can use a mild biodegradable cleaner and brush if especially soiled

If you're tired of the annual assessment and repair of your outside concrete surfaces, talk with the professionals at Concrete Craft about stained, stamped, and resurfaced concrete options for driveways and walkways. Contact us today or go online to www.concretecraft.com to find the Concrete Craft location nearest you and request a FREE design consultation and estimate. Check out the digital brochure for even more places where decorative concrete can enhance your life, such as patios, pool decks, interior floors, and vertical concrete resurfacing for accent walls, fireplace surrounds, and seat walls.