Seven Ways Stamped Concrete Can Beautify Your Home
Stamped concrete has come into its own as a premier decorating option for outdoor concrete surfaces like patios and driveways as well as interior flooring and vertical surfaces. Also called imprinted or patterned concrete, the economy and versatility of stamped concrete makes it the go-to when plain, gray concrete is not enough. With stamped concrete, you can enjoy the look of natural stone patterns such as slate, flagstone, brick, and cobblestone without the high cost of real rock and stone and the time-consuming installation of placing individual stones. Here are seven ways that Concrete Craft® can help you achieve your dream home with stamped concrete enhancements.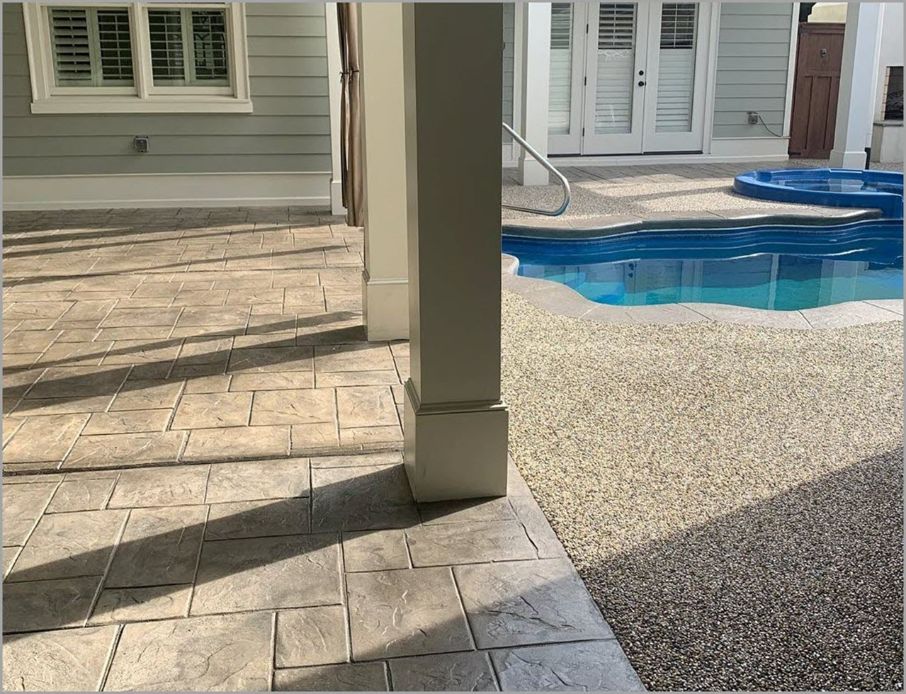 Stamped concrete Ashlar Slate alongside PebbleKoatTM decorative concrete creates an elegant backyard patio and pool deck for year-round enjoyment
One: Paired with another decorative concrete style
If you have "wide open spaces" of plain concrete such as a patio and pool deck combination or a huge courtyard, you can define activity areas by using more than one style of decorative concrete. In the picture above, the patio area received a stamped concrete Ashlar slate design and the pool deck a PebbleKoat river rock overlay with a pool edge border of matching stamped Ashlar slate. Custom concrete stains perfectly match the river rock colors for a beautifully coordinated backyard oasis.
Two: Seamless texturizing
Concrete stamp mats can be used to create a specific texture to a concrete surface without joint lines. Slate is very popular for its various natural shades and with realistic concrete stamps and custom concrete stains, any slate color can be duplicated, or you can invent your own. Real slate is not as durable as concrete and will eventually show wear and tear, so a stamped decorative concrete finish, seamless and sealed, will last for decades without chips, cracks, or fading, requiring very little maintenance.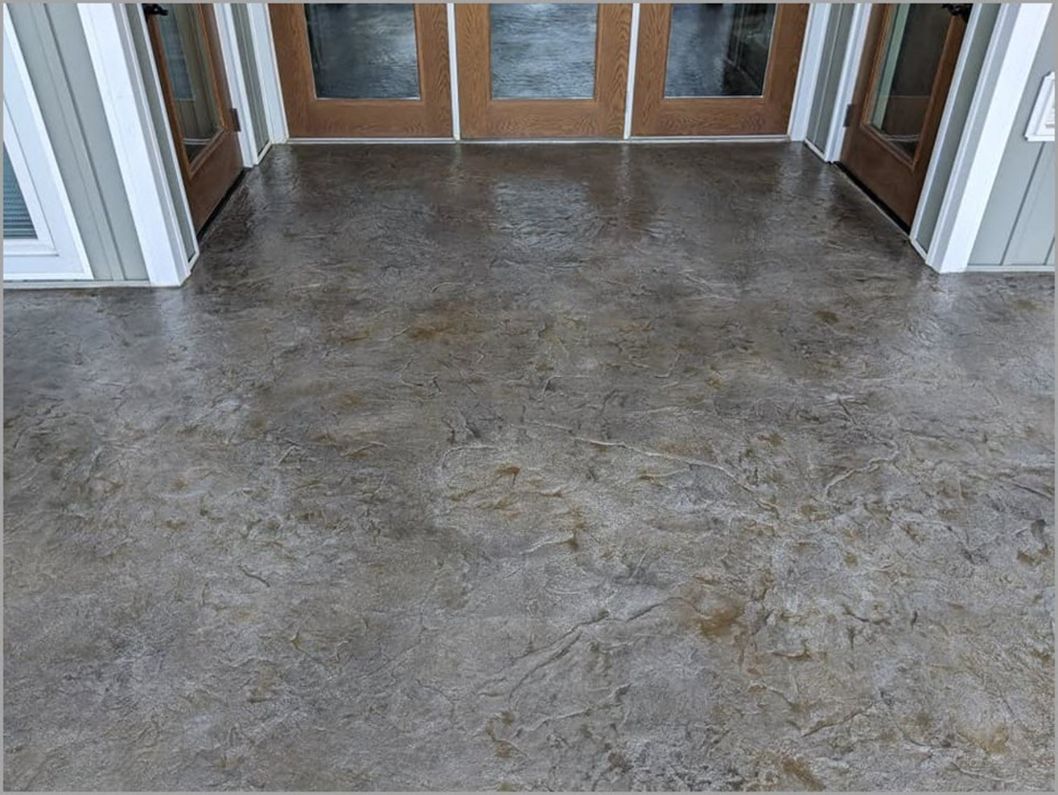 Create an authentic look of real slate with multiple stain colors that add depth and dimension
Three: Texture plus design
For the look of grouted stone, stamped concrete offers a wide variety of life-like stone patterns, including flagstone, cobblestone, brick, and slate. Concrete stamps can texturize as well as imprint stone shapes and grout lines for the finished look of real grouted stone or tiles. The patio below was aging red brick with deteriorating grout and broken bricks. A resurfacing concrete overlay covered the damage, presenting a fresh surface that was stamped with an Ashlar slate design for an exquisite result. Concrete stamps can be used with overlays for existing concrete slabs, or they can be applied to freshly poured concrete before it cures and hardens.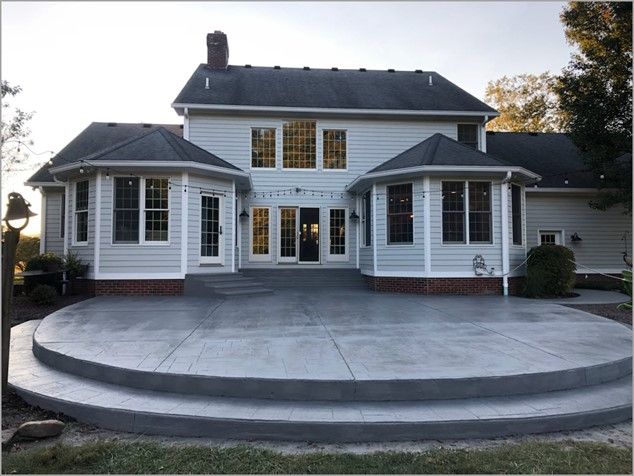 Strip years off your home's look with an updated, faux stone patio that adds value, beauty, and functionality to your entertainment spaces
Four: Faux wood finishes
Stamped concrete has introduced the adventurous use of faux wood finishes to decorators and homeowners. You can now have outdoor "wood" patios, porches, walkways, and steps without having the worries of real wood such as warping, splintering, dry rot, and cracking from unrelenting weather. With custom concrete stamps, wood plank finishes from narrow to wide, and smooth textures to rugged reclaimed wood are just a stamp away! Custom concrete stains let you have exactly the color you want from light to dark wood tones or match colors to existing landscape elements in the yard. Additionally, interior floors can enjoy the beauty of wood in any room with a durability that withstands busy family life without damage.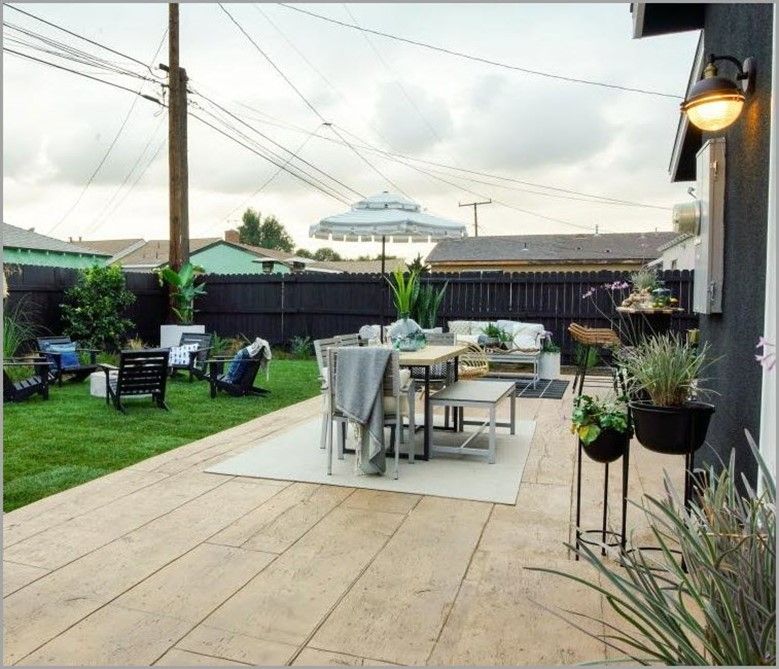 This rustic wide plank faux wood patio evokes memories of the boardwalk to this homeowner, their ideal fun zone
Five: Add artistic touches with stencils
Incorporating stencils and custom logos or designs is another fun feature of stamped concrete. Stamped and hand-colored designs become an integral part of the overall stamped concrete and won't peel off or fade with time and use. Create a focal point on a patio or customize a driveway with a family crest or sports team logo. Colorful stenciled rug designs are popular for interior entryways, outdoor patios, and front porches. Release your decorating diva!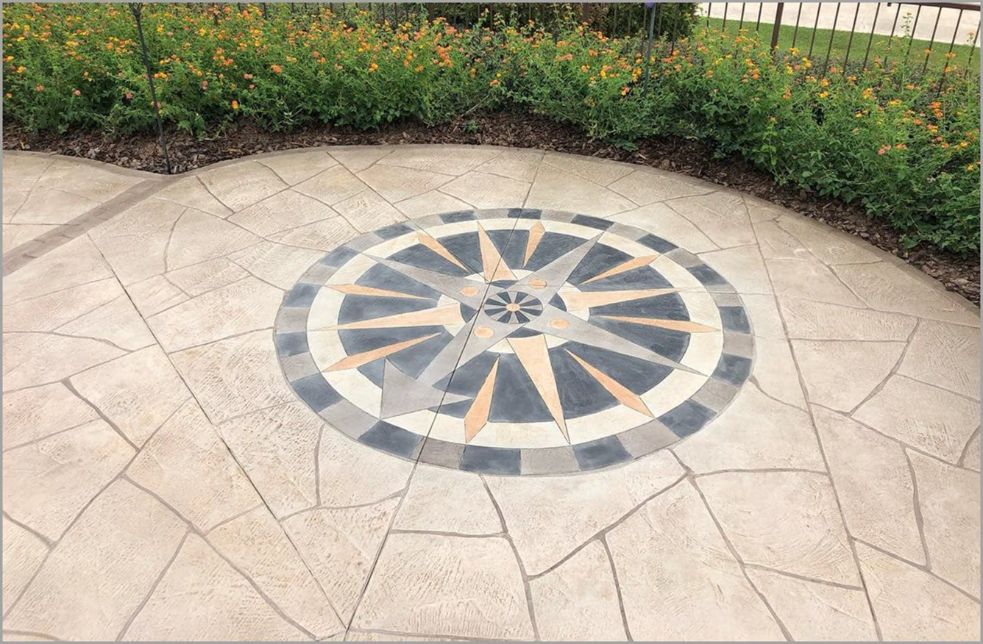 Create one-of-a-kind living spaces with beautiful images to dress up your decorative concrete faux stone surfaces
Six: Stamped decorative borders enhance stained concrete
If budget constraints eliminate the possibility of stamped concrete for your entire concrete makeover, using stamped concrete borders in conjunction with a more economical resurfacing system can be the perfect compromise. You don't have to give up the dream of stone, you can easily have flagstone, cobblestone, or slate borders adding texture and color that will make your spaces come alive. Stamped flagstone borders accent this stained concrete patio and create a driveway of distinction with flagstone highlights in a broom swept concrete finish.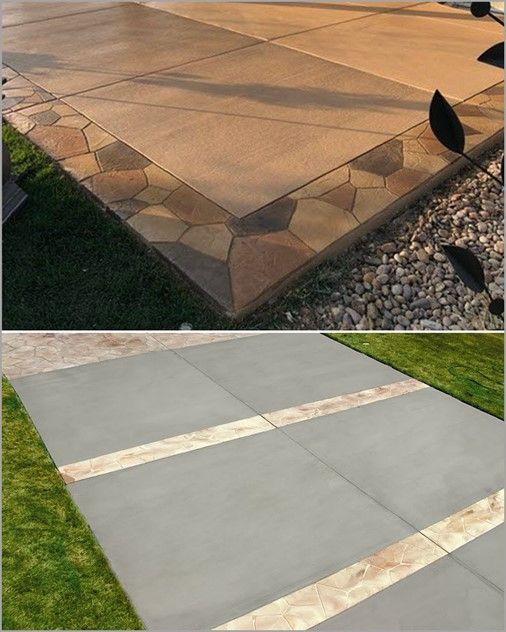 Faux stone stamped highlights give a high-end, designer look to concrete patios, driveways, and more
Seven: Faux stone and wood vertical concrete resurfacing
Stamped concrete can also bring faux stone and wood designs to vertical surfaces like walls, steps, house siding, pillars, and posts. Vertical concrete resurfacing can accomplish the look of stone and wood finishes for far less cost than the real materials, in less time, and with less mess. Applied over brick, plaster, drywall, wood, or concrete, the stamped wood or hand-carved stone designs create realistic and natural-looking textures to transform your living spaces in a matter of days. The weight of real stone can make stonework prohibitive in some circumstances, but with our resurfaced concrete overlays, that's not a problem. Accent walls, backsplashes, and fireplace refacing can embrace the beauty of stone without worry.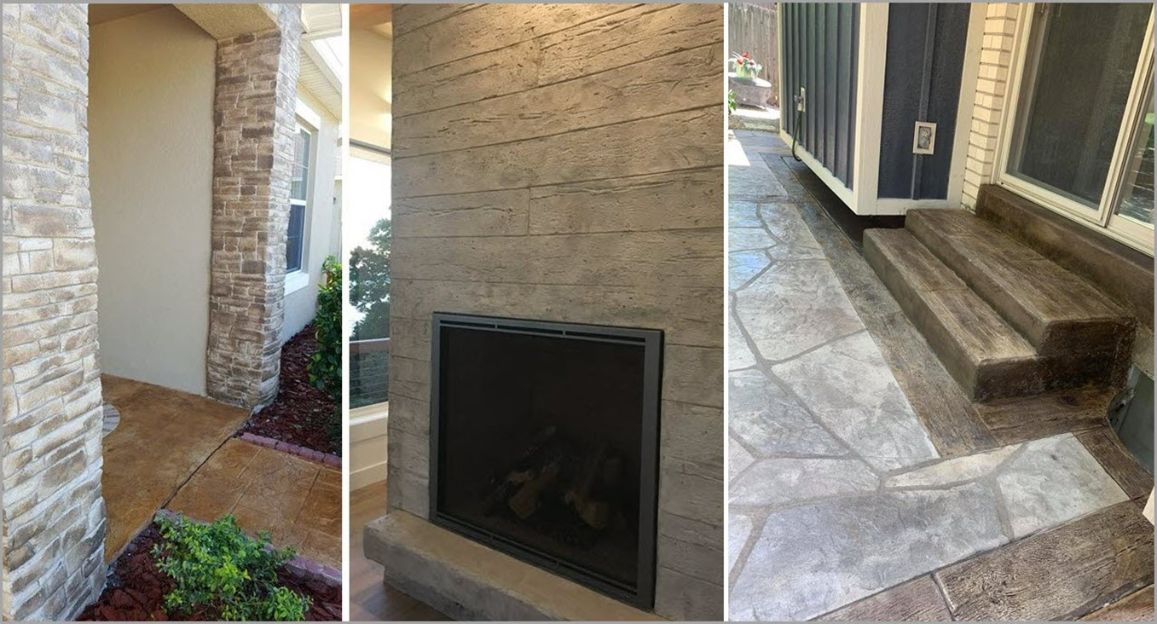 Stamped decorative concrete eliminates any barriers of where you can or can't use wood and stone, indoors and out
Stamped concrete is a game-changer
With decorative concrete stamps, you can have just about any stone or rock design as well as authentic-looking wood plank finishes. You're not limited to whatever styles and colors are available in the big box stores or the favorites of your local stonemason. Every element of our projects is customized from stamp pattern and design to color, so your options are limitless. Contact us today or go online to www.concretecraft.com to find the Concrete Craft location nearest you and request a free in-home or virtual* consultation to open up a world of decorating possibilities. Check out our online brochures for the many ways decorative concrete can enhance your home:
*Virtual consultation may not be available at all locations.
Follow us on Instagram and like us on Facebook for more stamped concrete inspiration.