Six Amazing Decorative Concrete Makeovers You Can Have In 2021
The events of 2020 made it a very home-focused year. Many people took advantage of increased time at home to finally get around to renovations they've been wanting to do to enhance their homes. Concrete Craft® helped thousands of homeowners and business owners in 2020 to transform their spaces with our exclusive MasterProTM product line to repair, restore, and beautify with new decorative concrete finishes for interior and exterior concrete floors. Here are seven see-it-to-believe-it concrete makeovers that you could have in 2021!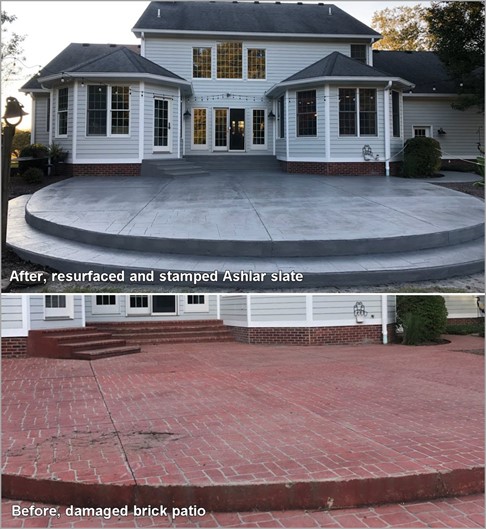 Decorative concrete resurfacing overlays
Harsh Indiana weather had finally taken a serious toll on the dated, brick patio above. The extensive damage had the homeowner in a quandary over how to best remedy the situation without going broke. Concrete Craft of Northern Indianapolis, IN, resurfaced the entire patio and steps with a concrete overlay that covered the damage, creating a fresh new surface. A stamped concrete Ashlar slate imprinted pattern created the look of real stone, and a Classic Grey concrete stain gave an updated, modern appearance to the home. The homeowner was thrilled with the authentic-looking faux stone that was about half the cost of what real slate would have been. The seamless, industry-tough sealer is resistant to chips, cracks, moisture, and fading, ensuring years of worry-free beauty and performance.
Resurfacing makes good business sense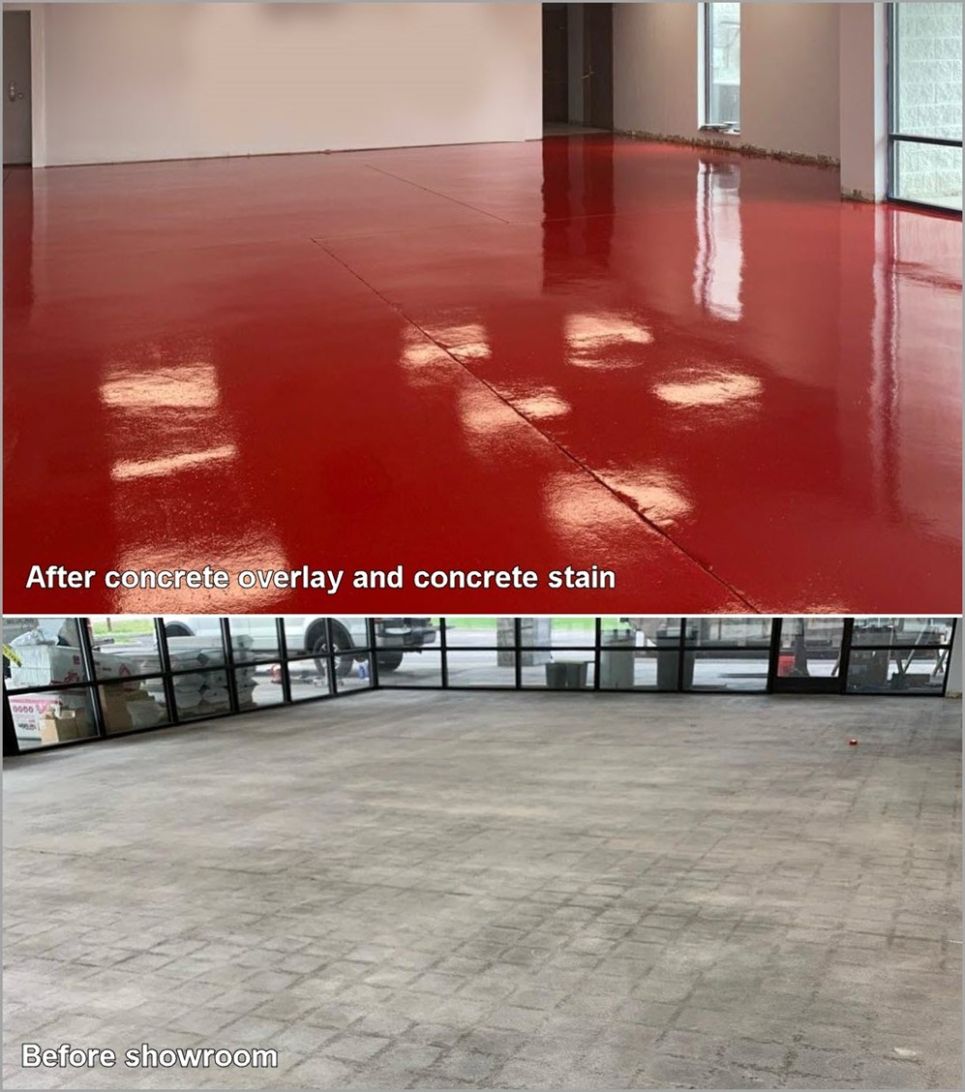 Commercial properties can also benefit from decorative concrete overlays when floors need attention. This busy showroom was showing age and not serving as a very inviting setting. The concrete floor had worn spots, uneven sections, and ground-in dirt and grime to the extent that the owner wondered, "Can this floor be saved?" A thorough cleaning and application of a concrete overlay took care of the ugliness and unevenness of the floor and Concrete Craft of Knoxville, TN, created a dramatic showplace with a water-based, deep red stained concrete finish for the flashiest showroom in town! Our MasterPro StainTM concrete stains penetrate the surface for a vibrant, long-lasting, UV-resistant finish that can stand up to heavy customer traffic. Stained concrete is the hottest choice for home or business, it's an affordable way to enhance the large interior and exterior floors with the look of high-end finishes like polished marble with acid-based stains or water-based stains for monochromatic color or multi-color designs.
Restoration of worn concrete surfaces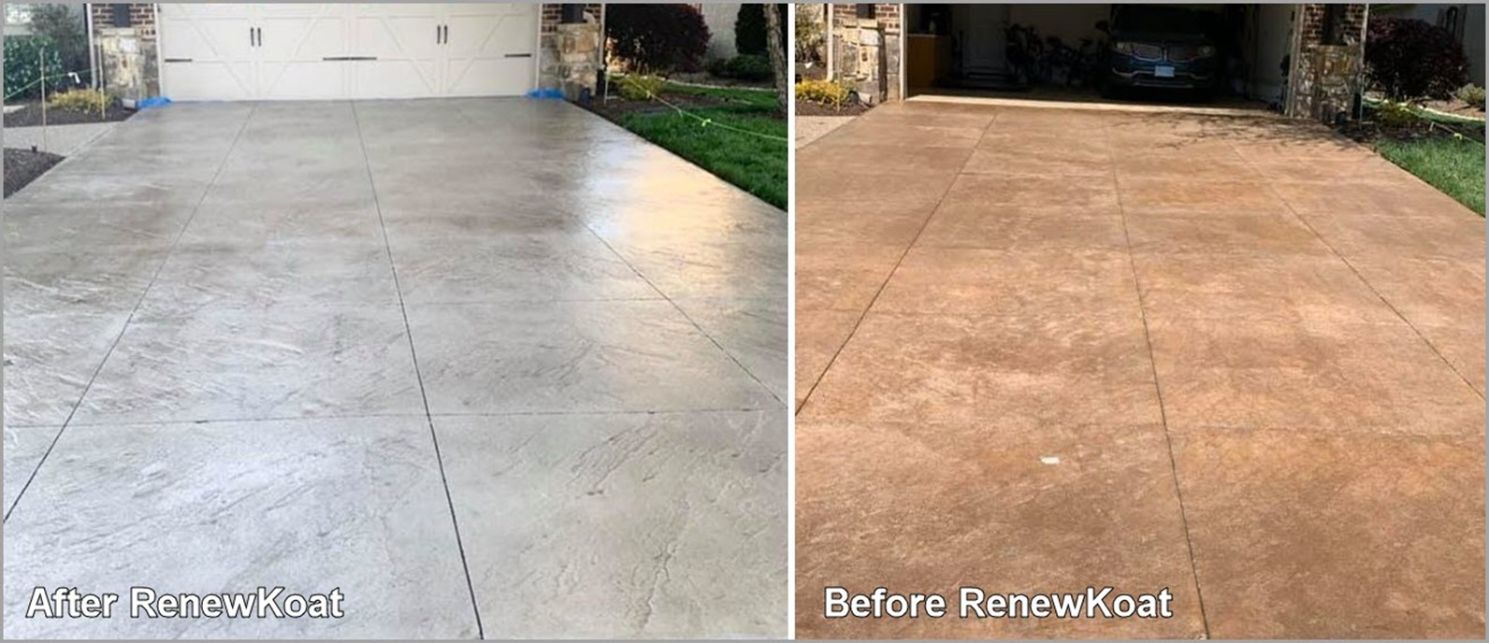 Plain or patterned concrete that has lost its finish or shine can look like it needs replacement or complete resurfacing to bring it back to life. But as the homeowner of this overworked driveway found out, their faded but intact driveway could be restored to better than new with RenewKoat by Concrete CraftTM, a tough cementitious overlay that rolls on like paint, preserving the integrity of the original design. Concrete Craft of Knoxville, TN, easily transformed the tired, Roman slate textured driveway to the look of brand-new with color and shine. With RenewKoat, just a few days can take a driveway, walkway, patio, porch, or pool deck to a superb finish and even a new color if desired.
Repair, don't replace bad concrete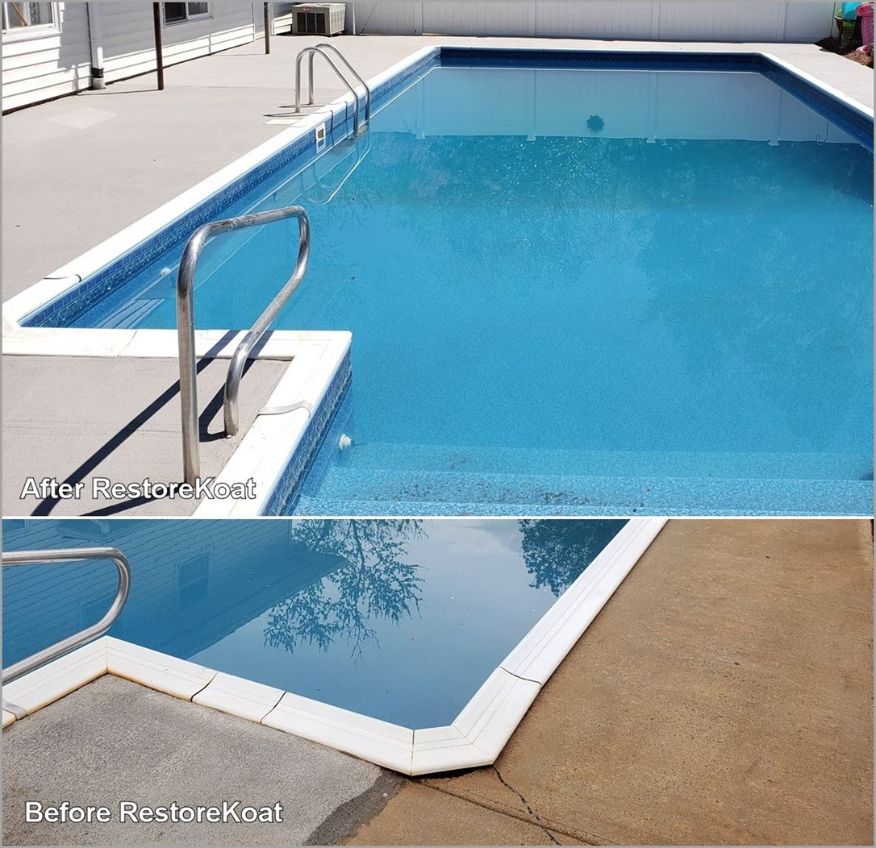 When concrete presents deep cracks, spalling, aggregate show-through, and uneven sections, the first thought is to replace that mess. With an area as big as a pool deck, it became a decision of monumental financial proportion for this homeowner. But with RestoreKoat by Concrete CraftTM, this pool deck gone terribly wrong didn't need to be demolished. RestoreKoat is a versatile repair mortar that can repair deep cracks and severe damage, creating a "new concrete" look, saving thousands of dollars. Concrete Craft of Kernersville, NC, transformed the entire pool deck into one seamless surface, covering any evidence of damage from years of summer fun. With a finish that is tougher than bare concrete, there are no more worries of water and moisture damage, cracking, peeling, or fading.
Integral color overlays for easy luxury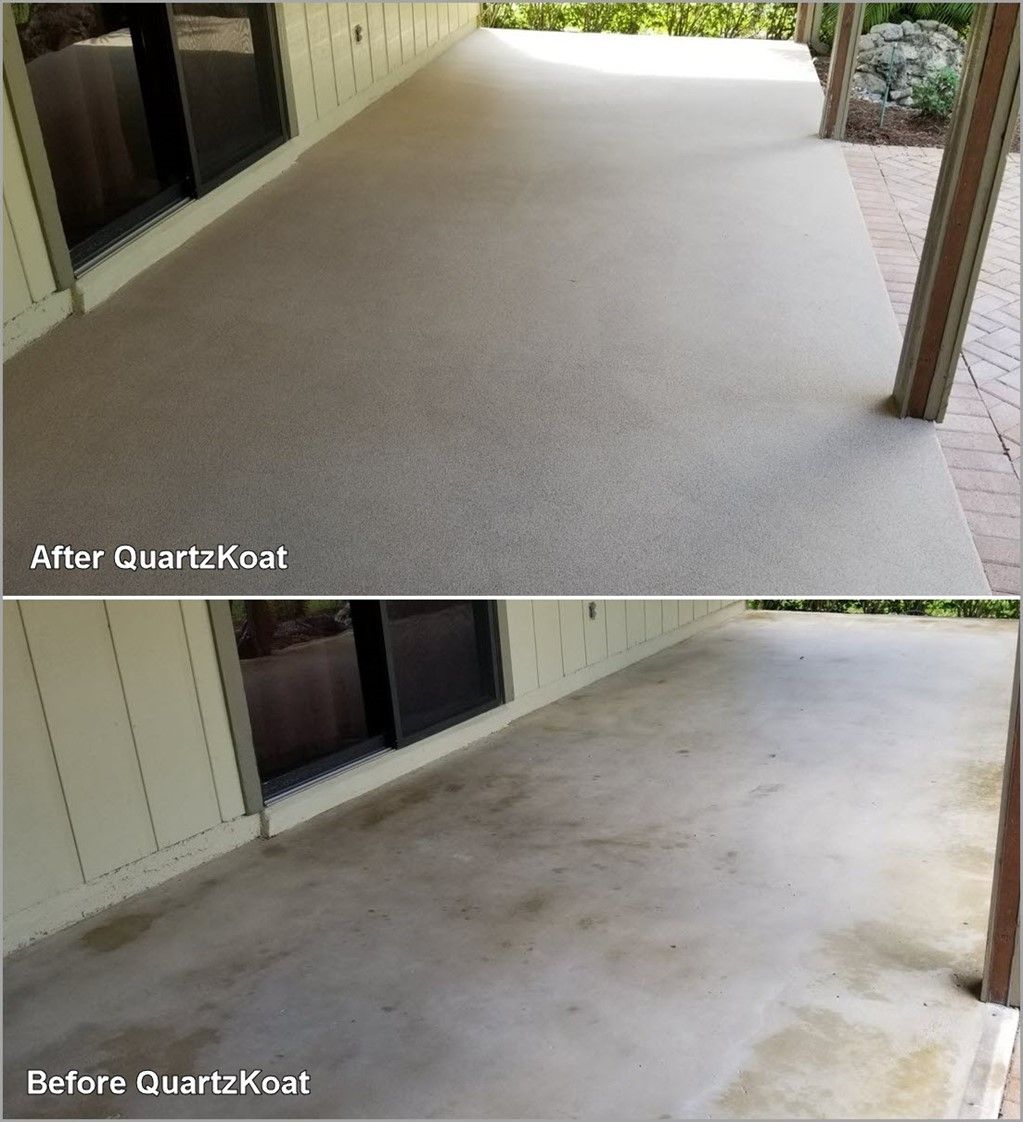 This patio was completely restored with a one-coat overlay that covered the damage and added subtle texture and fresh color, giving a new-home look to this backyard. Concrete Craft of West Palm Beach, FL, wowed the homeowner with quick installation and a 24-hour cure time so they hardly missed patio use at all. QuartzKoat by Concrete CraftTM is a restorative overlay that covers and gives the look of new concrete with either solid color or quartz granule color blends available in six neutral colors. Cost-efficient for large areas like pool decks, patios, and driveways, the slip-resistant finish with built-in UV protection and high-quality sealer creates a low-maintenance surface that lasts for years.
Concrete Craft delivers where others fail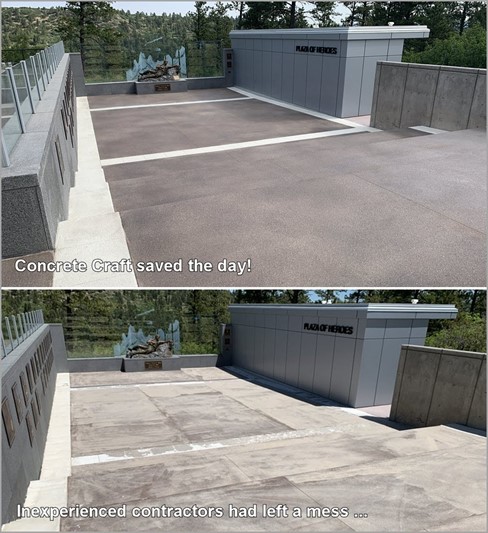 The U.S. Airforce Academy in Colorado Springs had twice attempted to redo all the concrete in and around the Southeast Asia Memorial Pavilion that was built to recognize the men who graduated from the Air Force Academy and served in Vietnam. Unfortunately, neither contractor was able to complete the project. Concrete Craft of Colorado Springs was contracted, and they were able to accomplish what others could not by completely restoring the 8,000 sq. ft. project with beautiful decorative concrete. There was clean-up of the previous attempts before the new decorative concrete finish could be applied. Surface prep, primer, and several coats of layered (sprayed) product created a multi-color effect and practically indestructible finish, delivering the kind of beauty this memorial deserves.
As you can see from these impressive before-and-after images, whatever your concrete issues are, Concrete Craft can help. Our artisans have a full arsenal of solutions with our extensive MasterPro product line to deliver incredible results for you. Contact us today or go online to www.concretecraft.com to find the Concrete Craft location nearest you and request a free in-home or virtual* consultation. In the meantime, check out the many decorative concrete options in our online MasterPro Product Catalog and start making renovation plans for the New year.
Concrete Craft wishes you and your family a wonderful holiday season!
*Virtual consultation may not be available at all locations.