Six Benefits Of Decorative Concrete For Outdoor Spaces
One of the best things you can do for yourself and your home this summer is to enhance your outdoor concrete spaces with decorative concrete finishes that add beauty, durability, and convenience. Stained concrete, stamped concrete, and resurfacing overlays will eliminate intense scrubbing to keep your concrete patio or pool deck free of spills or stains, and your driveway and walkways from developing those annoying spidery-vein surface cracks. Concrete Craft's® decorative concrete processes can restore damaged concrete surfaces as well as protect from them future weather, time, and use-related problems so you never have to worry about your concrete again!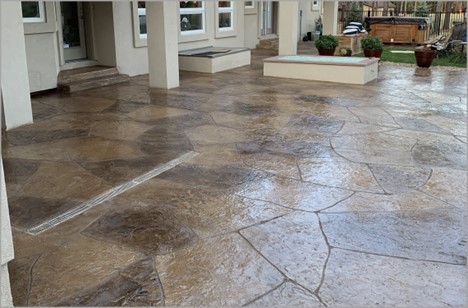 Decorative concrete can replicate natural stone and wood finishes for a patio you've only dreamed of
From lower prices to endless design options and incredible durability, the benefits of decorative concrete to enhance your home are impossible to ignore. Here are six benefits of decorative concrete you need to know, especially if you're ready to upgrade your outdoor areas.
One: Unlimited design and style options
Decorative concrete opens up a world of design potential. You'll be amazed at how un-concrete concrete can look with stamped concrete overlays that replicate flagstone, cobblestone, Ashlar slate, tile, brick, and wood. You can enjoy the look of high-end, natural finishes with faux stone and wood designs, without paying the premium price for genuine rock or stone or being limited to whatever styles and colors are available in the big box stores. Every element of our projects is customized from stamp pattern and design to concrete stain colors, so you get exactly what you want.
Add permanent color and shine to concrete surfaces with any of our MasterPro StainTM products, including translucent and opaque styles.
Mix it up with more than one style, such as stamped stone borders or stencil designs on a stained driveway or pool deck.
Popular pebble finishes include real river rock with our PebbleKoatTM concrete overlay or a small aggregate textured finish with economical AggreKoatTM.
Unify mismatched old and new concrete sections with an overlay and concrete stain for a cohesive look.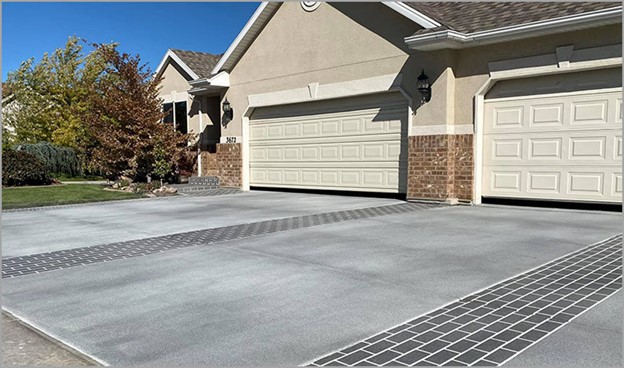 AggreKoat with stamped brick borders makes this driveway look way more expensive than it was
Two: Concrete's durability is indisputable
Concrete is undoubtedly the most durable material for driveways, patios, pool decks, or walkways but bare or untreated concrete can still be at risk for damage. If you're tired of the annual assessment and repair of your outside concrete surfaces every spring, enhance your concrete's natural durability with a decorative concrete finish or overlay that creates a continuous, sealed surface. Your concrete spaces will last for decades without chips, cracks, peeling or fading and you can forget about ongoing repairs and intensive cleaning efforts.
Exterior surfaces are impervious to hot, cold, wet, and dry weather.
Not easily damaged from foot traffic, weather, vehicles, tools, or chemical spills.
Finishes are industry-tough with a minimum 5000 psi, so no vehicle or level of activity is ever a problem.
Sealed surfaces don't deteriorate like natural grouted stone or real wood plank, letting you enjoy the authentic look of elegant stone or wood worry free.
Three: Concrete repair saves demolition and replacement of damaged concrete
Along with the endless design options that decorative concrete offers, you can eliminate demolition and replacement of damaged concrete as the only viable solution for good concrete gone bad. Concrete Craft's MasterPro FinishTM concrete resurfacing products can restore damaged concrete surfaces to better than new and extend the life of your concrete for a long, long time. From a simple concrete stain that adds color and shine to hide minor damage to custom overlays and StoneKoatTM, our versatile repair mortar for badly damaged concrete, you'll be amazed at the results that can be achieved to rescue seemingly hopeless concrete.
Save time and money with restoration services that save your existing concrete spaces and have them back in service within just a few days.
Easily transform a cracked and discolored patio with a resurfacing concrete overlay and a faux stone or wood stamped concrete design.
Polished concrete is an economical way to create a new, harder surface without adding overlays or additional product for a beautiful finish and shine.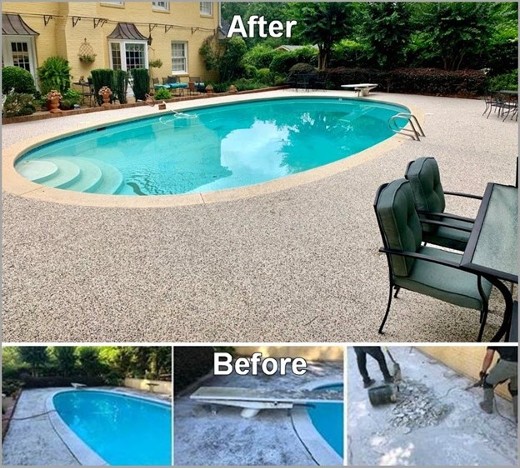 A rescued pool deck transformed with PebbleKoat, an overlay that repairs, evens out the surface, and creates a finish of real river rock
Four: Lower maintenance than other finishes
The ease with which you can clean decorative concrete is a real game-changer. The non-porous, continuous sealed surface of our stamped, stained, and resurfaced decorative concrete finishes are industry-tough, making cleanup a breeze. Unlike other outdoor finishes like natural stone, wood, brick, and bare concrete that grab and hold dirt, moisture, mold, and stains of all kinds, decorative concrete surfaces prevent anything penetrating the surface.
Repels spills like food, drink, auto fluids, oils, and chemicals so nothing will mar a driveway, patio, pool deck, or walkway.
A broom or leaf blower easily keeps your outdoor floors clean or, if heavily soiled, use a mild, neutral-pH cleaner with a medium-bristle push broom or pressure washer.
The moisture-resistant surface prevents mold and bacteria growth from taking hold.
You never have to spend time digging grass or weeds from the sealed faux grout lines of decorative concrete stone or tile designs.
Five: Decorative concrete is a greener alternative than other finishes
Decorative concrete is a beautiful way to support green living and help reduce the negative effects of modern living on the environment like depletion of natural resources, carbon footprint, and greenhouse gases. Our proprietary blends for resurfaced concrete overlays are eco-friendly and "green rated" according to LEED (Leadership in Energy and Environmental Design) standards so by repairing or resurfacing your outdoor concrete surfaces you're doing your part to help preserve the planet. Our performance-grade resurfacing mixes provide a superior product that contributes to sustainability and green design.
We use 60%-80% recycled or reclaimed material in each bag.
Our faux stone and wood concrete overlay system reduces felling trees and mining rock.
Premium concrete stains and sealers are low-VOC to comply with LEED standards.
It's far greener to repair and restore existing concrete versus the consumption of new materials and creating unrecyclable trash that ends up in landfills.
Six: Fast installation lets you get on with life
Time, expense, and inconvenience are the "big three" headaches of concrete replacement or laying stone, pavers, tile, or real wood. Decorative concrete resurfacing systems get the job done quicker and with less mess and bother than demolition and replacement, and our sealed finishes are tougher than new, bare concrete. Professional installation is quick, getting most concrete surfaces restored within one to three days with beautiful new concrete finishes that don't break the bank.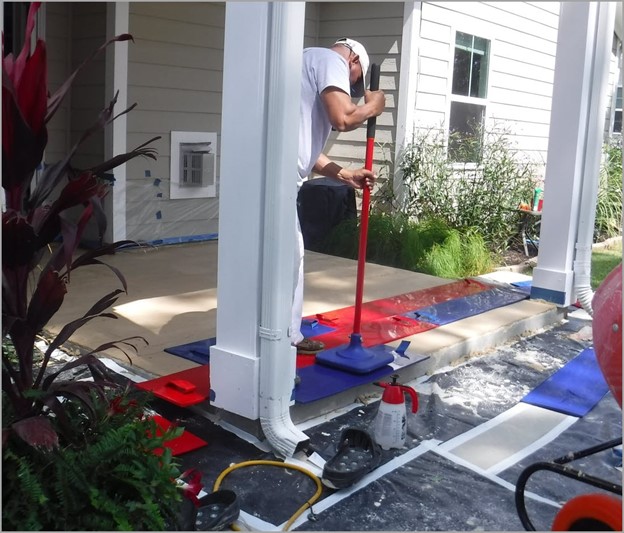 No heavy equipment required and no damage to surrounding plants or structures with our hands-on resurfacing systems
Take summer fun to the next level with easy-care decorative concrete finishes that can repair, restore, and beautify all your outdoor activity areas. Call 888-852-9244 today or go online to www.concretecraft.com to find the Concrete Craft location nearest you and request a free in-home or virtual* consultation. You'll be glad you did!
*Virtual consultations may not be available at every location
Follow us on Instagram and like us on Facebook for more outdoor design ideas.