Six Ways To Restore Damaged Concrete And Avoid Costly Replacement
When outdoor concrete surfaces go bad, they can impact appearance, safety, and your home's value. Patios, driveways, walkways, and pool decks are constantly exposed to weather and activities that eventually make classic gray concrete look dreadful. From cracks and stains to worn spots exposing aggregate and uneven sections, your once-lovely concrete is looking rather shabby. The good news is that you can remedy all your bad concrete problems with just one call to Concrete Craft®:
Repair and restoration—no need for demolition and replacement
Unlimited decorative concrete design options and colors
Restore flooring and vertical surfaces like pillars and seat walls
Solutions for every budget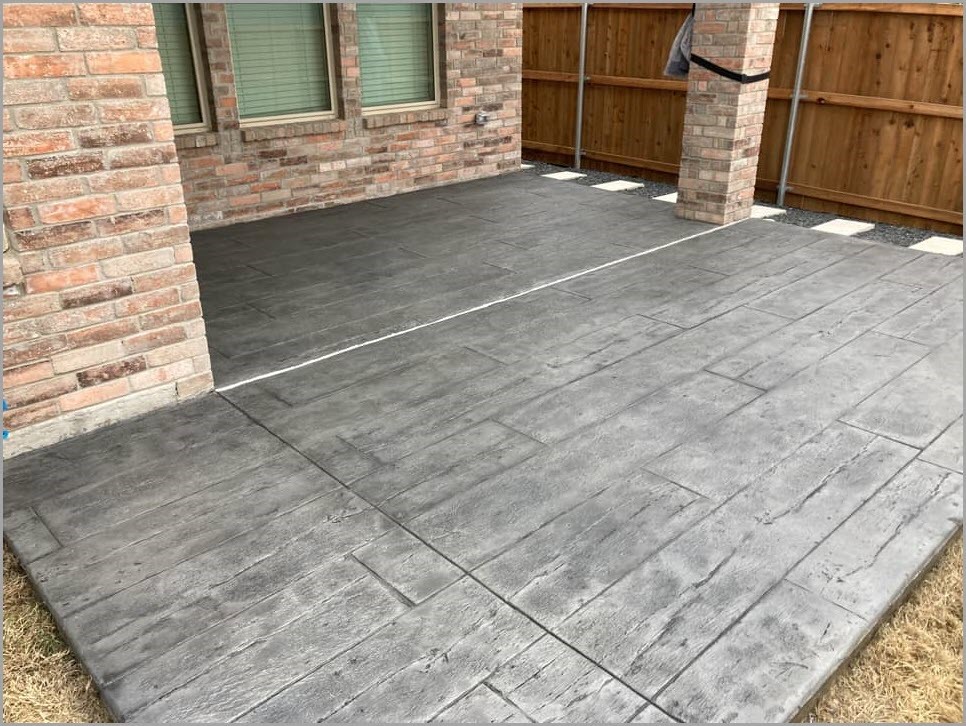 Upgrade your gray patio with a custom faux wood stamped concrete overlay for a stylish farmhouse look
Stamped concrete overlays are the perfect solution to revitalize concrete surfaces that have minor surface damage like cracks, imperfections, and discoloration. Applying an overlay hides the distressed surface with a permanent, fresh concrete surface that can be stained or stamped with a texture pattern or faux stone or wood designs that look natural and authentic. Concrete stamps made from real stone and wood molds ensure realistic finishes such as flagstone, cobblestone, Ashlar slate, Roman slate, tile, brick, and wood plank patterns. Hand-applied concrete stains allow for custom looks to match your landscape designs as well as special effects like marbling and antiquing.
Create unique designs as well as combine multiple stamp looks, like a flagstone border with a slate texture stamp.
For the concrete purist, simply restore your patio or walkways to the look of new poured concrete with a decorative concrete overlay and a broom-swept finish.
Enhance your surroundings with natural stone and wood impressions at half the cost of the real materials for floors as well as vertical concrete resurfacing for wall and steps.
Restore an old finish with vibrant color
If you have a driveway, patio, or pool deck that is already patterned or stamped concrete, but its surface has worn and deteriorated, you can restore it to its former glory very easily. RenewKoat by Concrete Craft™ is a revolutionary cementitious overlay that rolls on like paint to restore shine, color, and texture in one application. The existing concrete will be cleaned, prepped, and any cracks repaired while maintaining the original design. Applying RenewKoat will restore the natural concrete finish, hide any imperfections, and add beautiful color to give your spaces a new lease on life!
Restore large areas with fresh decorative concrete finishes that won't break the bank
Available in 10 colors, revive the original color of a stamped pattern or go for a totally different look to update your home.
No need to go back to square one with worn out concrete since RenewKoat can make your stamped concrete look like new again.
Fast cure time and minimal dust and mess quickly get your spaces back in service.
Stained concrete has options galore
For concrete surfaces without heavy damage, our MasterPro StainTM systems offer economical ways to restore, beautify, and protect outdoor concrete. Translucent TruStainTM concrete stains add rich, long-lasting, fade-resistant color that highlights the natural characteristics of concrete. Additional stain systems can produce solid opaque colors to rejuvenate colored surfaces or bare concrete, hiding minor imperfections with the look of integrally colored concrete. Use one color or multiple stain colors for special effects, stenciled designs, borders, and more.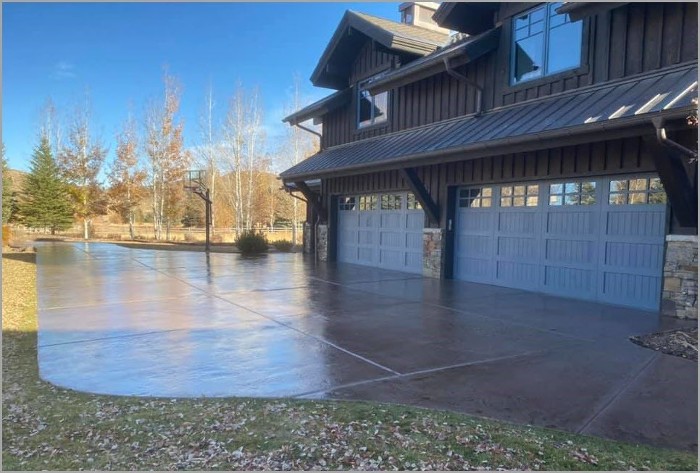 Concrete stain like Pearl Grey can make a driveway look like new, enhancing curb appeal and improving your concrete's performance
Applied directly to a cleaned and prepped existing concrete surface, stained concrete is the most economical way to renew damaged finishes.
Concrete Craft's Color RestoreTM system is a water-based stain that penetrates the surface of the concrete forming an opaque, breathable finish for the superior look of colored concrete.
TrafficKoat by Concrete CraftTM is a water-based hybrid acrylic resin to rejuvenate concrete with a consistent natural finish.
Pebble-look finishes that endure
If nothing will do for your dream patio or pool deck except the superlative look of real gravel or pebbles, Concrete Craft has options for decorative concrete finishes that deliver! PebbleKoat by Concrete CraftTM is a real river rock resurfacing system that covers damage and cracks and fills in uneven spots with a stand-alone overlay of gorgeous, pebbly texture. A more budget-friendly solution for the look of small aggregate is AggreKoat by Concrete CraftTM, a spray-applied coating that goes on in thin layers of colors for depth and dimension with a reflective sealer for subtle shine.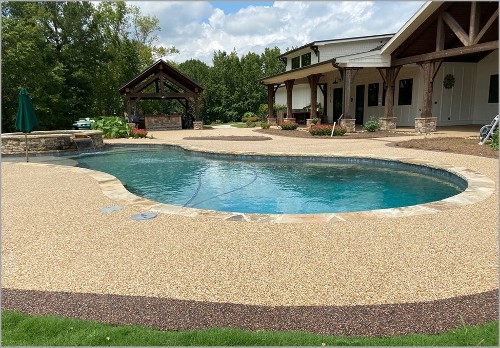 PebbleKoat lays down luxury for any outdoor spaces, including pool decks, patios, walkways, and driveways
Create borders or integrated designs with multiple colors or use in conjunction with stamped or textured concrete finishes for unique settings.
Only 24 hours after installation, life can resume on your new AggreKoat surfaces.
Both systems can be applied over concrete repairs for a seamless, consistent finish that resists moisture, impact, stains, and punishing weather.
Repair even the worst concrete damage
Our professionals can even tackle severe damage like deep cracks and missing chunks with an exclusive one-coat overlay repair mortar, RestoreKoat by Concrete CraftTM. Over properly prepped existing concrete, RetoreKoat will bond with the surface for permanent adhesion and not fade, chip, or peel. Suitable for small repairs, complete resurfacing, or large structural rebuilds it creates the look of new concrete with a built-in strength that is resistant to future damage of all kinds.
So, regardless your concrete problems, our MasterPro products can handle any concrete repair and restoration from a dull surface to serious cracks and complete resurfacing. Our professional craftsmen can evaluate your concrete with you and suggest the best options to get the result you want. Call 888-852-9244 or go online to www.concretecraft.com to find the Concrete Craft location nearest you and request an in-home or virtual* design consultation.
*Virtual consultations may not be available at every location
For "seeing is believing" before-and-after projects, follow us on Instagram and like us on Facebook.