Six Ways To Upgrade Your Exterior Entryway For Spring
Warmer spring weather means it's time to liven up living spaces with home improvements you've dreamed about all winter, including updating your exterior entryway, the entryway that sets the tone for your home. If your front doorway has a tired, unkempt look from old-fashioned colors and materials, Concrete Craft® can help you achieve an inviting entrance with versatile, beautiful decorative concrete to transform concrete walkways, porches, steps, and driveways. Here are six easy ways to spruce up your home just in time for spring.
Transformative color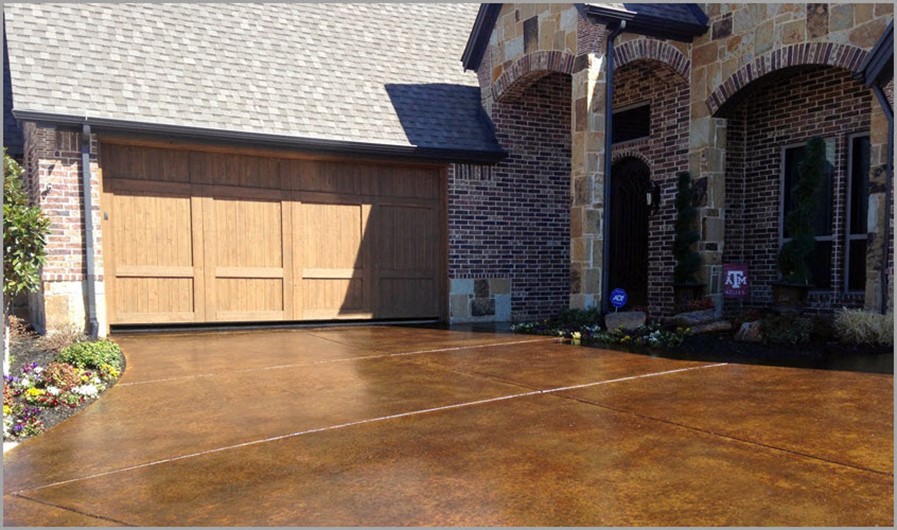 If your driveway is also your entryway, a fabulous facelift is easy with stained concrete. From the street to the front door, vibrant color that complements siding, brickwork, and architectural elements will create an upscale, designer look to showcase your home. The economy of stained concrete lets you transform large areas like driveways, walkways, and porches without breaking the bank. Even erase mismatched "patchwork concrete" from multiple pours or added extensions with stained concrete that creates one continuous color on all your concrete. Our MasterPro StainTM concrete stains are resistant to UV damage so colors won't fade and the sealed finish resists chips, cracks, and peeling.
Revive worn finishes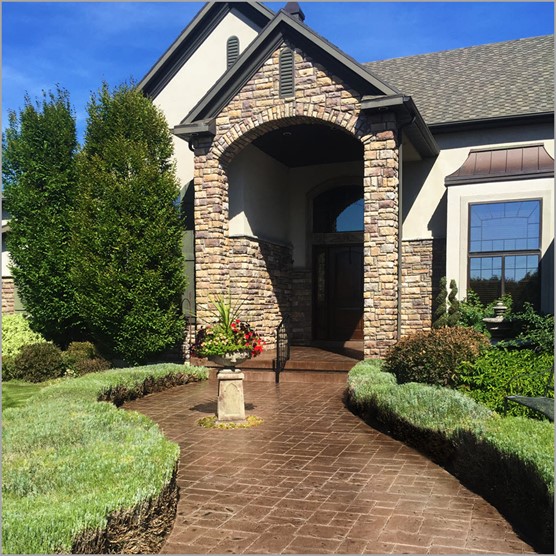 Plain or patterned concrete that has lost its finish or shine can quickly be revived with RenewKoat by Concrete CraftTM. There's no need for replacement or complete resurfacing to bring distressed concrete back to life. In a matter of days, RenewKoat can restore faded concrete walkways and entryways to look brand-new. A tough cementitious overlay that rolls on like paint, RenewKoat provides a natural concrete appearance, preserving the original design. With 10 color options, you can dramatically change things up if you desire. Better than new, the industry-tough finish ensures a fabulous entryway that can endure years of use in all kinds of weather without deteriorating.
Embrace the beauty of stone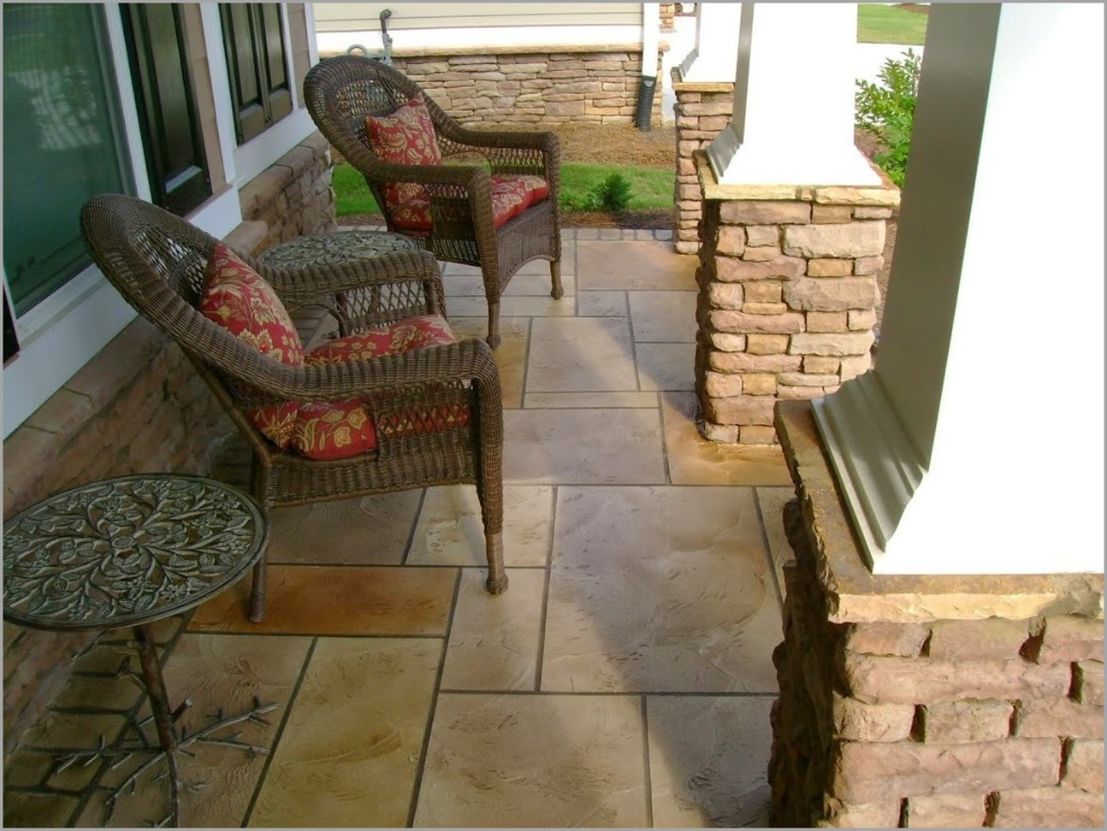 Grouted stone and stone tiles are coveted outdoor looks, but real stone can be very expensive. A dull, gray concrete porch can be transformed into an elegant "welcome" with a resurfaced, stamped concrete decorative overlay, stamped with an authentic-looking faux stone design. Using real stone molds and hand-applied stain colors, Concrete Craft creates finishes such as flagstone, cobblestone, and Ashlar slate. This stamped tile design is custom-colored to coordinate with the stonework on the house siding and pillars, giving a renewed presence to the entryway that now feels more like an inviting outdoor room.
Enjoy the homey touch of wood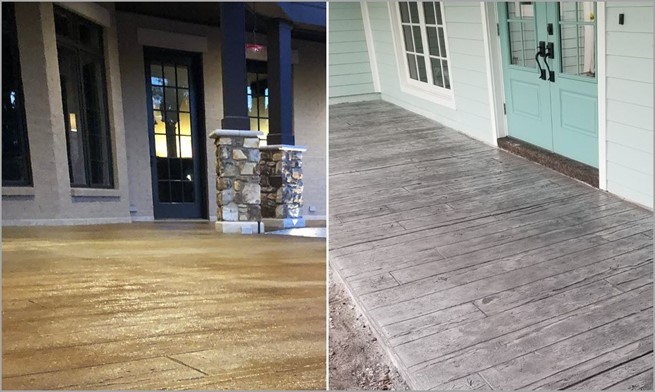 Wood flooring and weather don't always mix, but with decorative concrete faux wood finishes, you can have durable wood plank designs for any exterior entryway. Create a coastal or beach vibe with light color wood tones, a traditional "wood deck" for a cozy porch, or reclaimed wood texture for an earthy, rustic farmhouse feel. You can have an authentic-looking faux wood entryway or wrap-around porch with no muss, no fuss! A resurfaced concrete overlay applies directly to your existing concrete porch and can be stamped, imprinted, or stenciled with the wood pattern of your choice and custom stained to your perfect color. And you'll never be plagued with the customary wood problems like warping or splintering with sealed decorative concrete faux wood surfaces.
Make a bold statement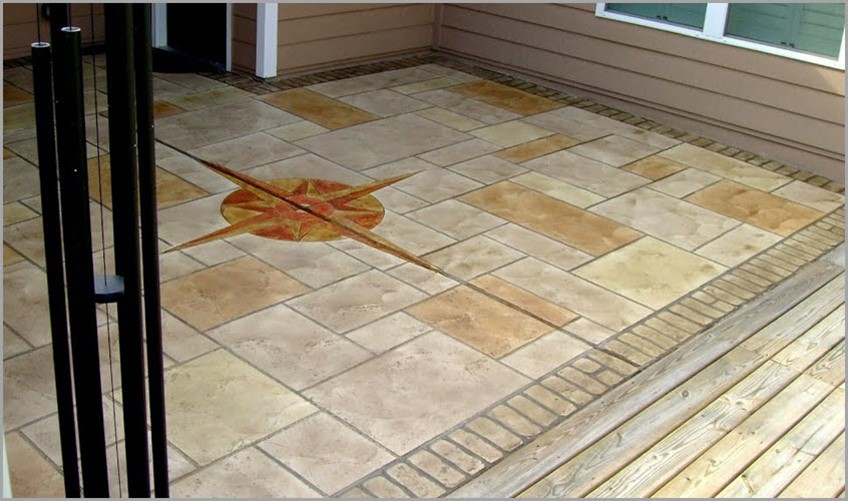 If you dream of an entryway, unlike any other, decorative concrete, can get you there. The versatility of design with stained, stamped, and resurfaced concrete provides unlimited potential for any design scheme you can devise. Stencils can be used to transfer unique patterns to concrete surfaces and brilliant concrete stains create indelible masterpieces that can stand up to any foot traffic. Colorful borders, logos, and even a stenciled rug can turn your entryway into your own personal statement.
Sophisticated neutral territory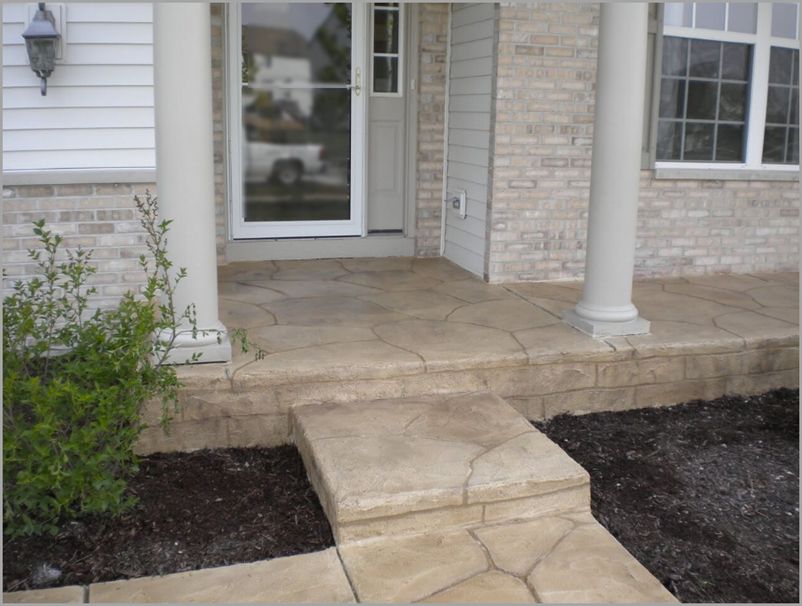 Neutral palettes are a great choice for a serene, sophisticated entryway. A monochromatic theme with a range of light to dark tones invites decorative embellishments as your mood or the seasons' change. This walkway, steps, and entryway are unified with a stunning hand-cut, large flagstone pattern, custom-colored to complement the brick siding. A concrete overlay repairs any surface damage like chips, cracks, or discoloration, creating a fresh, even surface for the new design. Enjoy the popular look of grouted stone without the inherent problems of grout lines such as crumbling, lifting stones, and intruding weeds and grass.
Welcome spring in style
Let this be the spring your home is the showstopper on the block with decorative concrete finishes that can revitalize everything about your entryway from the walkway to the porch and your home's façade. Horizontal and vertical surfaces can be transformed with color and tantalizing texture of faux stone and wood to create a stunning effect. Contact us today or go online to www.concretecraft.com to find the Concrete Craft location nearest you and request a free in-home or virtual* consultation. We can also repair and restore damaged concrete without the hassle of cement trucks or the expense of demolition and replacement. Discover the many options available to transform your home, inside and out, with beautiful decorative concrete.
*Virtual consultations may not be available at every location