Stained Concrete: Affordable Beauty For All Your Floors
Stained concrete is probably the best way to get exquisite looking floors while staying within a budget. For indoors or outdoors, you can't beat the endless custom design possibilities, lower cost, and durability that will give years of reliable beauty for all your concrete surfaces.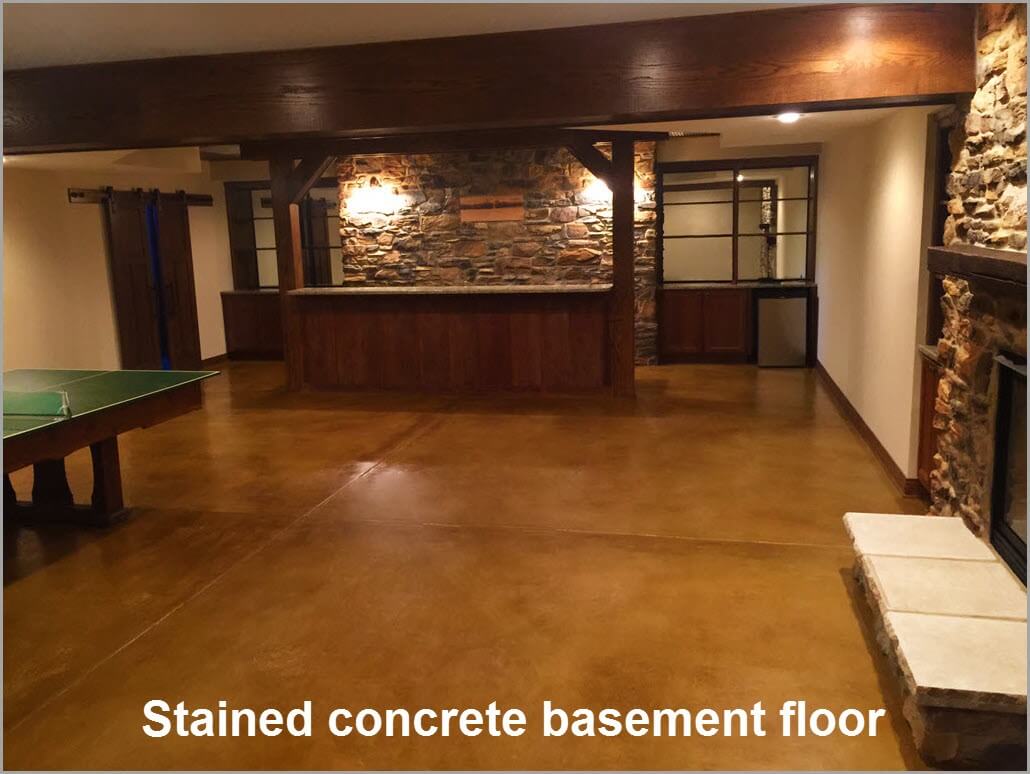 For driveways, patios, walkways, pool decks, interior floors, and entryways, Concrete Craft® can transform your existing concrete floors into works of art with stained concrete, achieving results you wouldn't dream possible:
Vibrant solid colors
Variegated or marbled effects
Multiple-color combinations
Borders and stenciled designs
Stamped faux stone patterns
Seeing is believing, and here are several beautiful ways that stained concrete can enhance your home or business.
Unlimited color options for your floors
Our MasterPro StainTM line of premium concrete stains opens up a world of color. From popular earth tones to custom color blends, you can achieve any color you desire. Outdoor concrete surfaces like driveways and patios can be color coordinated with existing landscape architecture, including house siding and brickwork, replicating true colors of nature. Interior floors can be stained to create a formal ambiance with neutrals or darker colors or select bright hues to make living spaces fun and fanciful. Playrooms and family rooms become more inviting with some unexpected color to liven up the space.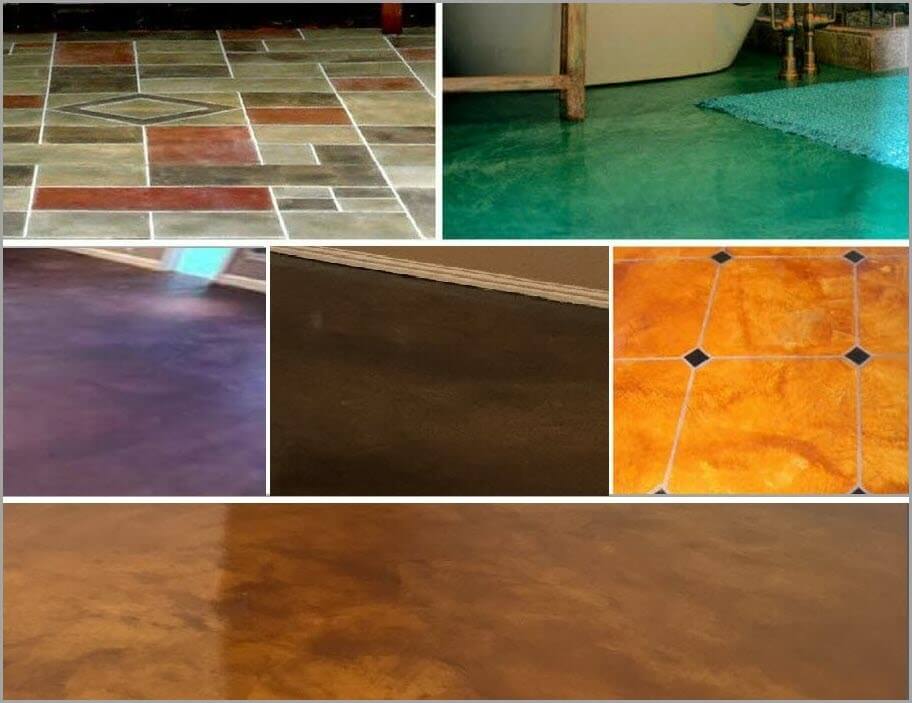 Create borders and patterns with color
Stained concrete doesn't mean one color per floor, you can introduce as many colors as you like. A secondary color is an excellent way to create a dramatic impact with borders or patterns. Borders add a nice finishing touch to any floor, and you can highlight areas or define boundaries using multiple colors of concrete stain. Bordering a driveway, patio, or pool deck with a contrasting color frames the area and helps the main color to pop. Use borders or strips of color to break up a large expanse of stained concrete to add visual interest.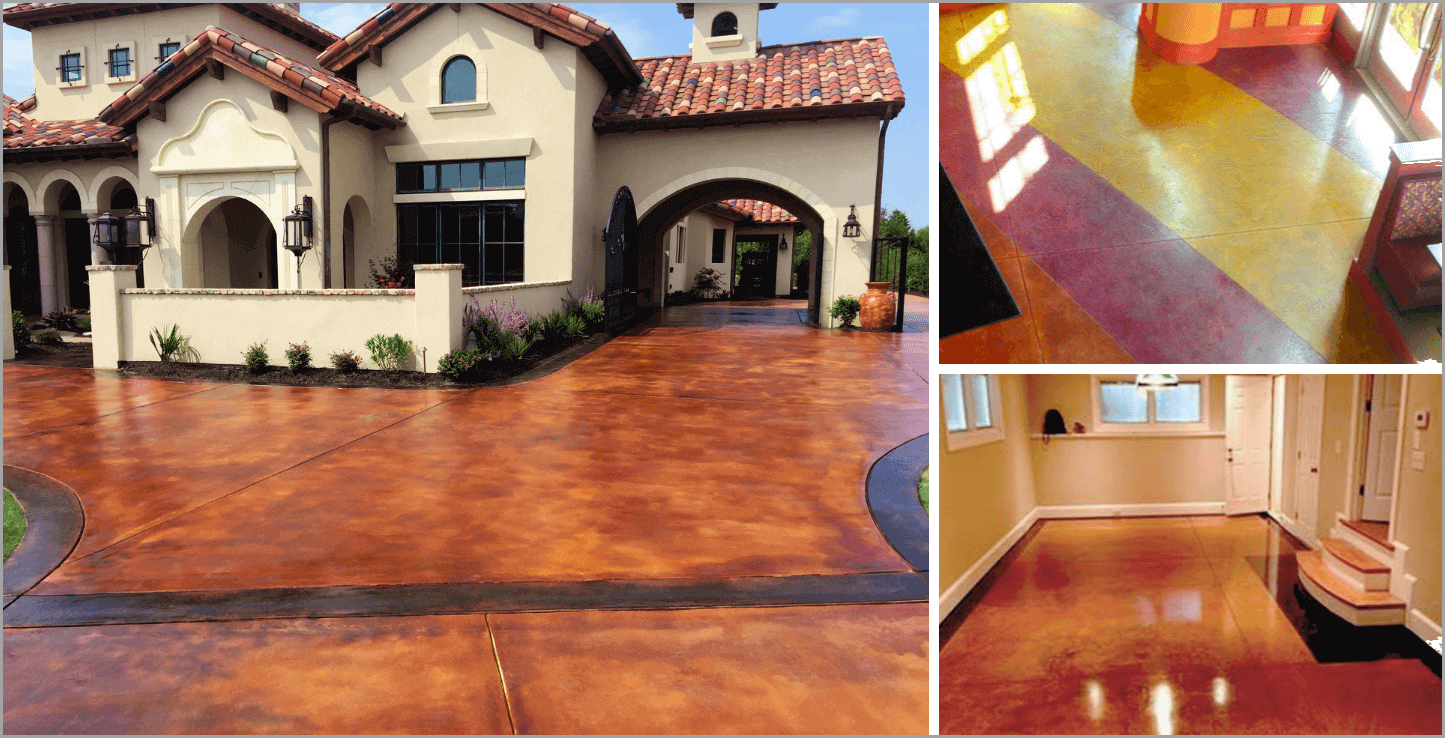 Artistic creations with hand-painted stencils
Concrete stain can quickly move into the realm of artistic excellence with stenciled, hand-colored designs. Emblems, logos, images—anything you can imagine—can be incorporated into a stained concrete floor design. Of course, this is an upscale customization but if a one-of-a-kind floor is what you want, this extra step can get you there. The intricacy of the design will impact the cost, and you can have from a one-color stencil design to the look of a stone mosaic inset for a fraction of the cost of the real process. One-color stenciled designs add subtle adornment to solid-color floors and company logos create impressive entryways for commercial properties. Show team spirit with a stenciled emblem or logo of your favorite sports team on a patio or basement floor.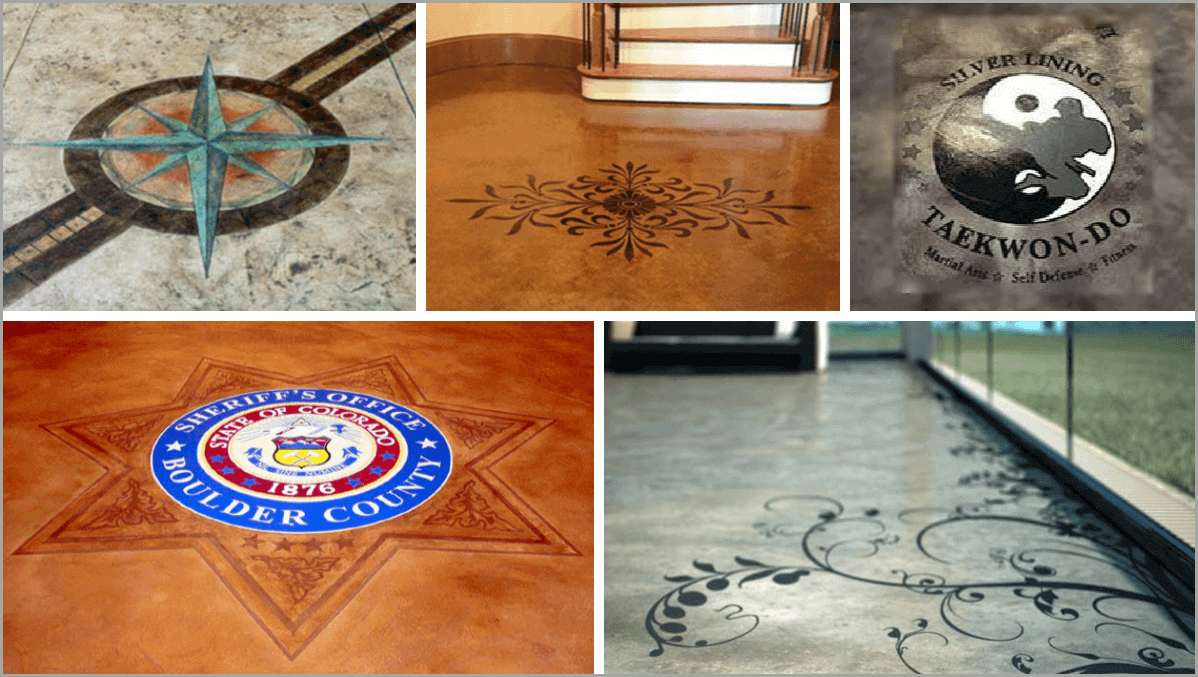 Concrete stain and stamped textures
If you want more than just a stain, resurfacing your concrete with a concrete overlay and stamping a textured pattern will give a three-dimensional look to your floor. Before the stain is applied, a rubber stamp fashioned from a real stone mold is used to create an impression in the concrete overlay, such as cobblestone or slate. Stamped concrete can also replicate the look of tile, brick, and wood plank patterns, so large format tiles for a driveway or reclaimed rustic wood plank for a patio are not out of reach. Applying the concrete stain enhances the design and creates a beautiful finish. The textured slate surface below used two stain colors to heighten the three-dimensional look of authentic slate.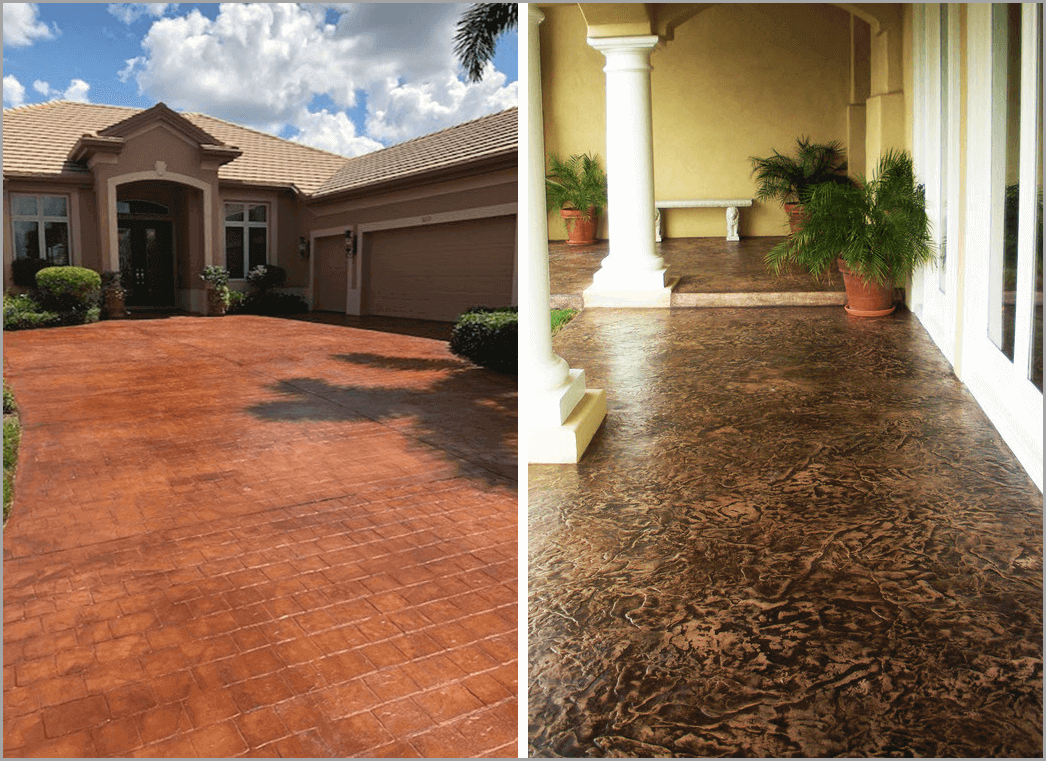 Combine stained concrete with hand-crafted faux stone enhancements
Maybe you love the look of real grouted stone, but not the expense. With decorative concrete, you can enjoy the beauty of hand-cut faux stone trim or borders combined with stained concrete for economy. It's the perfect solution to fit budget and style, without giving up the desire for rock or stone enhancement. Dress up your stained concrete as in the patio images below, with a 15" hand-cut and colored flagstone border, or add seat walls and steps with vertical concrete resurfacing in a hand-cut, stacked stone design.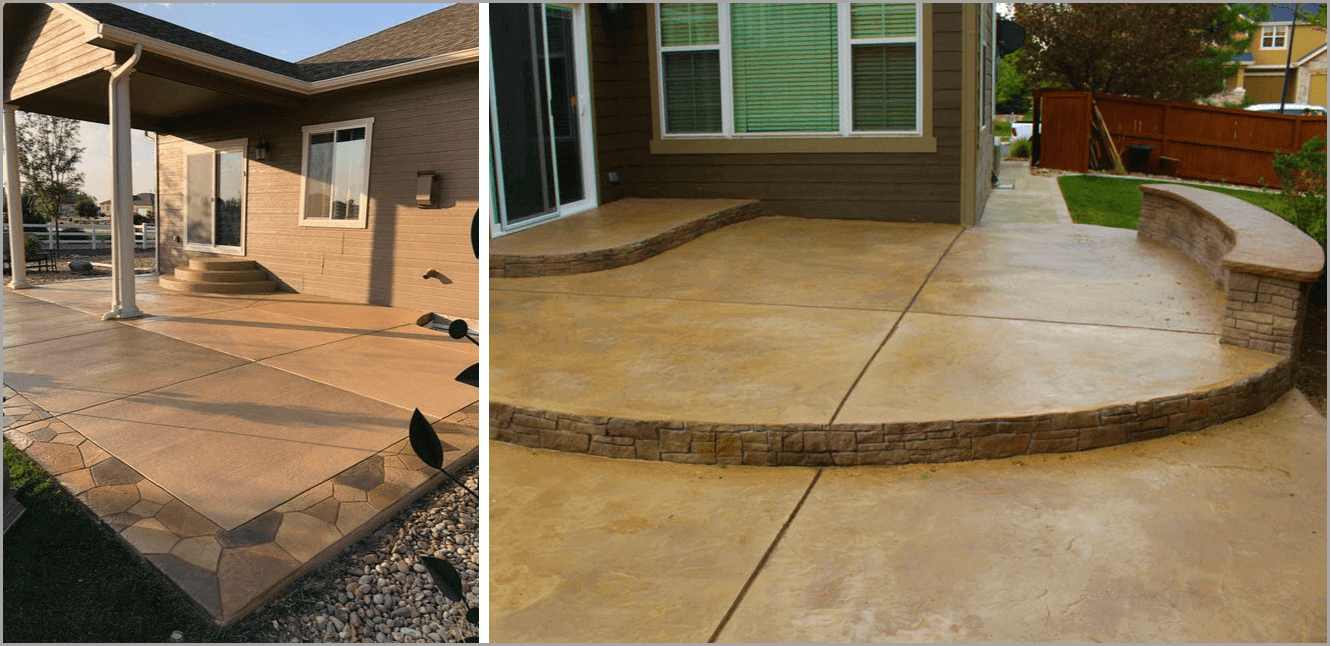 Stained concrete is extremely versatile for all your flooring needs, interior and exterior, residential and commercial, for simply one color or as the medium for some fancy, custom floor designs. The benefits of stained concrete go beyond its beautiful aesthetics:
For economy, the concrete stain can be applied directly to a concrete slab in good condition.
A decorative concrete overlay can create a fresh, unblemished surface for staining so there's no need to replace imperfect concrete floors, including a damaged surface where the previous flooring was removed.
Our concrete stains penetrate below the surface, creating a durable and long-lasting rich color that will not fade, chip, flake, or peel.
A final sealed surface adds durability and protection to your stained concrete floors.
Low maintenance and easy care, regular cleaning is dry dust mopping and an occasional wet mopping with a neutral-pH cleaner to keep stained concrete floors looking like new.
Stained concrete is moisture resistant and appropriate for rooms with high humidity like bathrooms, laundry rooms, and kitchens.
Sealed surfaces resist dust and dirt buildup and prohibit mold and bacteria growth, reducing in-home allergens and making outdoor surfaces easy to maintain.
Stained concrete is just one finish option offered by Concrete Craft that will add value and beauty to all your floors. Talk to the craftsmen at Concrete Craft about stained, stamped, and resurfaced concrete possibilities and discover the many ways you can have stylish floors that last for decades. Call866-813-3699 today or go online to www.concretecraft.com to find the Concrete Craft location nearest you and schedule a free consultation. Let us transform your tired concrete floors with colors, designs, and finishes that are virtually limitless, for interior floors, patios, walkways, driveways, and pool decks.