Stained Concrete Applications Get Your Interior Floors Ready for the Holidays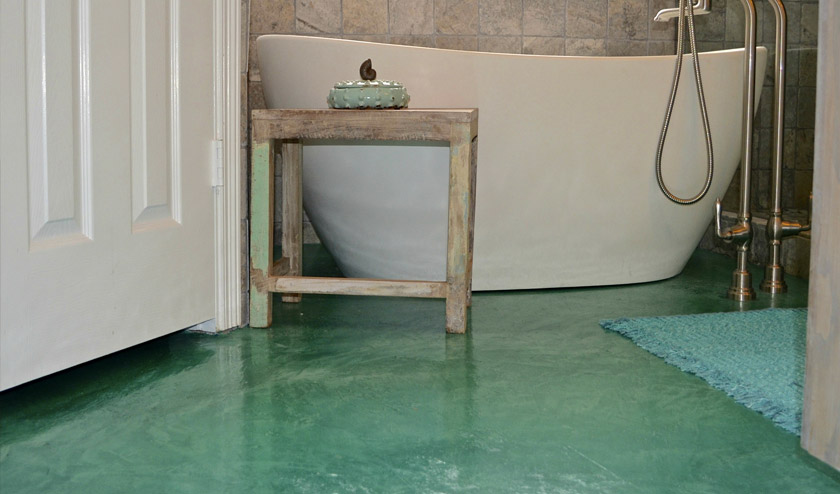 If the prospect of guests in your home for the holidays is making you doubt your floors, new stained concrete designs may be the perfect answer to revitalize a tired room or expand your functional living space. From family rooms in Florida where resistance to moisture is important, to the basements in Valparaiso, Indiana, and the laundry rooms in Texas and Nevada, decorative stained concrete floors can enhance your home with long-term durability and beauty just in time for the holidays!
Whether you live with rain and snow, a tropical climate, or desert sun and scorching temperatures, your interior floors can be durable and functional, low maintenance, economical, and wildly stylish as compared to other flooring options like wood, linoleum, tile, or carpet. Decorative stained concrete finishes range from the look of polished marble (very chic!) to natural stone textures and designs.
An Aqua Blue stained concrete floor transports this bathroom into the realm of a luxury spa by its glossy finish and trending fashion color. Moisture-resistant, water will not harm the floor, and the protective sealer resists stains, cracking, or peeling. Imagine such a finish for any high traffic floor, and you can see how decorative stained concrete could enhance any room in your home.
Stained concrete is extremely versatile
The infinite array of colors and special effects that can be achieved with stain are amazing. The stain actually permeates the concrete, creating deep, rich translucent tones, letting the character of the concrete show through. You get a durable, long-lasting color that requires minimal care to stay like new.
Color options are practically unlimited, and depending on the application technique used (water-based or acid-based stains), your floor design can look antiqued, variegated, mottled, or have a consistent monochromatic color expanse, such as in the home office floors below.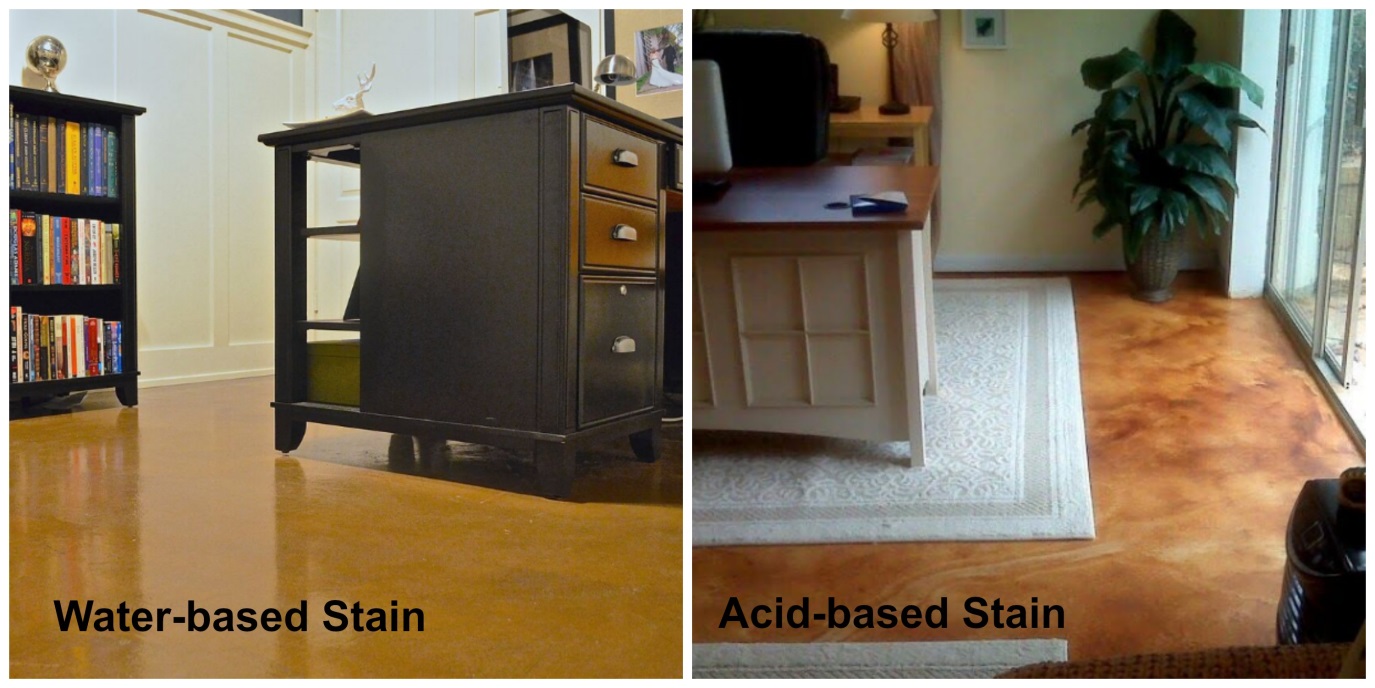 Water-based stains fill the pores of the concrete surface so a more consistent color is possible. They are low-VOC (volatile organic compounds) with no chemical reaction in the application.
Acid-based stains penetrate and react chemically with the concrete's composition and create a rich, translucent marbling effect.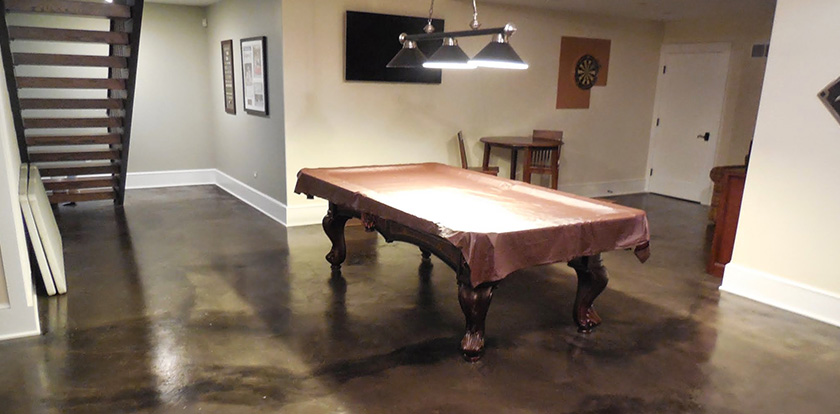 This game room uses two stain colors, gray and black for a unique design. Even with daily use, this floor will remain shiny, resisting spills, abrasions, and misplayed pool balls that bounce across the floor. No fear from all the holiday snacks and drinks either, a quick wipe-up will take care of any messes, so bring on the pizza, hot wings, and beer!
Stained concrete offers health benefits
Especially for those who suffer from asthma or allergies, stained concrete floors can help to make a safer home environment. Whereas carpet can trap and hold dust mites and allergens, a stained concrete floor can be kept dust-free with a quick swipe with a microfiber mop. Family members and guests can sleep easier in bedrooms with decorative stained concrete floors that won't support the growth of harmful mold or bacteria. Area rugs can provide softness where needed, and then be tossed in the wash to keep everything clean. This bedroom can stay practically allergen-free with an easy-care, stained concrete floor.
No need to remove and replace a damaged floor
In most instances, an existing floor can be stained, as long as the slab is in good condition. This does not mean perfect. If you've pulled up another type of flooring or you've been living on an unfinished concrete floor and there is some damage to the surface of the concrete, resurfacing with a polymer-modified micro-topping can create a fresh surface for staining. This means no demolition, removal, and re-pouring to have a brand new floor! It only takes a matter of a few days to have a new stained concrete floor.
This basement became a functional and fun living space with a new stained concrete floor. From random storage space, the basement has become a major entertainment center. If you have an underused room or garage, start with a new decorative stained concrete floor and see where it leads!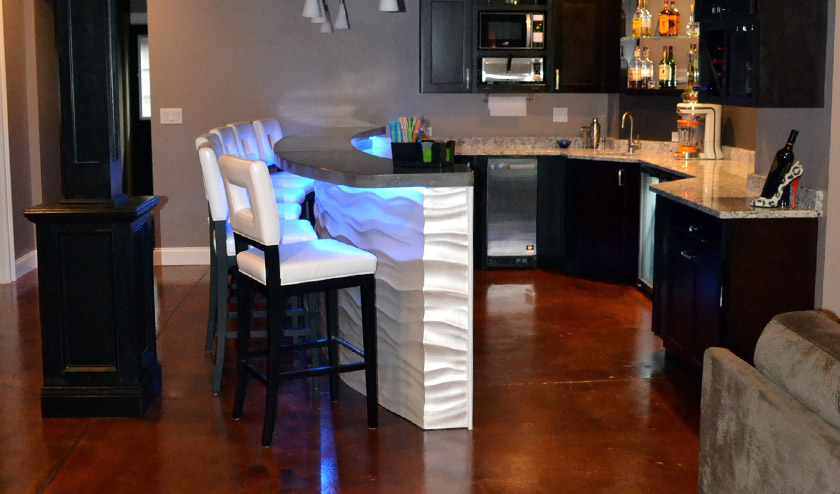 Why stained concrete floors are so popular
Concrete Craft is the nation's largest decorative concrete franchise, with proprietary products and techniques for all our stained, stamped, and resurfaced concrete floor options for residential and commercial use. And it is true that our low-maintenance stained concrete floors are one of our most popular offerings. Here's why:
Economical and durable, stained concrete adds value to your floors
We work on existing floors so our jobs go quicker
Extensive design options, including colors, stenciling, and stamping
Only need dry dust mopping and an occasional wet mopping with a neutral-pH cleaner, although from time to time, application of a good floor wax will protect the finish
Warrantied for two years against chips, cracks, peeling, and fading
There's still plenty of time before the holidays to get new stained concrete floors to enhance your home's beauty and value. Call today to talk to a craftsman at Concrete Craft who can answer all your questions about interior stained concrete floors, as well as stamped and resurfaced concrete. Contact us or go to www.concretecraft.com to find the Concrete Craft location nearest you and schedule a FREE estimate. Take time to scroll through our online photo galleries for patios, driveways, walkways, pool decks, garage floors, interior floors for residential and commercial, and our innovative resurfaced faux stone vertical applications. For interior and exterior decorative concrete overlays, we are the experts!