Stained Concrete Can Be The Answer To All Your Flooring Needs
Decorative concrete floors are fast becoming the go-to floor for discerning homeowners and business owners. The durability of concrete is indisputable and not having to replace a damaged or worn floor every few years is very appealing. Add in the versatility of design and color, ability to replicate other high-end flooring options for less money, and the green impact of not creating more flooring and it's no wonder the popularity of concrete floors is growing!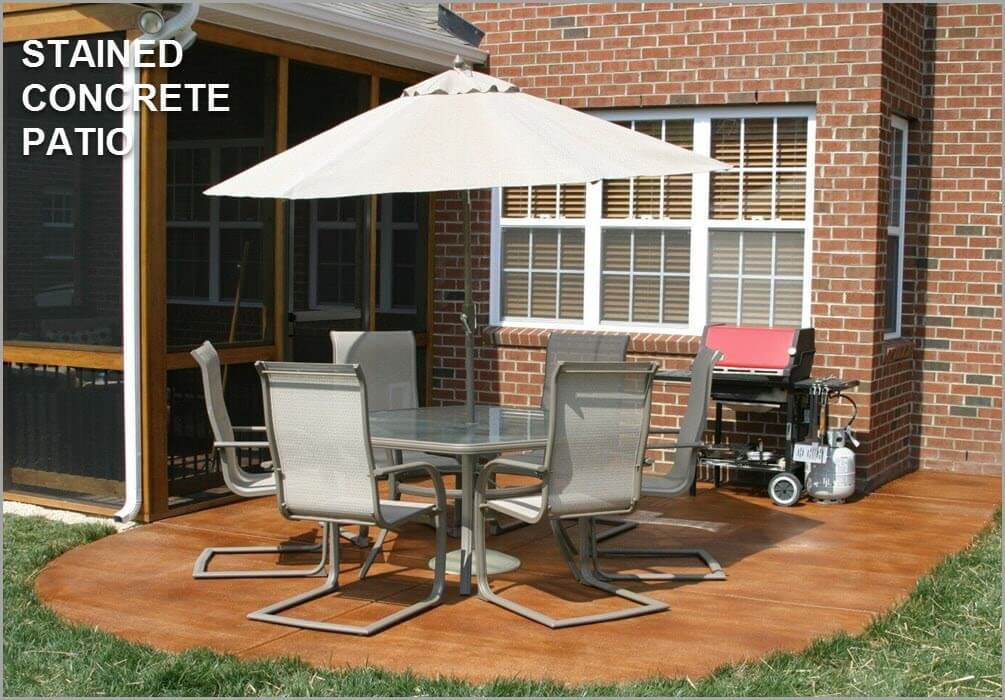 Stained concrete is one of the easiest ways to transform your indoor or outdoor floors that need updating or repair. Concrete Craft® can transform all your concrete surfaces from drab to fab in less time than you would imagine and with less mess and inconvenience. From staining the existing surface to resurfacing damaged concrete and staining, your existing concrete can become better than new.
A slab in good condition
If your concrete patio, driveway, walkways, or pool deck are in good condition, prepping and staining may be all that's required to give you a brilliant finish. This driveway was starting to show its age, but the surface wasn't destroyed with cracks and spalling, it just needed a facelift. After cleaning and prepping the surface, two stain colors were applied, giving a totally new look to this home with a custom-color driveway and a distinctive contrasting border.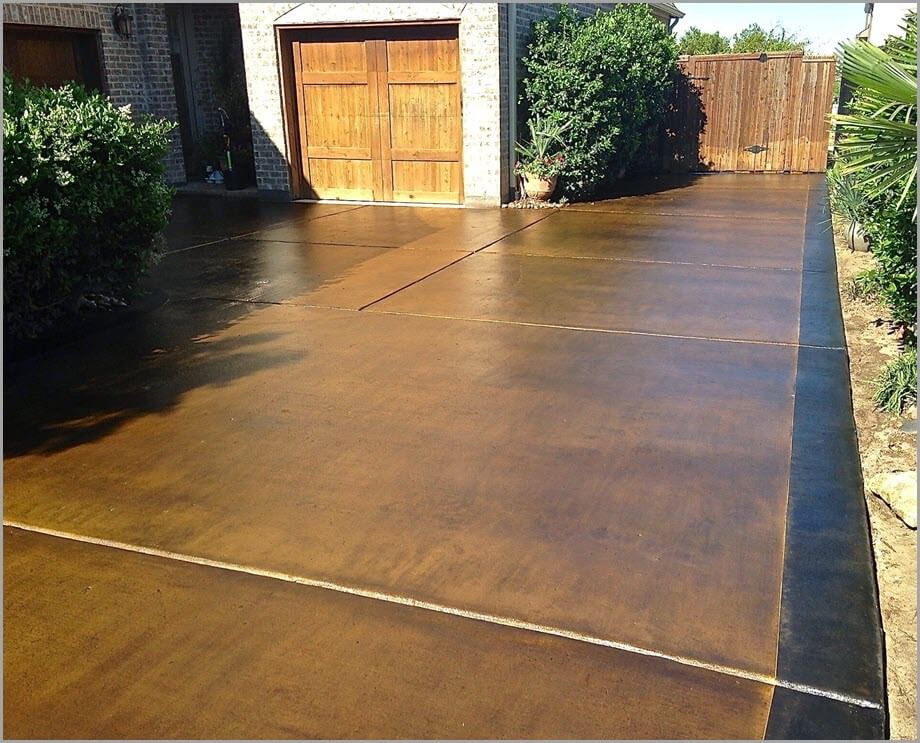 Resurface and stain a damaged concrete floor
For concrete floors that are damaged with cracks, major discoloration, or worn spots, a decorative concrete overlay can hide the damage and present a fresh surface for staining. This floor looked like its only option was to cover it back up, but a concrete overlay and acid-based concrete stain create the look of elegant marble.

Unlimited color choices
Brown tones are popular for both indoor and outdoor concrete floors, but with Concrete Craft, the option for custom colors is unlimited. Reds, yellows, blues—the full spectrum of the rainbow is available to enhance your living spaces with vibrant color. This teal concrete stain perks up an otherwise ordinary kitchen. And despite its delicate beauty, the sealed surface is industry-tough to withstand lots of activity, including the inevitable spills and messes that happen in kitchens.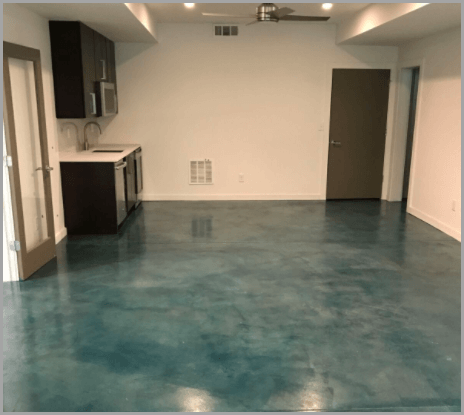 Add texture with a stamp pattern
For some people, the cool gray of concrete is a welcomed element, but not a plain, unfinished concrete surface. For a sophisticated gray concrete finish, a concrete overlay can be stamped with a realistic stone pattern like this Ashlar slate to add interesting texture and a gray stain and sealer applied for a durable, lasting finish. This pool deck will give years of carefree enjoyment without showing wear from water, sun, pool parties, and suntan lotions. The surface will wipe clean of any spills without leaving a trace.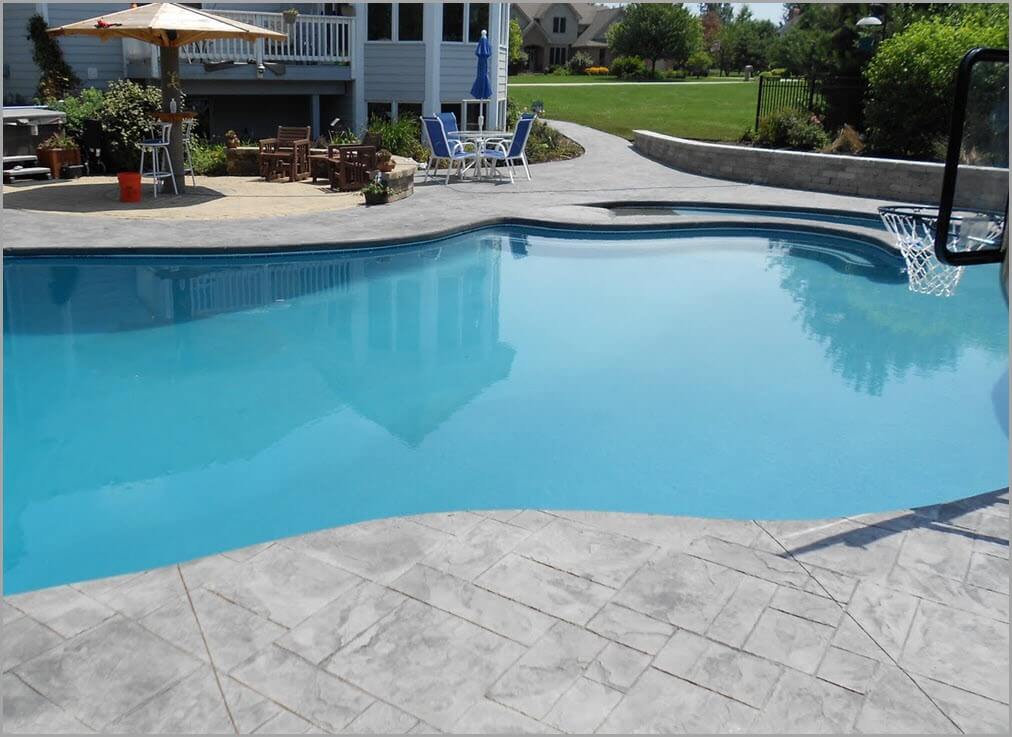 The many benefits of stained concrete
Stained concrete is versatile with an infinite array of colors and special effects, including antiqued, variegated, mottled, a consistent monochromatic color, or stenciled designs.
We can match any décor or landscape colors and style.
The stain penetrates below the surface, creating a durable and long-lasting rich color that will not fade, chip, flake, or peel.
Easy-care cleaning is a dry dust mop and occasional wet mopping with a neutral-pH cleaner.
The sealed surface repels dust and dirt build-up, moisture, bacteria, and mold growth, making the floor more allergen-free.
The sealed surface is resistant to weather, including hot and cold and wet and dry, delivering beauty and functionality for years.
Installation is quick, and your new stained concrete floor will be back in service.
Trust Concrete Craft for all your concrete flooring needs
Unlike many concrete companies who specialize in one type of decorative concrete, such as stained or stamped concrete, Concrete Craft artisans are masters with stained, stamped, hand-carved resurfaced concrete overlays, vertical concrete resurfacing, and concrete repair and restoration. As the largest decorative concrete franchise in the U.S., we consider ourselves craftspeople, bringing artistry to the world of concrete. Proprietary products and techniques place us out in front of the competition, with innovative and custom designs. We can replicate the look of flagstone, cobblestone, Roman slate, Ashlar slate, brick, tile, natural stone, wood plank, and more, with a precision that produces authentic-looking results.
Call 866-813-3699 today or go online to www.concretecraft.com to find the Concrete Craft location nearest you and request a FREE estimate. We can give any concrete surface a custom makeover with colors, designs, and finishes that are virtually limitless for patios, walkways, driveways, pool decks, and interior floors, as well as vertical concrete resurfacing on accent walls, retaining walls, fireplace surrounds, and more. For inspiration and additional information, check out: