Stained Concrete Is Ideal To Enhance Interior and Exterior Floors
Redoing floors in a busy household can be an incredible inconvenience so people put it off way past the carpet's lifespan or the hardwood floors' best days. If you avoid looking directly at your floors or you have scatter rugs everywhere, maybe it's time for a change. How about a gorgeous, durable floor in any color you want that will stay beautiful for years, is extremely low-maintenance and costs less than other flooring options?
Yes? Then you are ready for custom stained concrete floors from Concrete Craft®!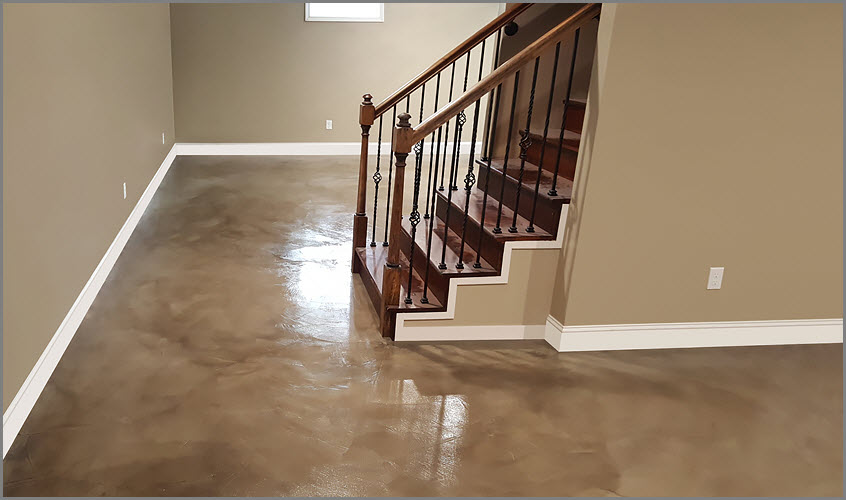 This stained concrete floor is a two-color design, combining gray with walnut highlights for an elegant living room. The seamless, sealed finish will provide years of beautiful functionality with benefits other flooring materials don't provide.
Outlasts most other flooring options like carpet, tile, linoleum and wood
Inhibits mildew and mold growth
Waterproof and stain-proof; spills and messes wipe right up
Easy to clean with dust mopping and occasional wet mopping with a neutral-pH cleaner
Prevents a buildup of dust and allergens
Does not wear down over time like some natural stone or grouted surfaces
Concrete flooring can improve your homes' energy efficiency by keeping rooms cool in summer and warm in winter by holding temperature and slowly releasing heat or coolness
Stained Concrete Design Options
The infinite array of colors and special effects that can be achieved with stain are amazing and with UV protection built right in, the colors will not fade or change over time. Application techniques and finishes allow concrete stain to mimic anything from polished marble to natural stone. Stenciled logos or designs can be incorporated for a truly unique look and they have the same durability as the stain and won't fade away with foot traffic, sunlight or time.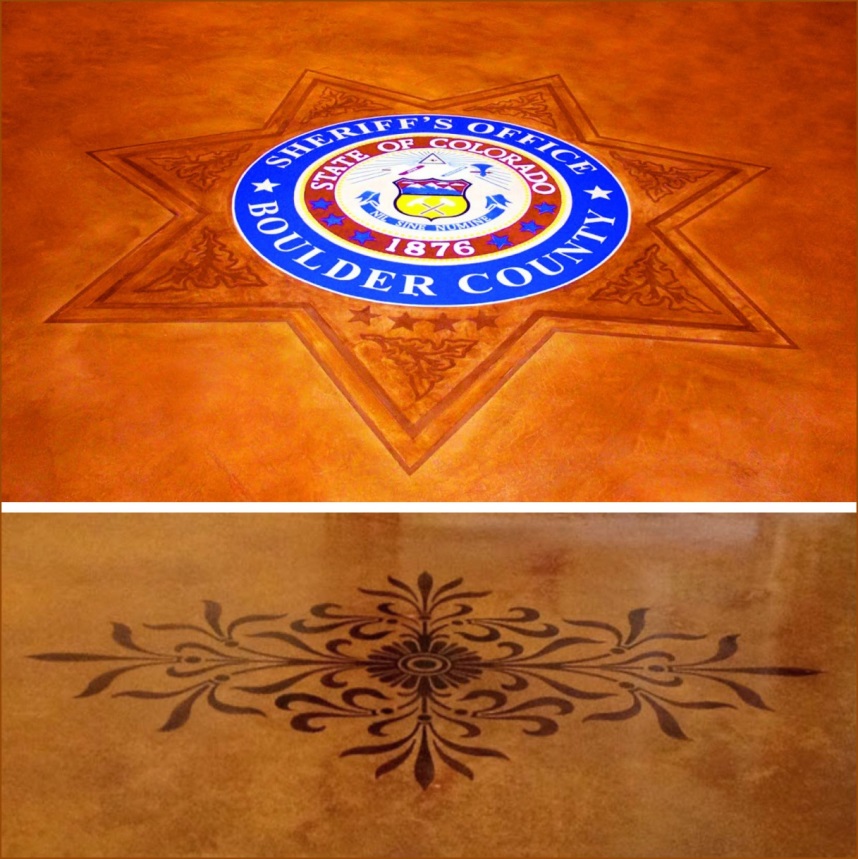 Our stains don't just lie on the surface; they actually permeate the concrete, creating a deep, rich translucent color. Color options are practically unlimited, and depending on the application techniques used (water-based or acid-based stains), your floor design can look antiqued, variegated, mottled or have a consistent monochromatic color. This kitchen looks very trendy with an aqua blue stained concrete floor, complementing the neutral browns of the wall and cabinet colors for a stunning effect.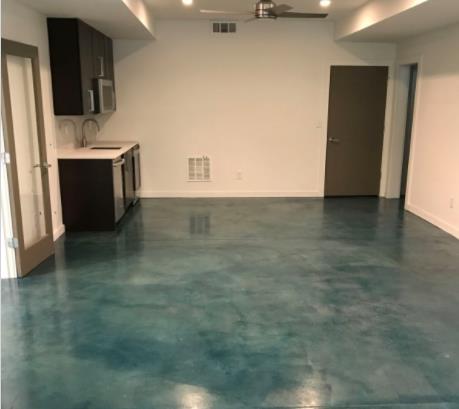 Outside floors as well benefit from stained concrete finishes, including patios, walkways and driveways. This stained patio has enduring color that will last for years despite rain, snow and extreme temperatures. Properly applied to prepped and clean concrete, the stain penetrates below the surface, creating a durable and long-lasting color that will not fade, chip, flake or peel, requiring minimal care to stay looking like new.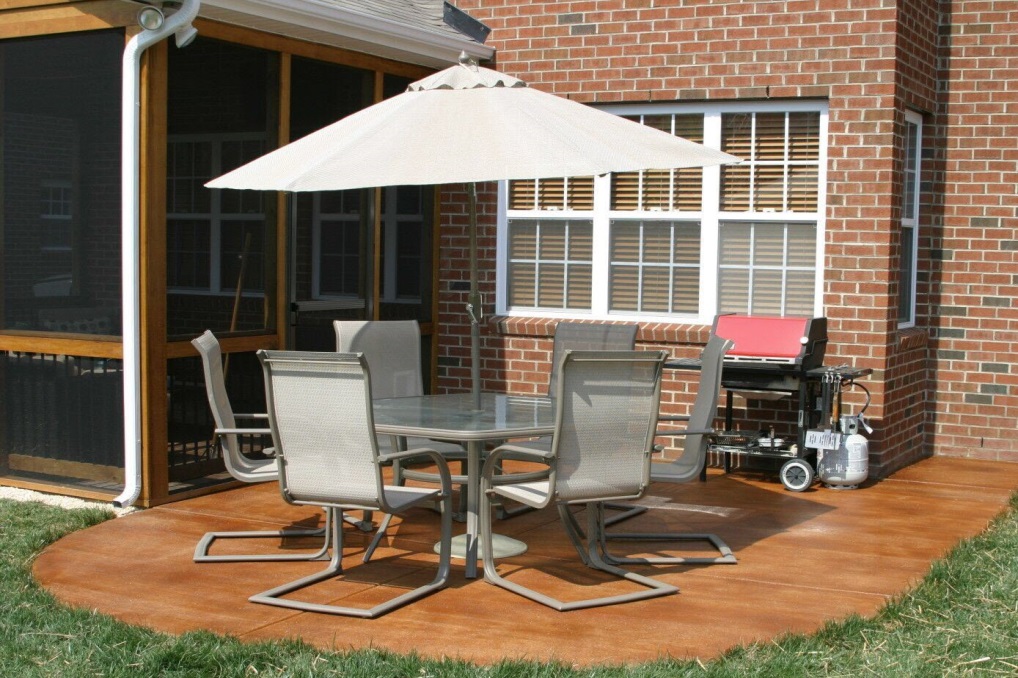 The moisture-resistant properties of stained concrete make it a perfect enhancement for pool decks, saunas or hot tubs. The sealed surface not only resists water, but also pool chemicals, including salt water pools. And since stained concrete is one of the most economical ways to finish concrete surfaces, large areas like pool decks don't have to break the bank. You can refresh the whole backyard and still have money for pool toys.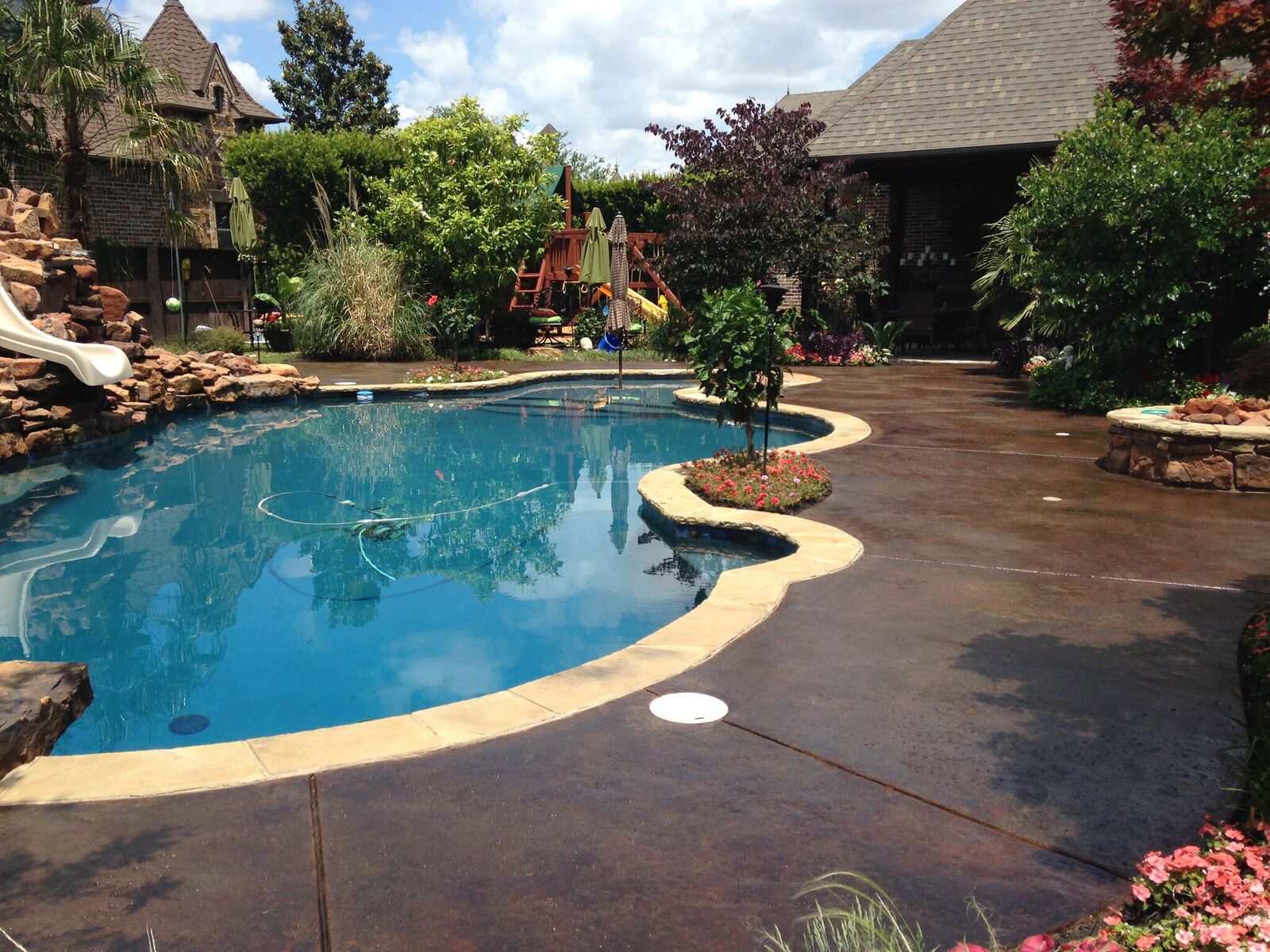 Can Any Floor Be Stained?
Removing an existing floor covering like carpet can create surface damage to the concrete floor underneath. Older concrete may have a history of spills, glue, paint, coatings or sealers that would inhibit an even stain application. The finish of the old floor can be renewed with a resurfaced concrete overlay that will hide any damage, flaws or blemishes and present a fresh new finish to take the stain. This is also true for outside concrete surfaces; a much-enjoyed patio can take on new personality in just a few days with a resurfaced concrete overlay and fresh stain.
If your concrete floor is already in good condition, it may be ready for staining without the need for a concrete overlay. Stain is not an opaque finish like paint, so the natural characteristics of the concrete will show through, giving a textured look to the smooth finish. Here is a sampling of some of our most popular colors for stained concrete floors and you can see how the floor's texture shows through.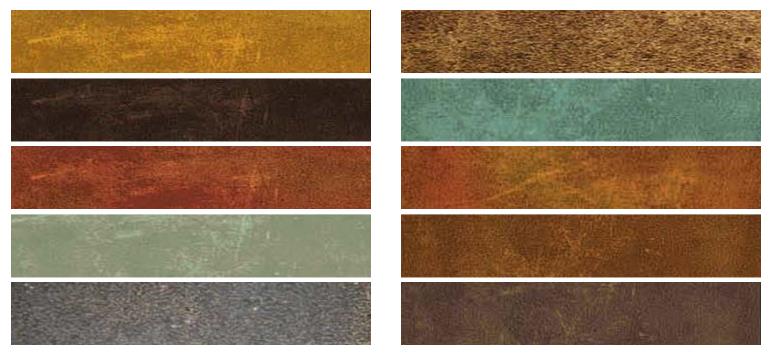 If you're considering new floors in your home, backyard or business location, don't do anything until you talk with the professionals at Concrete Craft about stained, stamped and resurfaced concrete floor options. Concrete finishes range from glossy to textured surfaces, simulated natural stone such as Flagstone, Cobblestone or Slate, as well as brick, tile and wood plank patterns. With Concrete Craft, you receive the highest-quality product, the best service and the fairest price, with a two-year warranty*on all our work.
Contact us today to find the Concrete Craft location nearest you and request a FREE design consultation and estimate. View our digital brochure to see what we can do for you.