Stamped Concrete: Options and how to pick the best colors
Concrete is one of the most durable and versatile materials on earth. While you may think of it as a surface only for your garage floors, or maybe new countertops, concrete is also the foundation for a home facelift that's both decorative and functional.
What is concrete?
First, concrete is not cement--they are two completely different materials, although cement goes into concrete. Concrete is a mixture of cement, water, aggregates--sand, pumice, limestone, or whatever is available locally), and admixtures. Admixtures are compounds or chemicals that enhance the strength and malleability of the concrete mixture. When the ingredients are mixed together and poured, the concrete that forms is wet and workable. It hardens and gets stronger as it dries. Concrete takes about a month to fully cure or dry out enough to reach peak strength.
Second, concrete in some form has been used since Roman times-- the Pantheon, built almost 2000 years ago, features the largest unreinforced concrete dome in the world. The Romans were the first to pour concrete into shaped molds, which led to the first architectural arches. Unfortunately, the Roman methods for engineering concrete did not survive the fall of the empire, so all that knowledge was lost for centuries.
Modern concrete techniques have been around since the early 1700s, but only recently has concrete become popular as a design element, in the form of stamped concrete. If you have kids, or you ever were a kid, you probably dabbled in stamped concrete--your initials in the wet stuff is a primitive example.
What can stamped concrete do for my home's appearance?
When you're looking at stamped concrete ideas on Pinterest, you'll see that it's also called patterned or imprinted concrete. Regardless of the name, it's the same thing--large rubber stamps are made from molds and used to imprint, or stamp, a design into the concrete itself. The stamps are so detailed that it's hard to tell if you're looking at stone, brick, cobblestones, tile, or wood planks when you see the finished product.
Here are some of the ways you can use stamped concrete on your home's exterior and your landscaping. Notice that some of these installations are vertical, so you can update your home's exterior with stamped concrete accents.
Driveways and walkways
Patios and porches
Pool decks
Outdoor seating
Window casings, door frames and columns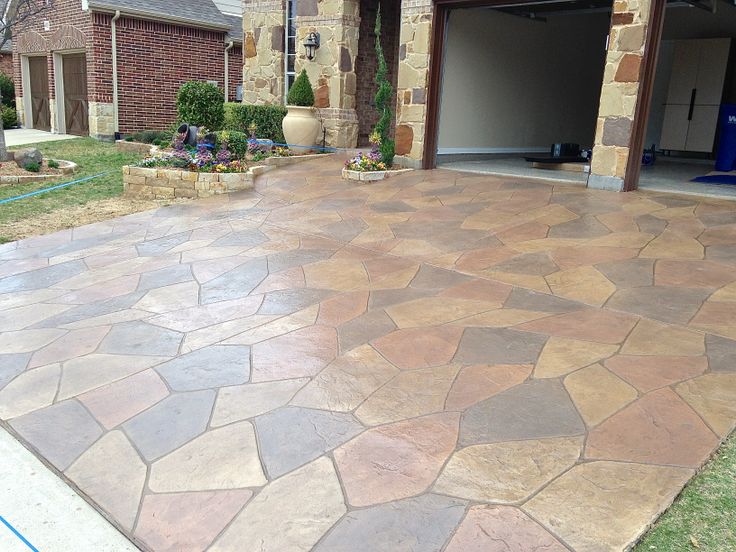 You can also upgrade your interiors with patterned concrete.
Basement floors
Countertops
Accent walls
Kitchen backsplashes, and accents
What are the colors and patterns I can choose?
You can choose the colors and designs for your stamped concrete project. There are some colors and styles that enhance some architectural styles more than others, so be careful that your choices work with your house.
Stamped concrete colors lean towards earth tones since the idea is to imitate natural stones, bricks, and wood. Here is a quick guide to the colors that work best for stamped concrete designs.
Buff--a color between yellow and beige
Gray--from light to dark
Camel
Terra Cotta
Brown--from light tan to dark chocolate
All these colors can be custom mixed to create the exact color that you want for your project. Most homeowners don't want a flat color without any depth, so you create that depth and tonal variations with a variety of techniques that make the concrete resemble bricks, wood planks, or whatever surface you have in mind.
The design you choose is every bit as important as the colors you decide to use. These are some of the most popular designs.
Ashlar--a random repeating pattern using different slate sizes
Cobblestone--a rough surface stone in five or six shapes, can be laid in rectangles or a fan shape
Brick--regular rectangular shapes usually arranged in a grid pattern
Wood plank--planks laid in a straight line, width can vary according to the individual wood
Flagstone--random gray tiles laid in an abstract pattern
Flagstone – Popular for patios and pool decks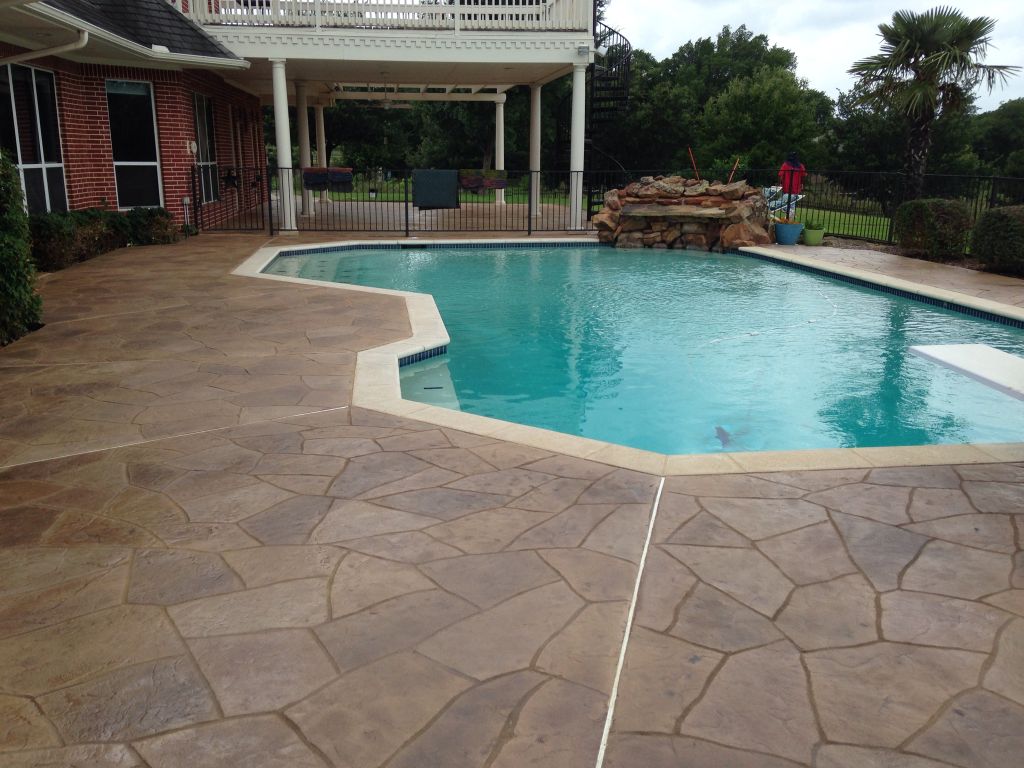 You can also add a secondary design into the concrete. A compass is popular on pool decks and in foyers, as are geckos on landscape concrete.
How can stamped concrete highlight different home styles?
Country or farmhouse homes are loaded with warm earth tones and rustic elements. Random stone or slate accents, "wood plank" floors, and countertops and sinks are ways to upgrade with stamped concrete.
Contemporary or modern homes are made for a stamped concrete facelift. All those angles and open spaces let your imagination take over-install a highly polished, glossy floor throughout and add a concrete island and countertops in the kitchen. If you want to try concrete furniture, this is the house that can pull off that look.
You can really update formal homes with concrete, even grand Tudor and Federal styles. A stamped concrete driveway that imitates cobblestones or pebbles adds dramatic curb appeal, and you can continue that look along the walkway to the front porch. Once you're inside, a marble or stone concrete overlay really adds to the grandeur.
Perhaps a ranch or split-level house stands to gain the most with concrete accents since these styles are typically the most cookie-cutter architecturally. A brick patterned driveway and walkway are a good starting point, and you can expand on that with stone accents on the front stoop and windows. Inside, a wood-look basement floor is appealing and durable.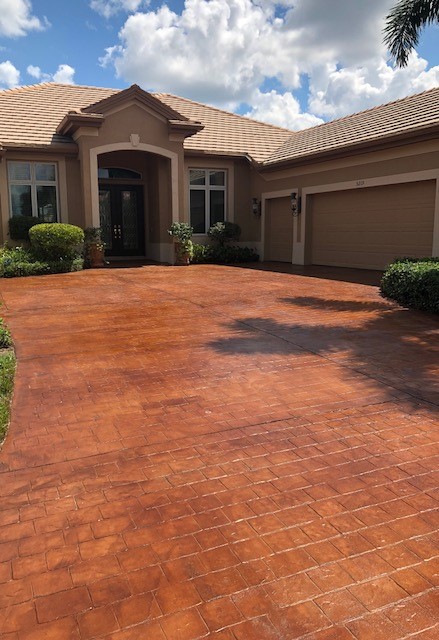 What about the maintenance of my stamped concrete?
Concrete itself is extremely durable and lasts for decades--just like your handprint on your parent's basement floor. Stamped concrete surfaces are sealed, so they are resistant to water damage. Since it's poured and then stamped, the joints and spaces in the pattern are faux--there is nowhere for mold to grow indoors, or weeds to take hold outside. All you have to do is wash the surfaces with a mild detergent, and pressure wash the exteriors when you do regular home maintenance.
After you've chosen your colors and designs, a professional crew will come to your home for installation. There are two ways to apply the concrete. The first is as an overlay over existing concrete, or the stamps are imprinted on freshly poured concrete. Once the concrete is poured and stamped, any highlighting or antiquing techniques are applied before it hardens.
Stamped concrete is really cost-effective
Incorporating stamped concrete into your home's design is a much less expensive alternative to other materials. Stone, brick, and wood all demand intense labor to install, while the concrete is simply poured and stamped. If you'd like to learn more about what it can do for your home, contact us at Concrete Craft for a free consultation. Our design team can customize a stamped concrete update for your home today.