Surprising Eco-Friendly and Green Living Attributes Of Decorative Concrete
Switching to resurfaced decorative concrete flooring takes a step toward helping the environment at-large as well as improving the economies and performance of your own home or business. Lower cost for exceptional flooring, durability, reduced energy bills, a cleaner home or office, and low maintenance are all benefits to be enjoyed with decorative concrete floors from Concrete Craft®.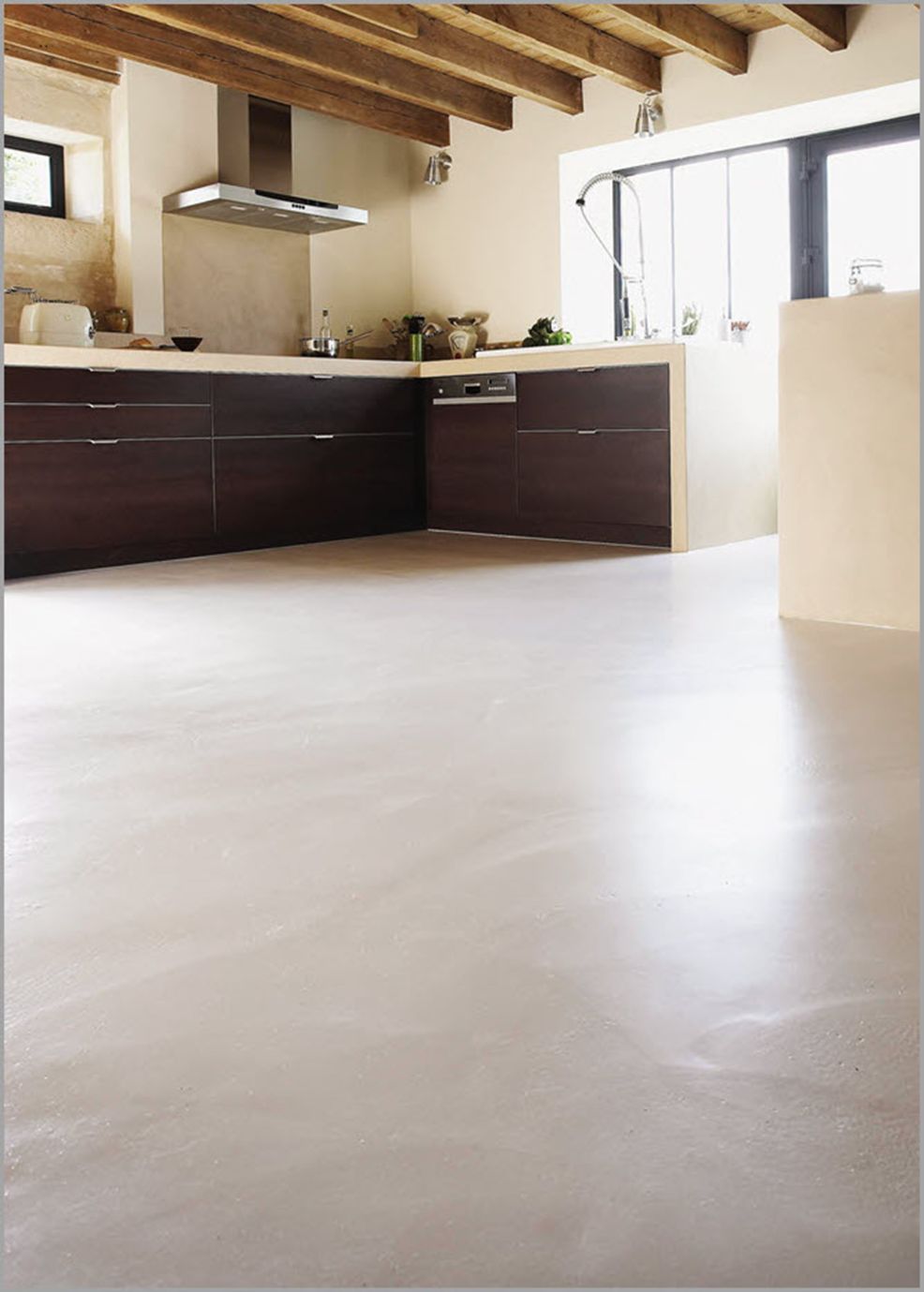 MarbleKoat by Concrete CraftTM, pictured above, is just one of our exclusive MasterProTM resurfacing systems that are eco-friendly and "green rated" according to LEED (Leadership in Energy and Environmental Design) standards. Replacing "consumable" flooring options that need replacement every few years (carpet, vinyl, tile, and hardwood) with decorative concrete floors that last for decades, saves time and money and keeps castoff flooring from negatively impacting landfills which is a very real problem:
"Americans discard about 3.9 million tons of carpet and rugs each year … and only about five percent of the carpet is recycled. The majority of this bulky waste ends up in landfills or waste-to-energy plants." –Product Stewardship Institute, Waste Advantage Magazine, 2019
An estimated 105,737 tons of recyclable wood was disposed of in landfills in 2019 in King County, WA. –King County Solid Waste Division
Recycling vinyl could keep it out of the landfills, but the economies of recycling vinyl makes it difficult and with few recyclers, most discarded vinyl goes to landfill.
Small amounts of laminate flooring can be disposed of in normal waste collection, but whole floors should be taken directly to a landfill site.
Enjoy forever floors with decorative concrete finishes
Decorative concrete floors won't require replacement every few years like other floor coverings because their durability keeps them looking like new. The sealed finish resists moisture, stains, cracks, and peeling, while UV-resistant concrete stains prevent color fade. With decorative concrete, you won't have to deal with all the various reasons that other floors deteriorate over time, including faded carpet, cracked tiles, stained grout, and warped wood. Resurfaced decorative concrete overlays apply directly to the existing concrete substrate and become a permanent part of the floor. At most, heavily trafficked areas may require resealing after several years to restore the shine.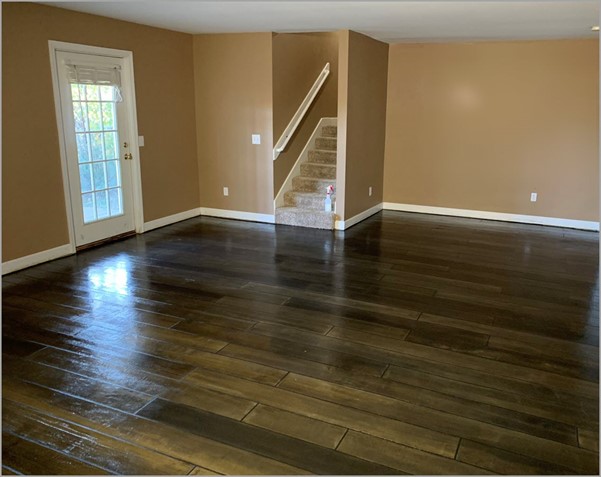 Replicate any flooring style with custom stains, stamped concrete patterns like tile, wood panel, and textured slate, and hand-carved faux stone designs.
Incorporate colorful and artistic elements into floor designs with multiple stained concrete colors, concrete stamps, and stenciled designs and borders.
For about half the cost of the real materials, enjoy realistic, high-end natural finishes like real stone, wood, and marble.
Our products protect against the depletion of natural resources
Developing products that don't require the constant production of new materials heightens resource efficiency and reduces the carbon footprint of commerce. Our exclusive MasterProTM concrete resurfacing systems for both flooring and vertical concrete resurfacing are the result of over 12 years of testing and perfecting our performance-grade resurfacing mixes for a superior product that contributes to sustainability and green design.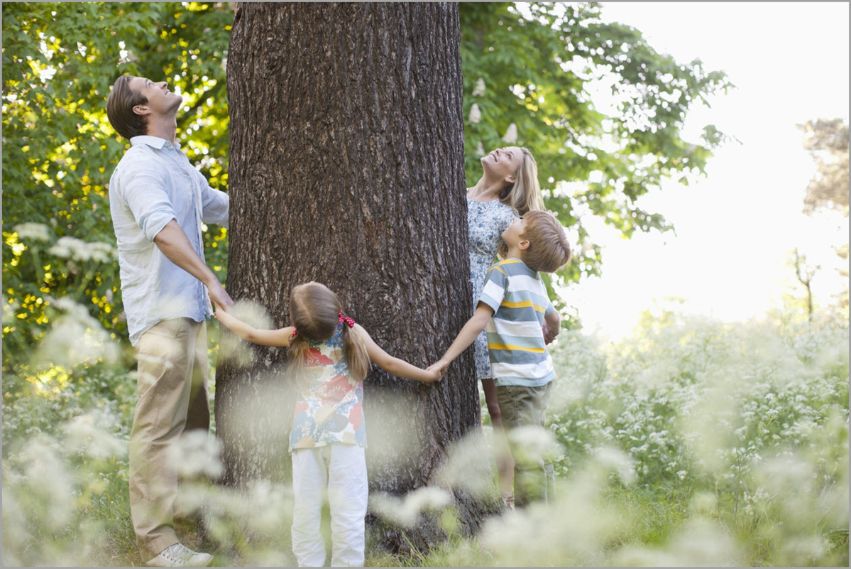 Concrete Craft supports conserving precious, natural resources:
We use 60%-80% recycled or reclaimed material in each bag.
The sand component is a byproduct or recycled material.
Silica Fume, a byproduct or recycled material, reduces the amount of Portland cement in each bag, resulting in reducing emissions produced during the manufacture of Portland.
Our faux stone and wood concrete overlay system reduces the need for felling trees and mining rocks which deplete natural resources.
Premium concrete stains and sealers are low-VOC (volatile organic compounds) to comply with LEED standards.
No waste or overrun on materials; concrete overlays are mixed-to-measure onsite.
Demolition and replacement are off the table
Even if you have badly damaged concrete with deep cracks, uneven surfaces, discoloration, and spalling, you can avoid the cost and inconvenience of breaking up old concrete like a patio, driveway, or pool deck and pouring a new one that takes weeks to cure. It's far greener to repair and restore existing concrete with our eco-friendly overlay processes that eliminate the consumption of new materials and creation of lots of trash. In a matter of days, your concrete can be restored from hopeless to better than new with a beautiful, durable finish that won't deteriorate.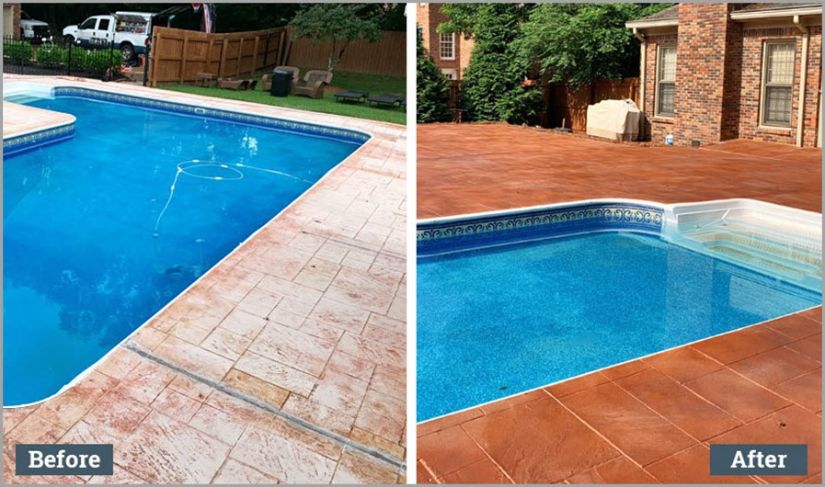 RenewKoatTM restores faded, stained, and discolored stamped or regular concrete with brilliant color and a durable, real cement rolled-on finish.
RestoreKoatTM is a versatile repair mortar that can transform severely damaged concrete to like-new condition (zero-VOC, odorless and fast curing).
River rock overlay is a one-coat treatment that fills in, levels out, and creates a seamless, real stone finish.
Green living benefits of decorative concrete
A green lifestyle focuses on reducing, reusing, and recycling whenever possible. By repairing or resurfacing interior floors and exterior surfaces instead of demolition and replacement, you're doing your part to help preserve the planet. And, with decorative concrete, you "green" your surroundings without compromising beauty, comfort, or economy. We can create stunning decorative concrete to enhance your home or business with our unique stained, stamped, and resurfaced concrete designs. Here are three other ways that decorative concrete can help you have a greener home:
Energy savings
Concrete floors reduce energy use for heating and cooling by absorbing heat (solar gain) or cold and releasing it slowly to regulate the temperature in a room.
Conserve personal energy with sealed, low-maintenance seamless decorative concrete surfaces that don't hold on to dust, dirt, and debris like real stone or tile with grout lines and crevices.
Non-toxic cleanup
Decorative concrete floors don't need special chemical cleaners as required for carpet, hardwood, grouted tile, or real stone. A neutral-pH cleaner like Dawn dish soap is all you need to keep your floors shining.
Driveways, patios, walkways, and pool decks can be safely washed with a medium bristle push broom or pressure washed with a mild, biodegradable detergent that won't harm your lawn and plants.
Better in-home air quality
Decorate concrete surfaces to resist moisture, mold, and bacteria growth, keeping all your spaces cleaner and more allergen-free.
Without the need for harsh chemicals or toxic cleaning products, the air quality in your home is improved.
If new floors are in your future, Contact us today or go to www.concretecraft.com to find the Concrete Craft location nearest you and request a free in-home or virtual* design consultation. Scroll through our online MasterProTMProduct Catalog and you may be surprised by how beautiful green living can be with decorative concrete floors that protect you, your home, and the environment.
*Virtual consultation may not be available at all locations.