Three Reasons You'll Love Decorative Concrete Floors in Your Business
Whether you have one business location or a network of facilities, your interior floors will become one less thing to worry about with stained, stamped or resurfaced decorative concrete overlays. Businesses large and small are discovering the beauty and economy of:
Stained concrete with its vibrant colors
Stamped concrete with its realistic finishes
Resurfaced concrete with its hand-carved and custom-colored authentic-looking faux stone results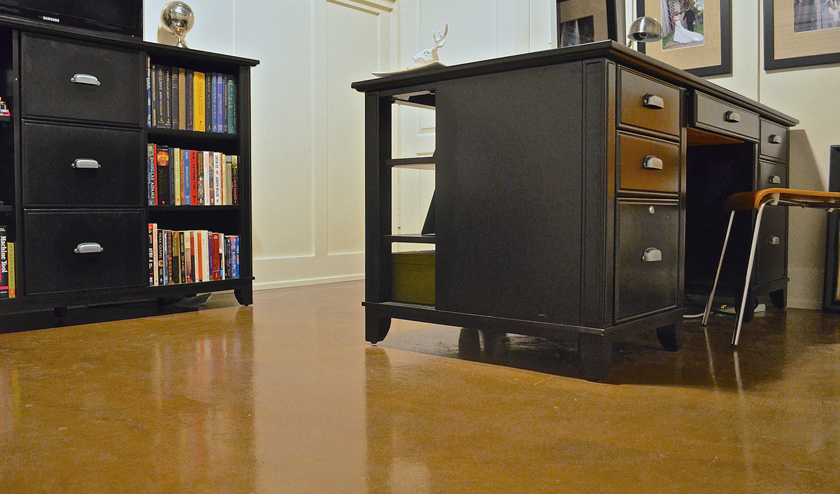 If you're looking at your floors in dismay, imagine this stained concrete floor in your offices, breakroom and hallways. The best way to spend the reminder of your 2017 facilities budget could be having Concrete Craft® transform your floors, and your business, through the beauty of decorative concrete. Here are three reasons to contact your local Concrete Craft franchise owner for a free on-site consultation and see how exciting new floors can be!
One: The undeniable durability of concrete
Commercial flooring generally gets more abuse than home floors, so it makes good business sense to have the toughest floor you can get, and that would be concrete. If you're thinking dull and boring gray, you will be pleasantly surprised at the highly-functional beauty of decorative concrete. But first, let's talk about strength.
The sealed finish can withstand any weather conditions without deteriorating.
The nonporous surface resists food, drink and chemical spills so any business can benefit.
Our stains don't just lie on the surface; they actually permeate the concrete, creating a deep, rich translucent color.
Concrete floors outlast other flooring materials and don't need replacing every few years.
Concrete floors are practically indestructible, resisting chips, cracks, peeling and fading.
Our concrete overlays cure to just over 5000 psi, meaning they are tough enough to support work trucks, heavy equipment and lots of traffic in showrooms or driveways.
Industrial-grade, high quality products insure a beautiful floor for years to come.
In a gym or workout room the concrete floor is tough enough to handle the heavy exercise equipment and people running on treadmills.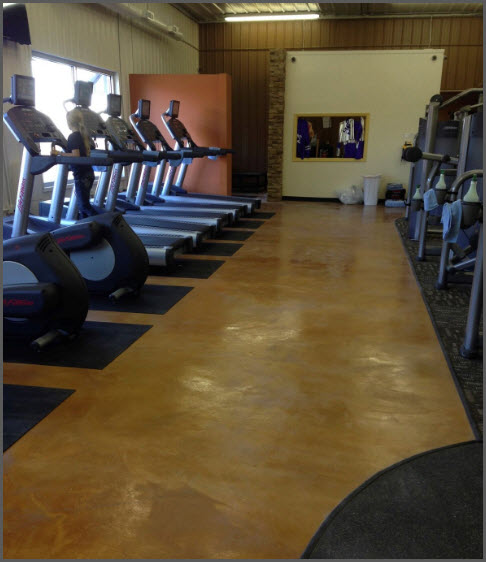 Two: Unlimited styles, patterns and colors
Decorative concrete opens up a world of style for your business, with any look you want, including hand-crafted authentic stone like flagstone, cobblestone and Roman texture slate. Stamped concrete can emulate classic patterns like brick, tile, random stone and wood plank. You can achieve the high-end look of real stone for a fraction of the cost.
Stained concrete can produce stunning effects: antiqued, variegated, mottled, or a consistent monochromatic color. Options of water-based or acid-stain treatments can create anything from the appearance of polished marble to natural stone.
With custom stenciling and staining, you can have logos, medallions, rug designs and stylish borders integrated into your design for a truly unique effect.
Stamped concrete can give the look of real pavers, hardwood floors, brick and stone without the "real" cost. Our unsurpassed attention to detail and authenticity in the designs means that only you will know it's not the real thing.
Add subtle sophistication with the look of polished marble, natural stone, or classic patterns like brick and tile to any interior floors for an exceptional workspace.
With custom, hand-crafted resurfaced concrete overlays, you have unlimited design potential. Step outside the realm of nature for colors and stone sizes and shapes to perfectly fit your space and style.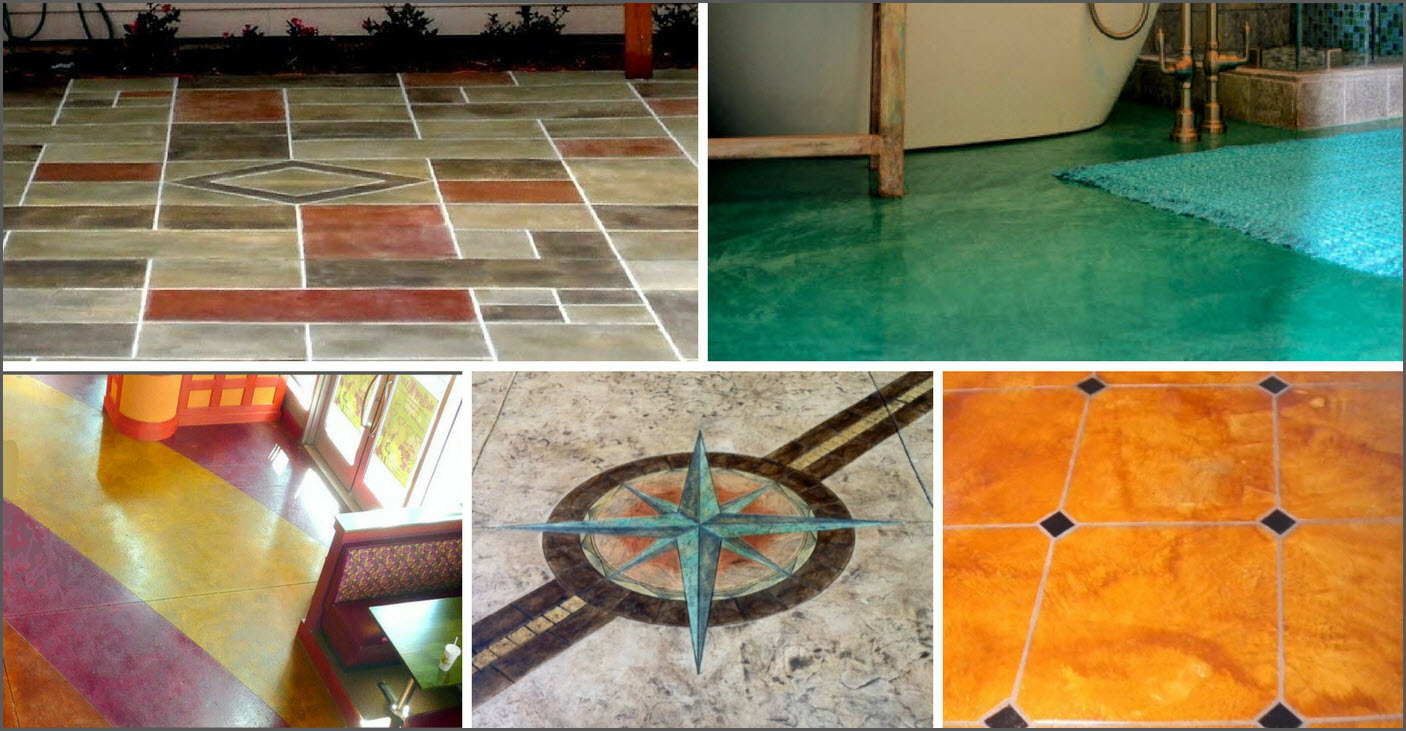 Three: Decorative concrete can stretch your facilities budget
The everyday wear and tear on office floors generally means flooring needs replacement every few years. The stained, faded carpet becomes an eyesore as well as a health hazard after years of collecting spilled coffee, tracked in dirt, residual cleaning products and lingering pesticides. Hard surfaces like tile and hardwood develop cracks, scratches and worn spots from continued use. Repairing or replacing can be quite expensive and disruptive.
Your business can actually save money by renovating rather than hiding your concrete floors. By replacing existing flooring with a decorative concrete floor you'll have a worry-free, durable floor that will last for years.

Resurfaced concrete can save a damaged floor by covering up cracks, stains and imperfections in the surface with a concrete micotopping overlay and save you thousands of dollars.
The resurfaced overlay can be finished in any number of ways, including hand-cut flagstone and cobblestone designs for an elegant, natural textured floor, or stained in a rich, vibrant color with a high gloss sealer.
Concrete slabs in good condition after removing an existing floor may not need an overlay, just prepping the surface and staining will create a beautiful, durable finish.
Stained concrete is the most economical way to add style and luster to any commercial space.
For large areas like warehouses and show rooms, stained concrete is the most economical way to transform and protect your floors against forklifts, heavy equipment and constant foot traffic.
Maintenance costs will decrease; no periodic carpet cleanings and hardwood floor resurfacings have to work into the budget. Decorative concrete floors stay clean with dry mopping and an occasional wet mopping, and resist mold, mildew and bacteria growth, keeping your facility cleaner.
Concrete flooring can improve energy efficiency and save money on utilities, keeping rooms cool in summer and warm in winter by holding temperature and slowly releasing heat or coolness.
The answer to your flooring woes
Concrete Craft has been serving commercial clients for years with specialty stamped, resurfaced and stained concrete floors. Business owners love the affordable, extremely durable custom floors that are trouble-free, aesthetically enhancing and fiscally responsible. Rather than replacing that carpeting one more time, let Concrete Craft transform your business like this restaurant owner did.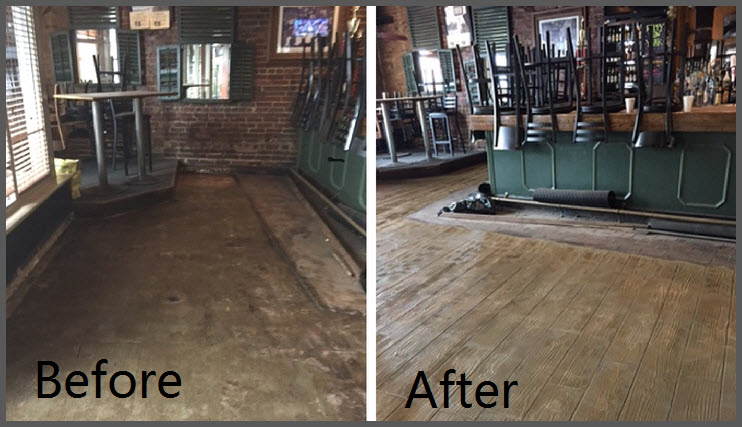 Get best value out of your year end facilities budget with new decorative concrete floors you'll love!
More cost-effective than other flooring options
Does not require replacement every few years
Most durable floor you can have
Lower maintenance; resistance to mold, mildew, dust and allergens
Unlimited design and customization potential
Professionally installed in just a few days' time
Workmanship and materials are guaranteed for two years*
Have Concrete Craft install new decorative concrete floors in your business and you'll never have to worry about them again. Call 866-813-3699 today or go online to www.concretecraft.com to find the Concrete Craft location nearest you and schedule an onsite consultation. See what we can do with stained, stamped and resurfaced concrete to enhance your business, including indoor and outdoor spaces.