Three Tips to Shrink Your Lawn and Expand Your Backyard's Beauty and Functionality
A thick, green carpet of grass used to be the ultimate backyard. Nowadays with outdoor living gaining popularity, people are rethinking the value of a stretch of green that doesn't present any real functionality. Factor in drought conditions, increasing water costs, maintenance costs in terms of both dollars and environmental concerns (pesticides, chemical fertilizers, gas lawnmower emissions, and herbicides), and less lawn becomes more and more appealing.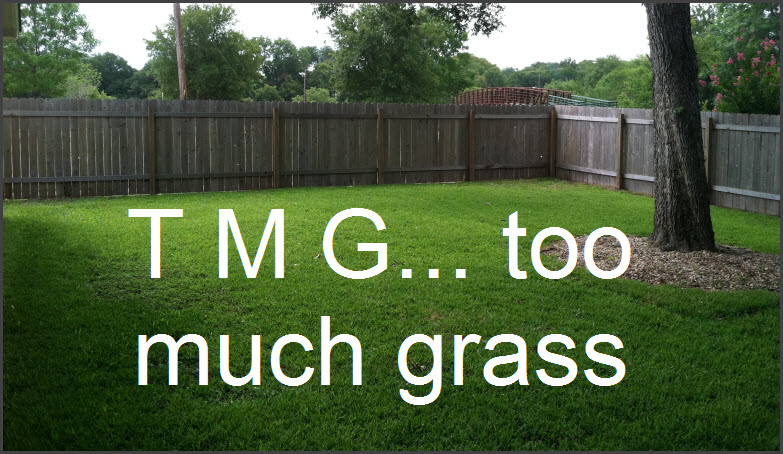 If you're stumped on how to go about effectively reducing your lawn size, Concrete Craft® can help you with landscape design options you may not have ever considered. Here are three ideas you can start on today with a phone call to your local Concrete Craft design expert.
One: Expand your patio
It's true that freshly poured concrete is not going to match in color to existing concrete. But with our exclusive concrete overlay process, that's not a worry. The existing slab and the new addition can receive a seamless, continuous decorative concrete overlay that can be stained, stamped, or hand-cut and custom-colored for a perfect finish in any style you desire. Follow the before, during, and after of this expanded and resurfaced patio by Concrete Craft of the Houston Bay Area and see how easy it is.
Before
This narrow patio is barely there, hardly adequate for many activities or family fun. The slope of the grass around the edge of this patio will deposit runoff every time it rains, pooling water at the doorway. Plus, the plain gray concrete does nothing to enhance the appeal of the home.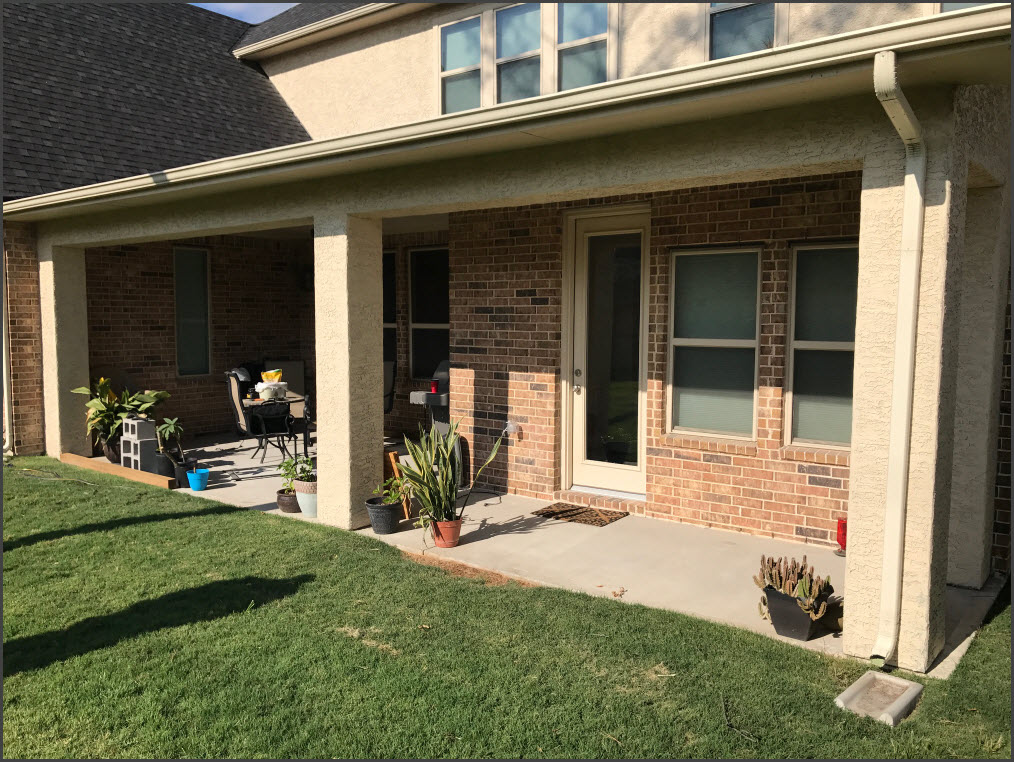 During
The patio extension almost triples its size, creating usable space for patio tables and chairs, a barbeque, potted plants, landscape lights, outdoor heaters to kill the chill in the evening, and enough room for the kids to actually play on the patio. Leveling the ground for the addition means rainwater will soak into the ground instead of flowing toward the home's foundation. At this point the addition to the existing patio is very obvious … but not for long!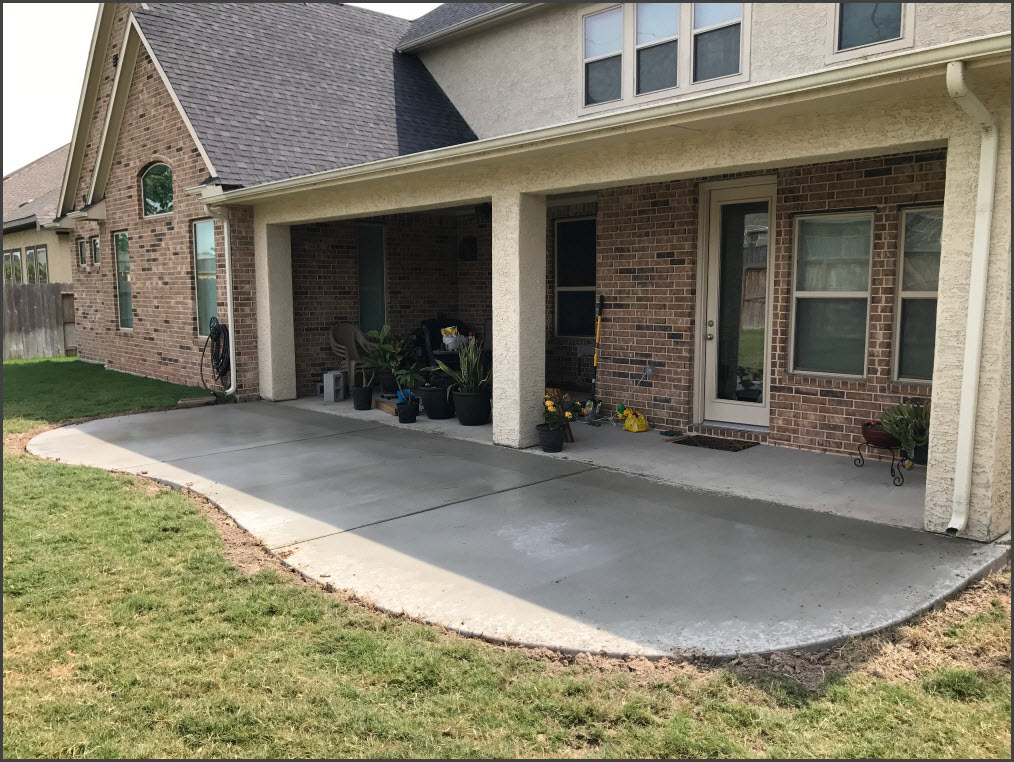 After
The finished patio is absolutely beautiful and no one can tell that this patio was not always part of the yard's landscape. The hand-cut and custom-colored flagstone design matches perfectly with the brick colors of the house and is one continuous design with no indication where the addition was joined. There is less grass to maintain and way more functional outdoor space for the family to enjoy. The durable, sealed surface is weather resistant and will not peel, chip, or fade.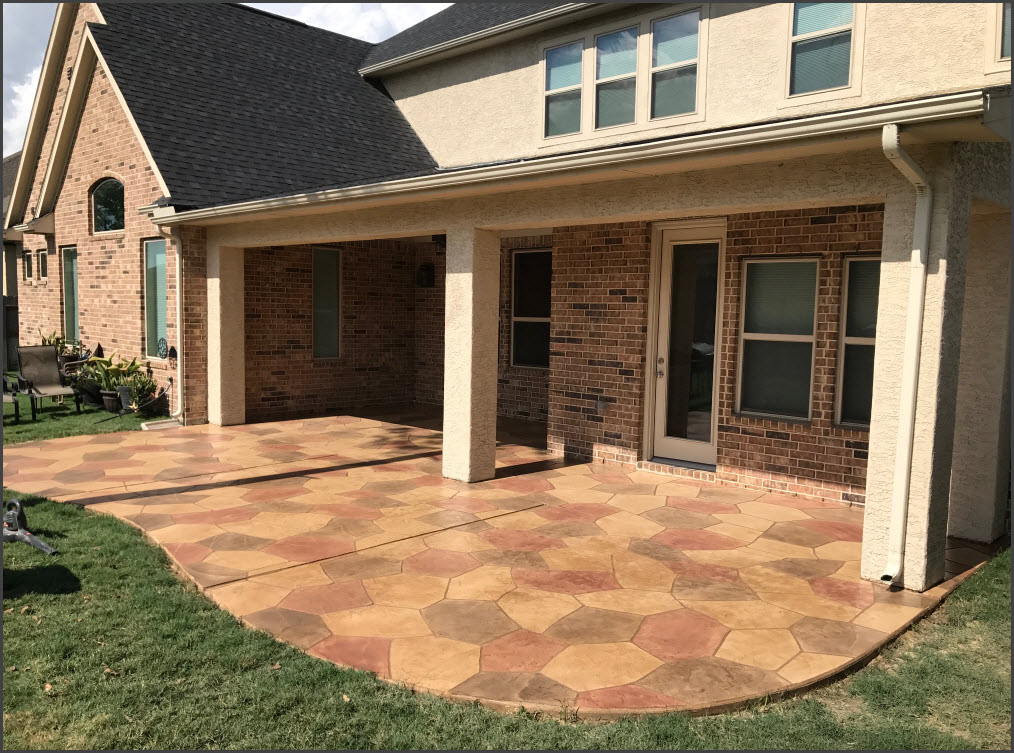 Two: Create activity areas with seat walls and fire pits
Concrete Craft of Knoxville helped this homeowner create an intimate setting for outdoor relaxing in the midst of great grasslands. Instead of a backyard that stretches as far as the eye can see, installing faux stone seat walls and a fire pit turn a graveled patio into a defined entertainment space. Portable awnings can introduce shade and patio furniture can be brought into the space as well.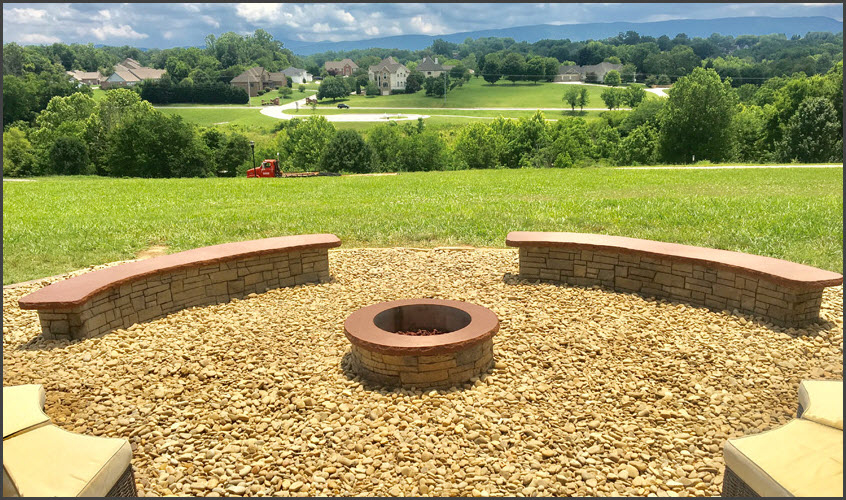 Concrete Craft's seat wall and fire pit system uses a seamless process to create unique stamped concrete designs that look like real stone, at half the cost. Seat walls are an easy and inexpensive way to add stylish architectural elements to your yard, serving as additional seating or for defining areas. Using the same processes, knee-high walls can establish walled garden areas or enhance walkways. Stamped concrete is more durable than natural stone creations and you'll never have to deal with shifting stones and crumbling mortar. Popular styles include Mountain Drystack, hand-carved stone, Orchard stone, random sandstone, and hand-scored limestone.
Three: Replace turf with gardens
This backyard has a patio enhanced with seat walls as well as raised garden beds. Instead of grass extending to the fence, the gardens provide space for plants and flowers, making the lawn a smaller part of the overall landscape. There is less lawn to maintain and the gardens afford the opportunity for a great variety of texture and color, including dwarf trees, shrubs, and perennials that will bloom year after year.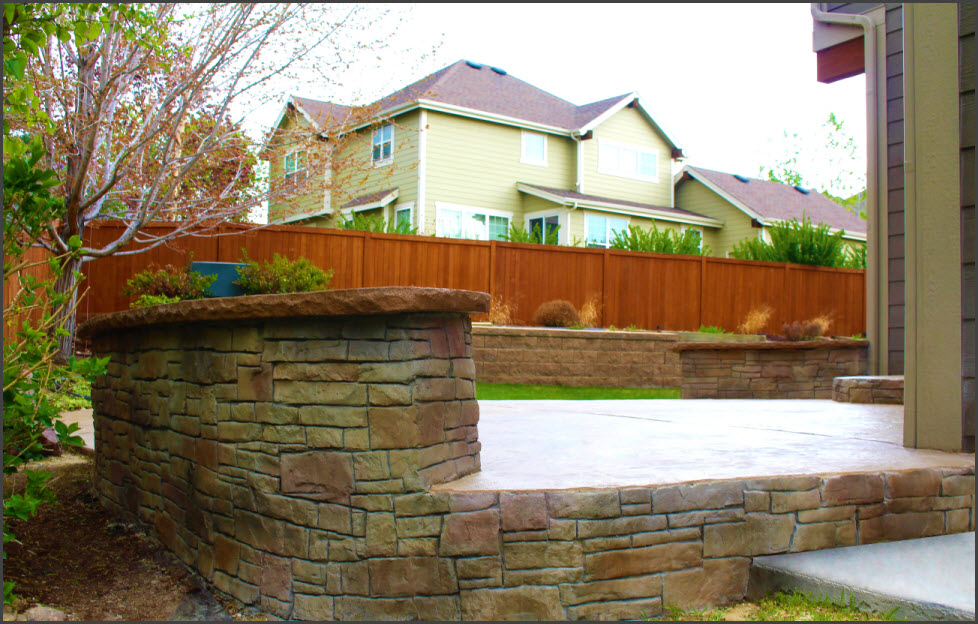 Another way to reduce a lawn is to border walkways with gardens instead of turf. If your walkways are boring gray, Concrete Craft can turn them into an artistic statement with a decorative concrete overlay like this walkway in a multi-colored flagstone design. The decorative concrete walkway and the surrounding gardens create a delightful setting that is easier to maintain than mowing and edging grass right up to the walkway. Think in terms of year-round color with a mix of evergreen flowering shrubs like holly and gardenias along with ornamental grasses like Fountain grass and Purple Millet intermingled with your favorite flowers. Colored bark or stones can add a pop of color to the landscape.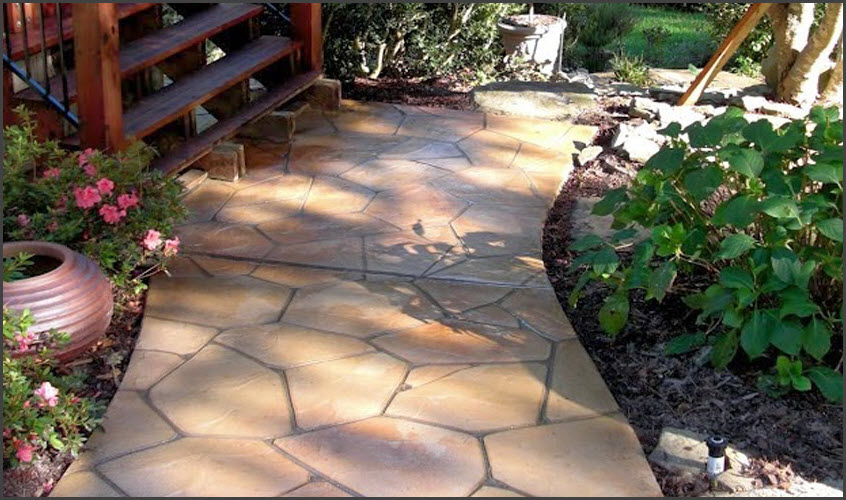 If your backyard is more lawn and less fun, let the experts at Concrete Craft help you design your space for more fun and functionality. Using patios, walkways, seat walls, fire pits, retaining walls, and more, you can turn your grass expanse into an ideal entertainment and recreational destination. Contact us today or go online to www.concretecraft.com to find the Concrete Craft location nearest you and request a FREE estimate for transforming your backyard.
Concrete Craft can also rejuvenate driveways, interior floors like basements and kitchens, front porches, and pool decks with decorative concrete designs resembling natural cobblestone, flagstone, Ashlar slate, brick, wood plank, as well as custom stencils and innovative stains. Our vertical concrete resurfacing can put a new faux stone face on fireplaces, retaining walls, home siding, chimneys, accent walls, and more. Browse our image galleries and see what we can do for both homeowners and commercial properties with exquisite, durable decorative concrete.