Top Reasons Why All Gyms Ought To Use Concrete Floor Under Their Rubber Mats
When opening up a gym, one thing you don't want to overlook is the floor. As the foundation of your gym, the kind of flooring you pick is an integral part of your business' aesthetic and usability.
Standard flooring, like hardwood floors or tile flooring, often isn't strong enough to withstand the wear and tear of weights and gym equipment, but concrete floors offer style, durability, and cost-effectiveness.
Benefits of using concrete floor for your indoor gym
Many gyms prefer to use concrete floors because of their durability, appearance, and lack of intensive upkeep. Not only that, but concrete floors are an affordable flooring option.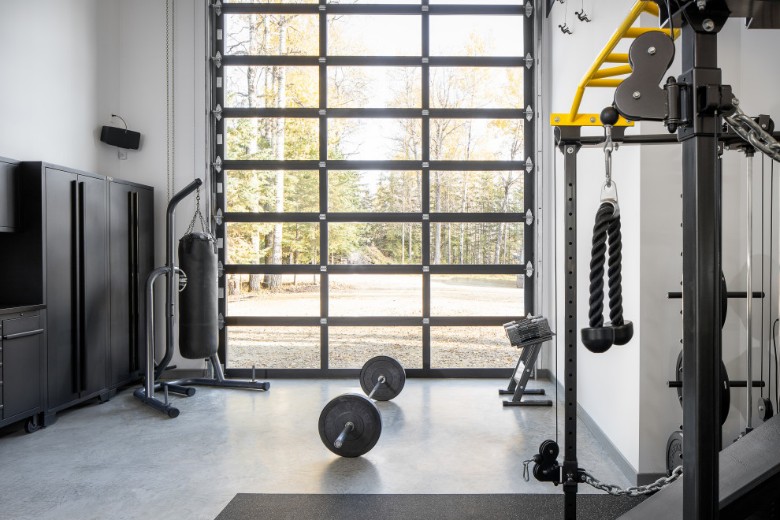 Durability is a significant benefit that comes with choosing a concrete floor. Because of this, it's often the first choice for most gym owners due to its resistance to abuse. They also serve as a great foundation for rubber mats and tiles in weight lifting areas and where exercise machines are installed.
The appearance of a concrete floor is completely customizable. It can be as simple or as bold as you want, and it can be made to match the branding and aesthetic of your gym. With options like stained concrete floors, polished concrete floors, and epoxy-coated concrete floors, you will easily find a style to match your gym.
Concrete floors are also incredibly easy to maintain. The same properties that make concrete floors durable also make them easy to take care of. Properly sealed concrete floors are non-porous, making them resistant to stains and germs, easy to clean, and long-lasting. Regular cleaning is all your concrete floor needs to look its best.
For those starting a business one of the most important aspects of concrete flooring is the fact that it is among the most cost-effective floors to install and maintain. Without the hassle of regular maintenance that you see with hardwood or tile flooring, your concrete floors will continue to save you money for years after they're installed.
Comparisons with other options
When choosing gym floors, there are various options, including concrete flooring, hardwood, tiles, and carpets. You can make your choice simple by considering the pros of concrete over the alternatives.
Installation of concrete floors is a quick and easy process when installed by experts, and it has an abrasion-resistant surface that lasts a lifetime with proper care. Carpets, tiles, and hardwood eventually wear out, and you'll need to replace them.
Unlike other flooring options, a concrete floor requires relatively little upkeep and stays in great condition. If you're using other flooring options, you might find yourself constantly replacing broken tiles or dealing with warped hardwood in your gym.
In addition, concrete is sustainable, and its use eliminates hazardous chemicals, coatings, cleaners, and adhesives. It provides a green advantage over the use of other options. Using concrete floors for your gym is superior and reliable, with lower maintenance costs, better durability, and high reliability.
Different styles of concrete floors
These options are special modifications to the concrete floor that suit your gym aesthetics and design.
Epoxy coated
Epoxy coating is the best option when you are considering high-performance, smooth, and durable floors. It lasts a lifetime with proper care and can withstand heavy loads. You may recognize this type of concrete floor from commercial buildings, warehouses, and industrial sites.
Polished
The polished concrete floors are standard in homes and commercial places with their great minimalist and sleek look. These polished floors can fit your gym effectively with their easy-to-clean surface and durability. It is also among the most versatile flooring options available. Its glossy appearance makes spaces seem enormous, and it lightens up your gym by reflecting light well. It helps to keep the gym space allergy-free with polished floors since it is resistant to dust, pollen, and other allergens.
Stamped or stained
Nothing beats a great interior design in a gym. A stamped concrete floor or stained concrete floor offers a great design versatility to achieve any taste and matches the budget that you have. You can add subtle hints of bolder designs, color, and custom graphics. These concrete floors will enable you to enjoy a highly customizable look depending on the stain and stamps you consider using.
Use the right flooring partner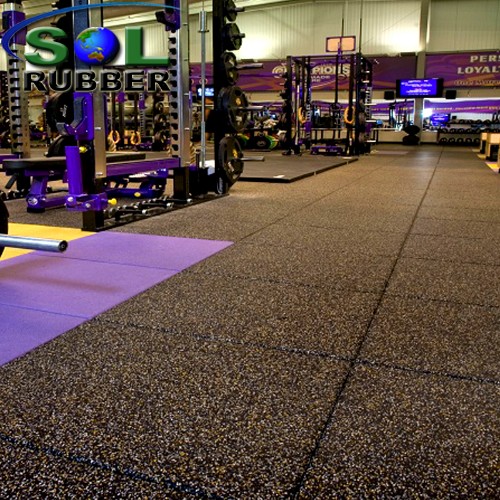 The process of installing an indoor concrete floor is quick and simple. However, it requires a level of knowledge and skill to ensure the services are perfect. When installed incorrectly, it may form cracks and impact floor performance and longevity.
You'll want your concrete floor to last for years to come and serve the members of your gym without unnecessary repairs. This is why choosing Concrete Craft and our trusted professionals is such an easy choice. Our specialization in flooring, our certified pros, and the wide variety of options from which you can choose makes it easy to choose us for your next concrete project.
At Concrete Craft, we dedicate ourselves to providing high-quality services as your local concrete expert. We guarantee your satisfaction while offering lasting solutions to your gym floor.
We are craftspeople who know the best options when dealing with gyms. Consider us for gym customizations, including color, design, and finishes. Contact us today to get your free quote.