Transform Your Kitchen Floor With Creative Concrete Designs
Last year, kitchen renovations topped the list of home improvements. While it has historically been true that kitchen renos are widely popular, the escalated at-home time due to a Covid world has increased the demand on kitchens and, now more than ever, people want a comfortable, refreshed aesthetic for their spaces that fits the demands of this new lifestyle.
Updated looks from farmhouse to modern
Low-maintenance floors that are easier to keep clean
Timeless designs that allow for future design freedom
Quality and value without breaking the bank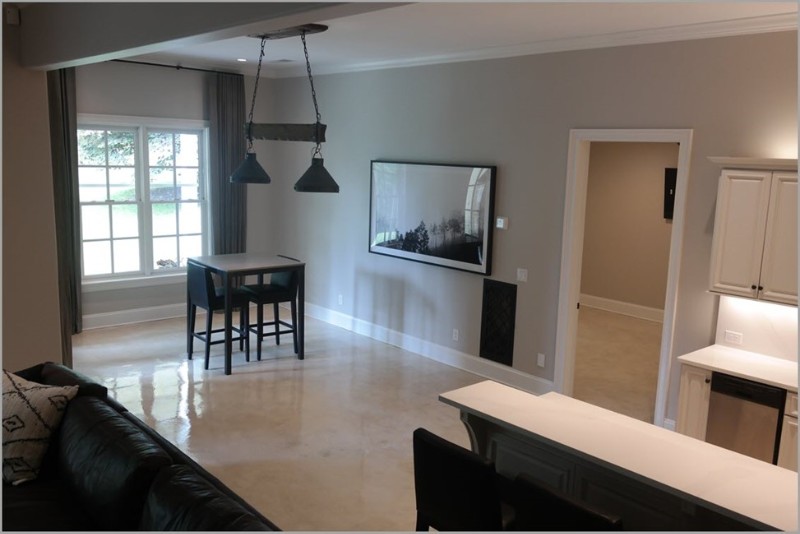 MarbleKoatTM is just one of the decorative concrete resurfacing options to instantly upgrade your kitchen to fabulous
A new kitchen floor can completely transform the space, and a concrete floor design from Concrete Craft® can set the stage for a whole new look and style. With stained and stamped concrete, polished concrete, and concrete overlays, you can select any flooring style you desire. From high-end polished marble and granite to hardwoods and stone, decorative concrete faux finishes can replicate any flooring style for about half the cost of the real materials.
Make the move to marble
Marble is a beautiful choice for a kitchen floor, but impractical for several reasons. The high cost is one major factor as well as marble's tendency to absorb moisture and stains, both of which are prevalent in a heavily trafficked kitchen. But if marble is the cornerstone of your dream kitchen, Concrete Craft can give you the beauty and shine of polished marble with the durability of concrete and a cost you can happily live with. Our MarbleKoat resurfacing system can transform your kitchen floor to look like real marble, but without the hassles of caring for marble, such as daily cleaning and sealing at least once a year for polished marble.
Step up to lasting color and shine
Whether you have a patterned floor that you're tired of or a blah, solid-color floor you'd like to change up, stained concrete is the answer. Dated vinyl and linoleum designs or a faded floor can undermine any modernizing you want for your kitchen. Freshly painted cabinets and new appliances won't make up for the ugliness underfoot. A new stained concrete floor can be the foundation that will make all the other elements in your kitchen pop, with colors and shine that makes everything look new.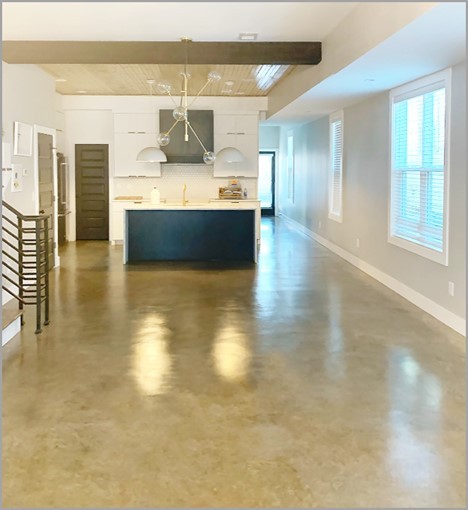 Water-based acrylic or acid-based chemical concrete stains are the most economical way to jazz up your kitchen floor
Concrete stains come in unlimited colors from light to dark to complement or contrast with your kitchen colors.
Acid-based stains react with the concrete, creating a mottled effect for the appearance of polished marble and stone for a very elegant kitchen.
Non-reactive water-based stains produce a more consistent color, ideal for multiple color designs and borders.
Concrete stains impart a luxurious richness with luminous, translucent tones that will never fade, chip, or peel.
Add additional flair with stenciled designs
Tiles are a popular kitchen floor design and with stained concrete and custom stencils, you can have the look of designer tiles without the price tag. The large tile look below is accomplished with two stain colors, integral to the concrete floor with a seamless, surface sealer that enhances and protects the colors and the finish. Stencils can be simple or complex, including vines, geometric shapes, lacy patterns, and layering or overlapping different stencils for added depth and texture.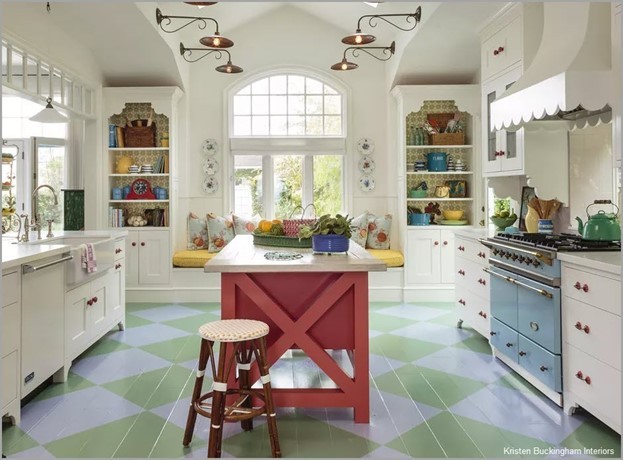 Stenciled concrete designs provide a more economical alternative than tiles or linoleum with unlimited pattern and color choices
Stencils can also create realistic stone and wood plank designs with custom stain colors for authenticity.
Stenciling techniques include applying color directly to the concrete, creating a raised embossed pattern with a thin concrete overlay, or etching designs into the concrete.
A stenciled concrete floor can camouflage imperfections in the floor, eliminating the need for a resurfaced concrete overlay before staining.
Stencils can also be used with polished concrete to incorporate colors and patterns for a truly one-of-a-kind kitchen floor.
Embrace wood in all its glory
For a farmhouse or country kitchen, you can't beat a wood floor. But real wood flooring is quite expensive and not well-suited for kitchen floors where moisture and spills happen. Concrete Craft can bring the beauty of wood to your kitchen floor with stamped concrete or stenciled wood plank designs that look like authentic wood finishes. From smooth wood panels to a more rustic reclaimed or barn wood appearance, real wood stamps create the look and texture of wood in durable, decorative concrete finishes in styles and colors for exactly the look you want.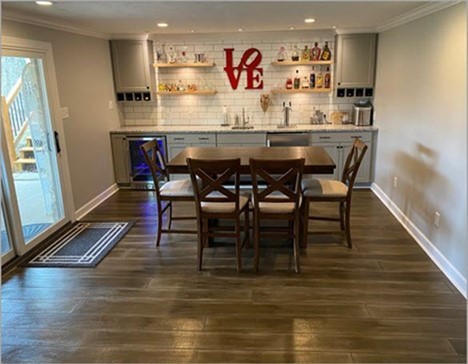 Farmhouse styling in wider and longer planks is no problem with custom faux wood designs for your ideal kitchen floor
Moisture-resistant sealer makes the faux wood design impervious to moisture and spills, the natural enemies of real wood floors.
Hand-applied custom stains emulate real wood tones as well as lighter floor colors like bleached oak or ash and "griege" for a modern twist on classic wood flooring.
Stamped impressions make shallow indentations that won't trap dust and dirt, making the sealed surface easier to clean.
Stamped concrete overlays go over existing surfaces, so installation goes a lot faster and with less mess than laying real hardwood.
The last kitchen floor you'll ever need
The beauty of concrete designs to update your kitchen is obvious but know that a decorative concrete floor is more than just a pretty face. Transforming your kitchen with a new concrete floor offers benefits that will make you smile every time you walk into the room. All our MasterPro FinishTM concrete resurfacing systems and styles give quality and value you can count on:
High-performance floors that will last for decades
Unlimited design potential
High-end looks for low-end pricing
Minimal upkeep to keep floors looking like new
Allergen reducing, resistant to dust buildup, moisture, mold, and bacteria
See how easy it is to transform your kitchen, starting with a new, custom-design concrete kitchen floor! Call 888-852-9244 today or go online to www.concretecraft.com to find the Concrete Craft location nearest you and request an in-home or virtual* design consultation.
*Virtual consultations may not be available at every location
Follow us on Instagram and like us on Facebook for more concrete design ideas.