Upgrade Interior and Exterior Floors with Beautiful Stained Concrete Finishes
Normally when you hear the word "stain," you think of things like ruining your favorite shirt with barbeque sauce in Lexington, the self-proclaimed BBQ Capital of the World, or the trouble you got into eating Flamin' Hot Cheetos on the suede couch as you watched the Denver Broncos stomp or be stomped!
"Stains" can have a very bad connotation, but in the instance of resurfaced and stained concrete floors, stain is a very good thing! Stained concrete floors from Concrete Craft® are one of the most economical ways to upgrade both interior and exterior floors. And, as you can see below in this sampling of popular stain colors, you're not limited to just a few options for creating stylish floors. There is a range of colors and finishes available, from the look of polished marble to an authentic natural stone.
Concrete stains are available in both acid-based and water-based stains, giving extensive design versatility, including antiqued, variegated, mottled, multi-color, or a seamless monochromatic finish. And since we work on existing floors, our jobs go quicker and you can have beautiful new floors in a matter of days!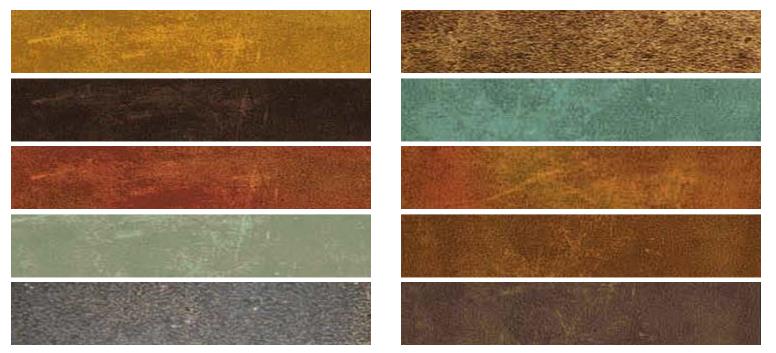 Interior stained concrete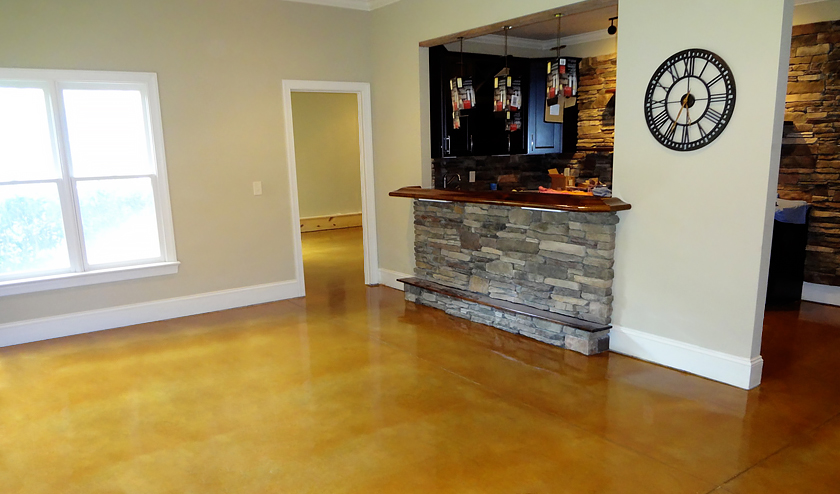 Stained concrete floors can be appropriate for any room in the house. Their durability makes them an excellent candidate for high-traffic areas like hallways and family rooms. The resistance to moisture, mold, and mildew make them ideal for rooms where moisture collects, like kitchens, bathrooms, laundry rooms, and basements. Add low maintenance and easy care and stained concrete floors are a plus for any room!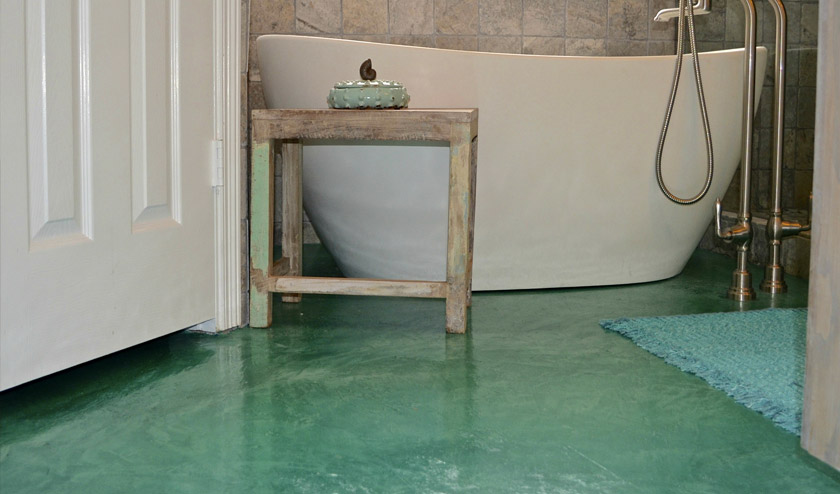 Moisture is never an issue for a stained concrete floor. Spills wipe up quickly and the non-porous surface ensures water will never soak into the floor, inviting mold and mildew. Even tub and shower spills are no match for the industrial-grade finishing sealer applied to this gorgeous Aqua Blue concrete floor.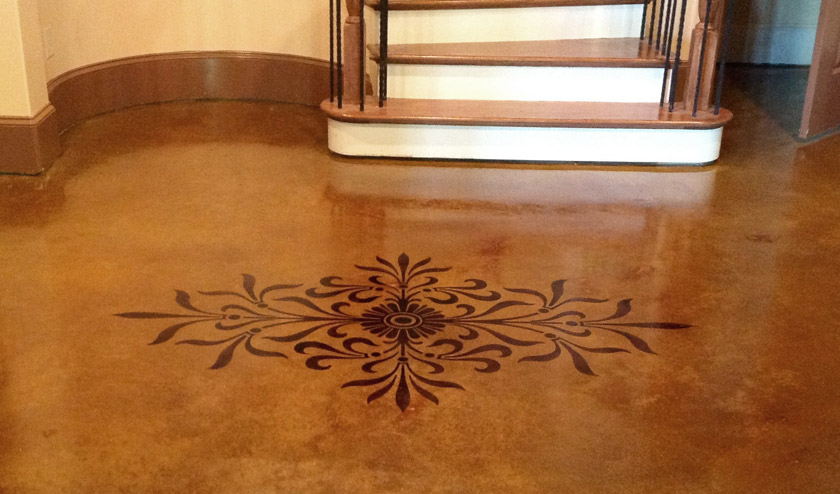 This stained concrete entryway has the added feature of a custom stenciled design adding a touch of glamour and uniqueness to this home. Even with people coming and going, keeping this entryway neat and clean is as easy as dry dust mopping. Since nothing sticks to the finish, a quick sweep is all it takes to whisk away any dust and dirt.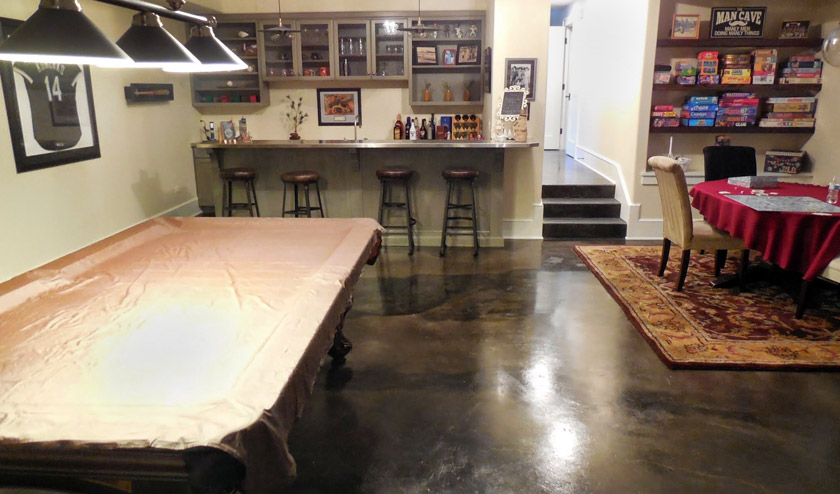 Convert any room into an indoor pub or game room, starting with a custom-stained concrete floor. Doesn't matter how wild the party gets, this floor can withstand spills, drinks, food, the latest dance crazes, and even the family dog hanging out. Concrete Craft's stained concrete floors are guaranteed against cracking, peeling, chipping, and fading so you'll have years of carefree enjoyment.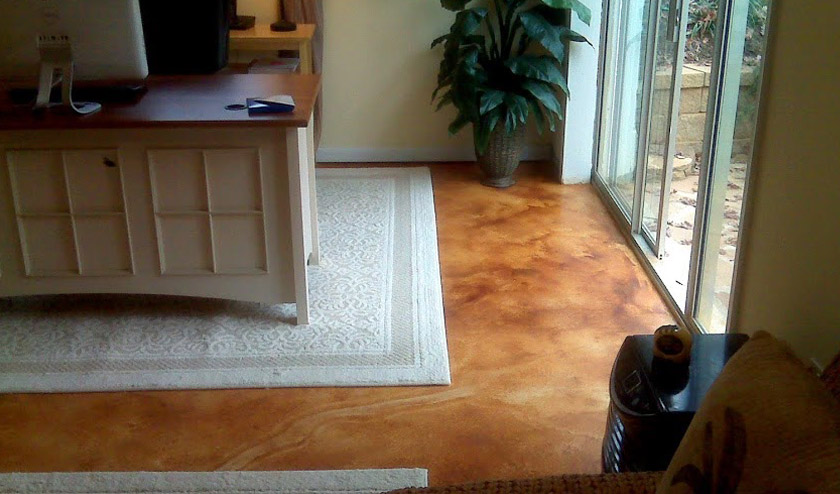 There's no reason to shortchange style in a home office, with a stained concrete floor you can have an elegant design that is both homey and professional. Concrete floors reduce allergens and resist dust and dirt buildup so you can breathe easier during all your work hours.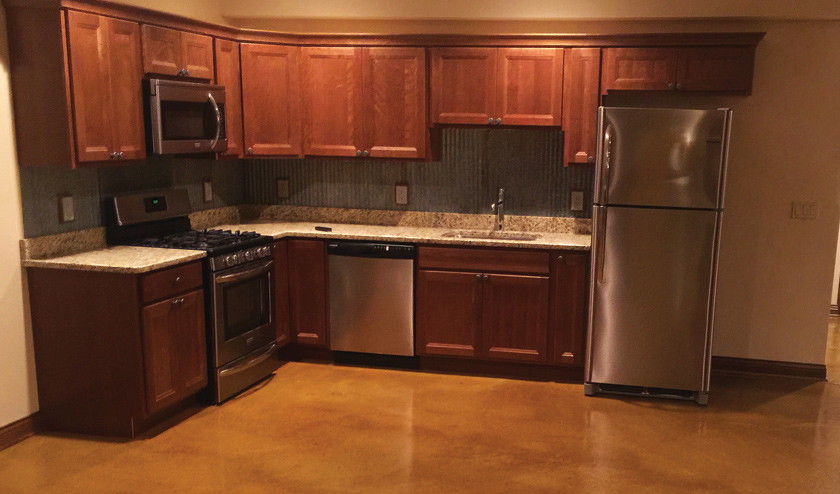 This warm brown stained concrete kitchen floor will remain beautiful despite hundreds of family meals, dropped dishes and pans, marathon baking over the holidays, and kids learning to cook. This floor can withstand just about any assault, requiring only an occasional mopping with a neutral pH cleaner and good floor wax to protect the finish. You can select stain colors to coordinate with other design elements, like wood tones, wall colors, or countertops.
Exterior stained concrete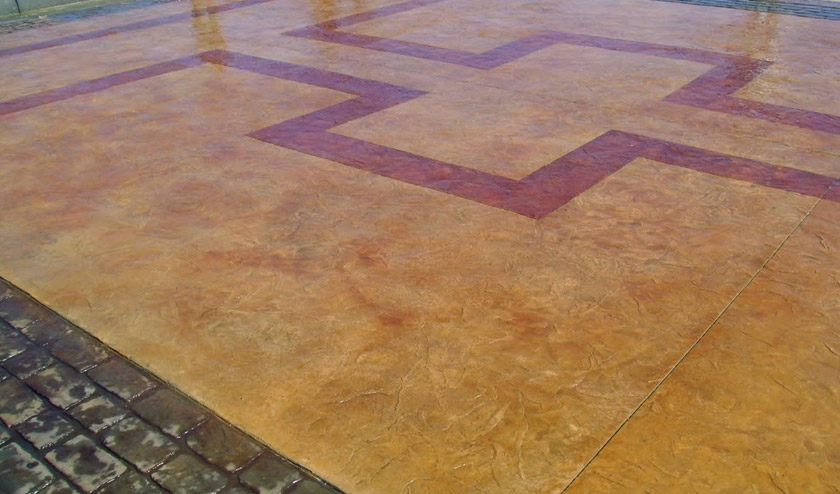 A custom driveway to enhance your home is no problem for Concrete Craft professionals. Stenciled designs and contrasting stain colors create a unique, bold statement. Acid-based stains react chemically with the surface creating a mottled appearance, penetrating the concrete to form a permanent bond that resists inclement weather, including extremely hot or cold climates.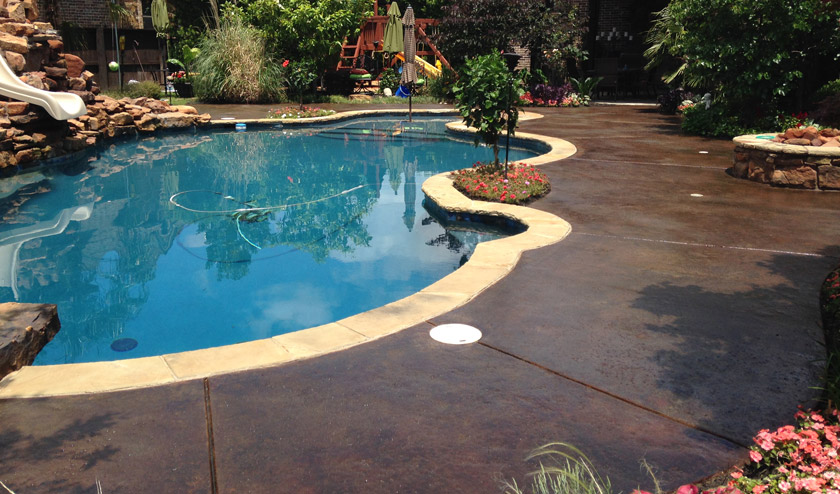 Pool decks are a popular outside use for stained concrete, effortlessly transforming large areas into functional entertainment retreats. Non-slip traction can be added to the process making the area around the pool even safer for children and adults. The dark brown stain gives an earthy feel to this poolside oasis. The heavy-duty sealer resists even harsh pool chemicals so the color and finish will stay true for summer after summer.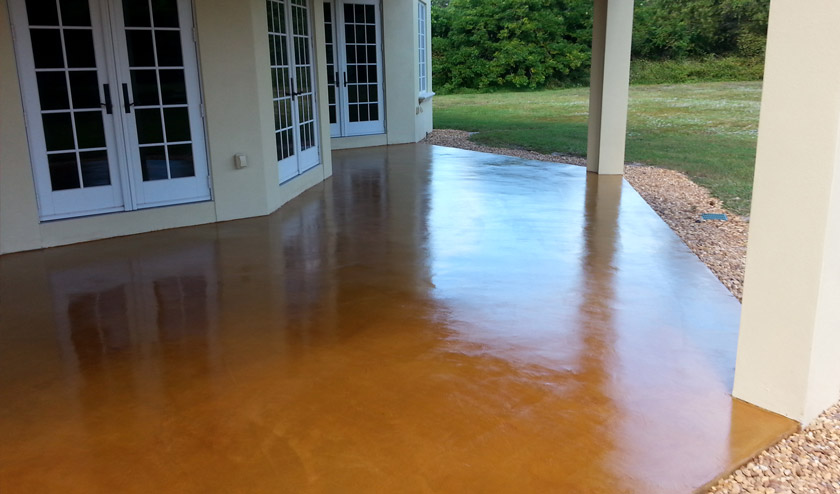 This attached patio is resplendent with a light brown water-based stain giving a smooth, consistent color. Patio furniture, tables, potted plants, and play equipment will never mar the surface, making this patio a favorite hangout for every member of the family. A year-round covered patio with an indestructible floor is like adding a new room to the house.
Commercial stained concrete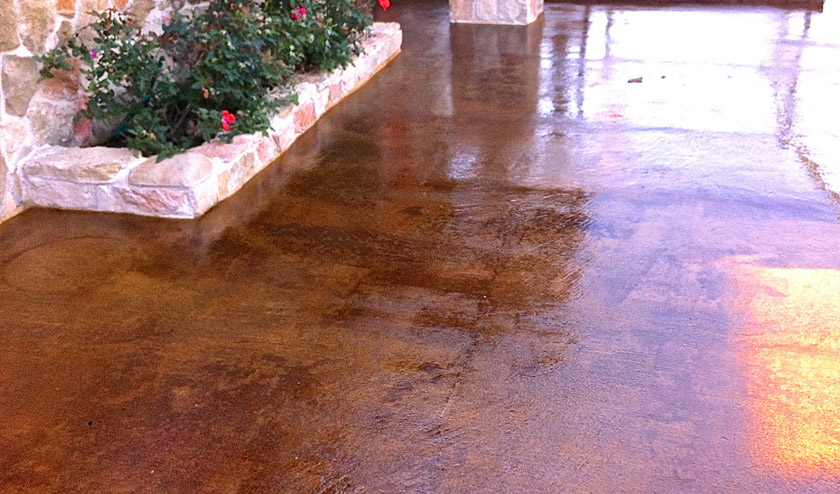 Heavy foot traffic is the hallmark of commercial properties and a stained concrete walkway can withstand external elements like all kinds of weather and lots of activity. With no pavers to shift, stones to lift, or wood planks to wear out or create tripping hazards, your stained concrete external floors will provide safety for customers and enduring beauty for your business.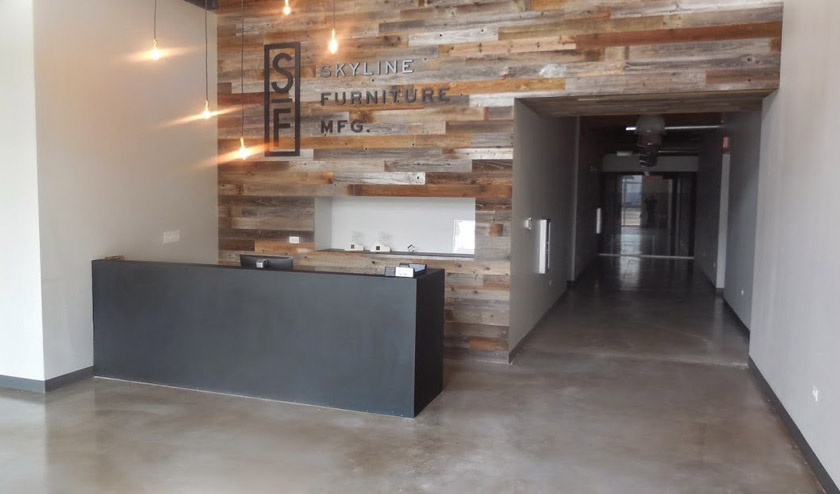 Enhancing natural gray concrete with a concrete stain and shine makes this office reception area trendy and dynamic. A no-mess, no-fuss floor that will remain beautiful and functional for years makes good business sense! You don't face the necessity of replacing the floor every few years like you would with carpeting, wood, or tile.
So don't wait to enjoy the versatility and durability of new stained concrete floors in your home or business. Call today to talk to a craftsman at Concrete Craft who can answer all your questions about stained concrete, stamped concrete, and resurfaced concrete, including our innovative resurfaced faux stone vertical applications. Contact us today or go to www.concretecraft.com to find the Concrete Craft location nearest you and schedule a FREE estimate.