Vertical Concrete Resurfacing: The Rock Star of Faux Stone and Wood Finishes
From caveman to modern man and rock caves to man caves, rock and stone continue to enrich homes with natural beauty, inside and out. We love stone from the tiny pebbles in garden walks to rock walls and giant boulders for landscape design. Indoors, stone fireplaces grace living rooms and bedrooms, and backsplashes and accent walls bring the three-dimensional beauty and texture of stone into kitchens, bathrooms, and more. The versatility of stone means that it's equally at home in a rustic setting or with luxurious surroundings of luxe glam décor.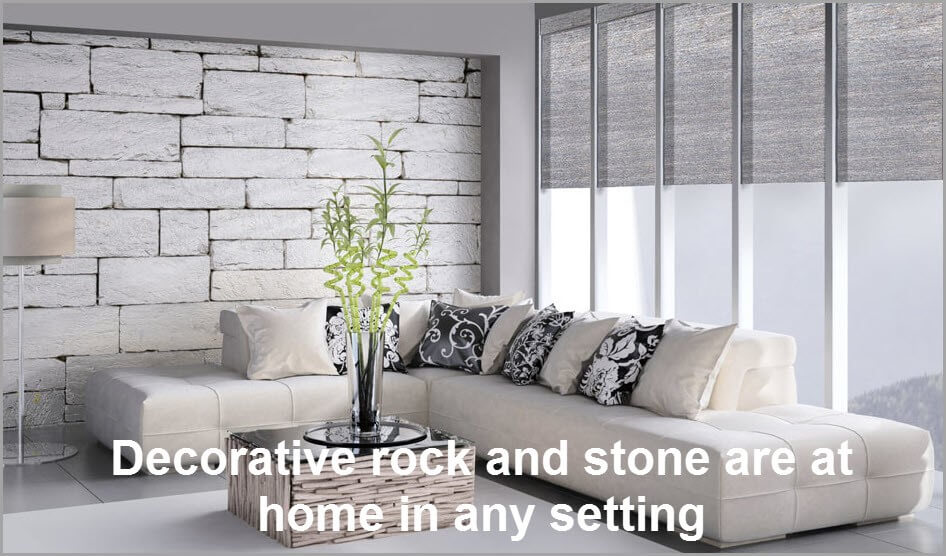 Natural woods are another of nature's beauties that add a special ambiance to any home setting, with styles including smooth oak, rustic pine, and reclaimed wood in colors from bleached wood to dark mahogany. If you've ever dreamed of bringing more of nature indoors but resisted due to cost, installation issues, and maintenance problems, vertical concrete resurfacing is the solution to your decorating dilemma.
Vertical concrete resurfacing is a rock star
Concrete Craft® can bring the beauty of natural rock and wood to your home with our vertical concrete resurfacing system. For about half the cost of the real materials, you can have any room or outdoor space transformed with stamped and hand-cut authentic-looking faux stone and wood plank designs.
Absolutely amazing effects can be achieved with vertical concrete overlays. We can apply our custom overlays over brick, drywall, plaster, concrete, and wood. Our high-strength, flexible polymer overlay product gives 100% contact on vertical surfaces, eliminating voids and gaps that can form behind other stone or wood veneer applications. You'll never have to worry about your new wall coming loose or breaking apart.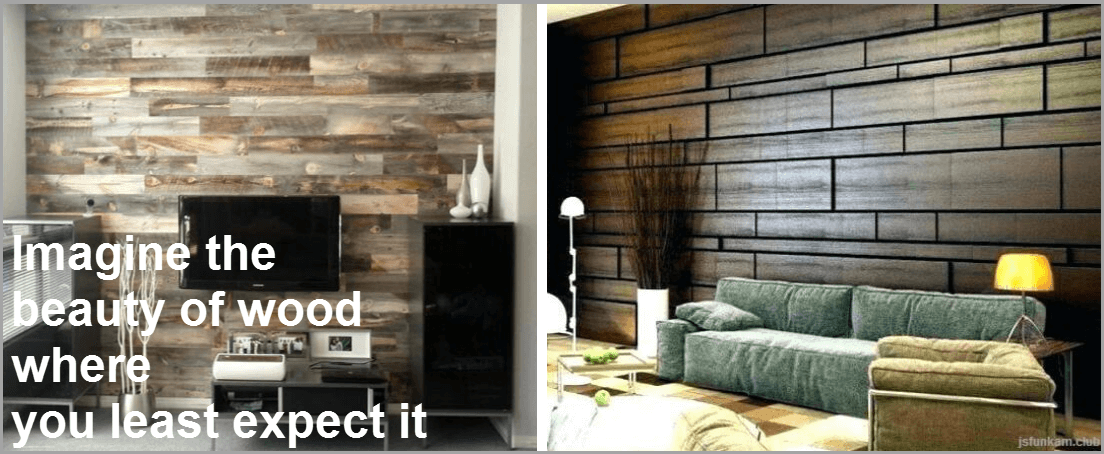 Vertical concrete overlays weigh far less than real rock and stone where weight issues can be a problem above a first floor.
Installation doesn't require cement trucks and rock haulers or jackhammers for demolition, we overlay existing surfaces.
Since it's all created onsite, custom design and color are practically limitless for any stone or wood style, including rare rock colors and a wide range of wood tones.
We can replicate Castle rock, Mountain drystack, sandstone, limestone, Orchard stone, and Cobblestone as well as multiple wood plank styles from narrow to wide planks.
There's never the problem of buckling wood planks or the inherent damage to wood, including gouges, scratches, dents, and dings.
Enjoy durability, style, and easy maintenance from the industry-tough, non-porous sealer that resists moisture, mold, and bacteria, stains, chipping or peeling.
Transform interior walls effortlessly
Moisture is often a problem with any kind of veneer, weakening adhesives, deteriorating grout lines, and causing the wood to expand and contract, depending on humidity and temperature. Vertical concrete resurfacing eliminates all those problems with 100% contact to the applied surface and the moisture-resistant quality of the continuous, seamless concrete overlay. Your faux stone and wood panel vertical concrete finishes will stay intact for years of worry-free beauty.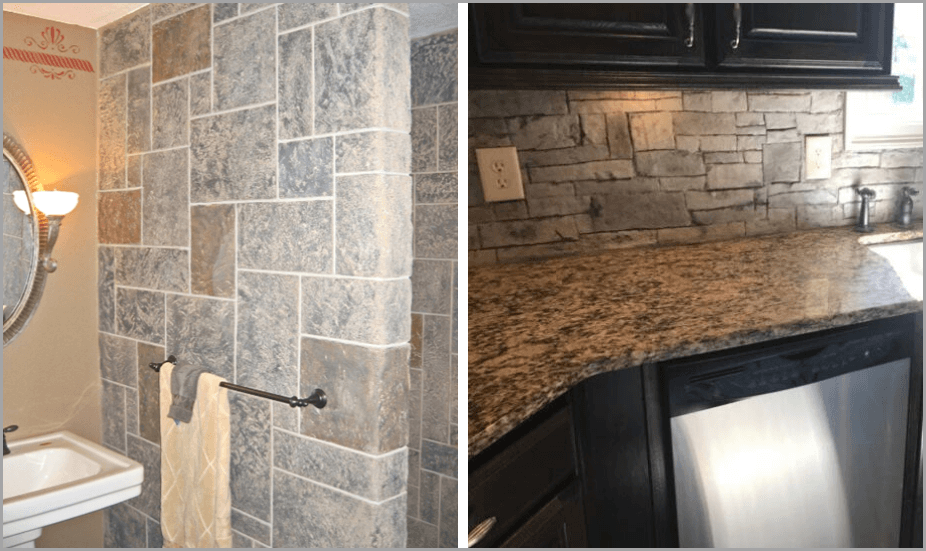 Wrap your shower in the elegance of hand-carved limestone for a spa experience every time you shower.
A faux-stone backsplash can upgrade any bathroom or kitchen to designer status.
Sealed overlays resist moisture, so you can safely have the elegance of stone or wood in rooms where humidity is normally a problem.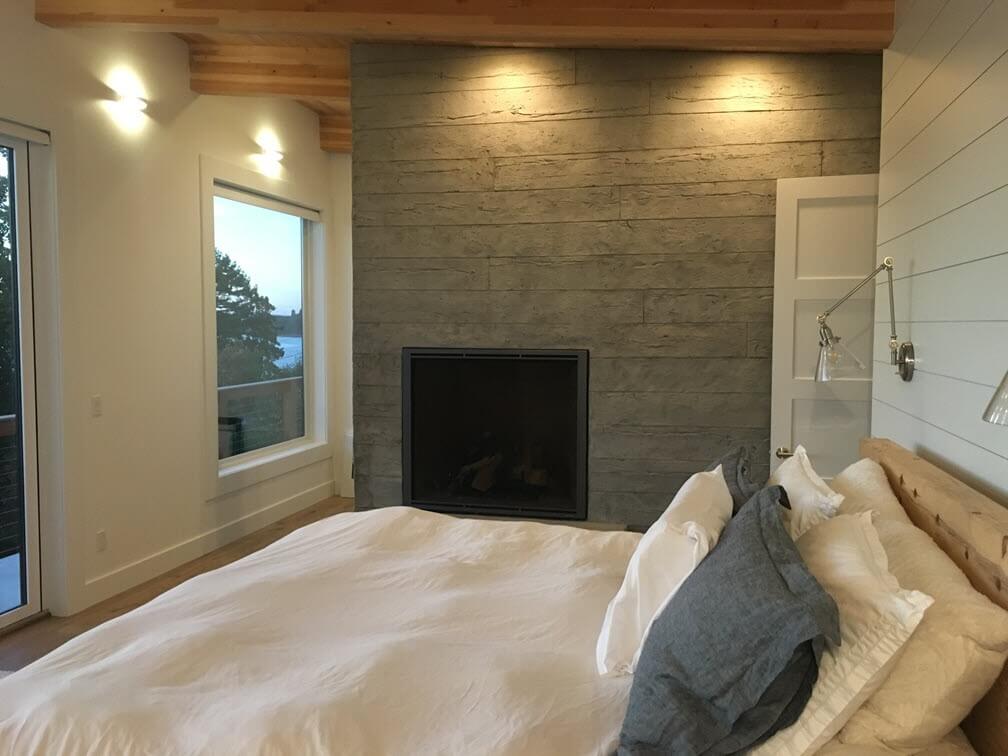 Create a one-of-a-kind master bedroom with a stamped, reclaimed wood plank wall.
Highlights the fireplace, giving it a greater presence in the room.
The real look and texture of wood without any of the problems.
Create a rugged ambiance in a basement or man cave with a faux stone accent wall that sets the mood for fun.
Tough enough to resist cigar smoke, missed passes, and the occasional touchdown drink spill.
Provides excellent soundproofing for when the games get really exciting.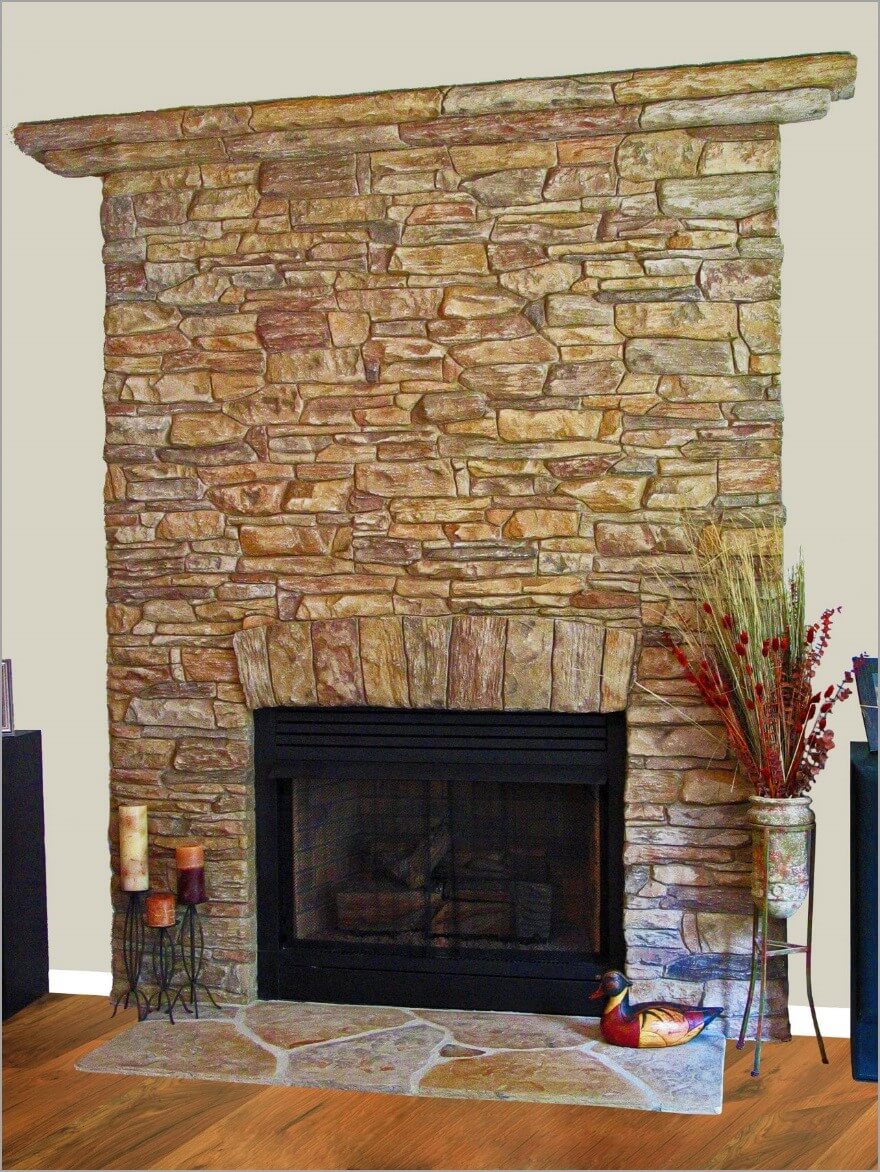 Reface and update an existing fireplace with faux stone vertical concrete resurfacing.
Add height or width to completely change the look of a fireplace by extending the overlay.
Never have to scrub smoke and soot off the walls again, the sealed overlay surface is easy to clean with a mild, neutral-pH cleaner and cloth.
Vertical concrete overlays for exterior enhancements
Outdoor surfaces are even more exposed to moisture and harsh weather conditions, but our vertical concrete overlays are durable enough to withstand every season. Both faux stone and wood plank finishes can transform outdoor vertical surfaces from house and garage siding to seat walls and retaining walls in the yard.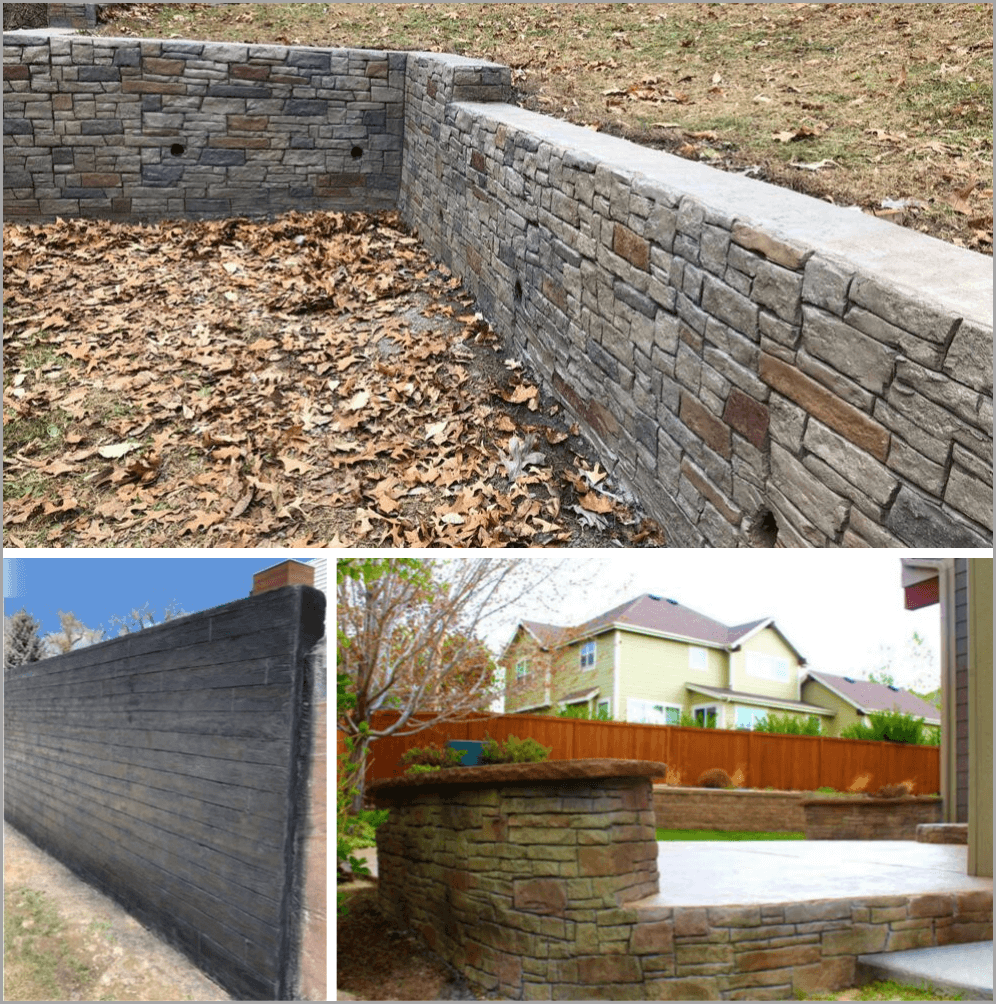 Faux stone retaining walls will never have "stones" dislodge or grout crumble.
Faux wood won't wear down, splinter or warp like real wood does over time when exposed to the elements.
Enhance patios with faux stone elegance for seat walls, garden enclosures, and resurfaced steps.
Concrete Craft® can bring the beauty of real stone and wood into your home with vertical concrete resurfacing to transform walls, shower stalls, indoor and outdoor fireplaces, backsplashes, and other vertical surfaces into realistic-looking finishes. Our custom-coloring system lets us create a durable and realistic stone or wood facade to complement existing outdoor hardscapes as well as your home's interior design. Contact us today or go online to www.concretecraft.com to find the Concrete Craft location nearest you and request a free, in-home consultation to see how faux stone and wood finishes can enhance your home with unique style.
Check out our MasterProTM Product Catalog to see how we also repair, restore, and renew concrete surfaces with stained, stamped, and resurfaced decorative concrete for driveways, patios, walkways, pool decks, interior floors, and more.