Vertical Decorative Concrete Overlays for Stunning Interior Walls
If your interior walls could use some sprucing up, you may be thinking a new paint color, wallpaper or even some kind of paint-on/spray-on wall texture. But you'll still end up with a flat wall…
If you really want an amazing new look, consider a faux stone vertical concrete overlay to accent your interior walls and surfaces. It's definitely a bold move, but it's one that has worked beautifully for destination hotels that promote themed rooms, designed to make a dramatic statement.
Neither the Legoland Hotel adventure-themed room in Florida nor the Camelot Room in Stone Castle would be as impressive without the stonework. The gorgeous vertical stone absolutely makes each room! And before you start thinking of mortgaging the kids to get your wine cellar redone with English cobblestone to add some Old World charm and authenticity, you should know that Concrete Craft® can update vertical surfaces with decorative concrete overlays for about half the cost of the real thing.
Update vertical surfaces in bathrooms and kitchens
A popular trend today is to convert an ordinary bathroom into a spa-like setting, with luxurious ambiance and style. Additionally, kitchens are becoming gourmet centers and demanding celebrity chef opulence. A faux stone vertical concrete overlay in a hand-cut and custom-colored design can bring a touch of elegance to any room with accent walls, tub and shower surrounds and kitchen backsplashes with the look of authentic stone.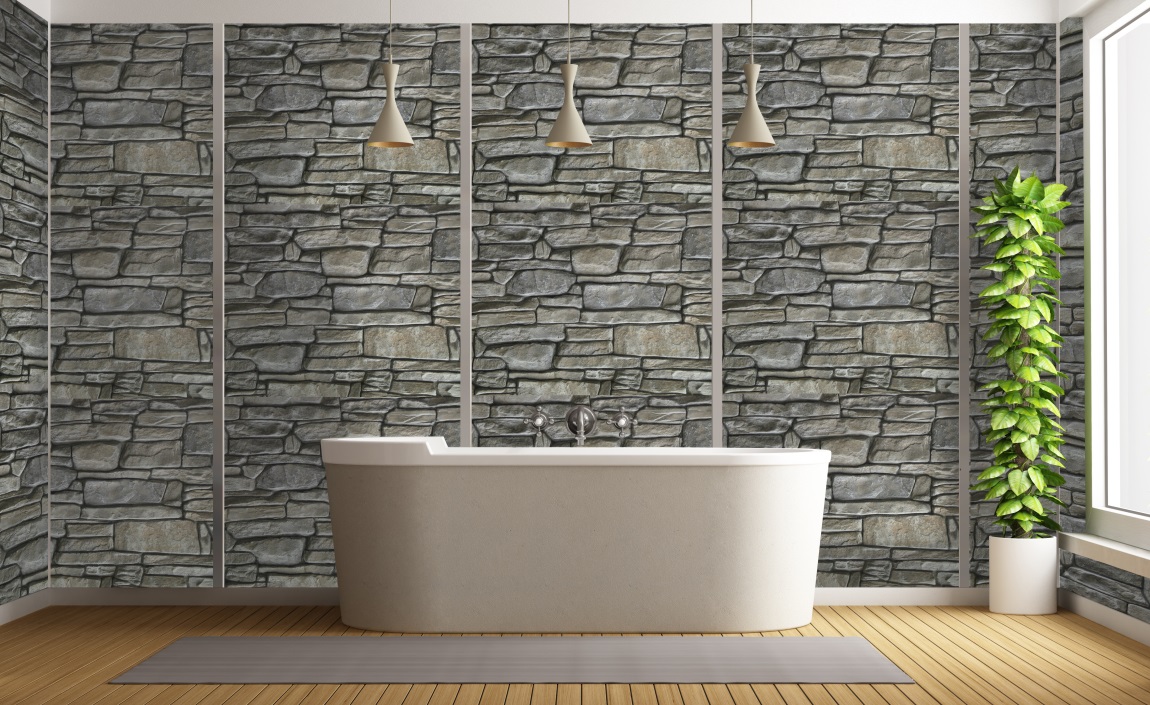 A Mountain Dry Stack faux stone vertical concrete overlay creates an instant natural setting for this soaking tub. Bringing the outdoors in with the look of real stone completely transforms the space for the ultimate in relaxation.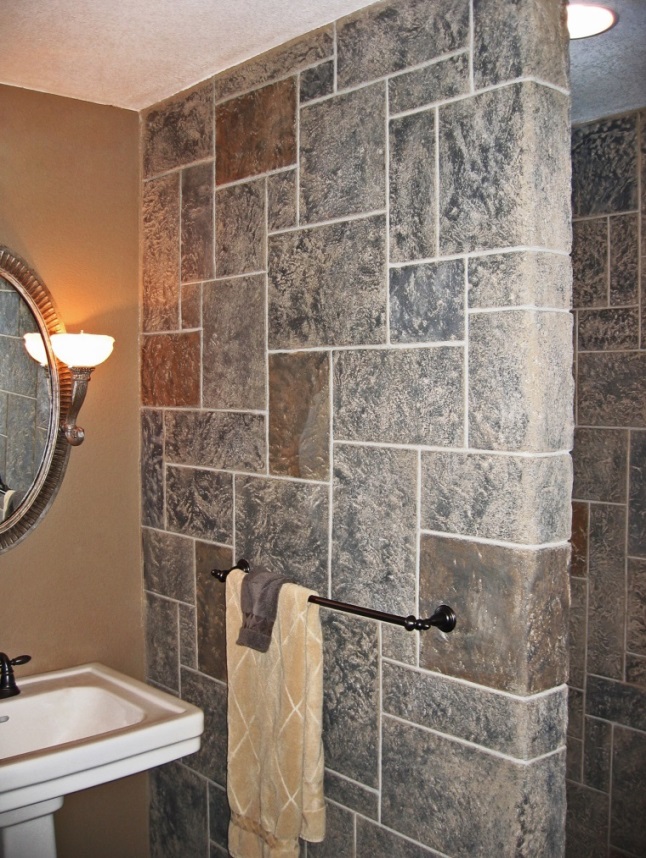 Hand-cut and custom-colored textured limestone transforms this bathroom from ordinary to extraordinary. Despite the look of grouted stones, the concrete overlay is a non-porous surface, sealed against moisture, mold and bacteria, ensuring a cleaner, healthier bathroom or shower that will never need regrouting.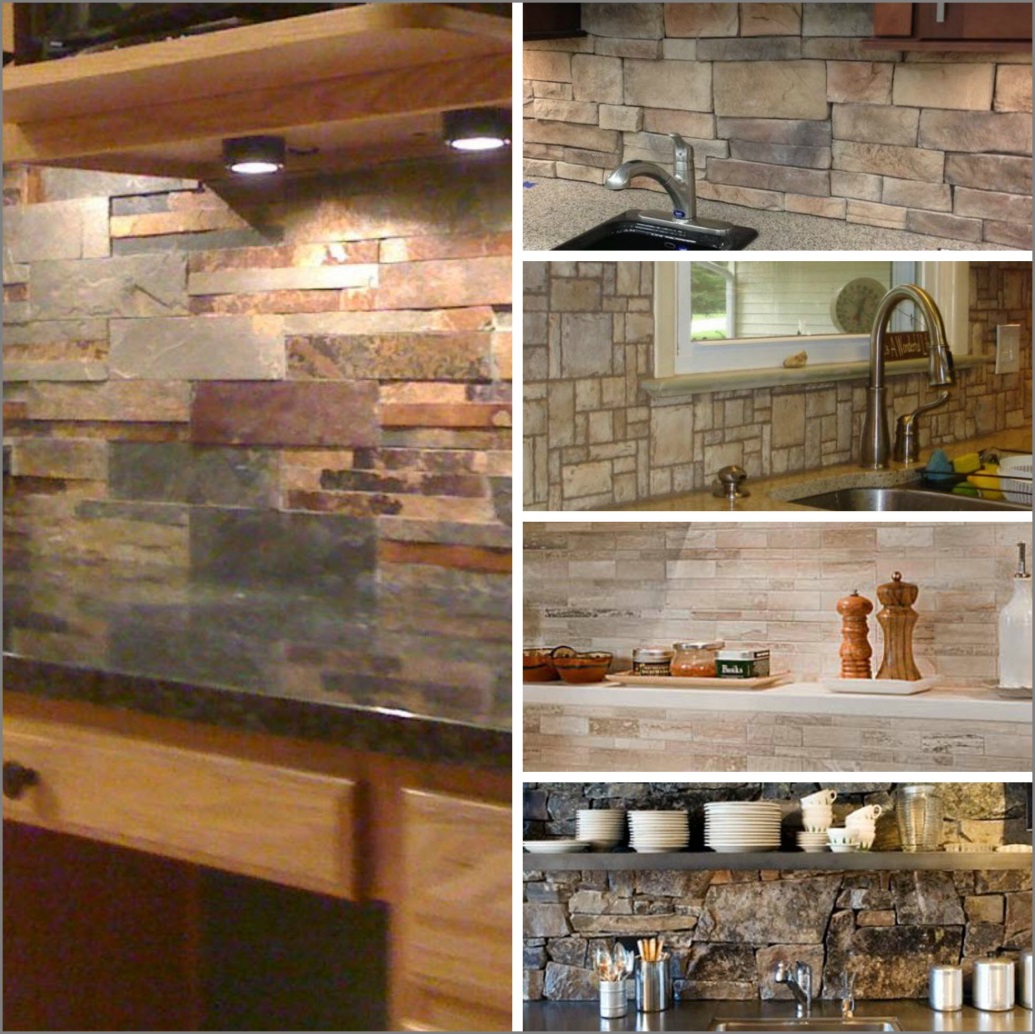 Custom backsplashes over sinks and stove tops are the height of home fashion for kitchens and bathrooms. With a resurfaced concrete overlay replicating natural rock and stone, you can create amazing spaces with easy-care, durable surfaces that will last for years and years. With Concrete Craft you can choose Castle rock, English cobblestone, limestone, slate, random stone, brick and more.
Decorative concrete fireplaces and accent walls
Bringing a natural, earthiness into your home is as easy as refacing your fireplace with a faux stone decorative concrete overlay. A fireplace is usually a focal point in a living room, master bedroom, family room or kitchen, so a new look of stone can open up unlimited design possibilities. The natural texture of stone can be a complement to other textures in the room such as woven bamboo rugs and industrial chic accessories in wrought iron or unfinished metals. Or create a stark contrast to the hardness of the stone with rich, lush curtains, pillows, soft fur throws and shiny metallic accessories in gold, bronze and silver.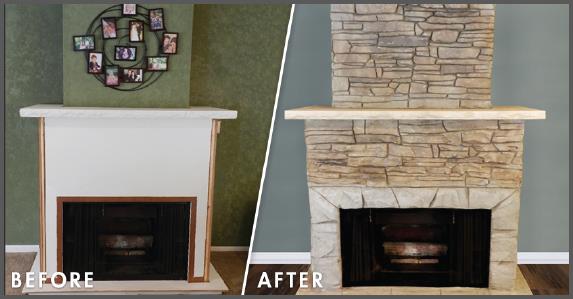 Imagine the design possibilities that this new "stone" fireplace creates! It warms up the room and invites comfort, including overstuffed chairs, a knitted afghan, fluffy rugs, candles and wood tables and bookcases for a traditional setting.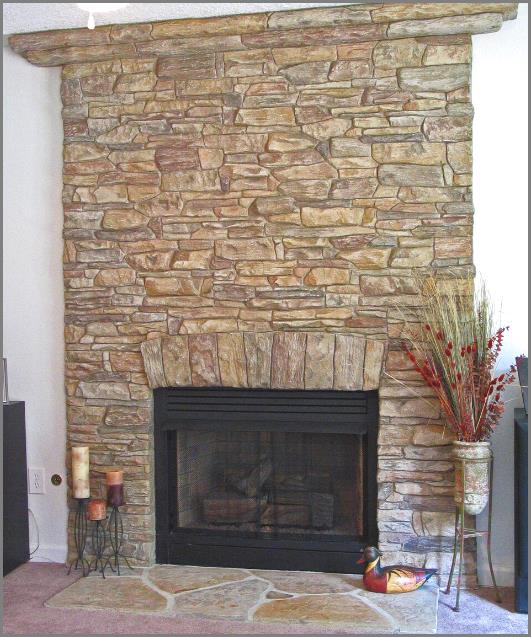 Here, wrought iron accessories add a modern flair to this Dry Mountain Stack resurfaced fireplace. Leather couches and metal lamps would feel right at home with this fireplace design. Finish off the room décor mirroring the neutral colors of the stone, or add pops of contrast with bright-colored decorative pillows and rugs in solid colors or geometric shapes.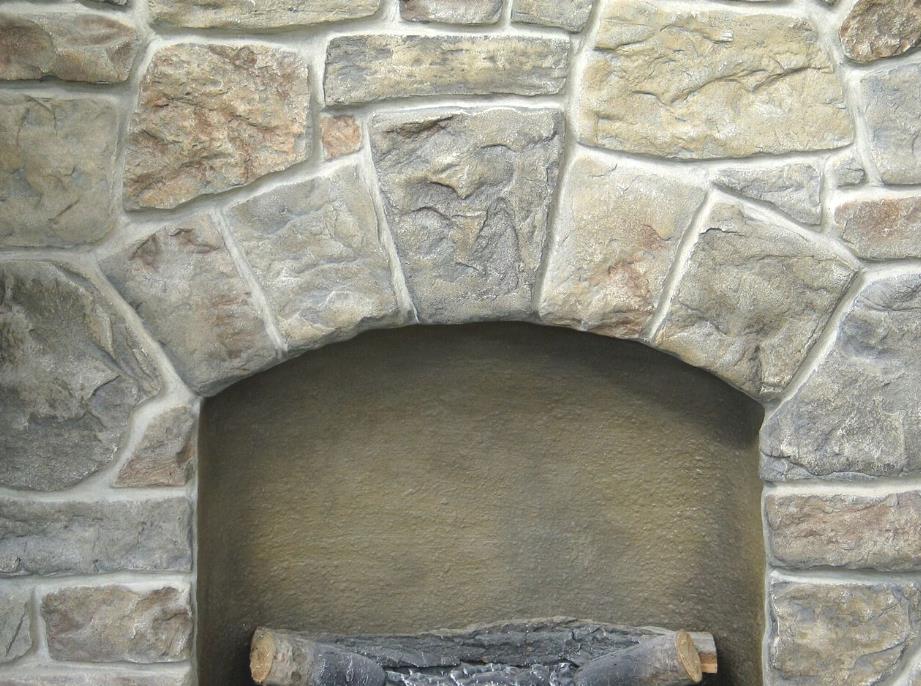 A Castle rock faux stone hearth can transform a room into a dream castle, the great room from your childhood camp days around the big fireplace, or set the stage for creating the ultimate man cave with some macho stone work to enhance the big screen TV, sports memorabilia and man-sized recliners!
This custom faux rock resurfaced concrete overlay accent wall could be the style-setting element that you've been looking for to transform a basement, game room, family room or even an outside sunroom or patio. With Concrete Craft, you can have the beauty and durability of rock and stone anywhere in your home.
Trust the professionals at Concrete Craft
With Concrete Craft you experience a level of expertise and craftsmanship not available with other decorative concrete companies. We use proprietary processes and products that ensure your one-of-a-kind vertical concrete overlay design will delight you for years to come.
Vertical overlays can be applied over wood, drywall, plaster, brick and concrete
Our fiber-enriched sand overlay mix creates a realistic stone surface
Hand-cut stone shapes give the look and feel of natural stone
Practically limitless custom designs and colors
Work and materials have a two-year warranty
Vertical concrete overlays cost far less than natural stone and masonry work
We are the experts with stained, stamped and resurfaced decorative concrete for vertical surfaces as well as interior floors and exterior patios, pool decks, walkways, driveways and more. Additionally, we have years of experience with commercial properties, transforming offices, hallways, reception areas, storefronts and more.
You can trust the professionals at Concrete Craft for both home and commercial projects. Call 866-813-3699 today or go to www.concretecraft.com to find the Concrete Craft location nearest you and request a FREE estimate.