Why Decorative Concrete Is Not A Good DIY Project
DIY projects have two major things going for them.
Saving money
Satisfaction of doing it yourself
However, with DIY you're not always assured of the outcome, especially if it's a new process or project you've never done before. One proud online serial DIYer made the comment, "It's probably a good idea to eliminate the word perfect from your appraisal of your finished project since success is all about completing the project so that it is of acceptable quality and without hurting yourself."
Such a low expectation might be okay for something like building a birdhouse or refinishing an end table, but it's hardly the level of success you'd want from an important project like refinishing concrete floors, a patio, or driveway! That should be left to the professionals at Concrete Craft®.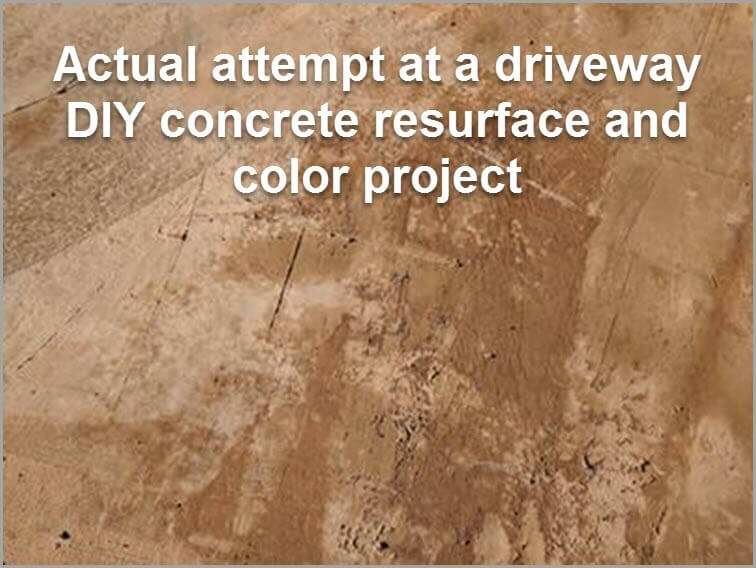 What professionals know that you don't
There's much more to refinishing a concrete surface or installing a decorative concrete overlay than just laying down a product on top:
The composition of the concrete slab itself can impact the result.
The condition of the slab may require more than just resurfacing.
Preparing it to effectively take concrete stain or a concrete overlay is crucial.
Selecting the appropriate products to use for the best result.
Those innocent-sounding steps actually have volumes of knowledge and expertise behind them that will impact the final outcome of any concrete repair and resurfacing project. No amount of online research and viewing how-to videos on YouTube can replace years of experience.
We know how to evaluate the composition of the existing concrete slab and select the proper products to use to avoid adverse chemical reactions.
We can make repairs to cracks and imperfections in the concrete surface that will not impact the performance of the overlay treatment.
A properly prepared slab allows the concrete overlay and/or stain colors to bond with the surface for permanent adhesion and will not fade, chip or peel.
We have the proper knowledge and equipment to install the right concrete mix overlay as well as select and properly apply the right stain and sealer to protect the finish.
We can offer unlimited design potential with stained, stamped, and resurfaced decorative concrete products from our exclusive, industry-tough MasterProTM line.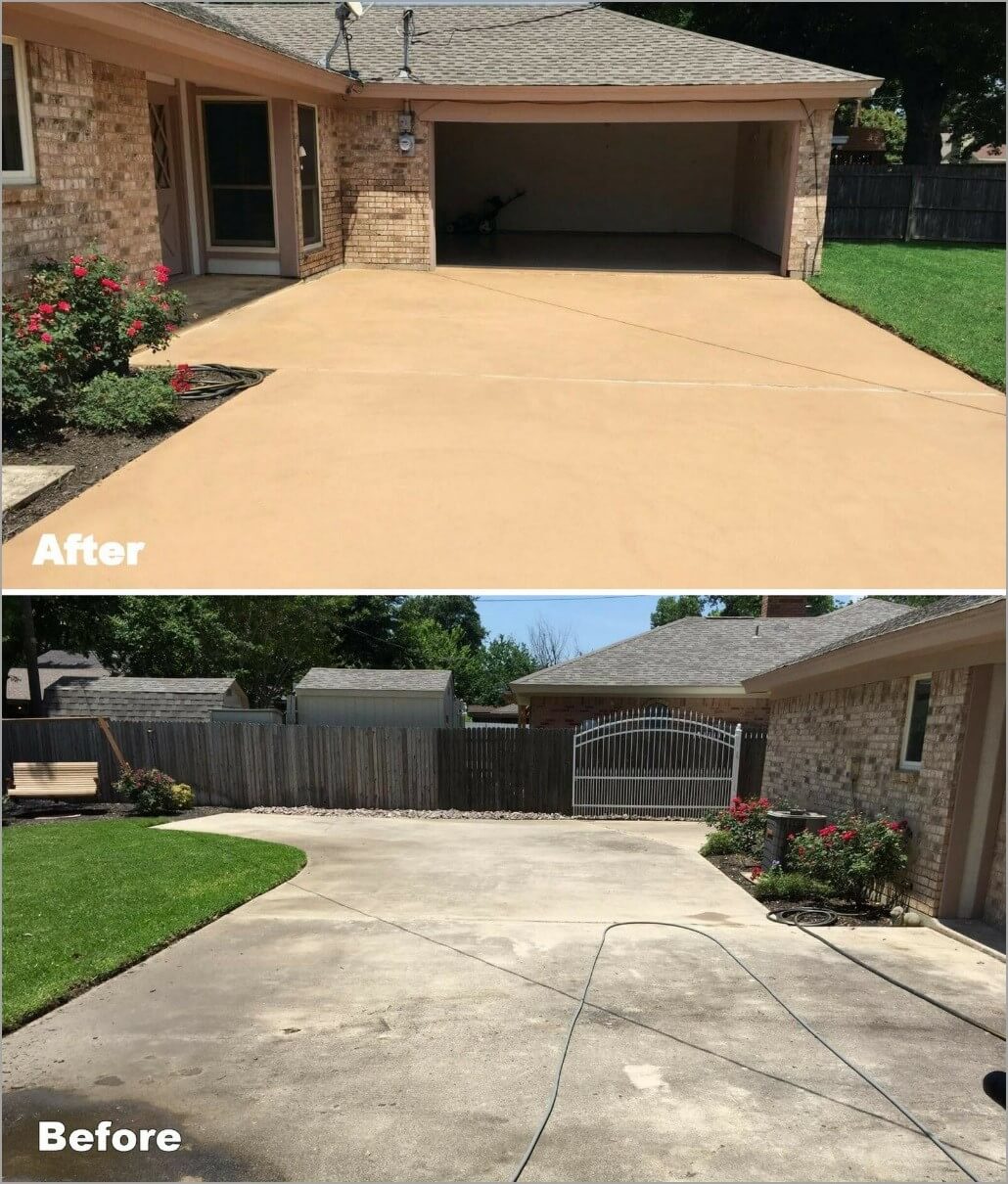 True-life DIY experiences with concrete resurfacing
While not every DIY experience is bad, there is a high percentage of negative reviews when it comes to resurfacing concrete floors, driveways, and patios. Inexperience, product quality, and incomplete or inaccurate instructions account for such a high degree of failure with novice or experienced DIYers. Here are real-life DIY experiences using several different concrete resurfacing products from well-known, big-box home improvement stores:
"Ended up calling product rep, and he asked if we had used an adhesive before coating. I said no as the directions did not call for this. He said it's usually a good idea to use an adhesive on old concrete. He also recommended applying a sealer after a few days (So why is this info NOT in the instructions?) We have a bigger problem now than when we started."
"Was very happy with the finish but it hasn't held up. It started cracking and is now washing off with the rain."
"It has been several weeks since we did this project. We have developed a couple of small cracks in the new surface which we will fill. We also have one place that we will need to redo completely because it is breaking into chunks."
"It's a bad product. I used it a couple of years ago and had the same experience. I tried it this year and hoped it had been re-formulated and that it would produce better results. It didn't."
"When I poured it on the concrete, it looked great. I did clean and prep the concrete. At first, it was nice; after a while, it is peeling off."
"Looks very good. Needed 4x as much as they say it covers, even after I repaired the spalled surface first. Too early to say how long it will last."
"After ruining two buckets (with the hardened product) and burning up a good drill, was able to achieve a good flowable mix. However, the product literally thickened within minutes. Now I have two slabs at the end of my driveway covered in what looks like a clay pot hit-n-run massacre, and it is hideous!"
"Most of the bags I bought had hardened material in them. This made it impossible to mix properly and resulted in a mismatched job resembling a patchwork quilt. The engineer representing the company said that the product should have been returned rather than used."
"I decided to use the concrete resurfacer and do the entire garage floor. Big mistake, very hard to keep a consistent thickness using a squeegee and it turned out very rough. Spent the entire next day trying to remove the product."
"So far it seems to be working okay. I'll have to wait and see how it holds up during heavy rain."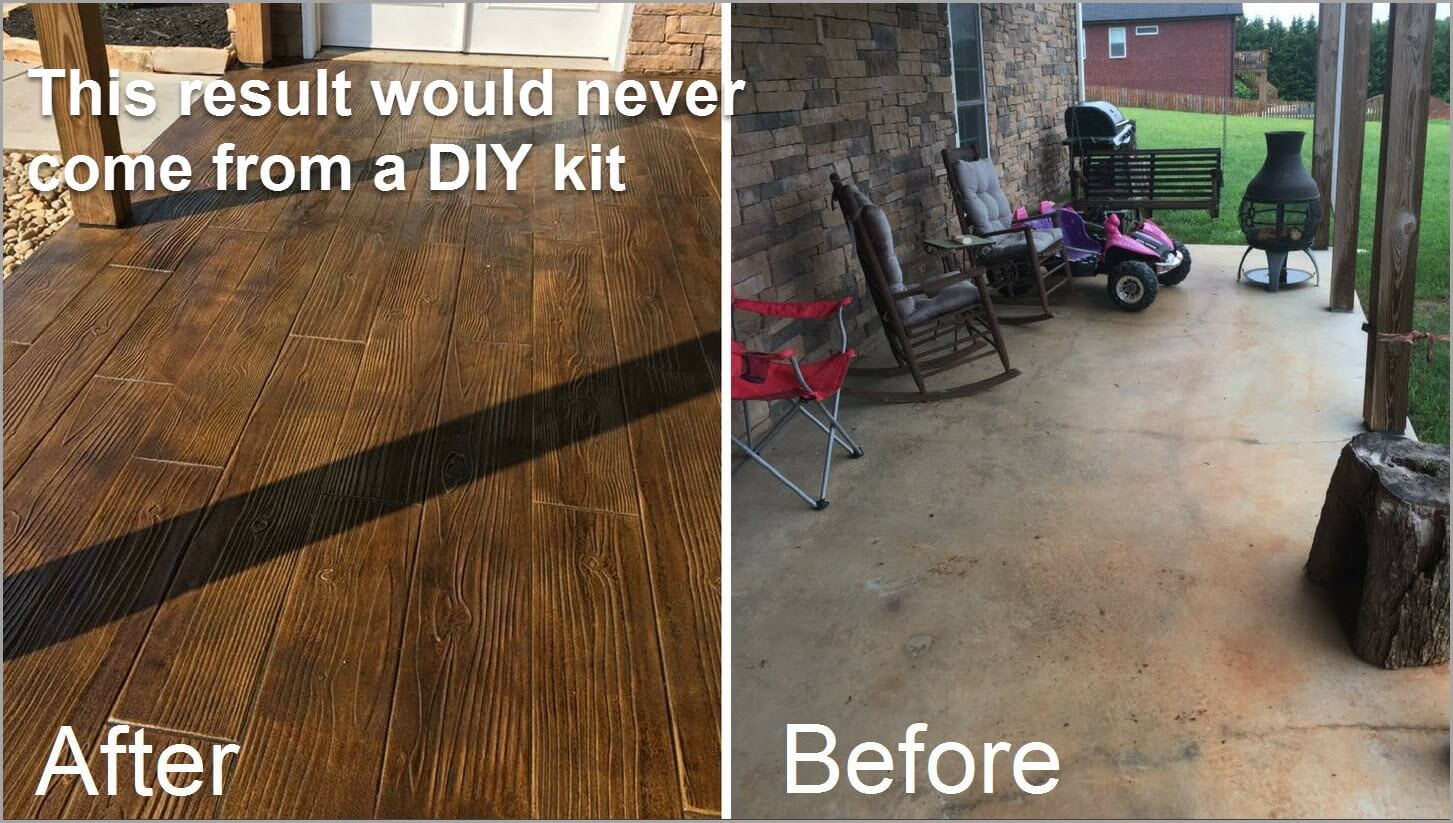 No shame in letting the professionals do it
Even avid DIYers need to know when it's best to step aside and let the professionals do it. Decorative concrete and concrete repair and restoration fall into that category. With Concrete Craft, you're assured of getting the job done right the first time, and you can expect—and receive—a superior finished product in appearance, durability, and value. Other benefits to calling Concrete Craft:
We can anticipate problems and know how to avoid them.
You'll have a bigger choice of finishes with stained, stamped patterns, and hand-carved and custom-colored decorative concrete designs.
We can match any décor or landscape architecture in style and color.
You don't have to cross your fingers or wonder if the finish will "hold up" over time or in the rain.
We'll get the job done in a fraction of the time it would take an inexperienced DIYer.
When compared side by side, the quality of our concrete mixes is simply better than anything else on the market.
No settling for "acceptable quality." You will have an extraordinary result!
Do yourself a favor and turn concrete repair, restoration, and enhancement over to the professionals. You'll be glad you did! Contact us today or go online to www.concretecraft.com to find the Concrete Craft location nearest you and request a FREE consultation. You can trust Concrete Craft to deliver on the promise of a decorative concrete project you will absolutely love! Check out our digital product catalog and see what we can do with distressed concrete, including vertical concrete resurfacing for retaining walls and other vertical surfaces.