Why Stained Concrete Is The Floor Of Choice For Discerning Homeowners
Installing new flooring is a big investment and changing up one's floors can come about for various reasons:
As part of a whole-home renovation when it's time for a change.
Replacing damaged flooring after flooding or other catastrophe.
Upgrading existing flooring, such as worn carpet, hardwood, or tile.
Making a new home your very own with custom flooring for more style and panache.
If you're in the market for new flooring in your home, stained concrete floors may be the style upgrade you're looking for. For design versatility, durability, added value, and economy, you can't do better than custom stained concrete floors from Concrete Craft® to fulfill your unique design goals for every room in your house.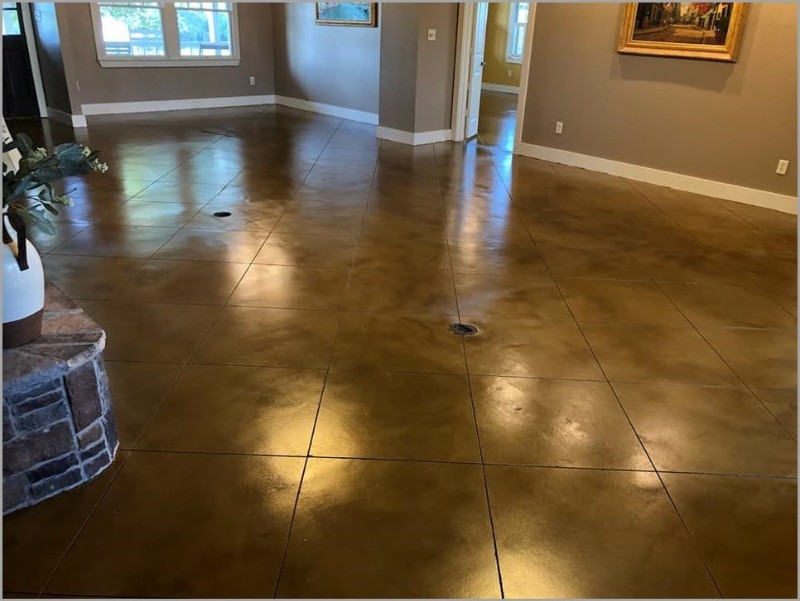 Stained concrete and decorative saw cuts create the look of oversized tiles for this basement floor
Stained concrete floor ideas include:
Staining the existing concrete floor with vibrant color.
Installing a resurfaced concrete overlay to "save" a damaged floor.
Layering on multiple concrete stain colors for antiquing, marbling, and metallic effects.
Incorporating stencils and borders.
Stamped concrete overlays for the authentic look of stone or wood floor finishes.
A shining example of modern style
If you've been disappointed with traditional floor coverings that have dulled and lost their sheen over time, you can count on stained concrete floors to retain their vibrant color and brilliant shine for years. Concrete stain can be applied directly to an existing slab that is in good condition for translucent color that lets the character of the concrete show through. A damaged floor from removing old flooring can be covered with a microtopping concrete overlay before stain is applied to hide imperfections and discolorations for smooth staining with long-lasting, fade-resistant color.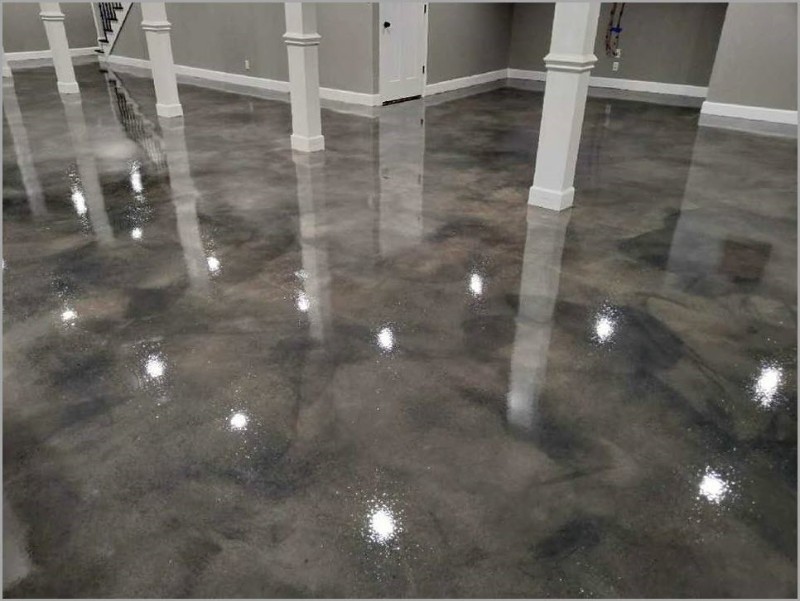 This beautifully marbled gray stain concrete floor sets up the great room for any style of décor from traditional to ultra-modern industrial chic
All our MasterProTM concrete stains wick into the concrete for a permanent bond so there is never any peeling, chipping, or fading.
Acid-based stains react chemically with the concrete surface to create variegated or marbled effects that can mimic polished marble.
Water-based stains have no chemical reaction with the concrete floor and create a predictable, consistent color for a solid floor or incorporating multiple colors.
Concrete floor stain colors are unlimited
Custom stained concrete floors can be any color from light shades to rich, dark tones. You're not limited to colors selected by the buyer at your local home improvement store, our craftsmen can mix specialty stain colors to ensure you get the floor you want. Possibly a little more of a blue tint in the gray or a touch of gold in the brown? No problem!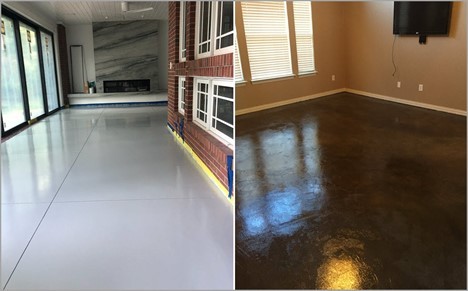 Set the ambiance for every room with stained concrete floor colors you love
Stained concrete floors can unite spaces with one color throughout or differentiate rooms with unique but complementary colors.
High sheen or a satin finish will help to accomplish the look you want in every room.
Stained concrete will provide decades of care-free functionality, with no worry of having to replace the floor every few years like other flooring options that wear out.
Borders and stenciled designs when a little extra color is desired
Adding stenciled patterns to stained concrete floors can create interest, style, and texture with intricate designs and artistic details. Stencils provide a more economical alternative than decorated tiles in rooms where "something more" is needed. Create a focal point, stencil a border to dress up a small room, choose a subtle over-all design like the lattice pattern below, or create drama with bold, geometric shapes and contrasting colors.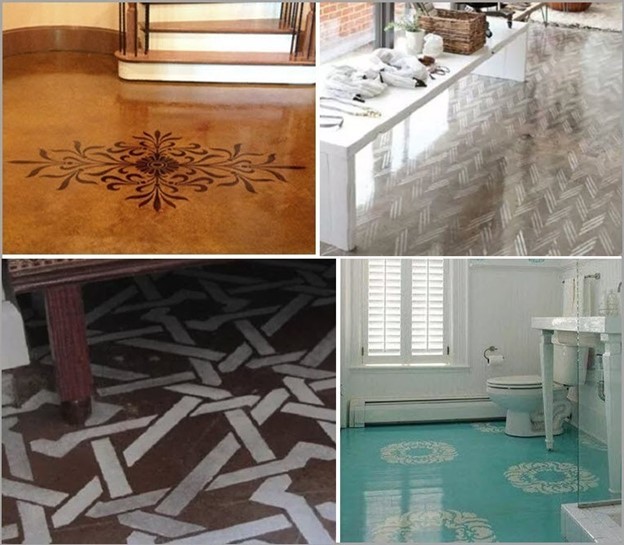 A stenciled floor can add a designer look to your space with subtle or dramatic patterns to perfectly suit your taste
Stencils are an integral part of the floor design and will not peel or fade from time or traffic.
Stain colors are hand applied for precision, so the result is truly a one-of-a-kind work of art.
Three types of stencil effects include applying color directly to the concrete, creating a raised, embossed pattern with a thin concrete overlay, or etching designs into the concrete.
Stamped concrete designs come alive with custom concrete stain colors
When removing existing flooring like carpet or tile, it's not unusual for the concrete floor beneath to be damaged. With our repair and restoration decorative concrete systems, that damage can be easily repaired or covered by a concrete overlay that presents a fresh new surface for concrete design. Before staining, applying a concrete stamp before it sets up can add texture like slate, stone, or wood plank for a superb new look.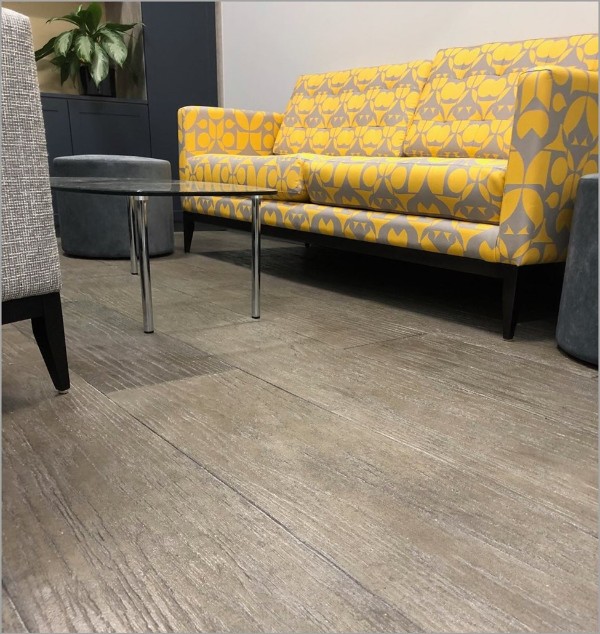 Enhance your home with stamped concrete faux wood finishes for the look of real hardwood
Concrete's durability means your new decorative concrete faux stone or wood floor will last decades.
Realistic wood and stone colors are possible by using two or more concrete stain colors for depth and intensity.
The continuous sealed surface eliminates the usual problems of real wood or grouted stone flooring like stains, warping, and grout crumbling.
The easiest floor you'll ever clean
No conversation about decorative stained concrete floors is complete without mentioning how low maintenance and easy care they are. The tough, seamless finish is resistant to moisture, spills of all kinds, impact, scratches, scuffs, pet claws, and everyday wear and tear. Your family can safely live life to the fullest on stained concrete floors without worry of damage. Our premium stain products have built-in UV resistance as well, so colors stay true year after year without fading.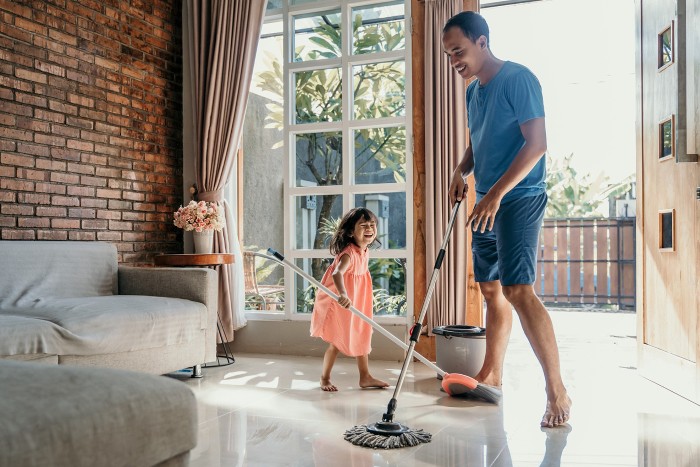 Ease of cleaning and maintaining stained concrete floors lets everyone in the family pitch in
A dry dust mop and occasional wet mopping with a neutral-pH cleaner is all you need to keep your floors shining and clean with no need for harsh cleaners.
Stained concrete surfaces wipe clean of any spills without leaving a trace and the sealed surface repels dust and dirt build-up, moisture, bacteria, and mold growth.
Your home is more allergen-free when dust bunnies and dirt can be easily whisked away.
When it's time for new floors, think stained concrete
If you're weighing your options for new flooring, talk to the professionals at Concrete Craft to learn the many options available with stained concrete. It can mimic other more expensive flooring materials, including marble, stone, wood, brick, and tile with beautiful, realistic faux finishes. Call 888-852-9244 today or go online to www.concretecraft.com to find the Concrete Craft location nearest you and request a free in-home or virtual* consultation. Stained concrete can also restore and beautify your outdoor spaces like patios, driveways, pool decks, and more!
*Virtual consultation may not be available at all locations.
For design inspiration and awesome before-and-after projects, follow us on Instagram and like us on Facebook.