Wood Stamped Concrete Brings the Elegance Without the Maintenance
Do you want the look of hardwood, but feel like it's too expensive to install and maintain? The best way to recreate the beauty of hardwood floors is by using wood plank concrete stamps that look like traditional wood floors while being more durable and easier to maintain.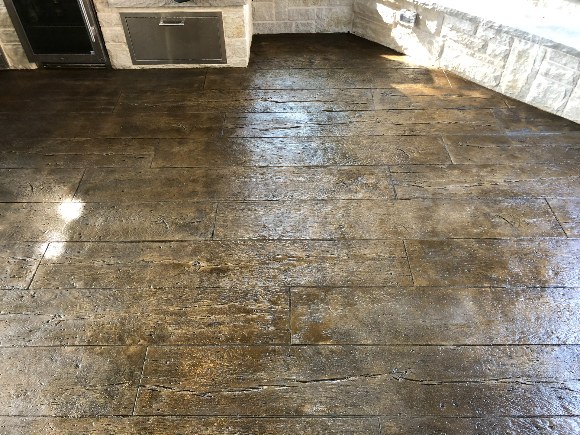 Combining wood plank-stamped concrete with various stain colors can achieve the look and style you want from your flooring. Wood plank-stamped flooring transforms your space while also providing durability and ease of maintenance.
Most stamped concrete patterns also overlay onto an existing slab to create a new concrete design. Concrete Craft achieves a beautiful wood-stained look by applying one of our custom concrete stains to the wood-plank stamped floor. The result is an impressive imitation of hardwood flooring.
4 Benefits of having a wood plank-stamped concrete floor
If you're looking to incorporate the look of hardwood without the hassle and cost, Concrete Craft creates beautiful floors that match any design style and your personal needs. Here are some top benefits of using stamped concrete.
Versatility and customization
Using concrete stamps allows you to customize the color of your floors. You have total design control when deciding what kind of stain and colors you'd like for your floors. Concrete Craft offers a wide selection of stain colors and techniques to match any interior design style.
We want to offer our customers the best color options with our stains to help them achieve their flooring dreams. Concrete Craft offers stunning stain colors such as:
Maple

Auburn

Dark Walnut

Golden Brown

Pearl Gray

Copper Brown
These color stains mimic all the luxury of hardwood without the price tag. Our TruStain™ products penetrate the concrete surface, creating vibrant, long-lasting UV-resistant stains that enhance the concrete surface.
Concrete Craft's stamped floors can be installed anywhere around your house. Hardwood floors can be challenging to maintain and aren't a perfect fit for every room in your home. It will provide a high-end aesthetic in the bathrooms, kitchens, sitting rooms, and bedrooms. You can also use it outdoors to decorate your patio, sunroom, pool house, and deck.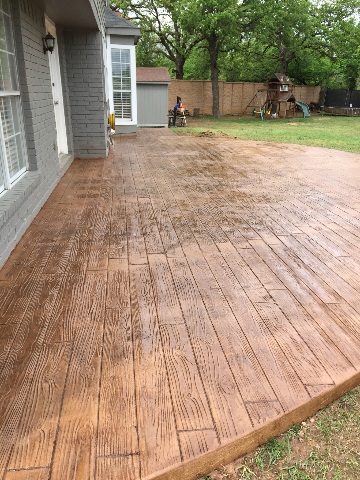 Excellent performance and longevity
Stamped concrete floors are incredibly durable and easy to maintain, offering years of beauty and functionality. A wood-plank stamped concrete floor is a great option if you want the look of hardwood but need your floors to withstand regular wear from your family and pets.
You can enjoy the quality performance and look of hardwood floors without the scratches, warping, and other damages over time. The sealed finish from the concrete stain also maintains wood-stamped concrete floors and keeps them looking their best.
Cost
Stamped concrete is less expensive than many other flooring options. It has no special requirements for installation, making the overall costs less. With varied options, you choose what is adequate for your budget. Therefore, they are affordable to install and manage.
Low maintenance
Stamped concrete reduces the cost you need to maintain your home. It's best to reseal once every 2-5 years to avoid cracks and to preserve its stain color. To maintain your concrete stain, you can regularly sweep the floor and mop to keep it in top condition.
By choosing wood plank-stamped concrete floors, you can enjoy the look of hardwood without the labor-intensive work to clean your floors. Hardwood will inevitably need to be replaced after some time due to regular wear and tear. However, stamped concrete floors only require regular cleaning for perfect functionality.
Why is Concrete Craft the best option for your project?
If you are wondering how you can find the right contractor to install your stamped concrete, don't look further than Concrete Craft. We dedicate our time to providing services with the best techniques, equipment, and products in the industry. As craftspeople, we want to provide a seamless concrete design that matches your interior or exterior. You can rest assured of receiving high-quality service at the best price.
We offer various services and cater to the patio, pool deck, walkway, interiors, basement floor, and driveway of commercial and residential buildings. We also have a variety of flooring options to consider that will suit your needs. Choose us for our seamless services and relish the following benefits:
Added value
Installing stamped concrete on your interior and exterior surfaces is cost-effective. Its aesthetics and functionality add to your home value and makes your home impressive.
Ease of installation
Installing stamped concrete is an easy process when you have contractors with the right experience and skills. Thanks to our contractors, our projects are quickly accomplished with less mess and stress.
Low maintenance
To ensure you get the right services, our experts create a floor with no joints or spaces for weeds and mold to grow. Therefore, you only need to sweep and clean the surfaces to avoid dirt buildup, and the floor serves perfectly. For exterior surfaces, you may need to scrub with a mild detergent without causing damage to it.
Installing stamped concrete floors requires top expertise and skills from professionals. Our process is seamless, with endless possibilities for quality designs. Contact us today and get free design consultation and estimation when you are ready to start your next floor renovation project. You can also look through our online brochures to find ideas on improving the look of your home.