Wow-Factor Before-and-After Decorative Concrete Transformations
Talk is cheap, so one of the best ways to prove something is with actual before-and-after photos. Seeing is believing and Concrete Craft® has its own "wow" makeover gallery with before-and-after photos, showing the enhancement of homes and businesses with awesome custom decorative concrete designs.
If a picture is worth a thousand words, this patio's before-and-after images speak volumes about what we can do with stained, stamped and resurfaced concrete overlays. The change is remarkable! Concrete Craft can transform all your concrete surfaces into refreshed living areas, adding a "wow" factor to your indoor and outdoor spaces.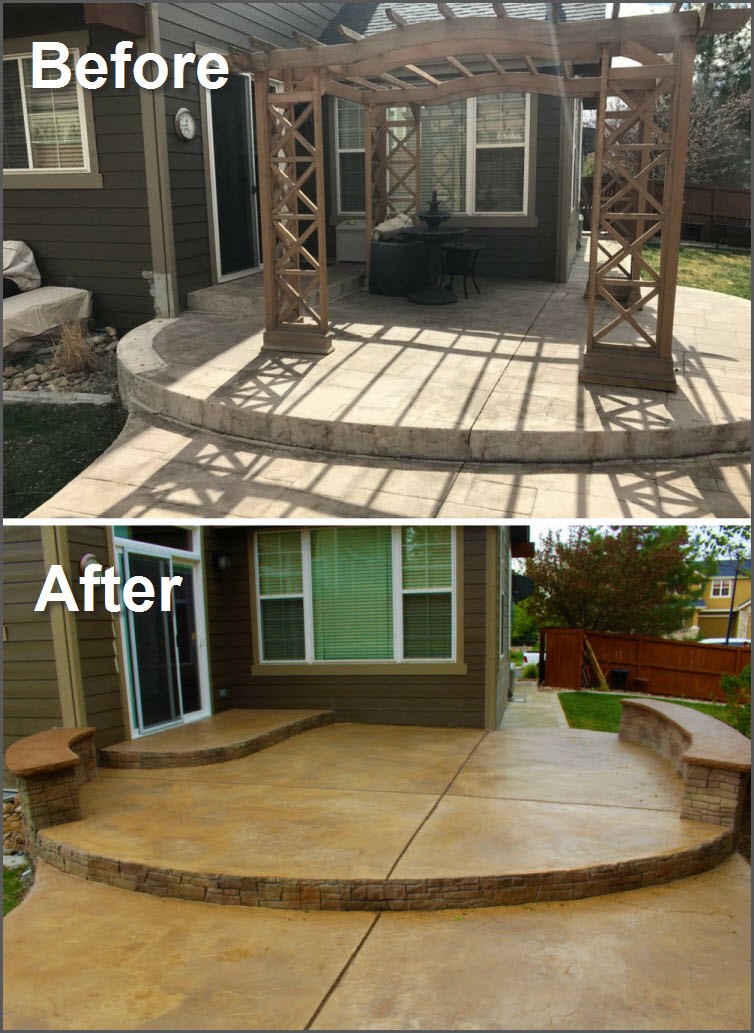 Concrete Craft can transform worn, stained and cracked concrete surfaces into works of art for:
Patios
Driveways
Walkways
Pool decks
Interior floors, including basements, kitchens and living rooms
Commercial flooring , interior and exterior
Additionally, with our exclusive vertical concrete resurfacing techniques, we can install realistic-looking faux stone finishes to fireplace surrounds, accent walls, steps, entryways, siding, chimneys and retaining walls for homes and businesses.
We invite you to check out some amazing before-and-after photos and see if you don't find yourself envisioning new concrete finishes in your own home or business. Go ahead and dream beautiful concrete … anything is possible with Concrete Craft.
Interior Floors

Interior concrete floors, resurfaced, stained and sealed, can withstand whatever your family can dish out, including spills and pets' claws. This living room is completely transformed with a concrete overlay and a two-color variegated concrete stain. Ideal for any room, concrete floors can be maintained with a dust mop and occasional wet mopping to keep them clean. Resistant to dust buildup and mold or bacteria growth, your home stays healthier and allergen free.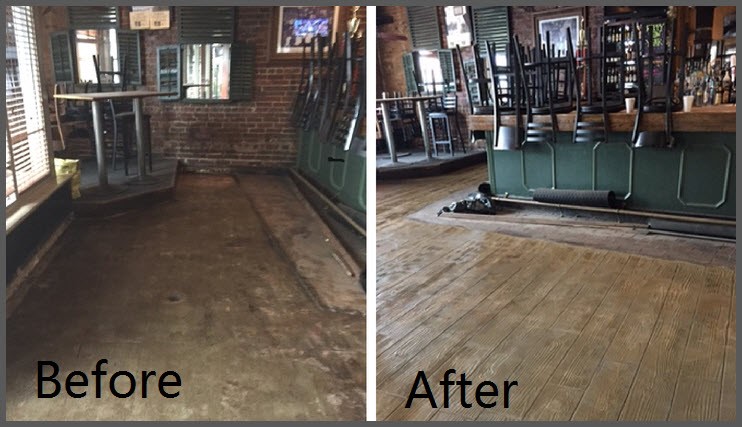 Decorative concrete floors are especially beneficial for commercial businesses where floor wear and tear is much greater than in a home with only a few people. There is no need to replace flooring every few years. This neighborhood bar has the coveted look of stylish hardwood floors with the exceptional durability of stamped and stained concrete. Bring on the parties, line dancing and jello shots; nothing can damage the sealed surface.
Driveways

A driveway is a huge part of a home's curb appeal and a distressed driveway gives a very bad impression. A concrete overlay can hide all the imperfections in the original driveway, presenting a fresh surface for a warm brown concrete stain with a simple broom-swept finish, or a dramatic hand-cut, custom stone design. The sealed surface is impervious to hot or cold and wet or dry weather and will not stain, chip, crack or peel, making this driveway better than new.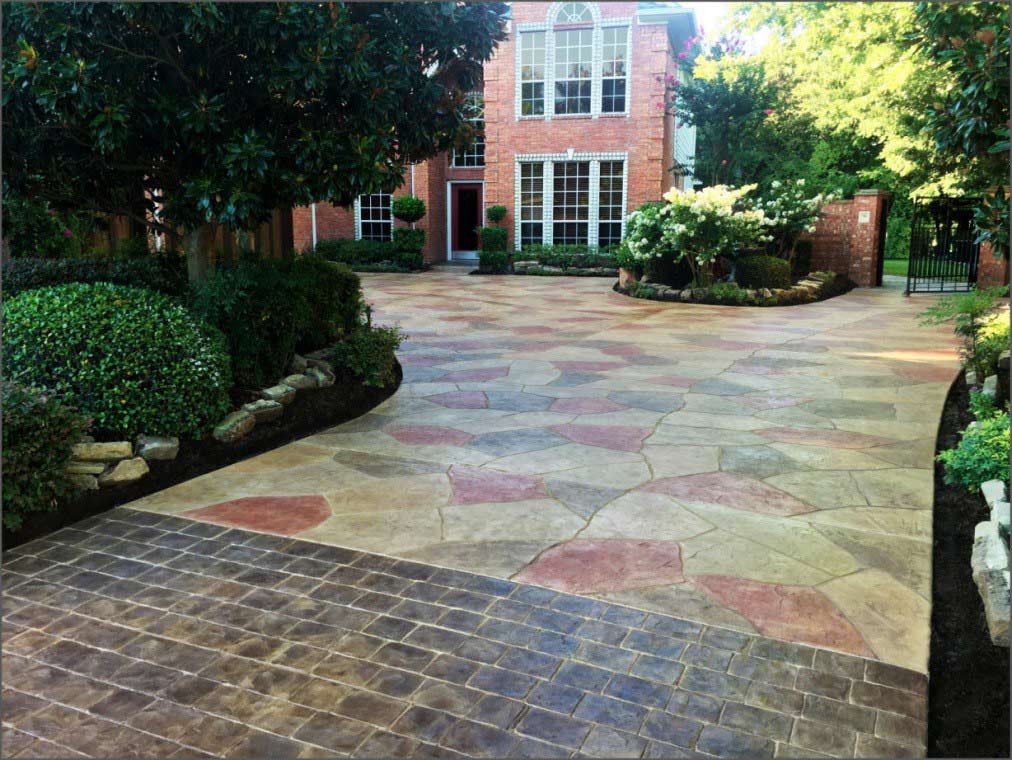 Combining flagstone and cobblestone patterns for an exquisite driveway entrance is easy with decorative concrete. It's all hand-cut and custom-colored to exactly what you want, and you're never limited to what real stones are available.
Patios and pool decks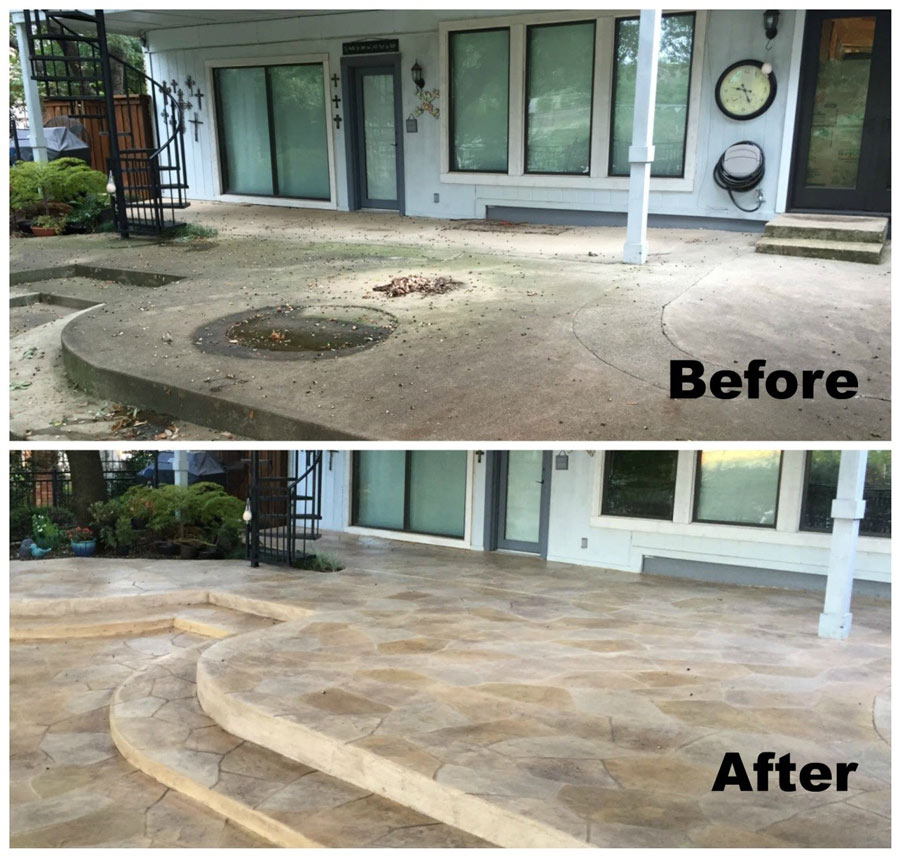 This resurfaced, hand-carved and custom-colored flagstone patio saved the homeowner a bundle and instantly upgraded the look of the home. Decorate concrete gives authentic-looking results at a fraction of the cost of the real thing for flagstone, cobblestone, Ashlar Slate, Roman Texture Slate and stamped patterns like brick, tile or wood plank. Custom stain colors are practically unlimited to coordinate with any existing architecture or hardscapes.

For large areas like pool decks, stained concrete is an economical way to get beauty, function and durability that will last for years. This well-used patio/pool deck looked hopeless, but with a concrete micro-topping overlay there was no demolition involved to get like-new results. The damaged surface was restored, stained and sealed, ready for summer pool parties and year-round barbeques.
Walkways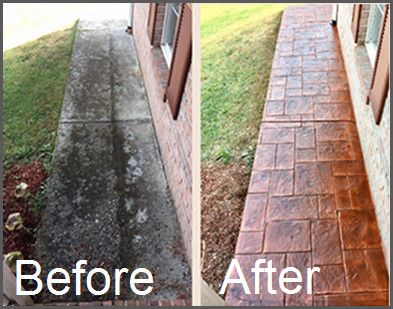 Walkways and sidewalks can become an eyesore when they show the effects of ground-in dirt, rust from rain gutter runoff, and chips and cracks from years of use. Bare concrete walkways hold moisture and can quickly start to deteriorate, supporting moss and mold growth that scrapes off but leaves behind ugly stains. It's hard to believe this is the same walkway with a concrete overlay, a stamped Ashlar Slate pattern and a stunning English Red concrete stain.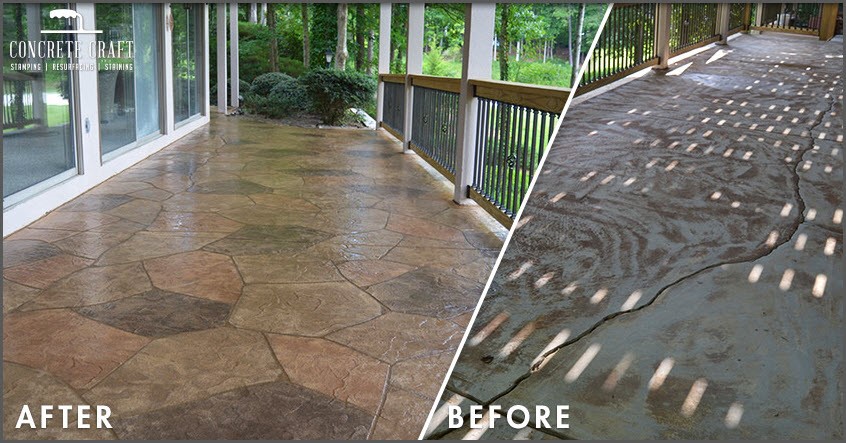 Flagstone is a popular design for outside walkways and patios. Even in a big space, you can have the beauty of authentic-looking flagstone with concrete overlays and custom-cut and colored decorative concrete. There's no concern about getting the right size and shape of stones, each one is hand-cut for a perfectly fitted design. The "grout" is part of a continuous, sealed surface so there's never any shifting or lifting of stones.
Vertical concrete resurfacing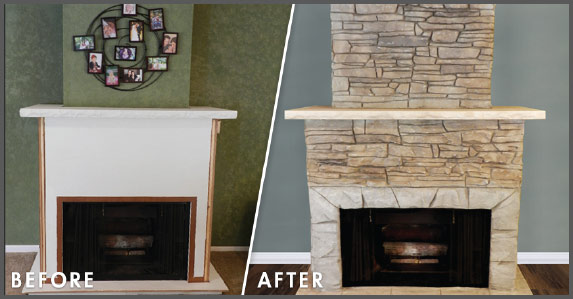 Stone enhancements are trending for indoor and outdoor use, with fireplace resurfacing a great way to completely change a room. A concrete overlay and hand-carved and custom-colored Mountain Dry Stack stone design turned an outdated fireplace surround into a very modern element. Without expensive demo the transformation was quicker, more economical, and much less mess than real stone.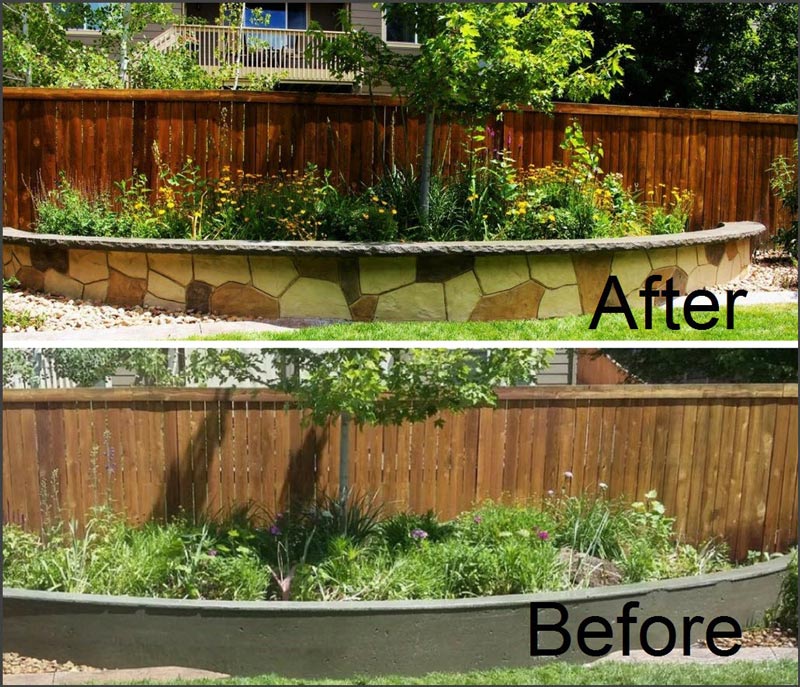 Vertical resurfacing took this raised flower bed from blah to knockout. The stain choices for the stone pattern complement the home's siding colors for a cohesive backyard design. Accent walls, retaining walls, seat walls and fire pits can be updated with beautiful faux stone finishes applied over brick, plaster, drywall, concrete and wood.
Call 866-813-3699 today or go online to www.concretecraft.com to find the Concrete Craft location nearest you and request a FREE estimate to bring some "wow" to your home and yard with beautiful, economical decorative concrete. With Concrete Craft you can always count on innovative design, exceptional quality, professional installation, and a two-year warranty* on all our work.