You'll Love The Economy And Excellence Of Decorative Concrete Floors
If you're in the market for new floors in your home, that's a decision that deserves serious consideration since you'll be living with them for a very long time. New flooring is a substantial investment, and it will completely transform the look and feel of your home, so you definitely want to get it right—on style and on budget! At Concrete Craft®, we have helped thousands of people through the maze of selecting new flooring to finding exactly what they want. The economy and excellence of decorative concrete finishes, including stained concrete, stamped concrete, and resurfacing overlays means we can replicate just about any flooring style you choose, at a price that lets you reach your dreams.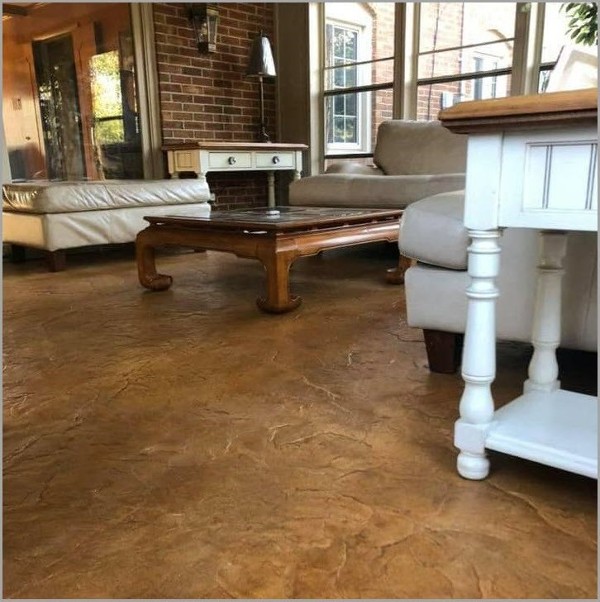 Natural stone flooring may price itself out of reach, but stamped concrete makes the beauty and durability of natural stone very affordable
The economy extends beyond just the cost
The economy of decorative concrete floors is more than just the initial dollars and cents. There's the time savings of quick installation, minimal long-term maintenance requirements, and the durability of a floor that will last for decades without requiring replacement. There are many important economies of decorative concrete floors to consider that may make them the perfect choice when you're floor shopping:
You can have the look of high-end stonework for about half the cost, and only you will know it's not the real thing.
Save time by dealing with only one company (Concrete Craft) that can create floors of faux stone or wood, polished concrete, or stained concrete.
Enjoy the look of flagstone, cobblestone, Ashlar slate, brick, tile, marble, natural stone, and wood plank with authentic-looking results for way less than the real materials. Why spend more than you have to?
If you want custom design or rare colors of natural stone flooring, supply and cost can be a problem, but not with a hand-crafted stamped and stained decorative concrete floor.
No waste or overrun on materials; concrete overlays are mixed-to-measure onsite, unlike many types of flooring that require purchasing 10 percent more than the square footage to allow for fit and cut issues.
A concrete overlay creates a fresh new floor surface as well as repairing and hiding any damage to a floor after removal of existing flooring.
There's never a problem of not having enough of the style or color you need for your floors.
Decorative concrete floors won't require replacement every few years like other floor coverings because their durability keeps them looking like new.
Concrete floors reduce energy use for heating and cooling by absorbing heat (solar gain) or cold and releasing it slowly to regulate the temperature in a room.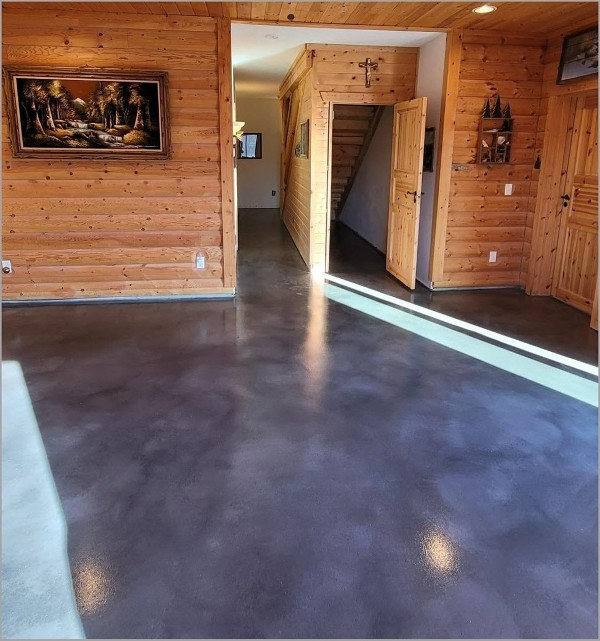 Stained concrete is one of the most economical finishes to upgrade and beautify interior floors
The excellence of every decorative concrete finish
At Concrete Craft, we take pride in our proprietary methods and exceptional products to bring only the best in decorative concrete overlays to our customers. Every floor finish is industrial strength to protect and reinforce the design and deliver excellence in every way. Whether you call it resurfacing, concrete overlay or coating, we can transform existing interior concrete floors into works of art that will showcase your home, adding lasting beauty and value. Excellence is ingrained in all our work, from initial consultation to professional installation.
A decorative concrete floor is the most durable floor you can have, resistant to moisture, fading, chipping, stains, or peeling.
Design options are practically limitless, the artisans of Concrete Craft can help you create just about anything you can imagine to enhance your home and express your unique personality.
Our proprietary products are custom blended from 15 years of experience, resulting in our exclusive MasterProTM line of products that provide superior performance for a durable, long-lasting overlay.
When compared side by side with other decorative concrete, our quality is evident and simply better than anything the competition can offer.
Premium concrete stains and sealers are low-VOC (volatile organic compounds) to comply with LEED standards.
Extremely low maintenance, decorative concrete floors stay clean with just a dust mop and occasional wet mopping with a mild soap (like Dawn dish soap) to keep the surfaces like new.
Our concrete floors don't trap mold, mildew, dust mites, bacteria, or allergens, contributing to better indoor air quality and keeping your home safer for your family.
Resurfaced decorative concrete overlays apply directly to the existing concrete substrate and become a permanent part of the floor. At most, heavily trafficked areas may require resealing after several years to restore the shine.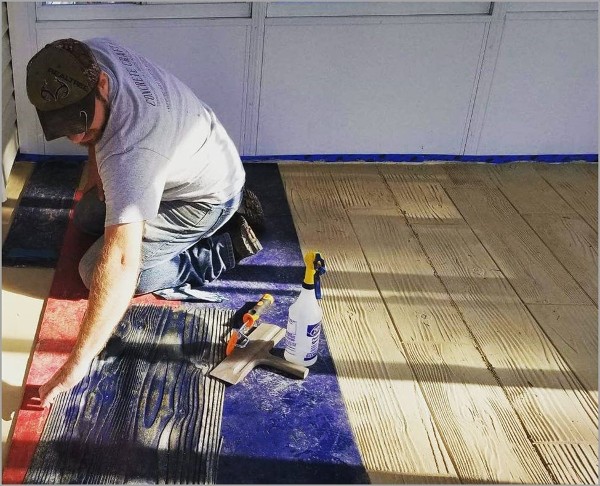 Attention to detail contributes to the realistic textures and finishes for faux wood and stone stamped concrete designs
Quality and professionalism you can trust
Concrete Craft is the largest decorative concrete franchise in the U.S. and backed by the strength of its international franchisor, Home Franchise Concepts (HFC). As an independent small business owner, each franchise owner cares that your experience with them is a good one and they take pride in delivering excellent customer service for every job, every time. You can count on an exceptional experience with Concrete Craft as our craftsmen are dedicated to bringing artistry to your home with the beauty of stained, stamped, and resurfaced concrete overlays. You can count on:
Professionalism, knowledge, and expertise that ensure you'll receive the floors you want.
The right concrete overlay blend, mixed fresh onsite with the proper amounts of ingredients, including rubberized polymer, elastomeric resin, cement, cement modifiers, fibers, polymers, and aggregates.
A production timeline, and your projects will be completed on schedule (barring acts of nature).
Respect for your time and your property and we always leave the job site clean, so you don't have debris to haul away.
Getting to know the people behind the product, with help just a phone call away if you have a problem. We stand behind all that we do.
Call 888-852-9244 today or go to www.concretecraft.com to find the Concrete Craft location nearest you and request a free in-home or virtual* design consultation and start realizing the dream of new flooring for your home. Check out our Interior Design Guide for more information and inspirational images of beautiful decorative concrete finishes.
*Virtual consultations may not be available at every location