10 Reasons Why Stamped Concrete Is Worth The Business Investment
Whatever your business, a healthy bottom line is the goal. It can seem like a juggling act to balance the budget between expenses for employees, utilities, security, internet technology, and general building maintenance and upkeep. Every penny spent needs to pull its weight and stamped concrete floors from Concrete Craft® are an investment that pays dividends immediately and for years to come! Here are 10 ways that stamped concrete can enhance your business and shore up that bottom line.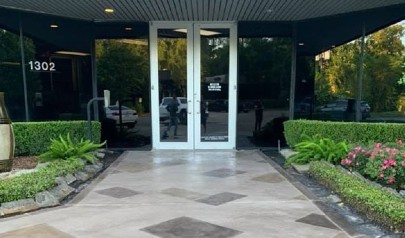 This custom, stamped concrete entryway gives a prosperous appearance to attract customers (Concrete Craft of North Houston)
One: Save money now by renovating rather than hiding your concrete floors
When it's time to replace old flooring, don't buy more flooring that will ultimately need to be replaced— again. Stamped concrete can transform your existing concrete floor with a concrete overlay to hide any damage, and then be stamped with durable and stylish faux stone and wood designs for about half the cost of other flooring options.
Two: Save future costs with new concrete flooring that is durable enough to never need replacing
Concrete is the toughest floor there is and with decorative stamped concrete, your floors will last for decades.
Three: Upgrade both interior and exterior spaces with any look you want
Stamped concrete can emulate real rock and stone, including realistic flagstone, cobblestone, slate, marble, tile, brick, and wood plank patterns.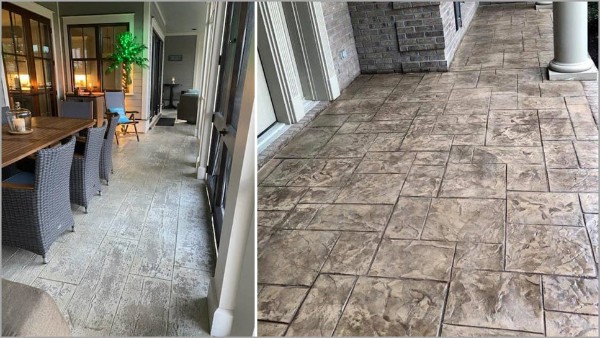 Interior floors and outdoor entryways, patios, and walkways become fashion statements with stamped concrete in realistic stone and wood designs (Concrete Craft of Bluffton and Concrete Craft of Knoxville)
Four: Stamped concrete floors are guaranteed not to chip, crack, peel, or fade
Overtime, other flooring choices like carpet, tile, linoleum, and wood can show extensive wear and tear and require replacement every few years. Stamped concrete's continuous, sealed surface ensures the finish will stay like new for decades. At most, heavily trafficked areas may require resealing every two or three years to restore shine.
Five: Reduce maintenance costs
Replace high-maintenance flooring like wood or carpet with easy-care stamped concrete that resists spills and stains of all kinds. Interior floors stay clean with sweeping and wet mopping with a mild soap, and outdoor surfaces clean up quickly with sweeping or power washing.
Six: Have a healthier workplace for employees and customers
Enjoy improved Indoor air quality throughout your facility, including individual offices, retail spaces, and restrooms since stamped concrete floors stay cleaner and safer with a sealed finish that resists allergens like dust, dirt, mold, and bacteria. No toxic chemicals or harsh cleaners are ever needed.
Seven: "Weather-proof" your outdoor concrete surfaces
Stamped concrete can stand up to any weather conditions without damage, including freeze/thaw, rain, snow, and summer heat. Faux stone designs such as flagstone will never have grout deterioration or stones lifting, and faux wood finishes don't suffer from real wood outdoor issues like warping, splintering, and fading from UV damage.
Eight: Transform vertical surfaces with stamped concrete
For interior and exterior, stamped vertical concrete resurfacing can update storefronts, pillars, retaining walls, and accent walls with faux stone and wood finishes that look like the real thing. Our high-strength, flexible polymer overlays eliminate voids and gaps that can form behind other façade applications, giving 100% contact so you never have to worry about the finish coming loose. Overlays can be applied over wood, drywall, brick, and concrete so it's quick and easy to upgrade any of your spaces.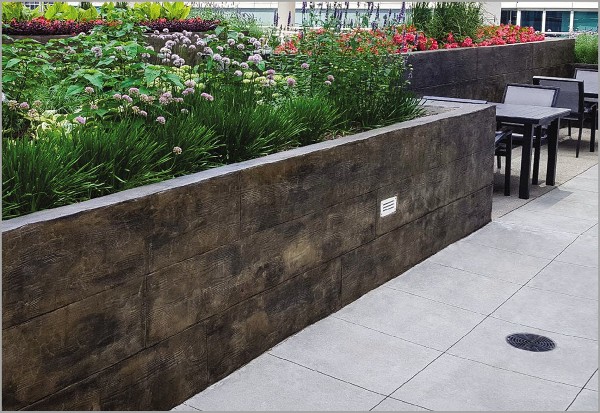 Outside "wood" planters never require stripping or resealing like real wood planks, season after season the faux wood finish stays perfect
Nine: Stamped concrete is more economical than other flooring options
You will love the savings that decorative stamped concrete affords. You can have the look of high-end finishes like tile, grouted stone, pavers, hardwood, or brick without the prohibitive cost. Installation is quicker and the durability of concrete flooring is indisputable. This could be the last flooring you ever have to buy for your business!
Ten: Add lasting value and beauty to your business
Stamped concrete floors can stand up to extreme use for decades without damage or replacement, elevating your business and helping to create a memorable experience for customers and employees with stylish and unique surroundings.
Your business deserves the best
Whether you have one or multiple commercial business locations, you deserve the best when it comes to getting value for your facilities' dollars. Concrete Craft's decorative concrete finishes for floors and vertical surfaces can transform any commercial enterprise by adding beauty and lasting value with versatility and durability that no other material can match.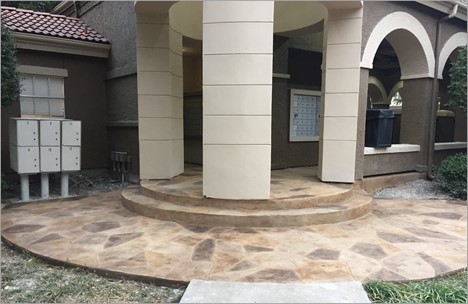 Stamped concrete in a flagstone design creates a welcoming entrance to this apartment complex's main offices and residents' mailboxes
For restaurants, retail spaces, office buildings, schools, hospitals, manufacturing plants, condos, apartments, or independent small businesses, your local Concrete Craft craftsmen can evaluate your flooring needs with you to determine the best decorative concrete solutions for your business. Call 888-852-9244 today or go online to www.concretecraft.com to find the Concrete Craft location nearest you and request an onsite or virtual* design consultation. Also check our online MasterProTM Product Catalog for the full range of concrete repair, restoration, and resurfacing options available.
*Virtual consultations may not be available at every location
Follow us on Instagram and like us on Facebook.