8 Concrete Floor Ideas for Your Business
If you own, or are in the process of building your own brick and mortar, flooring is something you should heavily consider. For your business to stand out, you must select floor material that is attractive while long-lasting. Among the various choices of commercial flooring options in the market, concrete flooring could be the perfect choice for your business.
Concrete floors come in a variety of colors and textured patterns. This allows you to match your floor with your interior. In addition to being durable, concrete floors are also cost effective, making them an ideal option.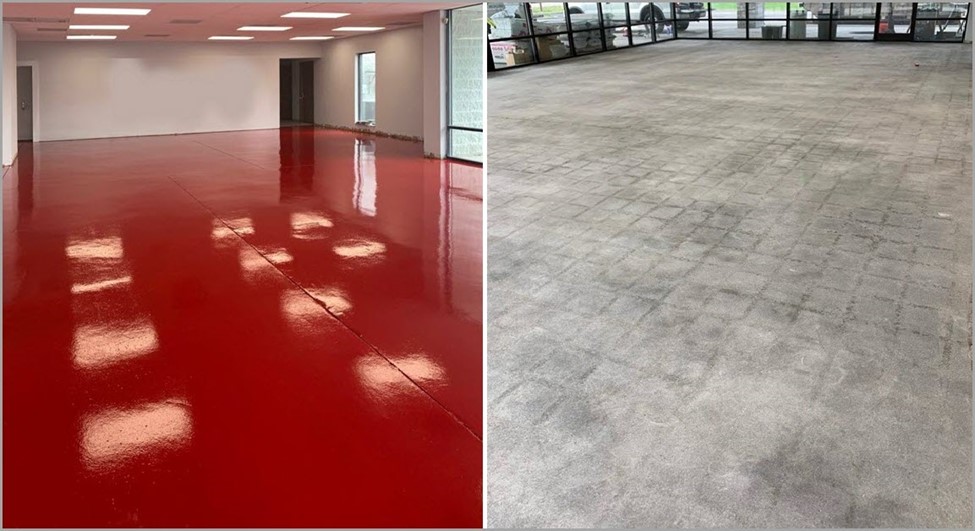 Polished concrete floor
For a floor that gives your business a brilliant, glossy appearance, polished concrete is your answer. In addition to the beauty, the polished concrete floor can be less expensive than other options and is environmentally friendly.
Cleaning and maintenance of polished concrete is relatively easy making them suitable for any type of business, including offices and learning institutions. Once your floor is done, no major maintenance is required. This is best achieved when done professionally. You get to enjoy a long-lasting shiny floor that's beautiful and easy to clean.
Stamped concrete floor
With a stamped concrete floor, you elevate your floor's aesthetic. The rubber stamps used give your floor a more natural look, and can be designed in various forms. A professional can redesign your floor, and give it a different pattern, such as hardwood, brick or tile.
A skilled professional will work with your choice of concrete color and design, to give your floor an amazing look. Stamped concrete floors can be used in restaurants, driveways, or office spaces. You can also select the colors that will easily match the rest of your interior, giving your building an artistic appearance.
Stained concrete
Stained concrete has been considered one of the most economical concrete floors for any business. Staining makes your floor appear big, and more beautiful.
Depending on your preference, your floor designer may use either acid-based or water-based stain, to add value to your concrete floor. Before applying the stain, it is important that you check your floor to rule out the existence of cracks.
For a cracked floor, a professional fills the cracks, before staining. This ensures that your concrete floor is even, making it look as good as new. Consulting a professional also allows for a thorough check-up, to ensure that your floor is in good condition before staining can be done.
Resurfaced concrete overlays
If you plan to repair your concrete floor, concrete overlays can be a perfect choice. Instead of replacing your entire floor, you may want to involve a professional to add some beauty to your old floor. Transforming your hotel business, school or office floor with concrete overlays is more cost effective, and can also make your business look amazing. Resurfaced concrete floors are suitable for any type of business.
For a quality outcome and a durable concrete floor, a professional uses high quality materials. This gives your floor a smooth appearance that is also long lasting. This saves you from unnecessary expenses from time to time.
Epoxy concrete floors
For a great finish for your concrete floor, an epoxy concrete finish will give you incredible results. With epoxy coatings, you have a variety of colors and designs to choose from. You can also choose a color that blends your floor with the rest of your interior, giving your building a more artistic and warm appearance.
This type of floor is ideal for businesses such as hospitals, factories, and store displays. Your choice of concrete color and design makes your business even more beautiful and accommodating. An expert will help you make the perfect choice for your business.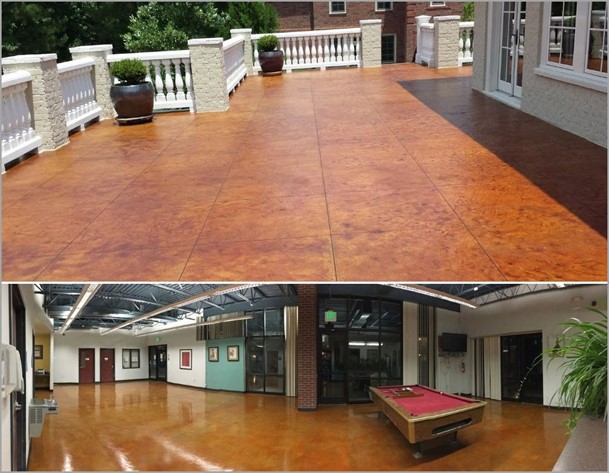 Metallic epoxy
Metallic epoxy concrete finish gives your floor a beautiful and unique appearance. Your floor is covered with a clear coating, blended with some metallic extracts. This gives your office or restaurant floor a shiny appearance.
You also get to choose a color of your choice. Depending on your preferred concrete design and color, a flooring expert will give your floor a pattern that will make it appear shiny and very conspicuous.
Quartz sand epoxy
If you want a durable floor that can withstand very high pressure such as heavy equipment, quartz sand epoxy will offer you a long-lasting solution. This type of flooring is suitable for businesses that offer services for heavy machinery such as garages, but still want to make the premise more appealing.
The floor is smooth, and can also withstand harsh chemicals. It is thus an ideal choice for buildings that host manufacturing industries. The floor can also be made less slippery, using a slip-resistant treatment.
Acrylic sealers
Acrylic sealers can be a great choice for floors that constantly get wet, such as garages. Your floor will be covered with a seal that prevents water leakage, ensuring that water doesn't seep through.
With acrylic sealers, your floor acquires an impressive appearance, and also remains protected from damage caused by wetness. This type of finishing can also be used on other types of concrete floors for ultimate protection during very cold seasons.
For more information on the most ideal concrete finishing for your business, contact Concrete Craft to book your free consultation. Our trained and experienced flooring experts will guide you on the best concrete floor for any type of business.