Bring the 2018 Colors of the Year Into Your Home With Durable, Decorative Concrete
Every September when New York Fashion Week announces the upcoming fashions and colors for the New Year, Pantone Color Institute releases a Spring color palette as well as naming a Color of the Year which will invigorate wardrobe and home décor trends and fashions in the upcoming year. For 2018, Pantone has selected a "dramatically provocative and thoughtful purple shade," Ultra Violet.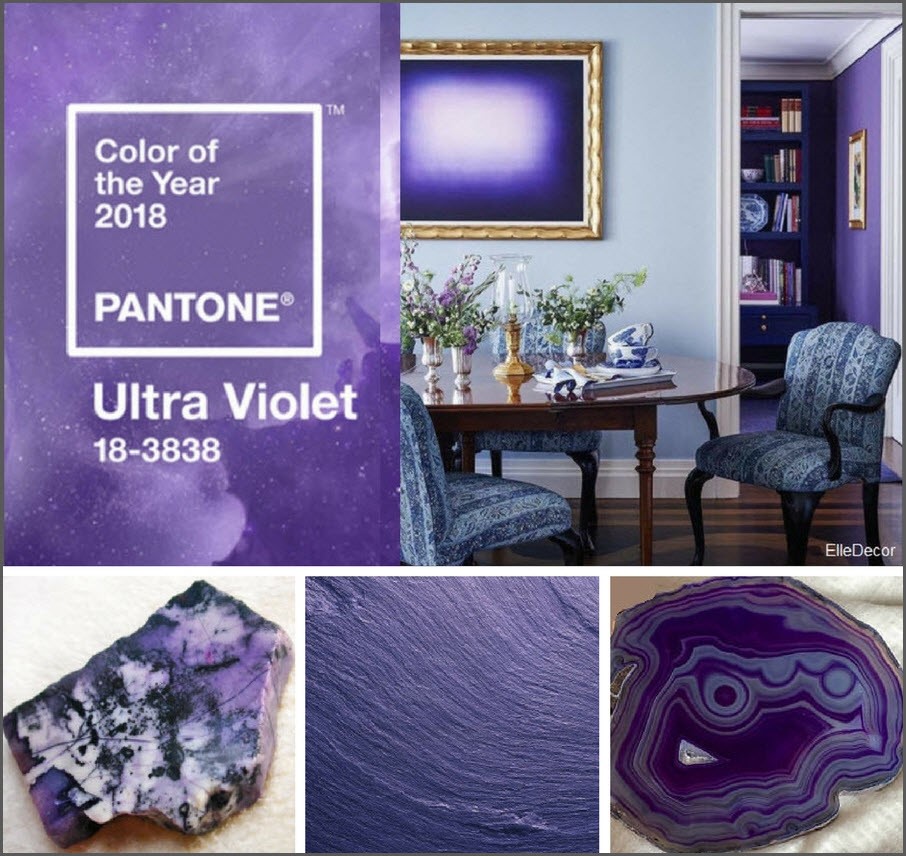 As you can see, this vibrant purple is actually found in nature, the three rock samples represent Opal Fluorite Tiffany Stone, a weathered stone surface and purple agate. And we've all seen purple amethyst crystal geodes that sparkle like the sun.
Concrete Craft® can help integrate Ultra Violet or any of the other colors of the year (see below) into your home with concrete overlays in stamped or hand-cut designs, in custom stain colors for any effect from polished marble to authentic stone finishes like flagstone, cobblestone, Ashlar Slate, Textured Roman Slate, brick, tile and more. From backsplashes to accent walls and floors to fireplace surrounds, custom stone finishes and colors are our forte, for durability and beauty you just won't believe!
This custom hand-cut and stained flagstone walkway shows the color purple incorporated into a decorative concrete design without being overpowering. The UV protective stains ensure that the color will stay true for years, without peeling, cracking or fading. Unlike real flagstone, the continuous, sealed-surface grout lines will not crumble or harbor grass or weed growth, making this walkway very low maintenance.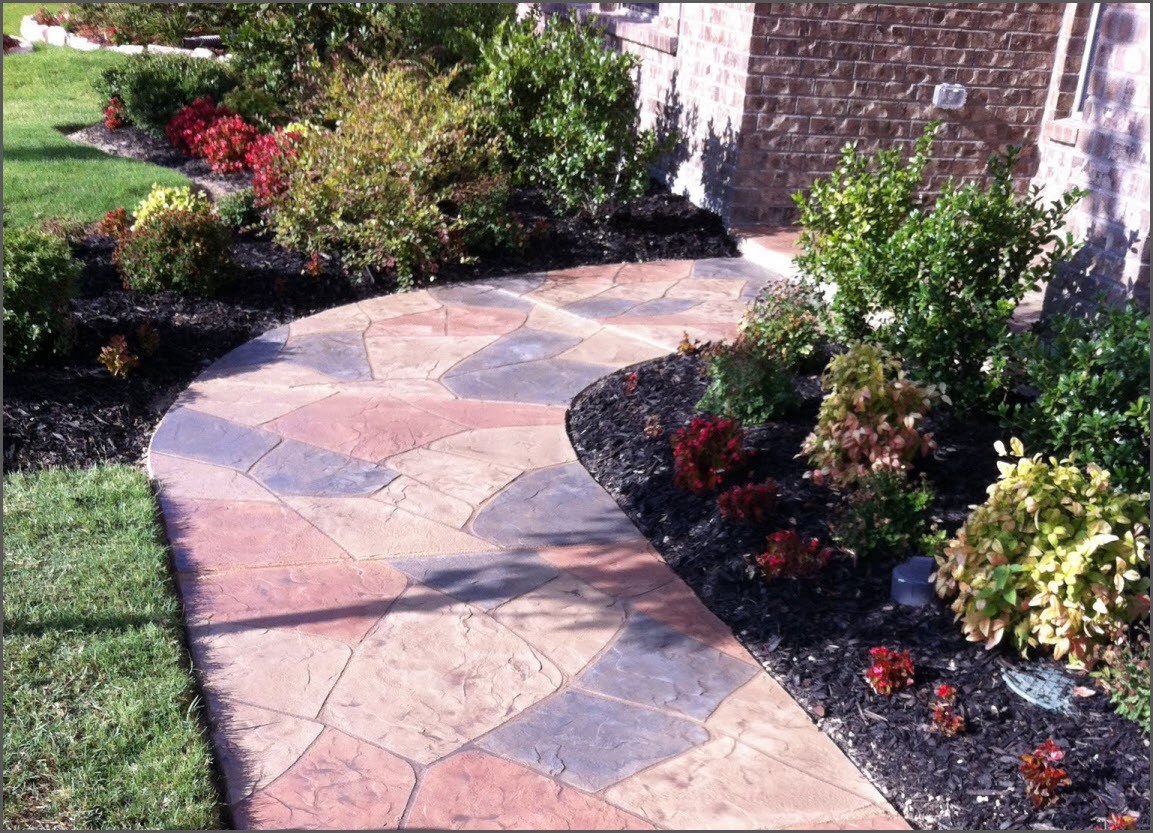 Additional colors of the year for 2018
Not to be outdone, national paint companies each select a Color of the Year to inspire homeowners in the New Year. Dunn-Edwards, Glidden, Benjamin Moore, Sherwin-Williams, Olympic and Behr add their own favorite choices to the fashion and home decorating color palette for 2018.

Dunn-Edwards: offers a grayed blue-green, The Green Hour, to enhance any space with color and calm.
Sherwin-Williams: Oceanside reflects the colors of the sea, its intensity sensitive to changes in light.
Behr: speaks to sanctuary and calm with a fresh, comfortable shade of green, In the Moment.
In this kitchen, the stained concrete floor in Aqua fits right in the range of blues and greens that will enhance homes as homeowners adopt the newest colors for updating in 2018. Stained concrete is the toughest floor you can have, especially helpful in kitchens, bathrooms and laundry rooms where moisture can be a problem. Floors resist moisture, won't chip or crack, are fade-resistant and don't harbor dust mites and other allergens so they create a safe environment for your family. Dry dust mopping and an occasional wet mop with a neutral-pH cleaner are all you need to keep the floors clean.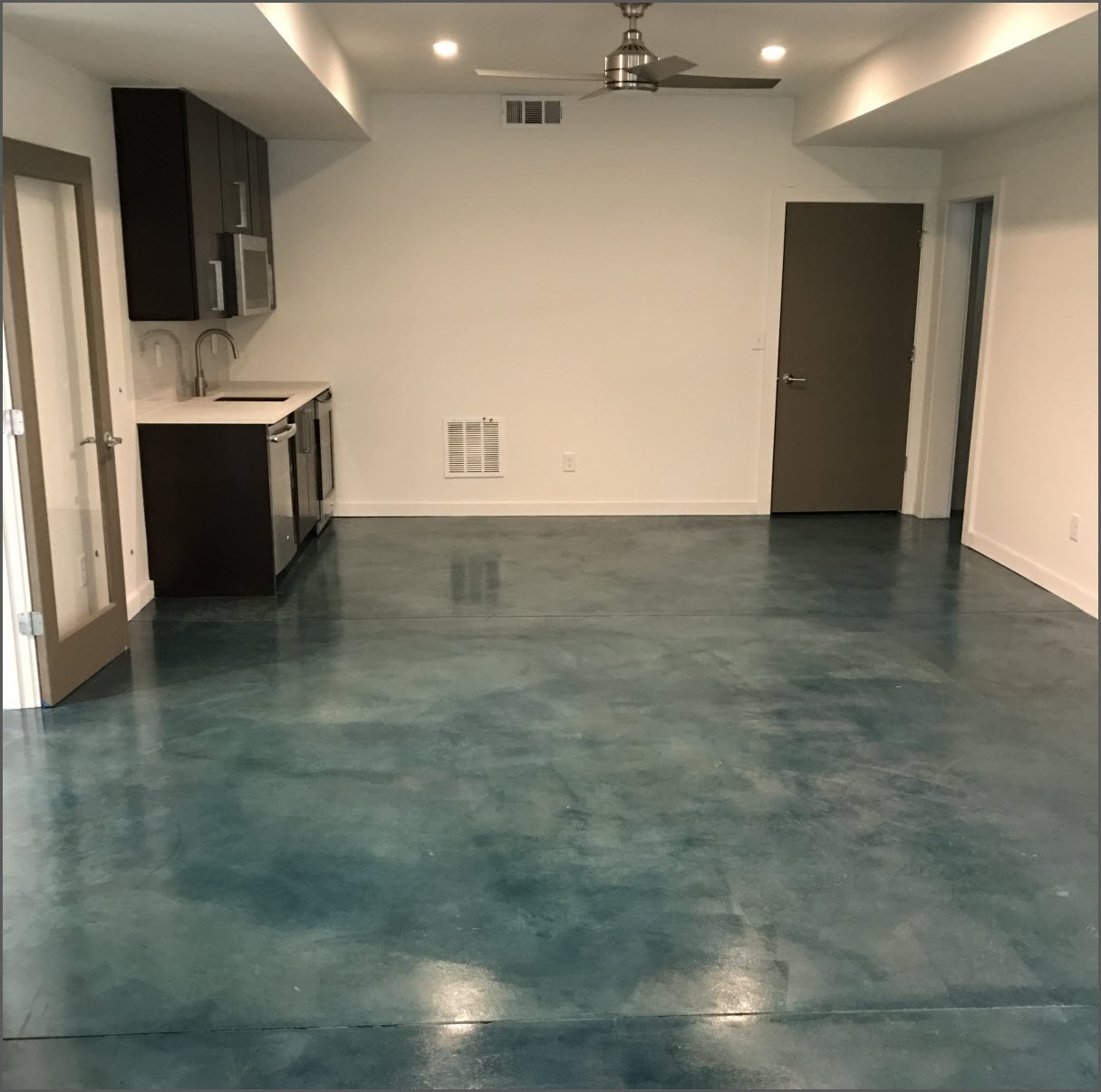 Making a bold statement in 2018 along with Pantone's Ultra Violet, Glidden, Benjamin Moore and Olympic opt for intense colors to make the pastels of the past few years a distant memory.

Glidden: Deep Onyx is a strong neutral that can pair well with any color scheme.
Benjamin Moore: Spicy Caliente will wake up any space with its vibrant energy. Red is always a memorable color wherever it's used.
Olympic: Black Magic brings drama to any room, and darker flooring is gaining popularity.
Either of these decorative concrete floors could jump-start your New Year's decorating. The stained basement floor has black accents, the perfect contrast to the neutral colors for a masculine Man Cave. The stamped and stained red brick patio is scrumptious and bold; no boring get-togethers will happen here!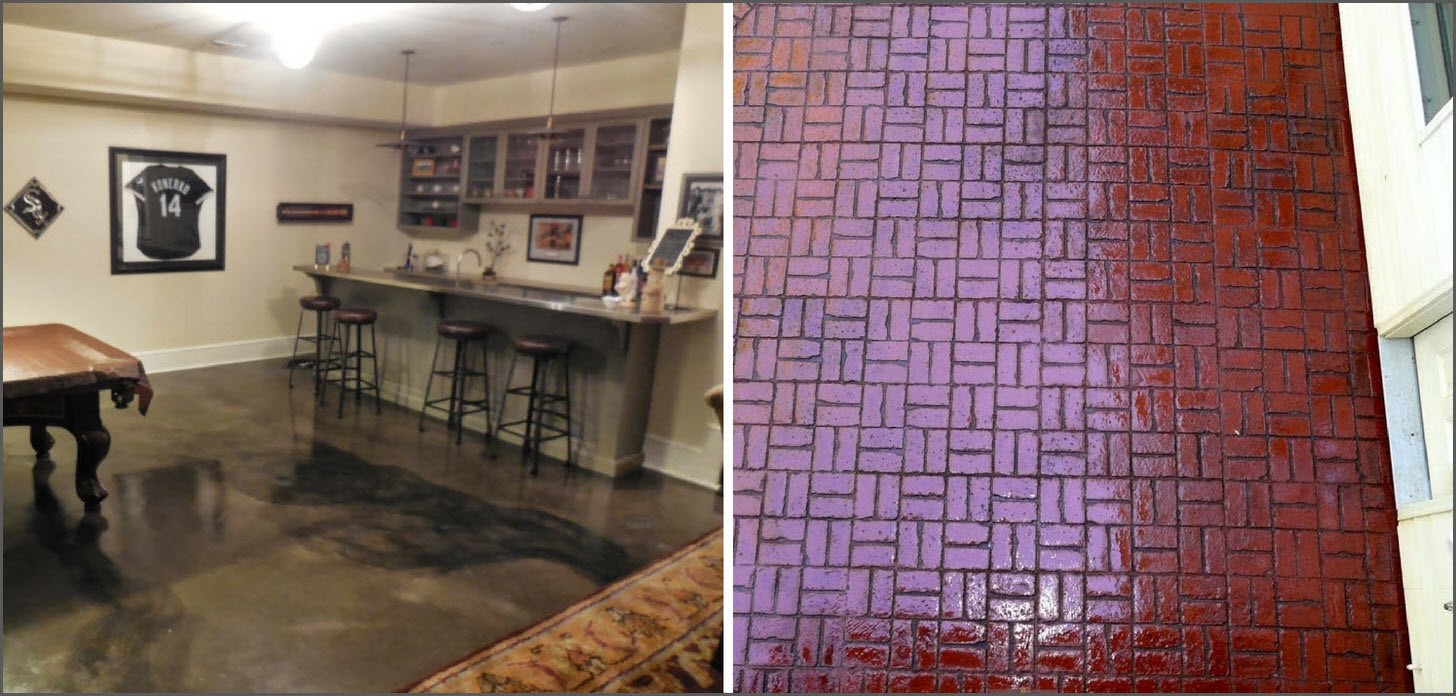 If you're looking to upgrade your home this year, Concrete Craft can help transform both indoor and outdoor spaces, bringing color and texture to flooring and vertical surfaces. Our custom concrete overlays can transform existing concrete into a new surface for staining, stamping and hand-cut custom designs. There's no need for demolition and starting from scratch, which saves you money and time. See Save a Bundle with Resurfaced Concrete Instead of Demolition and Replacement.
Contact us today or go online to www.concretecraft.com to find the Concrete Craft location nearest you and request a consultation and FREE estimate. Check out our digital brochure for the many ways decorative concrete can transform your home, including:
Concrete Craft wishes you a colorful and happy New Year!