Chic And Modern Decorative Concrete In Glorious Gray Designs
In the world of concrete, gray has always ruled but with the advent of colored concrete, stains, and dyes, gray is not the only option anymore for concrete patios, driveways, walkways, and pool decks. For many people, however, gray IS the only option when it comes to concrete, they love the texture, the color subtleties, and the look of fresh, gray concrete. With decorative concrete, there are even more ways to love the grays, from light to dark charcoal, with superlative finishes, patterns, and designs. Concrete Craft® offers an infinite number of design options for the chic and modern look of gray concrete finishes for indoor and outdoor floors and vertical surfaces.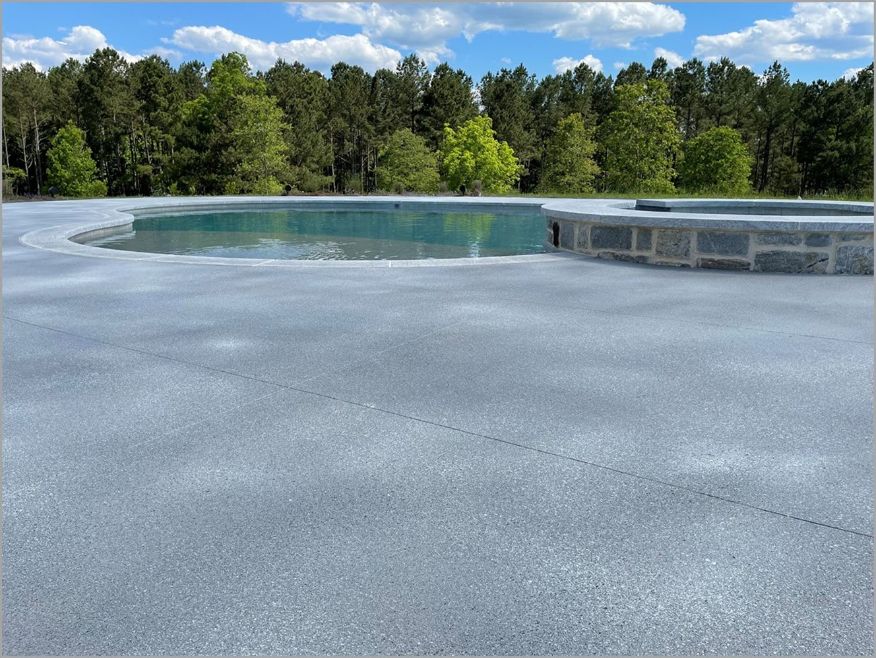 No boring gray pool deck with AggreKoatTM, a thin decorative concrete resurfacing overlay for a faux stone finish with a touch of sparkle
Gone are the days when gray was considered utilitarian and conservative rather than decorative, gray has become the go-to neutral that pairs well with warm and cool colors, depending on the shade of gray you choose. One interior designer gives gray high marks for versatility, "With the calmness of a blue, warmth of a tan, and subtlety of a cream, gray is a versatile color that works well in both traditional spaces and uber-modern ones." Additionally, the Pantone Color InstituteTM chose Ultimate Gray as one of their two colors of the year for 2021. (See Enhance Your Home With Decorative Concrete And The 2021 Colors of the Year.) So, take a moment to rethink gray with these custom decorative concrete designs that present gray in all its glory!
Stained concrete for fantastic finishes
Water-based or acid-based stained concrete lets you put color and shine on concrete floors inside or out for lasting color and durability. Applied directly to an existing floor or resurfaced with a concrete overlay, sealed stained concrete will not chip, crack, fade, or peel so floors stay beautiful for decades. Here, combining light and dark gray createS a marbleized, smoky effect for an elegant kitchen floor.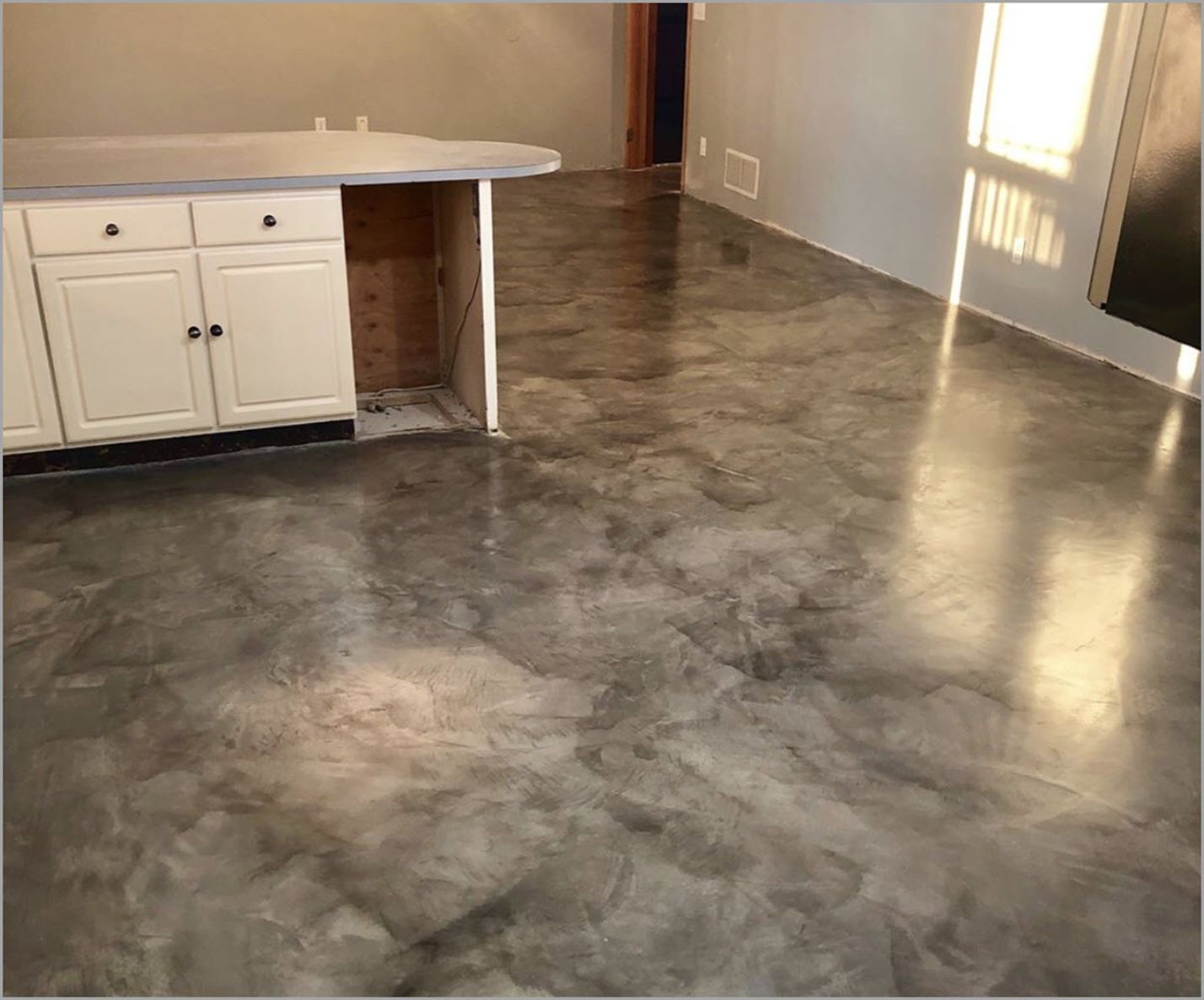 Concrete stains can deliver solid, mottled, marble, and metallic looks for one-of-a-kind floors
MarbleKoatTM for the elegance of polished marble
MarbleKoat is one of Concrete Craft's MasterPro FinishTM concrete resurfacing finishes that can transform ordinary floors and walls into extraordinary spaces anywhere in your home. You'll love that it's half the cost of real marble, quick to install, and tough enough for all that life can dish out. MarbleKoat Pearl Grey floors and Dark Grey walls create a classic, soothing palette on which to build and layer the rest of the design in this living room.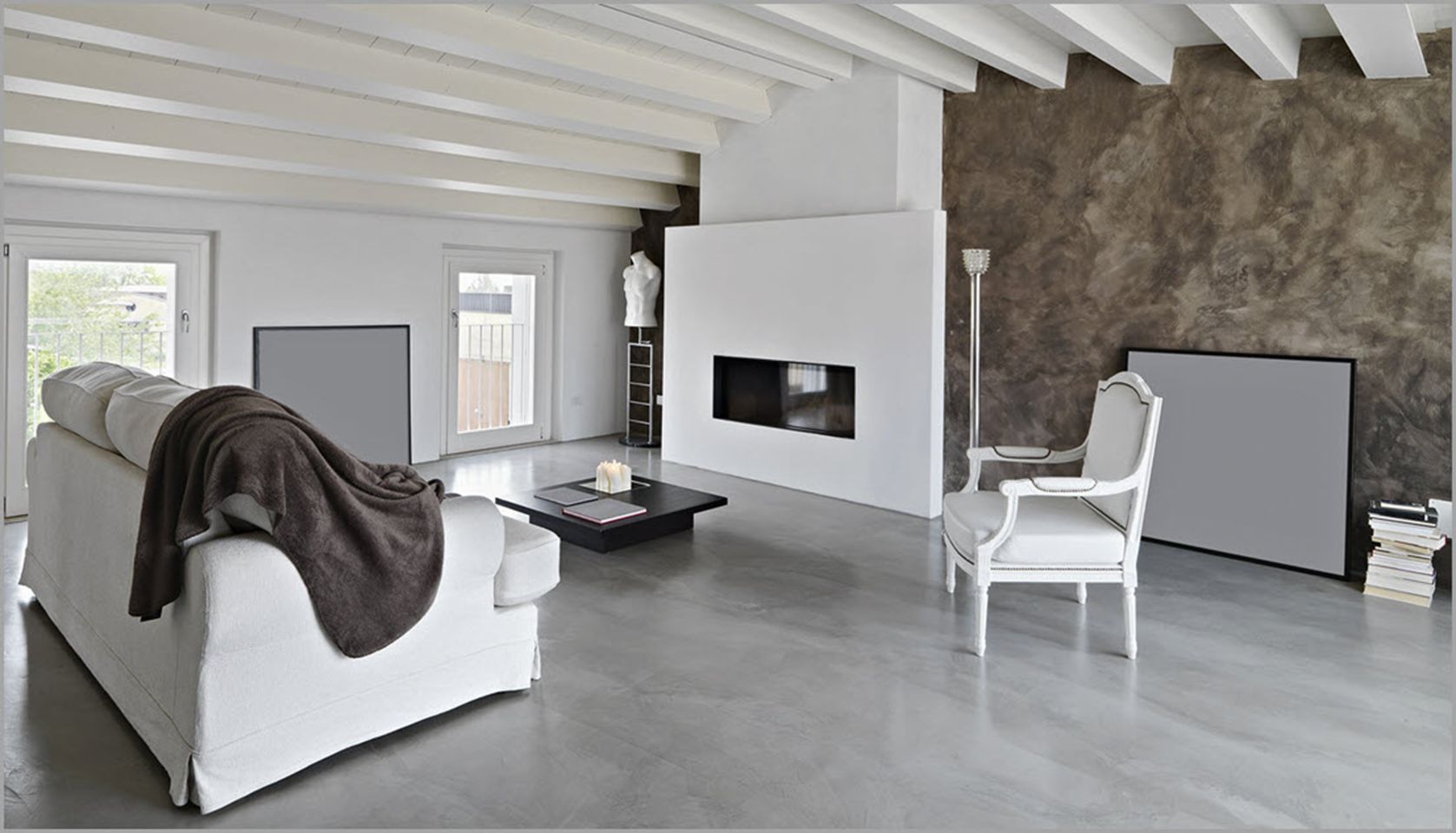 Enjoy the high-end look of polished marble without the worries of real marble that include staining, cracking, and chipping
Warm gray for realistic wood finishes
One way to warm up gray is to opt for the hybrid gray and beige, or very popular "greige." Here, this warm gray is the perfect touch for a rustic/casual living room with a stamped concrete wood plank pattern. Only you will know it's not real wood, and you'll grow to love it more each day because of its versatility, easy-care, and durability, unlike real hardwood.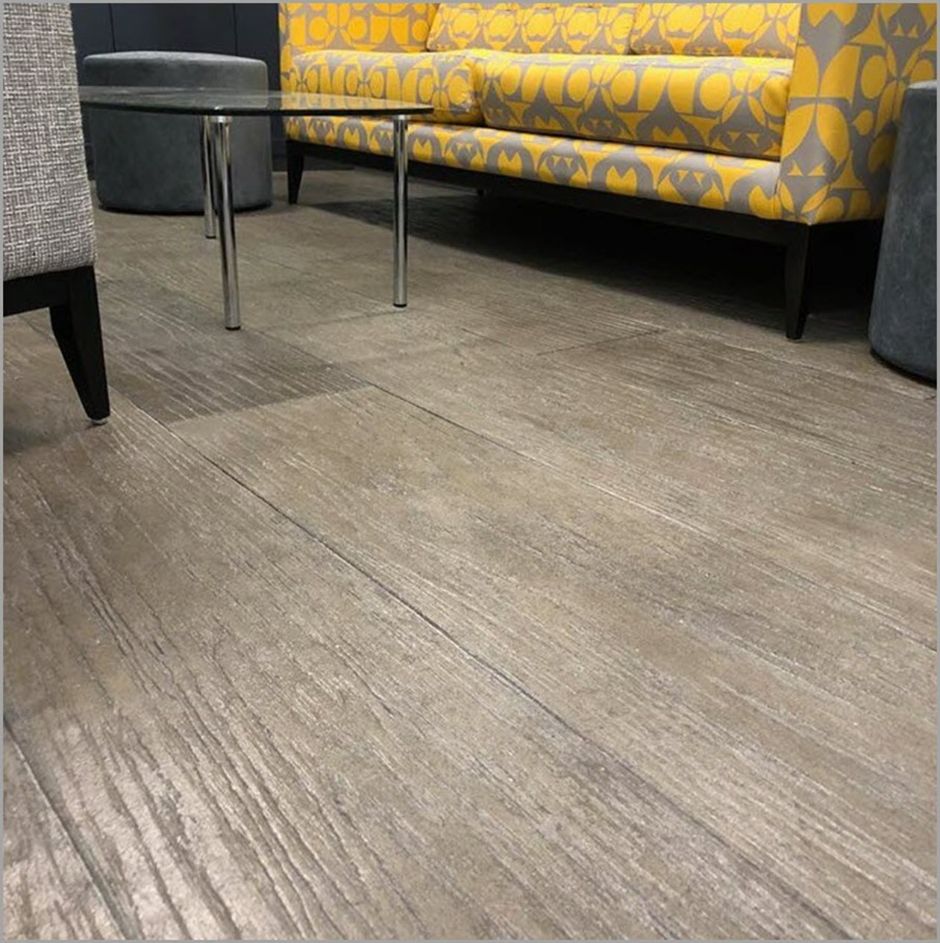 Gray is ideal for trending lighter wood tones for interior floors and rustic outdoor rooms and patios
Classic European cobblestone for "old world" charm
Gray is the most commonly used color for cobblestone designs and our stamped concrete patterns and custom concrete stains can deliver the look of authentic cobblestone pavers in your favorite shade of gray. Cobblestone adds an international flavor to your landscape on driveways, patios, walkways, pool decks, and courtyards. Unlike real grouted stones, the integrated grout lines will never crumble, necessitating regrouting, and the continuous sealed surface stays clear of intruding grass and weeds, reducing tedious maintenance for large areas.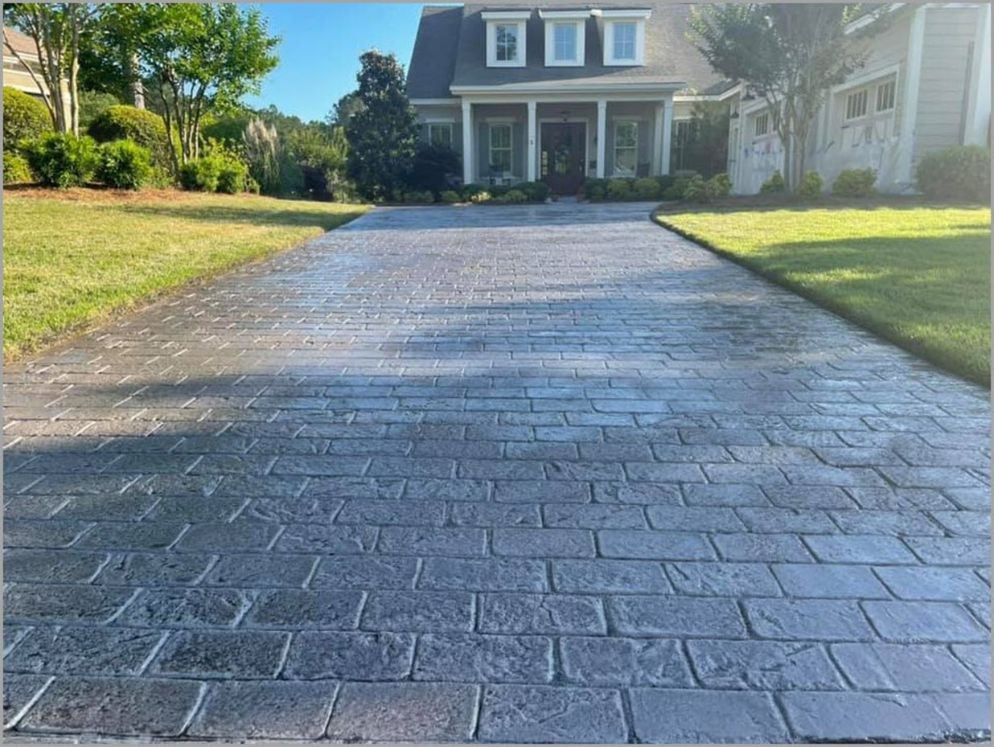 No shifting stones with a gray decorative concrete cobblestone driveway for years of care-free functionality and elegant style
Slate in all its natural grays
Slate is undeniably one of the most beautiful paving materials for outdoor surfaces, from light gray to dark charcoal gray, as pictured below. Decorative concrete overlays let you transform any concrete surface with a Roman slate texture for a seamless design or stamped with a stone pattern like Ashlar slate. Enjoy the timeless beauty of slate with the cost-effective alternative of decorative concrete finishes that replicate the patterns and natural color variations of real slate but with the rock-solid durability of concrete.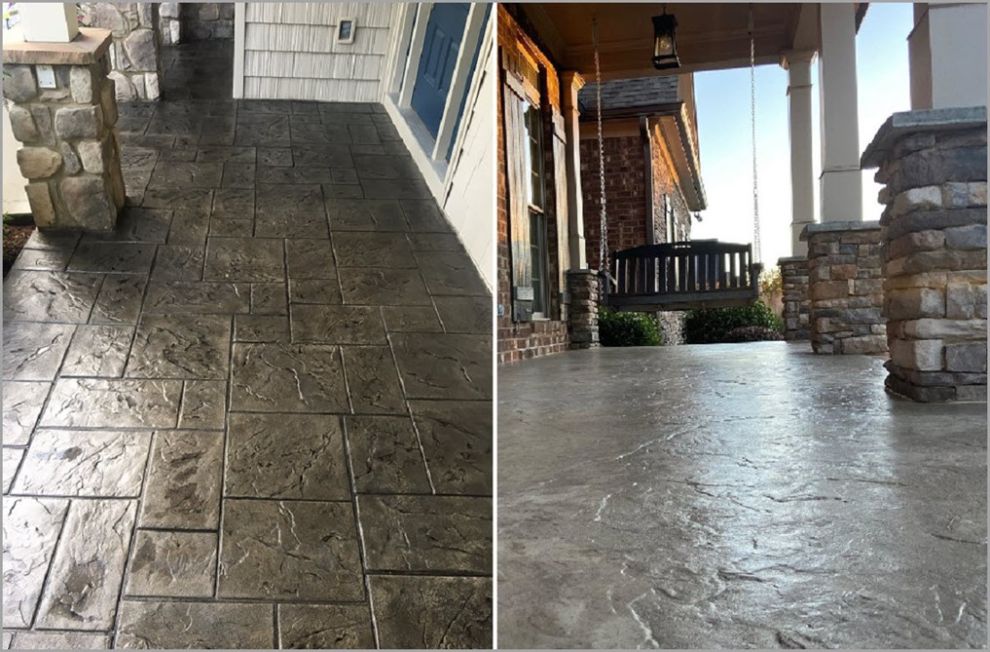 Your preferred gray will remain true year after year without cracks, chips, or discoloration
Welcome home your best gray
There's a very good reason that gray has become one of the top neutral colors in decorating over the past several years, and why it continues to stay on top. In color psychology, gray represents peace and balance. Gray is calm and safe, and in a home, those attributes are very inviting. With its wide range of shades and tones, gray can work harmoniously with any color scheme indoors and it's compatible with nature's expansive outdoor palette. So, if you love gray, no explanation is necessary, and Concrete Craft will be delighted to help you find your perfect gray!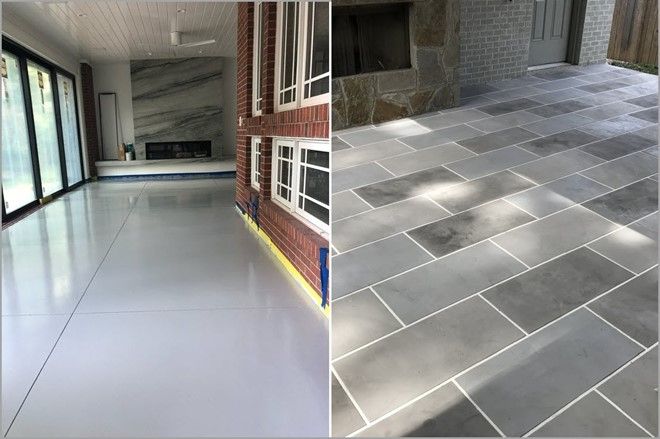 Indoors and out, gray decorative concrete finishes and styles may be the perfect answer to your decorating dilemma
Contact us today or go to www.concretecraft.com to find the Concrete Craft location nearest you and request a free in-home or virtual* design consultation. Scroll through our online MasterProTM product catalog for the many different styles and finishes to repair, restore, and enhance all your concrete surfaces, and take note of all the myriad shades of gray across our product offerings for bringing the beauty of stone into your home.
*Virtual consultation may not be available at all locations.