Concrete v Stone: Which is Best for Your Home?
Your Questions Answered for Concrete vs. Stone: Which Is Best For Your Home?
Before recent leaps forward in concrete for the residential market, the accepted usage was for foundation slabs, driveways, and sidewalks. Typically wherever a smooth surface was the most important aspect. Concrete was seldom if ever seen as a design element, but purely a functional part of a home. Design choices for homes were usually stone.
In the last few years, the versatility and possibility of concrete have taken center stage, especially in stains, stamping, polishing, etching, and various additions to the concrete. Unlike stones, concrete can be created in a number of shapes, both horizontal and vertical, while still maintaining the safety of a flat surface if needed. Concrete is now able to be stamped into a wood-look plank, molded to resemble stone, stained in any number of colors to suit your taste, whether inside or out, and even acid-etched or polished to resemble a marble floor. The possibilities are limited only by your imagination.
What are the limitations of stone?
There is no doubt that there is beauty and charm in stones used for outdoor surfaces. However, much of that beauty and charm lies in the random irregularity of the stones. That same irregularity can become a hazard as time goes on, providing an opportunity for trips and falls. Unlike cement, which can be textured to prevent slips, stones simply get more slippery when wet.
Stones are also harder to install, especially considering how the irregular shapes make it a giant jigsaw puzzle. This is where cost overruns can occur if the labor to get the stone into place takes longer than expected. Concrete stone designs, on the other hand, can be created as interlocking pieces that are easily put together onsite.
Another limitation is the near impossibility of attempting to match in-place stone with existing stone on the building or matching older walkways. Other issues include the drawback of stone that needs to be used for a retaining wall. It must be kept short because gaps between the stones can create issues with drainage. Concrete's ability to interlock is far superior for retaining walls.
Is stone more expensive than concrete?
At the beginning of the process, you'll find that stone is almost always more expensive than concrete. As a natural substance that must be quarried, stone carries more expense, mostly because it costs more to get it from the quarry to your yard. Concrete is much more readily available, and while both take experienced teams of people to install, concrete's lower cost structure makes the end result much more budget-friendly.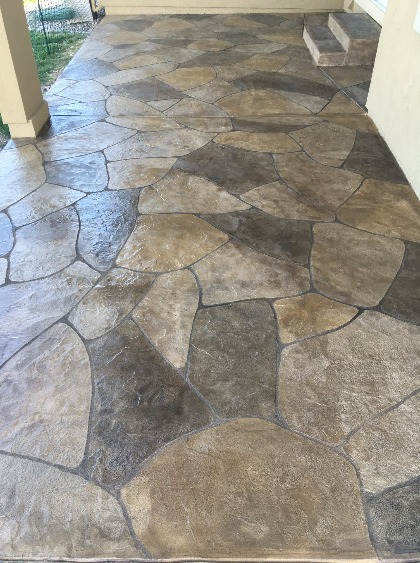 Is concrete easy to maintain?
Maintenance of concrete walkways or any other outside concrete installations is minimal. Concrete only needs resealing every few years in order to maintain the color and texture. Unlike stone, there are no gaps between the stamped concrete installations, so there will be no weeds growing in the walkway, or any need for weed killer in order to maintain it.
Where can concrete be used?
Concrete's versatility lends itself to nearly every part of your home, both inside and out. Whether it is used internally or externally to the home, maintenance is just as minimal, and applications are wide-ranging. Even more importantly, concrete can be used at every stage of your home's life, from a newly built home to updating your existing home.
Outdoor applications: Pool Decks
If you are building a pool and need a beautiful pool deck, a stamped concrete pool deck can give you the safety and beauty you need. Sealants that create a non-slip surface are part of the installation, and they come with stamped designs that range from the look of random stone to brick or even wood-grain patterns that fulfill your vision of a minimally maintained backyard oasis.
On the other hand, if your existing pool deck is looking its age, you could resurface with stamped concrete Roman tiles in your favorite color. By using the existing deck there's no need to start fresh, so you can easily avoid costly teardown and replacement. With UV protection built-in, and in the design you need, maintenance will be minimal, and safety maximized with a new non-slip surface. Roman tiles are just one possible option to upgrade your backyard's focal piece.
Outdoor applications: Patios
Your new patio can be a showpiece with a stamped stone pattern that gives you the coloration and intrinsic interest of stones, without the inevitable issues of gaps, weeds, and other drawbacks. Much like the pool decks, your stamped concrete patio can give you the safety and beauty you need, with sealants that create a visually stunning, non-slip surface.
Maybe you've decided your patio is sorely in need of an upgrade to a deck, but hesitate to engage in the lengthy process and cost of tearing out and removing the old concrete slab patio. Stamped concrete patio resurfacing will give you the beauty and impact of a wooden deck without the maintenance, warping, and splinters of wood, and without the need for teardown.
Other outdoor applications where concrete is the best option include:
Retaining walls

Firepits

Outdoor seating

Walkways

Driveways

Mailbox columns
Indoor applications: Vertical spaces
If you've thought of replacing your dated fireplace, but are dismayed at the thought of having part of your house noisily demolished to make space for a new stacked stone or natural stone fixture, concrete is the answer. Rather than replacement, stamped concrete overlays can upgrade your fireplace with the look and the beauty of natural stone without destroying the original fireplace.
Other possible indoor upgrades with vertical concrete include:
Arched entryways

Backsplashes

Interior accent walls

Basement walls

Wine cellars
Unlimited possibility
Concrete Craft uses a number of proprietary products that other businesses simply don't have. This makes us uniquely suited to supply your need for change in your home, whether you're building or upgrading. Contact us today for your free consultation!