Farmhouse Style Concrete Floors For Indoor And Outdoor Spaces
Farmhouse style flooring is not limited to wood designs but that is what is most often being referenced when the subject comes up. In fact, the first "farmhouse" wood floors appeared in Colonial times as wide, thick, rough-sawn planks covering packed dirt floors. Devoid of stains or varnishes, the lumber was left bare, eventually smoothed and burnished by years of use for the weathered look so coveted today. Concrete Craft® can replicate any style of wood flooring with stenciled and stamped concrete designs that let you effortlessly have exactly the floor you want for your farmhouse décor, indoors or out.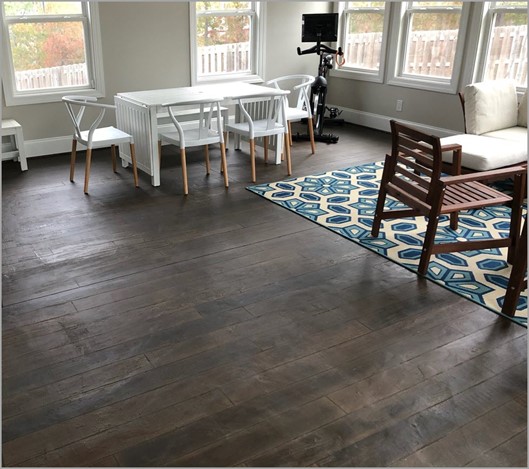 A matte finish on this stamped concrete faux wood floor replicates the look of reclaimed wood for a more rustic appeal
Characteristics of farmhouse wood floors
Farmhouse wood floors showcase the natural beauty of wood with all its knots, graining, and color variations, adding a natural and warm look to your home. Farmhouse styles highlight simplicity and practicality with a definite nod to rustic details.
Wider planks, five-to-ten inches, give the most traditional farmhouse look.
Wood imperfections like dents, dings, and textured surfaces are desirable as they add to the charm.
Natural-looking muted colors and tones with matte finishes create an authentic timeworn, cozy farmhouse look.
For a more modern farmhouse aesthetic, a high sheen is compatible with crisp clean lines in furniture and accessories for a less rustic, more sophisticated setting.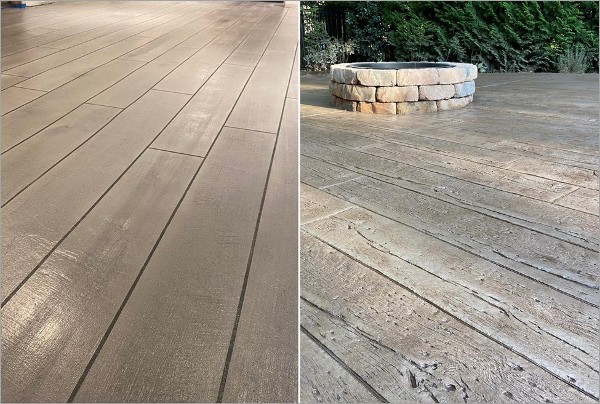 Any wood textures can be duplicated with stamped concrete patterns to create authentic looking wood floors indoors and out
Interior flooring for farmhouse style
Real wood floors have limitations on where it's safe to use them, such as kitchens, laundry rooms, mudrooms, and bathrooms where humidity can be a problem. If you want the look of wood throughout your home, custom stamped concrete can deliver realistic, durable faux wood flooring in whatever style you choose. Select plank width, length, level of texture, and stain colors for exactly the aesthetic you want. Hand-applied custom stains ensure overall, even coloring throughout which real wood can't always provide. There's no need to endlessly shop for your perfect cool gray shades, warm browns, or dark wood flooring when our artisans can create your custom look.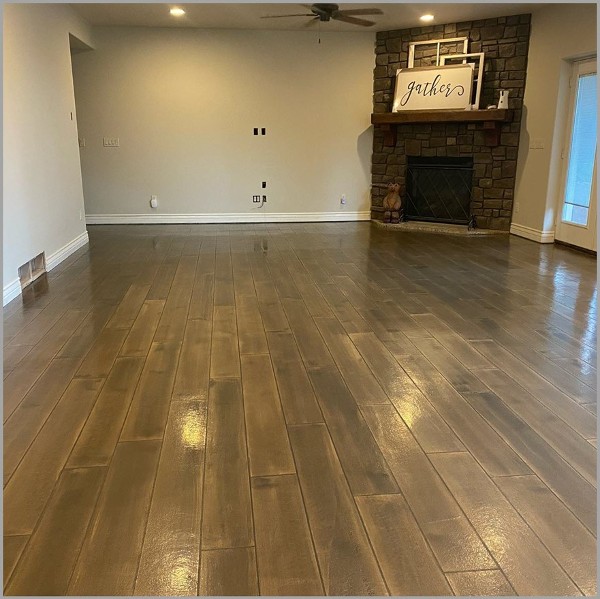 You can safely install wood look floors in any style from classically smooth to textures like distressed or reclaimed wood
Custom stained concrete can deliver on lighter colors, including grays, griege (gray and beige blend), and whitewashed faux woods.
Choose matte and satin finishes with less shine for more of a rustic appeal.
The sealed, durable finish resists spills, stains, cracks, and impact, unlike real wood flooring that can damage easily.
Wider planks and pronounced textures are no problem with concrete stamps made from real wood molds of all kinds of finishes.
Concrete overlays are applied to your existing concrete floor, covering any damage from previous flooring, and then stamped or stenciled for a new wood finish that can last for decades.
Exterior farmhouse and wood designs
If you want to carry the farmhouse look to the great outdoors, you can transform any concrete surfaces with decorative concrete stamped wood designs. Create a front porch entryway in a wood pattern that is compatible with your indoor farmhouse floor to set the stage for country comfort. Patios and walkways can reflect casual rustic charm with reclaimed wood stamps in heavily textured wide planks. You can safely have wood enhancements in the backyard without the worries of maintaining real wood that is constantly exposed to destructive weather and temperatures, such as repetitive staining, resealing, and waterproofing.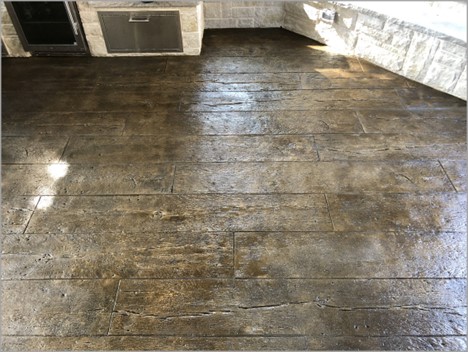 Stamped decorative concrete makes realistic wood finishes possible for outdoor patios, decks, sunrooms, entryways, or walkways
Industry-tough sealers and integrated stains are all-weather-proof, making faux wood concrete finishes viable for outside areas in any part of the country.
Outdoor floors like patios can be swept and hosed off to stay clean, nothing sticks to the surface.
Impervious to weather and humidity, the "planks" won't warp, splinter, tear or develop wood rot like real wood.
Moisture-resistant finishes eliminate the common outdoor problem of moss, mold, and bacteria growing in damp corners and under patio furniture.
Rescue damaged and ugly concrete with a resurfacing concrete overlay and stylish wood stamp design rather than endure the expense and hassles of demolition and replacement.
Farmhouse flooring styles other than traditional wood
A farmhouse aesthetic can also be accomplished with other flooring styles that harken to vintage and timeless designs. Slate and cobblestone textures, polished concrete, and earthy terracotta tiles as well as old-fashioned and intricate tile patterns can bring nostalgic farmhouse charm into your home. Both polished concrete and translucent concrete stains preserve the natural characteristics of concrete flooring which coordinate perfectly with rustic or modern farmhouse décor.
Stamped concrete can replicate real stone textures like slate, cobblestone, and tile.
Stained concrete designs can create antiqued, variegated, and mottled effects, including simple or intricate stenciled tile designs.
Soft neutrals and colors from nature will reinforce the farmhouse vibe, creating a comfortable, homey atmosphere.
For farmhouse or any style of new flooring, you can trust the professionals at Concrete Craft! We can make new floor selection for indoor and outdoor spaces an easy experience by becoming your one-stop shop for all your flooring needs. With our stained concrete, stamped concrete, polished concrete, and resurfacing systems we can replicate any hard-surface flooring style at a cost far below what the real materials would cost. And we'll do it all in less time and with less mess and have you back on your floors in no time. Call 888-852-9244 today or go to www.concretecraft.com to find the Concrete Craft location nearest you and request a free in-home or virtual* design consultation.
*Virtual consultations may not be available at every location